The Income School course is called Project 24 was developed to help replace your current income with a full-time passive income over 24 month period.
At least that's the primary goal behind the '24' concept. So it's more or less referred to as Project 24 months. Why would you be considering using Project 24 and who is the Project 24 for?
This Income School HUB is designed for well-seasoned and aspiring bloggers who are after a faster and reliable way to achieving their goals / success online. No doubt results will depend on the extent of your business goals. Ultimately your daily efforts will determine the outcome of this.
---
Table of Contents

Jump To…
# Project 24 by Income School Review
# About Income School Project 24
# About Ricky Kesler
# About Jim Harmer
# Project 24 Course Dashboard
# Income School Software Tools
# Is Income School a Scam
# Income School Affiliate Program
# Pro's VS Con's
---
Internet Marketing Education, Tools, Networking & Support!
Do you Hunger for the Truth About How People are Really Becoming Successful Online...
---
Whilst logged into your account you will have access to a library of courses full of video / textual content to gather e-business information on.
The Incomeschool.com site is worth around
= $80,548.00
Income School stay up to date with the latest tips and strategies of internet / affiliate marketing so you can maximise your reach and businesses exposure online.
The estimate of traffic to Income School is around
– 12,917 visits / day
Let's get moving forward with this. Access more details about Income School – Project 24 within the post at hand.
Project 24 By Income School Review
---
*Brand: Income School LLC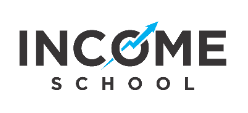 *Core Product: Project 24
*Website URL: https://incomeschool.com
*Co-Founders: Ricky Kesler & Jim Harmer
*Launched: January 2015
*Domain Age: 31st/MAR/2005
*Address/Headquarters: Idaho, United States
*Contacts:
email: privacy@incomeschool.com
email: support@incomeschool.com
*Training: 77.18%
*Support: 62.85%
*Website: 61.45%
*Software Tools: 80.20%
*Success Stories: 59.72%
*Course Cost: $449.00 first year | $199.00 / consecutive years
*Private Coaching Cost:
Premium coaching call = $899.00
Standard coaching call = $599.00
*Tool-set Cost:
$3,310.00 for physical products
$327.00 for digital products
6 monthly paid for subscription that vary per package
*Up-Sells: Recommends software / hardware
*Verdict: Compact educative resource HUB for internet marketers
About Income School Project 24
---
Project 24, by Income School was created and co-founded by Ricky Kesler and Jim Harmer. The duo built the website like a cross-bred pooch. By that I mean, it's half an educational site tailored toward starting / growing an affiliate marketing niche business.
The other half-breed of the site is about Rick and Jim promoting products / services that they've personally used over the years, in which allows them to earn extra income out of your own expenses.
So basically, you learn how to become a successful internet marketer while building a niche business. While in the mean time, you are being targeted by affiliate marketing guru's.
Not only can you gather great amounts of in depth knowledge and expertise by following their methodologies (recipe). You will also by enticed to purchase software / hardware tools they've been using to fine tune their businesses over the years.
By clicking on any of their recommendations listed within Income School, and making a purchase. There's a unique affiliate code inserted into the hyperlink. So Ricky and Jim will earn a percentage of sale from any purchasing that you conduct.
It's a win, win for them. Note that, unless you can make a decent return on investment. There is great potential for financial loss, because most people tend to give up with affiliate marketing.
The amount of work required to gain financial traction (some / if any commissions) with your new online business takes well over the 3 + month mark in most cases.
Income School offers the incentive of private coaching on the side. Do you feel the need of getting 1-on-1 mentoring to choose a profitable niche online? Additional costs are required for mentor-ship via Skype.
Income School is very transparent with the whole process of everything they do inside. They proudly display their own affiliate websites within an Income School page to showcase there typical monthly commission intake with each e-Business.
Some niche sites pay as little as $45.00 / month whereas others are raking in over $60,000 / month.

About Ricky Kesler
---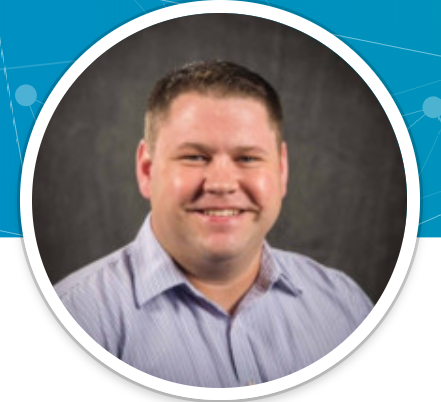 Ricky Kesler currently resides in Boise, Idaho United Stated and can be summed up in 3 distinct titles.
Entrepreneur, investor and business professional.
Prides himself on being a natural leader. And has an impressive CV and senior education background.
Mr. Kesler completed a Bachelor of Science in Chemical Engineering at Brigham Young University between the years 2004 – 2010.
Later on in life Rick Kesler decided to return to university during the span of 2013 – 2015. This time studying a Master of Business Administration (MBA) in investments, corporate finance and innovations.
Ricky is proficient in speaking the Portuguese language as well as English. This man keeps himself busy and operating many websites on the side.
About Jim Harmer
---
Jim Harmer lives in Star, Idaho, United States of America and is known for his exceptional work as a landscape photographer. It's safe to say that's where his passion lies. Even has a site called https://improvephotography.com which is dedicated to teaching others the best ways to perform photography etc.
Even provides a list of Mr. Harmer's favourite / recommended photographing equipment with premium features / tutorials on how to master the craft of photography.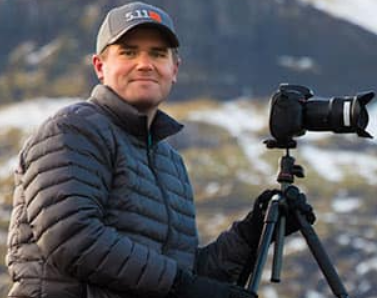 Before Jim's leap into online business and partaking in Income School – Project 24. Harmer graduated with a bachelors degree, also at Brigham Young University, Idaho. Then quickly got his start in law school in the beautiful state of Florida.
Though, the only thing that was keeping Jim happy during this time of his life in life was his wife, three children and of course his landscape photography. After passing the bar with flying colours. It was a no brainier from Jim to give law up and focus on his photography business full-time. Luckily he had the utmost support from his wife.
His work has been purchased by many businesses over the years, collectors, and even showcased his art in popular magazines such as Nikon USA and Readers Digest.
Catch Jim Harmer playing tennis on the weekends, devoting time to his family and practising his faith (Christianity) at church, all while finishing off his home renovations.





Project 24 Course Dashboard
---
Project 24 is the main product for sale. Costing $449.00 for the first year. Since the information is updated regularly and more educative material is added to the site. There are going to be consecutive payments of $199.00 / year from there on out.
Within the site whence you join. You can click on the 'courses' tab to see the kinds of resources offered within Project 24. They include:
60 Steps to a Successful Site – The 60-Step recipe that you must follow for every website you create.
Picking Profitable Niches – Making sure you select a profitable target audience to maximise profits.
No Nonsense SEO – Learn Search Engine Optimization (SEO) the Income School way. No trickery, only results.
Web Traffic Snowball – Attract traffic fast and consistently without wasting your valuable time on social media platforms and backlinks.
Email Marketing 101 – Learn when, why, and how to grow an email list via your website for warm leads.
Mythbusting – Exposing the myths and realities behind internet marketing and SEO.
Hire and Train Writers – Outsource your work load to increase business to your website.
Photography Start – Incorporating photographs is a beneficial way to visually explain your content.
Reviewing your Sites – Check out recent sites personally audited / reviewed by the Co-founders themselves.
Improve and Speed up your Writing – Efficiency is key to getting writing tasks done fast.
Monetize with Ads – Using Ad services such as Google AdSense to add an additional income stream to your niche e-Business.
The Success Mindset – Unlock the right mindset in order to achieve long-term success online.
Without giving away too much information, these are some of the more prominent topics discussed inside. There are additional courses not mentioned on this list. I've already given away too much intel.

Income School Software Tools
---
So there is a decent list of recommended tools that Jim and Ricky promote on their Income School website. I might as well blog them down in case you want to go off after this read and look up further information on them.
If you were to purchase any of these items listed inside the Income School website, you will be essentially helping Rick and Jim stay in business.
Whether you pay for the items through Income School or at Amazon for example. The price will remain the same. You will probably find that some of the items will be discounted by using Income School as your referring link.
I'm sure Jim and Rick will surely appreciate it if you'd buy those items through their website if your planning on getting anything. Considering they were the ones who put in the time and effort cataloguing them for you. These are the recommendations:
ADS MONETIZATION
Ezoic Ads.
Adthrive.
WEBSITE HOSTING
Bluehost (Hosting).
WPX.
YOUTUBE TOOLS (RECORDING EQUIPMENT)
Sony a6400.
Sigma 16mm Lense.
Tascam DR-10L Recorder.
VideoMic Pro+ Microphone.
Final Cut Pro X Editing Software.
Neewer 480 LED Light Kit II Lighting.
DJI Osmo Mobile 2 Gimbal.
STOCK IMAGES
123rf.
OUTSOURCING WORK
iWriter.
WORDPRESS (WP) THEMES
X Theme.
Divi.
WP PLUGINS
Short Pixel.
Manage WP.
EMAIL LISTS
Send In Blue.
PODCAST EQUIPMENT
Samson Q2U USB Mic.
Rode Procaster Mic.
Innogear Scissor Arm.
RODE Microphone Boom Arm.
Cisno Shock Mount & Windscreen.
RODE PSM1 Shock Mount for Podcast.
Zoom H5 Portable Recorder.
Is Income School a Scam
---
The answer put simply is no! Income School is a legitimate program that has been finely crafted since 2015 and is one of the more reliable ways of building an e-Business to earn passive income on the regular.
Income School – Project 24 is primarily geared toward building niche websites. With your own personal efforts and level of skill will be the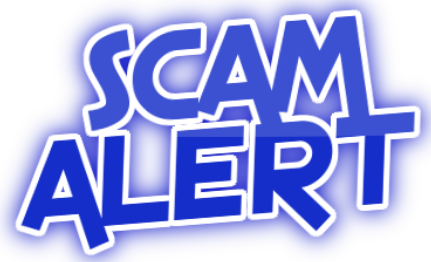 deciding factor whether you earn a little or a lot of passive income.
Note that no income is guaranteed using this service. This is clearly displayed in the footer section of every page inside Income School.
Which is a good thing to see. It pushes Income School toward the legitimate side of the fence.
No refunds are granted and for a good reason. Because, the creators of Income School were actually the ones getting ripped off more times than once.
Initially they were pretty much providing refunds all the time. But too many people would pay and stick around for an hour or so and demand there money back.
Only problem with this was deviants were pirating textual and video content from within the site and bootlegging it off elsewhere for a cheaper price.
There is a lot of value on offer within Income School. In particularly the Project 24 business model has it's advantages.





Income School Affiliate Program
---
Already an experienced affiliate marketer? If so, there is an affiliate partnership incentive offered. Are you interested in advertising Income School – Project 24 on your personal blog, social media accounts etc?
Do note that the joining process is very easy to get in and a lot simpler than registering for Cardone University's affiliate program if your interested.
At Income School you are practically accepted on the spot. Just need to fill out some important details regarding your name, address, email and PayPal details.
A few precautionary measures required to identify you're a person and not some stealthy robot software.
It houses a pretty simplistic affiliate dashboard interface with clickable actions (subheadings):
Statistics.
Payment History.
Account Details.
Links & Banners.
Referral List.

You affiliate link should look something like:
https://incomeschool.com/Johndoe/P24
If you attach your unique affiliate link into any advertising methods you may perform. You can essentially earn commissions every-time someone clicks through your affiliate link and makes a purchase at Income School.
It's a little unusual why there is no information about the commission rate for each paying referral. Might have to wait until you manage to refer a new paying client over to Income School to find out.
Or, email: support@incomeschool.com to find out there compensation plan.

Final Word
---
Pro's
Great deal of value offered within the training courses which will be updated when absolutely necessary.
Project 24 members will get access to the podcast.
Project 24 has an active community set up quite like your typical online forum. See older entries and ask questions for help.
There is an affiliate program for this company.
Receive 1-on-1 coaching calls via Skype for a pretty penny.
Consists of over 130 lessons and 90 videos.
Con's
Income School and the tool recommendations are quite costly. But well worth it if you're serious about succeeding with internet business.
There is no trial run which is a shame. You must pay first in order to access the goodies within.
It's next to impossible to get a refund. Unless you are accidentally overcharged twice, or charged after you cancel your subscription.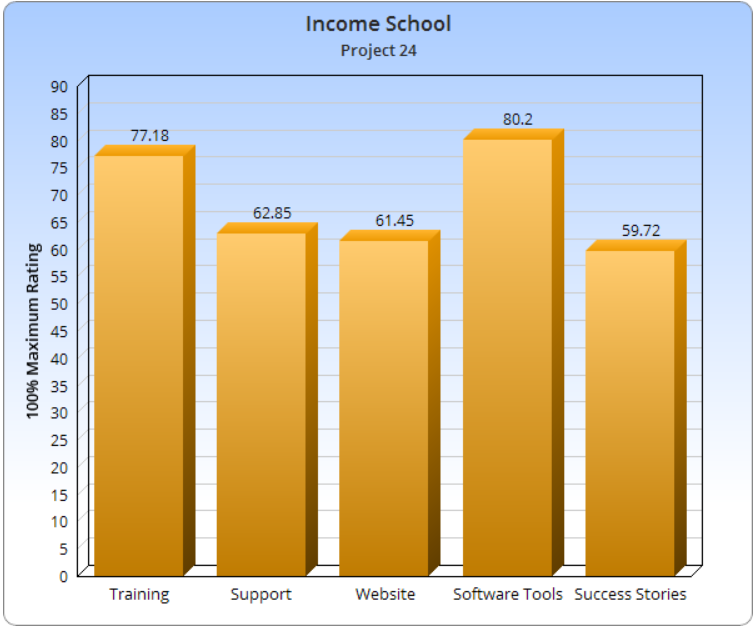 Project 24 is a working initiative that has many benefits for scaling out a modern day online business.
We know that this program helps you identify those profitable niches to chase down. But personally, I think it's rather important building up an online business targeting a market that you are already passionate about. Or at least interested in working with.
Reason being, is because if you are not enjoying what you are doing online you are more likely to give it up. And guess what. You than lose out on a $449.00 investment, plus any additional payments for software / hardware and / or coaching you may have ordered.
Do you Prefer to Learn How to Build an Online Business Following your Own
Passions or Interests

? On Top of that, YOU Will Have Access to an Abundance of Modern e-Education,

FREE

WordPress Websites,

FREE

Hosting & a Robust Interactive Online Community! You can Technically Start Earning Commissions Before you Spend a Dime, Especially if you're Already Familiar with the

Affiliate Marketing Business Model

.
\ /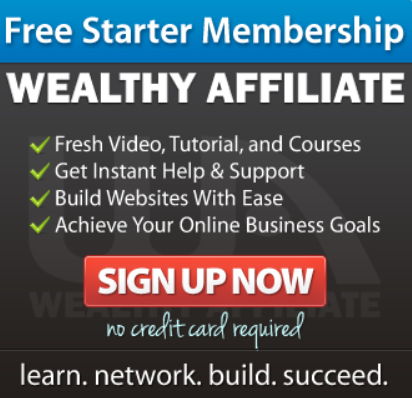 Call me crazy, but I think trying something out before you buy is rather important nowadays considering scams are found widespread online. With that said, here is information regarding your new and free internet business startup if you are on a bootstrap budget.
I hope this article has answered many questions or concerns you had about Income School's Project 24 training course. We'd really appreciate any comments. Do you have a question needing an answers for it? Perhaps, you have experienced using Project 24 in the past, and would like to vent out any volatile feelings that has built up over the ensuing months. Don't forget to share if your a do'er.




Hands up if you hated building projects during senior high…
Quick Recap of Income School | P-24
$449.00 then $199.00/year
Training

Support

Website

Software Tools

Success Stories