Tranont is one of those recognisable financial advice companies looking to make a massive impact for opportune seekers interested within the health, wealth and community facets of life.
These three combined, community, health and wealth can play an integral role to everlasting happiness once you're in a comfortable, yet, gratified stage in your life.
Of course, community interests and regular social interaction is an important thing, often overlooked by a lot of Multi-Level-Marketing (MLM) companies.
Explaining why there's regular get together's at Tranont conventions and communal activities, which are a great way to network with other like-minded people while giving back to the community.
---
Table of Contents

Jump to…
# Tranont Review
# Tranont Overview
# About Lorne Berry
# About Russ Losee
# Tranont Health Products, Merchandise & Membership
# Is Tranont a Scam
# Pro's VS Con's
---
Internet Marketing Education, Tools, Networking & Support!
Do you Hunger for the Truth About How People are Really Becoming Successful Online...
---
But the question is why! Why would you trust Tranont above all else! Do you think it will be the best fit for your personal, financial and health goals? Do you even know what yours are yet?
Estimation value of the Tranont.com website = $19,706
Maybe you're visiting Tranont for the sake of purchasing health-related merchandise, or financial services. Majority of people are surely after key information regarding Tranont's 18+ years an over associates business opportunity.
The truth of knowing if it's a scam or legit will come down to your due diligence, personal experience, and interpersonal relationships developed over-time networking with the Tranont brand and personnel.
Site receives on average – 4,224 visits / day
With that said, today we'll address the core features that make up Tranont – Change Life's health and wealth MLM company. You will be capable of deciding for yourself, once and for all.
Let's determine whether Tranont is a scam or legit source of information.
Tranont Review
---
*Brand: Tranont | Tranont Life | Tranont Change Life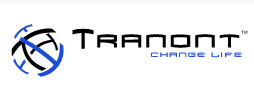 *Domain URL's:
https://tranont.com
https://www.tranontlife.net
https://thisistranont.com (Your website goes here)
*Hosting Service: GoDaddy
*Domain Age: 08/JANUARY/2010
*Founded: 2013
*Co-founder's: Lorne Berry & Russ Losee
*Executives: Scott Bland & Craig Kotter
*Address/Headquarters: 3451 N Triumph Boulevard, Garden Level Lehi, Utah 84043, United States
*Contacts:
email: support@tranont.com
email: marketing@tranont.com
email: tranontlife@tranont.com
phone: +1 800-973-3715
phone: (877) 219-1469
fax: 801.384.7143
*Trading Hours: Mountain Standard Time (MST)
08:00 a.m. – 18:00 p.m. | Monday through Friday
10:00 a.m. – 16:00 p.m. | Saturday
Closed | Sunday
*Social Media Presence:
Facebook – 7,710 likes | 7,870 follows | 262 check-ins
Twitter – 1,272 followers
Instagram – 2,548 followers
LinkedIn – 1,295 followers
YouTube – subscribers (hidden)
*Financial Products:
Tranont Oneview
Tranont Defend
Tranont Tax
Tranont Legal
Tranont Credit
*Training: 51.96%
*Support: 60.73%
*Website: 48.10%
*Software Tools: 49.37%
*Success Stories: 41.20%
*Costs Involved: Numerous costs, including recurring monthly & yearly renewal fees
*Up-Sells: Yes, you'll also need to purchase new product, after personal consumption
*Verdict: Not recommended, unless you know this is exactly the type of business model that interests you
Tranont Overview
---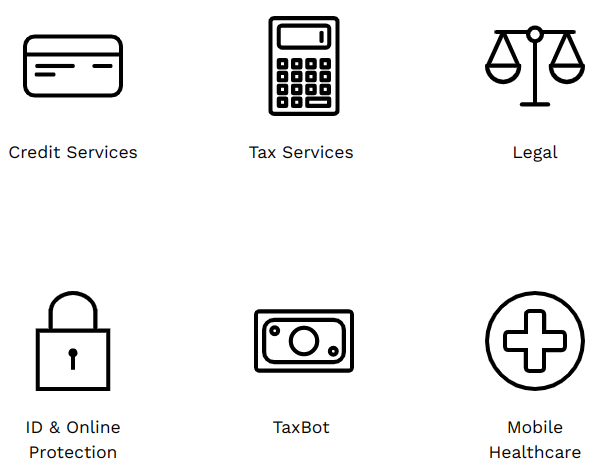 So then, Tranont is more than just a make more income opportunity, It's one of those movements. Not only are they on the trajectory of bettering 1 billion human lives, 1 person at a time.
They also sell health products/packages. And have a strong foot hold within financial services, normally missing in MLM opportunities.
So, if you manage to earn income from being a Tranont independent associate. You'll have the access to professional financial management from within the companies software and consultation scheme.
Key areas they help in:
Resolving debt.
Stabilising your financial future.
Credit services.
Tax services.
Health and nutrition products.
Financial legalities to name a few.
Here's a video explaining a complete and accurate overview about Tranont's services.
About Lorne Berry
---
Before the inception of Tranont. Current entrepreneur, Chief Executive Officer (CEO) and Co-founder Lorne Berry was working primarily in the Real Estate industry.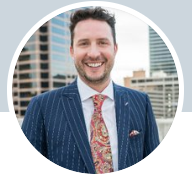 One noteworthy accomplishment during his Real Estate career. He assisted with the successful development of the Legacy Mountain Cabin community project.
During Mr. Berry's time as a full-time professional, he noticed a lot of people were struggling with their finances. Even well-off families. He was aware of the complexities we all face with managing wealth.
That's when Lorne decided to launch a service 'Tranont' which caters to educating how to become financially fit for the average, middle class family.
In Lorne Berry's spare time, catch him kicking back enjoying time with his wife and two offspring back in Salt Lake, Utah. Always staying active, positive and participating in several of his favourite pastimes.
About Russ Losee
---
Chief Operating Officer (COO) and Co-Founder Russel G. Losee graduated at Brigham Young University. Mr. Losee is well experienced and knowledgeable in areas of: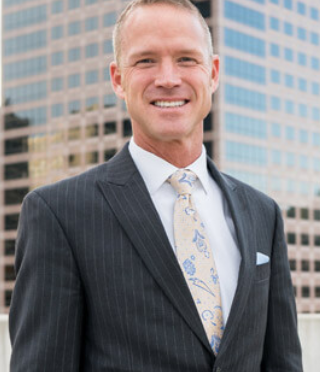 Filtering content.
Content growth.
Business intelligence.
Informant hot lines.
Genealogy.
Collaborative businesses.
During study at university, Russ qualified for a Bachelor's Degree within International Finance and Marketing. Gaining an accreditation in Mandarin Chinese Language and Affairs.
Ruse Losee has a wife and 3 kids. Enjoys water skiing with the family on weekends. Known to be an avid baseball fan that regularly goes to contests all around the States.
Tranont Health Products, Merchandise & Membership
---
Do know that if you decide to join the Tranont associates program. You will be put through a minor sales funnel not to recognisable to the inexperienced eye. Laid out before you now, is the process of the funnel to avoid any confusion.
1)
Choose the right packages for you and your family (Not compulsory / skip option is there ).
HEALTH PACKAGES
Health Pack
[Life] enzyme blend.
[Balance] Multi-mineral, Vitamin and antioxidant.
[Vibe] True energy and clarity.
= $150.00
Health Builder Pack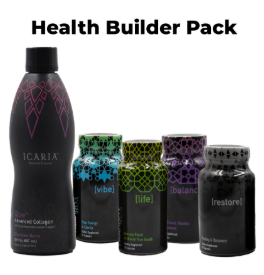 3 x [Life] enzyme blend.
[Balance] Multi-mineral, Vitamin and antioxidant.
[Vibe] True energy and clarity.
[Restore] Healing and recovery.
ICARIA Glow advanced collagen (Strawberry banana).
Acute care triage (1 month subscription).
Business Tools (1 month subscription).
= $339.00
Family Pack
4 x [Life] enzyme blend.
2 x [Balance] Multi-mineral, Vitamin and antioxidant.
2 x [Vibe] True energy and clarity.
2 x [Restore] Healing and recovery.
2 x ICARIA Glow advanced collagen (Strawberry banana & Chocolate berry).
Acute care triage (1 month subscription).
Business Tools (1 month subscription).
= $588.00
Fitness Pack
[Life] enzyme blend.
[Vibe] True energy and clarity.
[Restore] Healing and recovery.
ICARIA Glow advanced collagen (Strawberry banana).
Acute care triage (1 month subscription).
Business Tools (1 month subscription).
= $214.00
WEALTH PACKAGES
Business Smart Pack
Tranont Defend.
TaxBot.
Tranont Tax.
Legal Library.
Will Preparation (once only).
= $55.00
Tax Pack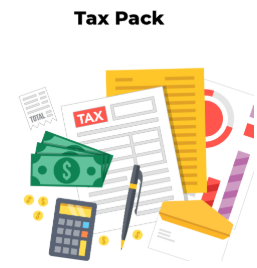 = $40.00
Tranont Credit Services
Improve Credit Score.
Fix Errors on Credit Report.
Save Thousands in Interest.
4-6 Months to See Improvements to Credit Score.
= $99.00
2)
You'll than be shown the option to buy each of those packages as individual items, at a reduced price obviously.
3)
If you decide to purchase any merchandise. You'll notice that there will also be a membership fee in order to proceed within this business model. They are:
Business Tool Subscription Plan
= $99.00 / month (recurring).
Business Tools
= $25.00 / month (recurring).
4)
At this stage, you'll be filling out your personal details. Another interesting thing is that as an associate here, you automatically get access to create your own website to help promote your new associate business.
There's a huge downside to this feature though. You are forced to use the companies preset domain name which reads http://thisistranont.com/
So, the domain name you choose goes next to the forward slash, after the dot com. Which ends up adding your business to a huge portfolio of members already marketing and selling Tranont products by looks of things.
This seems like a strategic method for this company, though strange in my opinion. Wouldn't surprise me if you only have limited rights and ownership over your Tranont website, online version of your contractor business.
5)
If you feel like going with Tranont all the way. You can purchase a Tranont debit card through ProPay.
= $15.00
6)
Opt-in, or out, to the next international Tranont convention held, costing:
= $129.00
7)
If you're willing to pay for Premier Shipping. This will cover all shipping and handling expenses for the whole year, so expect this to be a recurring annual cost.
= $99.00
8)
Agree to the online tax declaration form.
9)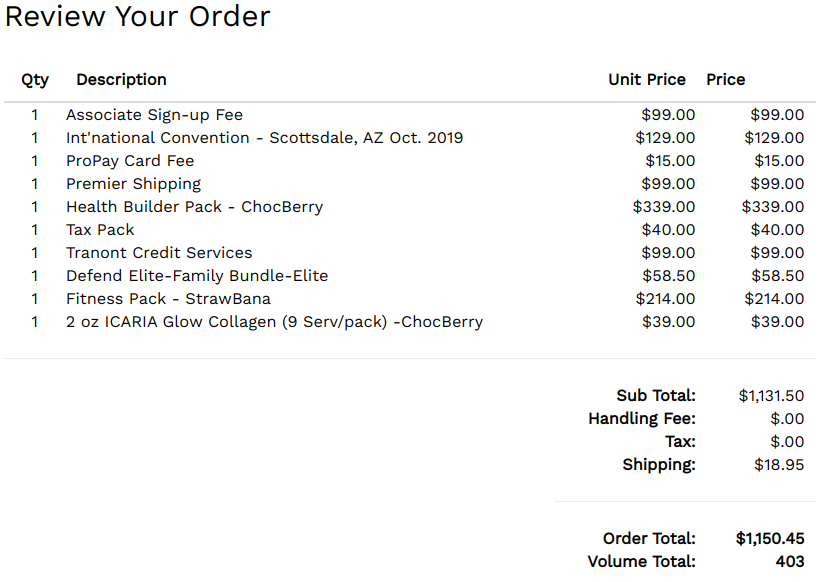 To complete the order form, finalise your products and services selected along the way. If you are happy with your decisions made throughout. Accept and enter your payment details. This image to the right is an example of potential costs before you get started.
10)
Refunds are granted before the 10th of every month from the purchase date. So you have potentially less than 1 month to redeem. If you buy your order on the 5th. You have 5 days to claim reimbursement, but don't quote me on that.
You can claim refunds for unopened and untarnished merchandise. Just know that shipping and handling is not covered.
11)
Once you gain access and learn other features of the Tranont Associate business model. I guarantee there are more costs as you progress through the ranks.
These costs will likely be ways of increasing your earnings potential. Good luck if you decide this opportunity is for you.





Is Tranont a Scam
---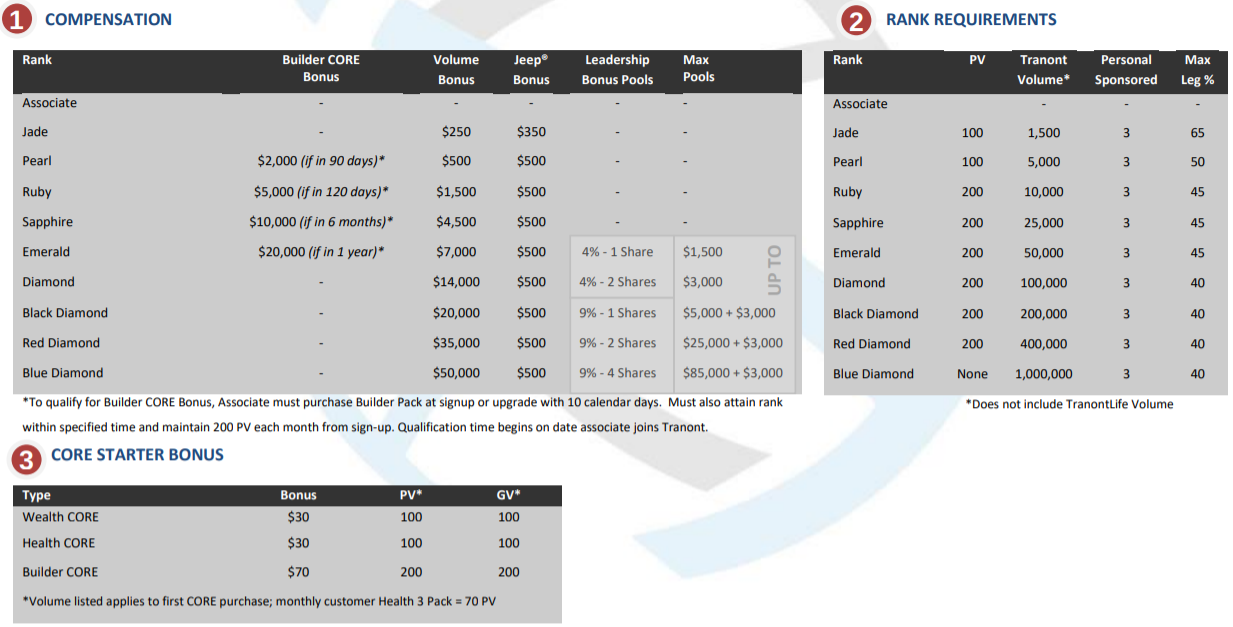 Is Tranont a pyramid scheme? Unfortunately, Tranont has not been accredited with a rating by the Better Business Bureau (BBB). Even when the company has been registered within their listings for the last 6 years.

There are 21 mixed customer reviews that appear more positive than negative. No complaints have been filed with the BBB yet, which is a good sign. Overall, Tranont looks decent according to BBB eye's.
This doesn't raise too many alarm bells in my opinion. The business opportunity is more for middle class families with a stable salary, which suggests there will be some outlandish expenses required to take full-part in this platform.
Health products have been introduced to take the focus away from the network marketing element of things. A lot of sources suggest MLM's / network marketing companies are nothing more than elaborate pyramid schemes regardless of it's business ethics.
I guess it all comes down to where you live and what your belief system is regarding MLM schemes. Since different rules and regulations apply per country / state / jurisdiction.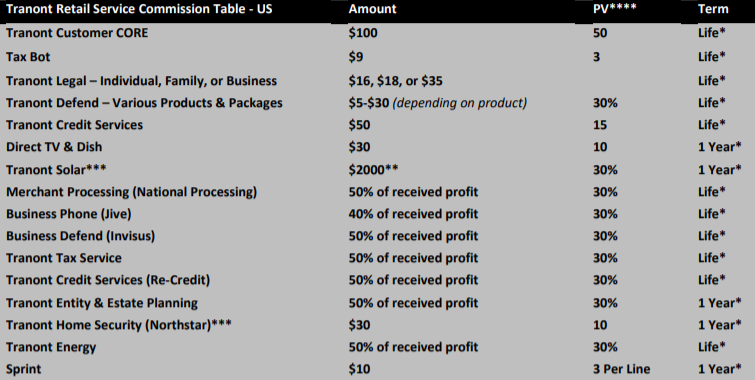 How can you identify a treacherous pyramid scheme? It's when there is an overwhelming focus on recruiting more members into the company in order to build your wealth. With no product inventory (or very little) stock to sell on the side.
So you would be selling thick fluff and pumping sunshine up people's skirts. Stay away from this type of MLM. You could go down with the company and owe money, or potentially receive jail time if your a top dog!
If you take Herbalife Nutrition for example. An MLM company and a household name, has undergone so much scrutiny over the years. Herbalife has a large emphasis on their health, beauty and nutritional product range.

But becoming a Herbalife Independent Business Distributor has proven to be a bit of a waste of time in most cases. Since nobody was really getting any sales promoting the product inventory, let alone recruiting more members.
In terms of financial success, none other than the top tier members and hierarchy of the company were making any real financial leeway. I really think there is too much risk and sacrifice involved by entering the controversial world of MLM.
The time it takes, not to mention the substantial face-to-face interactions and expenses needed to make a MLM business a long-term and successful business strategy. Would be too much for me to cope with.

I hope Tranont has a higher success rate and focuses primarily on reselling products, versus the recruitment scheme.
Final Word
---
Pro's
Much detail surrounding the Tranont business, backing it's core values and principles. Nothing is left to the imagination.
You can become a customer, or a business associate i.e. resell products and the services itself.
Tranont could improve your credit rating.
Pretty well-structured training and platform provided.
Conventions and community activities are good for the soul.
Earn 10%, 20% or 35% commissions depending on how many referrals you can invite and how many of them are using Tranont software.
Con's
It's a limited liability company (LLC), making it extremely difficult to prosecute if your life turns upside down.
Many costs, too many recurring fees.
Have to be over 18 to participate as an associate.
Very complex compensation plan that might take some getting use to.
You are not guaranteed to make any profits. You are purchasing education, the rest is up to you.
You hand some rights over. Like your name, photograph, unique story which can be used in future marketing campaigns and such.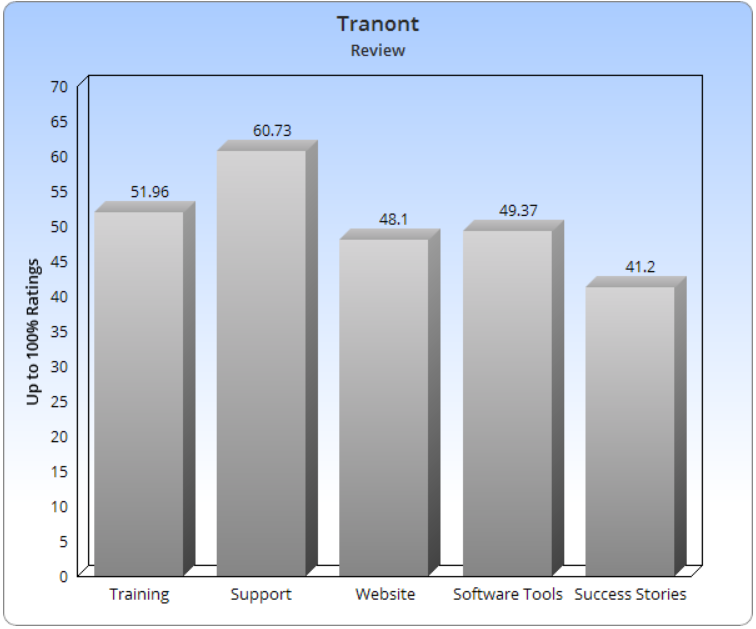 By becoming a Tranont associate, don't think yourself as an employee, no, you become an independent contractor of the company.
So to answer the question whether Tranont is a pyramid scheme. The pyramid model is present. You can sponsor new associates into the company.
There will be educative materials explaining ways on how to drive new students to Tranont and grow your associates business. You'll get your hands on the itinerary after become a paying associate.
Is Tranont illegitimate? No, Unfortunately there are higher then average costs. But they are reasonable for this type of opportunity.
To get a look at the compensation plan, head back to the image showcasing the compensation details and criterion.
Speaking of
Compensation Plans

. Did you Know There Are Exponentially Cheaper Business Startups in

Affiliate Marketing

That Could Earn Recurring Commissions? I have a Top Service that Celebrated It's 14th Year in Business Today. They Offer a Residual / Recurring Commission of 47% Per Sale For Every Member That Goes

Premium

.
()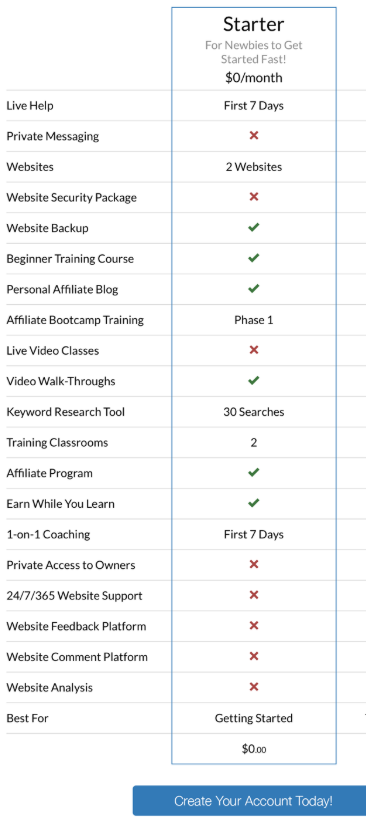 Network marketing companies have had a bad rap for some time now, having so many high ticket items before even getting started. Tranont is a little high in price for some, so if you are after a free opportunity that has powerful education, tools and features than check out this upfront review
Did you gather enough answers from this Tranont article alone? Have you still got something on your mind that needs to be addressed? Let us hear about your doubts and fears in the comments section beneath. Any kind of interaction in regard to Tranont will be acceptable. Let's get a discussion flowing here people.




Tranont – Better health, greater wealth for certain participant types…
Quick Recap of Tranont
$99.00 (Minimum To Get Started)
Training

Support

Website

Software Tools

Success Stories