Get Clients will assist new and experienced entrepreneurs with building out a financially successful internet advertising business, within 30 days or fewer.
Whether your new to online business, have already a well established digital agency, or claim to be a self professed guru. Get Clients can help you get started in the competitive world of online advertising.
---
Table of Contents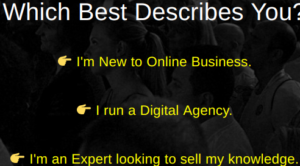 Jump to…
# Get Clients Review
# What is Get Clients About
# Who is Dan Henry
# Is Get Clients a Scam
# About 30 Day Agency
# Pro's VS Con's
---
Internet Marketing Education, Tools, Networking & Support!
Do you Hunger for the Truth About How People are Really Becoming Successful Online...
---
All applicants will need to be over the age of 18+ and will definitely benefit having already learned the basics of the internet. This post will contain some frequently asked questions (FAQ's) found online.
Not in any way am I affiliated with the Get Clients project. So let's work together and uncover the secret sauce behind the '30 Day Agency' program developed by none other than Dan Henry. So without further adieu.
Get Clients Review
---
*Brand: Get Clients


*Website URL: https://getclients.com
*Founder: Dan Henry
*Domain Age: 15/MAY/2002
*Address: Not Allocated
*Office Hours: 9 a.m. to 5 p.m. MON – FRI | Eastern Time, New York
*Email Contacts: Support@getclients.com | Dan@getclients.com
*Training: 53.90%
*Support: 42.10%
*Website: 46.33%
*Software Tools: 47.61%
*Success Stories: 31.85%
*Price Range: 1x payment of $997.00 or 2x payments of $597.00
*Up-sells: Yes
*Verdict: Decent
What is Get Clients About
---
Get Clients is an online website asset backed by the brand – Omni Marketing, a limited liability company (LLC).
In Layman's terms, a LLC means you will find it extremely difficult to take legal action against the business if you end up getting ripped off, or unsatisfied with the product/service purchased.
Get Clients main product for sale is the '30 Day Agency' course. This course if decked out with prerecorded videos, documented PDF training and sales funnels etc.
You will taught how to run an internet based advertising agency. You will specialise in Facebook Ads primarily. Learn how to bring business in for your clientele, local businesses, and/or abroad.
Depending on your financial resources, adaptability and commitment level you will either make it or break it here!

Get Clients training is not designed to be one of those get-rich-quick scheme, or let alone something that requires a simple push of a sparkling button that generates revenue in your account.
Since traditional marketing avenues such as TV and radio are slowly dying out. You can capitalise on the booming digital age of online advertising.
The online advertising industry is drifting towards an $80 billion dollar industry!
Who is Dan Henry
---
Dan Henry is the founder and Chief Executive Officer (CEO) of Getclients.com. He is considered a public figure who holds live events, highlighting his success, knowledge and experiences for his attendees.
Before cracking milestone after milestone with his Get Clients company. For several years Dan tried to make this dream become his reality. Experiencing some minor success, but at the cost of many failures.
Mr. Henry tried a wide range of business types: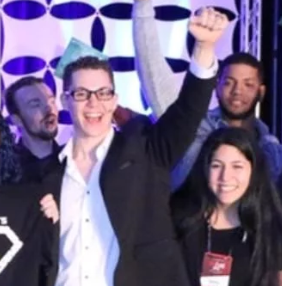 Running an Italian ice cart service.
Airbrush tattooing at carnivals.
Owned two small bars.
Ran a T-shirt company.
Website blogging/affiliate marketing.
Before funding his big breakout project (Get Clients). Dan ran his own alcohol fuelled bar. It was during this period where Dan learned how to market his night club business to the public using nothing more than the simple, yet powerful art of Facebook advertising.
This brought in a ton of customers inside the night club. In particular, landing plenty of 21st birthday parties which resulted in good business.
About a year after the success with Facebook advertising. Dan flipped his night club for a huge 6 figure profit. Feeling cocky, Dan tried his hand at creating his own software product.
Ever heard of Alex Becker? This guy has also dabbled with creating his own software tools.
After Dan invested all of his profits into this project. He and his wife fell into financial hardship because of this failed business venture attempt. It flopped hard!
To make ends meet. Dan tried selling bottled water for $1 on the side of road, just to keep the electricity bill, internet connection and laptop running smoothly.
Dan's Turkish wife Hilal, whom he first met on a dating app. Had convinced Dan to go back to the drawing board. Right back to when he started using Facebook advertising for his night club.
Long story short, Dan and Hilal got married, had a baby called Bruce. Started up his own online advertising company. Generated success, online attention, all whilst crafting the – 30 Day Agency premium package for aspiring entrepreneurs.





Is Get Clients a Scam
---
Wondering if Get Clients is a scam or legit? This program is not a scam, individualised results will no doubt vary from person to person.
With all the hype surrounding the 30 Day Agency training, plus the drama about making big bucks fast. Don't take these cues literally. Rarely does life changing financial results happen for regular people getting started online.
Just take Dan Henry's 'Earnings Disclaimer' for example. Here's a reality check about this product:
Get Clients – Disclaimer

:

"The Sales Figures Stated above are my personal sales figures. Please understand my results are not typical, I'm not implying you'll duplicate them (or do anything for that matter). I have the benefit of practicing direct response marketing and advertising since 2009, and have an established following as a result. The average person who buys any 'how to' information gets little to no results. I'm using these references for example purposes only. Your results will vary and depend on many factors …including but not limited to your background, experience, and work ethic. All business entails risk as well as massive and consistent effort and action. If you're not willing to accept that, please DO NOT GET OUR INFORMATION."

 
About 30 Day Agency
---
30 Day Agency is Dan's core product for sale. It is a 4-week implementation program covering 1 module per week. It claims that you don't need to be a tech savvy or have any previous business experience to get started.
Everything in the training program is created in an orderly fashion. Modules covered within 30 Day Agencies are as listed:
MODULE 1.
Getting Results for Clients
MASTERING THE A.C.T METHOD FOR ANY BUSINESS
Discovering winning offers that work for any local business.
Advertise: Creating Instagram and Facebook Ads.
Capture: Create attractive capture pages.
Transform: Sending the information to your the customers to generate the sale.
MODULE 2.
Landing Your First Client
ALL ABOUT GETTING THAT FIRST TRIAL CLIENT!
Learning the fundamentals of setting up your first business and preparing to accept payments.
Tricks of the trade – how to get trial clients as quickly as possible.
Select the right clients and structuring your agreements for success.
Getting your first client using your services.
MODULE 3.
Scaling to Multiple Clients
GROWING YOUR BUSINESS WITH PAID CLIENTS
How to create a successful case study and sales funnel to reel in the clients.
Creating a winning A.C.T funnel to bring in more clients.
Learn the right method of closing a prospect via phone call, and getting paid doing so.
Several ways to find new clients each and every day of the week.
MODULE 4.
Managing Your Agency
HOW TO OPERATE, AUTOMATE, AND OUTSOURCE WORK FROM YOUR AGENCY
Efficient management of multiple clients.
Automation of your Ad Campaigns to save time and resources.
The art of outsourcing logistics and customer service tasks to others.
——————————————————————
Package valued at $2,997.00
——————————————————————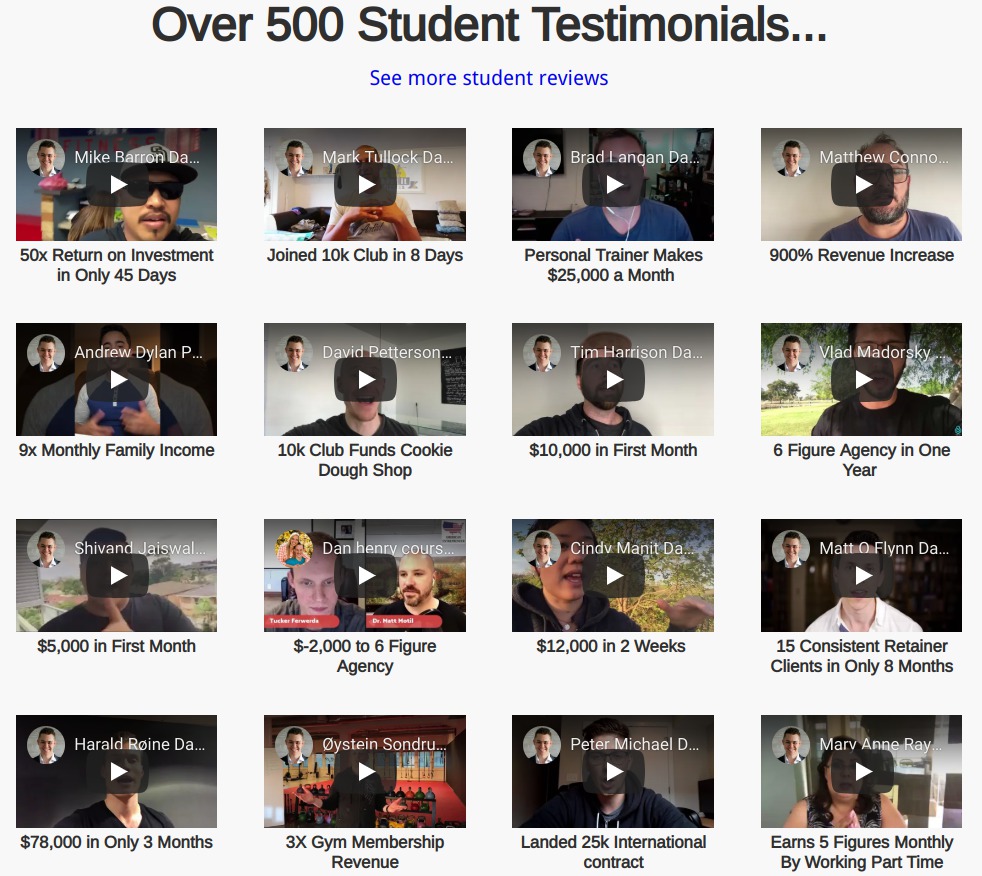 On top of the Get Clients 30 Day Agency program. There is a few extra products and benefits included with it:
~ Get Clients Private Mastermind Facebook Group
Strategize.
Get help from other students.
Over 4,000 students using the group.
——————————————————————
Package valued at $2,997.00
——————————————————————
~ Ad Critique Video's
Learn the minor details of what went right, and what went wrong.
Improve the quality of your ads for you clients.
——————————————————————
Package valued at $997.00
——————————————————————
~ Sample Proposals, Contracts, and On-boarding Videos
Land new clients with minimal difficulties.
Set your clients up the proper way.
——————————————————————
Package valued at $497.00
——————————————————————
~ Winning Offers Cheat Sheet
Get a list of winning offers as a reference whilst creating advertising campaigns for your warm leads.
——————————————————————
Package valued at $997.00
——————————————————————
~ Bonus #1: Real-time Client Walkthroughs
Reference Dan Henry's winning ads.
Follow the process step-by-step creating client advert campaigns.
——————————————————————
Package Valued at $1,997.00
——————————————————————
~ Bonus #2: Automated Case Study Funnel
Clients will be calling your advertising business for your services.
——————————————————————
Package Valued at $997.00
——————————————————————
~ Bonus #3: 30 Day Client Acquisition Calendar
Get quick results while landing a heap of clients within the 30 days.
——————————————————————
Package valued at $1,997.00
——————————————————————
Dan Values the 30 Day Agency Course at a Whopping Total of $13,476.00

Luckily for newcomers, this price is severely reduced. If you decide to invest into the 30 Day Agency course it will cost new members a:
——————————————————————
One time payment of $997.00
Two payments of $597.00
——————————————————————
'This package comes with a
14-day
money back guarantee.'
Final Word
---
Pro's
Members are shown how to start up an advertising agency from the comfort of your home.
Access video recordings, training materials and some of Dan's software tools.
Don't have to worry about all those logistics, nagging employees, and the added stress of running a typical business.
Dan holds live seminars on the odd occasion.
Con's
Too much hype backing Get Clients and his 30 Day Agency program.
Costing at least $997.00 to get started with Get Clients.
Dan recommends using other software tools and services that contribute to the growth and scalibility of your new online advertising agency. Oh yeah, expect to pay for these too!
Not the most robust platform and resources found online.
No live chat feature. Have to ask questions on the Facebook Mastermind Group and await a response. Could take days!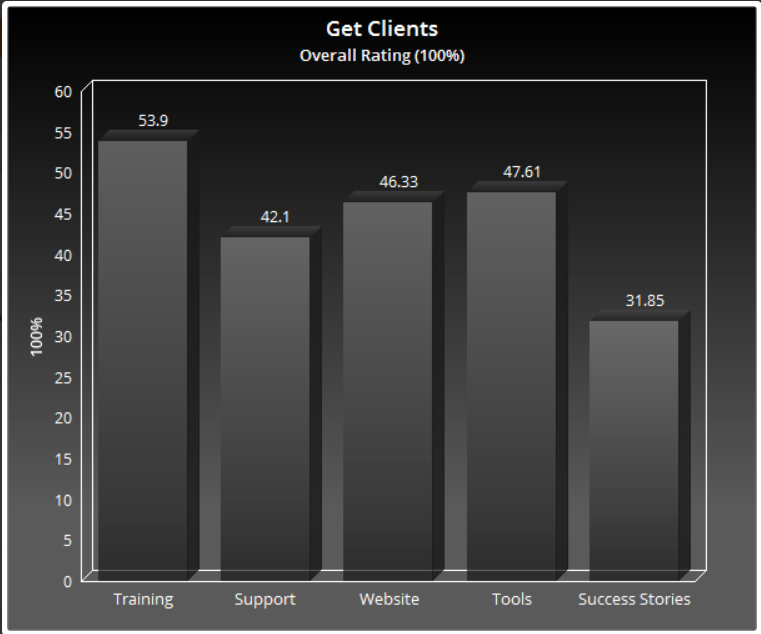 So there you have it. A general overview of Dan Henry and his business – Get Clients. We learned about some of his life experiences, success and failures all wrapped up in one average sized article.
If you're passionate about online advertising and plan on heading in this direction as a career. Maybe take a look into this system. If you are simply searching for an opportunity online to try to grow a business, or make some secondary income.
Then this may not be the best experience for you. Your better off starting with the basics, like affiliate marketing, website blogging with your own niche website or something similar in nature.
If you are looking for some off the finest training, software tools, and community spirit found on this wide world of internet freedom. Then I have the best place for newbies looking to get started online.
To Get IMMEDIATE ACCESS! Just Click Through This Banner Right Now & Join up to your New Online Venture for FREE. That Way you Can Grab your Slice of the Financial Pie. This Really is a *LUCRATIVE INDUSTRY* that is never going away!

If you remain a sceptic I do understand. Prefer to read about this secret place? Here you go then!
What do you think about Dan's Get Clients opportunity? Do you think there's anything important missing from this Get Clients review post?
By all means, suggest some ideas. Maybe you have a question, or need help to get started with the 30-Day Agency. Ask away in the thread below for a frugal response!
By all means share this on your favourite social media network if you found it an interesting read.




Get Clients to your Advertising Agency…
Quick Recap of Get Clients
1-Time: $997.00 or 2-Payments: $597.00
Training

Support

Website

Software Tools

Success Stories