Elite Blog Education / Activate Business Coaching:
$0.00 (FREE) - $2,997.00
Training -

88.36%

Support -

75.29%

Website -

70.27%

Software Tech -

59.04%

Success Stories -

58.09%
Brief Summary:
Elite Blog Academy offers free resources and the option of joining the waiting list for additional paid courses. Until recently, you can take your blogging business to the next level by signing up to the ACTIVATE Business Coaching program Ruth Soukup bestows upon avid bloggers looking to explode revenues to the next level. Ruth Soukup A.K.A 'The Fairy Blog Mother'.
---
SEEKING AN ALTERNATE BLOGGING SERVICE ~ Start A Successful Blog For Free & Get Industry Trained…
---
Step aside Rosalind Gardner the queen of affiliate marketing?
Here comes the fairy blog mother continuing from where you left off!
Ruth Soukup is a very successful blogger and has decided to pay it forward by giving back to those willing to take her on as a mentor.
For many years her company was and is still known by the name of – Elite Blog Academy.
Until recently, the Elite Blog Academy has been upgraded with a mentoring program called – Activate Business Coaching.
The both coincide with each other and are basically the same entity, they'll have you joining both opportunities, that is if you can get in.
If you're an aspiring blogger or content marketer. I guess you're here to learn some vital info about Ruth Soukup, Elite Blog Academy and the Activate Business Coaching program.
Together, we will see if Soukup isn't all smoke and mirrors and determine if she isn't simply after your money.
---
TABLE OF CONTENTS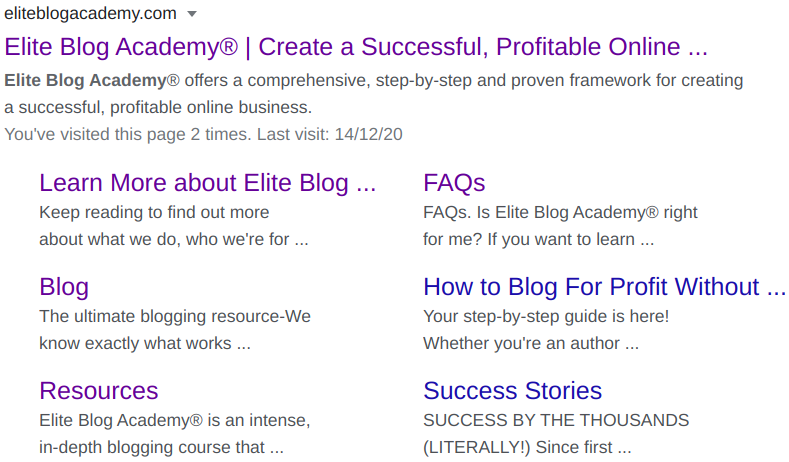 Jump to…
# Elite Blog Academy Review
# About Ruth Soukup
# About Elite Blog Academy
# Elite Blog Academy Course
# Elite Blog Academy Cost/Refund
# Is Elite Blog Academy a Scam
# Pro's VS Con's
# Comments
---
Internet Marketing Education, Tools, Networking & Support!
Do you Hunger for the Truth About How People are Really Becoming Successful Online...
---
Elite Blog Academy Review
---
*Parent Company: Ruth Soukup Omnimedia, Inc


*Brand: Elite Blog Academy
*Alternate Known Names: Activate Business Coaching
*Domain Name: https://eliteblogacademy.com
*Domain Age: 01/JUN/2014
*Hosting Registrar: TUCOWS, INC
*Launch Year: 2014
*Domain Authority: 39/100
*Linking Root Domains: 1k+
*Ranking Keywords: 2.1k+
*Spam Score: 1%
*Website Asset Value: $43,654
*Address/Headquarters: 307 Taylor Street, Punta Gorda, Florida 33950
*Founder: Ruth Soukup
*Contact Methods:
phone: (888) 343-2362
email – support@ruthsoukup.com
email – eba@ruthsoukup.com
*Social Media Presence:
YouTube | Elite Blog Academy – 112+ subscribers
Facebook | @EliteBlogAcademy – 40,931+ likes, 43.471+ follow
Instagram | ruthsoukup – 63.3k+ followers
Pinterest | Elite Blog Academy – 7,153+ followers
*Services Offered:
---
---
The quarterly execution playbook
---
---
---
---
---
---
---
Bonus programs & resources
---
*Community Size: 10,000+
*Payment/Payout Currency: United States Dollar (USD)
*Cost/Price Tag: ACTIVATE Business Coaching Packages
$297 (1 x month)
$797 (3 x months)
$2997 (1 x year)
*Compensation Plan: N/A
*Affiliate Program: N/A
*Up-Sells: Uses affiliate marketing tactics to get you to join third-party services through Ruth's affiliate link
*Training: 88.36%
*Support: 75.29%
*Website: 70.27%
*Software Tech: 59.04%
*Success Stories: 58.09%
*Verdict: Ruth Soukup's online startup is one to be utilized if you're sure about it, committed, and have the payments ready to invest





About Ruth Soukup
---
Are you seeking a fairy blog mother? Someone who will hover above you during your darkest hours, shining the light toward the right direction?
Then Ruth Soukup, who is the founder of Elite Blog Academy and add-on Activate Business Coaching, might be the mentor you've been searching for all this time.
Soukup launched a very, I mean very, successful blog called 'Living Well Spending Less' back in 2010 and its still running smoothly today 10+ years later.
To control all these responsibilities, Ruth had adapted a mentality that is tough and disciplined. Seems as though she's got it all figured out.
During her reign, Soukup has forged a multi-million dollar business.
She now wants to give back by helping people achieve success by just following what has worked for her over the years.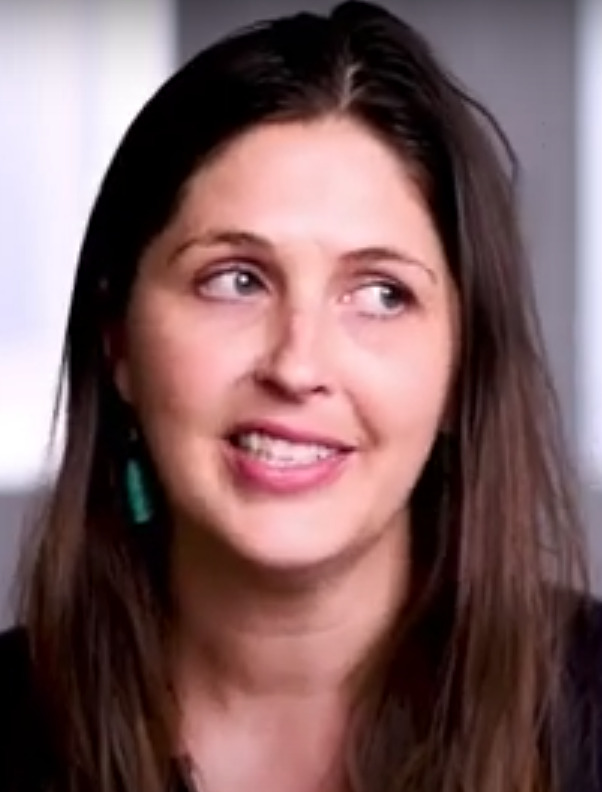 Ruth Soukup is a true leader and knows how to keep here clients motivated and not overwhelmed.
As a coach/mentor, Ruth Soukup can be seen as a kind of cheer leading role model, spreading positivity and encouraging your every efforts.
On the flip side, she can also be strict. If you are not doing something you should be doing. Ruth will let you know about it!
Ruth Soukup's qualities/Attributes:
Honest.
Direct.
Kind.
Generous with her time and feedback.
Helpful.
Approachable.
When it comes to content creation Ruth knows what's she doing and can show you how to do it well.
Not only has Ruth performed a TED Talk. She has her own podcast called 'Do It Scared'.
She also became a New York Times best-selling author of 6 books.
Best selling book titles:
LIVING WELL Spending Less.
How to Blog for Profit.
31 Days to a Clutter Free Life.
Unstuffed.
LIVING WELL SPENDING & ZERO.
About Elite Blog Academy
---
Elite Blog Academy has released it's 4.0 edition.
It seems as though Elite Blog Academy 4.0, along with all its contents is separate from Ruth's Activate business coaching program.
From what I gather. Your best approach to doing these courses would be to go to the Elite Blog Academy site.
Head to the resources section of the site. Here you will be able to download e-books for free.
And beneath the free downloads are lists of things to do that you should get started with and familiarizing yourself in.
Might be wise to do these steps prior to paying for the ACTIVATE Business Coaching option.
I'll highlight the resources below to avoid confusion and for any of these points that require a payment I.e. Website Hosting.
If you click through Ruth's affiliate link you will get the hosting at a discounted rate, plus, enabling Ruth's business to make a commission.

Before You Begin:
Set Up Self Hosted WordPress Blog.
Set Up Social Media Accounts.
Blog Setup & Design:
Blog Setup Blueprint.
Understanding WordPress By Grayson Bell.
Fiverr.
Restored 316.
Tech Help:
BlueHost.
Agathon Hosting.
The Blog Fixer.
Time Saving Apps:
Google Drive.
Notability.
WordPress App.
Project Management:
Asana.
Trello.
Google Team Drive.
Top WordPress Plugins:
Social Warfare.
Yoast.
JetPack.
WordPress Editorial Calendar.
Akismet.
Writing Tips:
The New Bloggers Guide To Guest Posting.
Blog Posts That Resonate.
How To Find Your Voice As A Blogger.
Grammarly.
Graphic Design:
Canva.
PicMonkey.
Adobe.
Shutter Stock.
123rf.
Vimeo.
Marketing & Email Help:
Drip.
ConvertKit.
HelloBar.
LeadPages.
Irresistible Email.
Sumo.
ECommerce & Product Sales:
Shopify.
SendOwl.
Product Launch Playbook.
Memberium.
Social Media Help:
Simple Pin Media.
The Ad Strategist.
Favorite Business Books:
Miracle Morning.
The Magic Of Thinking Big.
Eat That Frog.
Strap On A Pair.
One great thing about Elite Blog Academy is that you are not left to Ruth and you alone. Many other ACTIVATE students are learning at different rates and have acquired unique skills who are ready to share expertise.
The Activate private Facebook group is a great place to view new and archived questions plus generalised chats.





Elite Blog Academy Course/Training
---
What exactly does Elite Blog Academy teach? Are there any set in stone training programs that will guide you to becoming the next blogging success story?
Or, is Ruth Soukup's Elite Blog Academy purely an expensive internet business coaching program designed for students to learn by following over her shoulder?
Let's get real, because any successful website owner needs to understand how to write quality content that follows the CIAO principle, keeping in mind that content gets search engine optimized (SEO).
C – Captivating.
I – Informative.
A – Accurate.
O – Opinionated.
With a new blog it's smart to consistently churn out a flow of posts each week (2-3 posts).
So then, other than the free downloadable resources offered at Elite Blog Academy and the affiliate links to products necessary for becoming a successful blogger.
Do you also get access to another range of resources, tools and features when joining the Activate Business Coaching program?

When Purchasing ACTIVATE BUSINESS COACHING You Get:
Live Coaching.
Quarterly Execution Playbook.
Weekly Office Hours.
Private Facebook Community.
Accountability Groups & The Six Figure Club.
1-Day Intensive Workshop.
Signature programs.
Bonus Programs.
Additional Resources.
Elite Blog Academy Cost/Refund
---
Yes, it's called Elite Blog Academy, but when you invest, you are buying into the ACTIVATE business coaching program.
Sure there are other physical and digital products you can purchase from Ruth. But the main attraction is ACTIVATE.
Running an online business and experiencing the empowerment provided from Ruth and her companies contents comes with a residual cost.
There are 3 payment plans you can adhere to. Monthly, quarterly or yearly payments.
Now, to differentiate what's offered between the trio is simple. Each billing cycle offers the exact same resources.
Which leaves you to the decision of how serious you are about this Activate coaching program.
If you are 100% ready and dedicated to Ruth and her brain child. It'll be wise decision to invest as a yearly student, as it will save you the most money over the course of your lifetime.
Monthly = $297.00 / 1 month.
Quarterly = $797.00 / 3 months.
Yearly = $2,997.00 / 12 months.
If you stayed for 12 months paying at the monthly payment frequency, you would spend $3,564.00
You would have saved $567.00 if you went yearly instead.
It's no secret that Elite Blog Academy is pretty expensive. It is a well put together service that will provide much value in due course.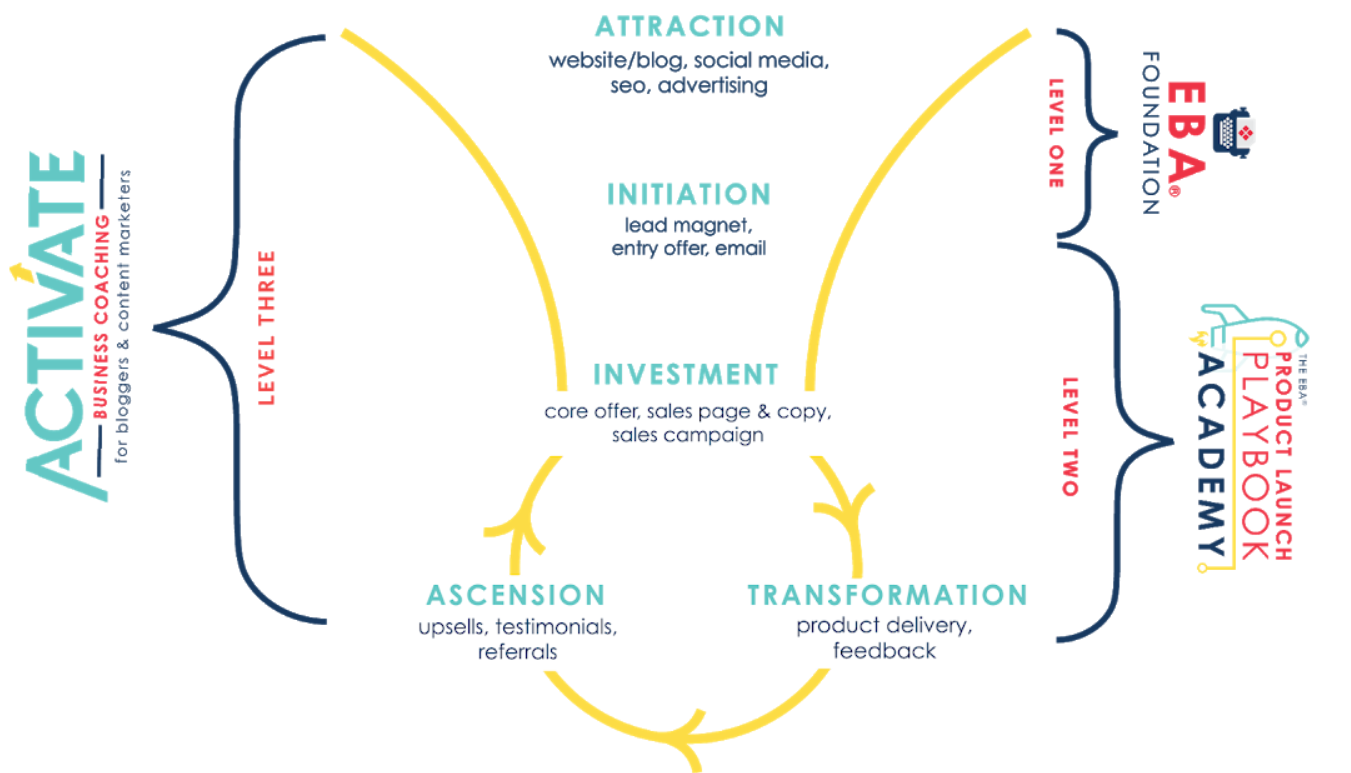 But, obviously this course won't work out for everybody. Which begs the question. Does Ruth honour any kind of refund to her clients?
The answer is yes! The catch is, in order to be eligible for a refund you must have completed all 36 assignments within a 6-month period.
Including screenshots of your:
Blog design.
Analytics.
Income report.
If you've done this then email Ruth direct line: eba@ruthsoukup.com for refund matters.





Is Elite Blog Academy a Scam
---
At the end of the day. Ruth's goal is to get you to become a paying member of her ACTIVATE Business Coaching.
Meanwhile, there are plenty of ways for Ruth to grab your email details and keeping you on her line. This is achieved when you download her e-books, or joining her waiting list etc.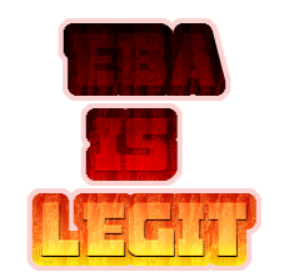 She has quality guides offering practical steps to get you rolling with your blogging business.
Which will eventually lead you to becoming a paying member at ACTIVATE. It's a legitimate process of securing warm leads.
The setup is not such a bad one. Ruth Soukup is a credible source and you are not just investing into a set of brief instructions on how to get from A to B. Instead, expect a proper bloggers route from A-Z.
Elite Blog Academy is the real deal and has a lot of experience and value to provide.
Is Ruth Soukup a scammer? No! Is Elite Blog Academy a scam? No! Is Activate Business Coaching a Scam? You guessed it. NO!
There is plenty of proof to suggest that Elite Blog Academy is legit.
Everything that is provided through Ruth's websites is tailored toward improving your online venture. New or experienced, it does not matter.
Sure, it isn't the cheapest platform to join, but it does provide practically all that is needed to build a thriving internet based business in the modern era of internet.





Final Word
---
Pro's
Ton of quality free resources.
Free downloadable e-books.
Refund's granted if you adhere to the refund policy.
Great coaching and networking capabilities.
A true formula for blogging success.
Con's
The costs aren't that cheap, but are not overly expensive either.
There are a few additional costs required from third-party providers.
Everyone will experience different rates of success and failure.
Ruth uses affiliate links to generate commissions from your third-party purchases.
There is a lot going on when trying to figure out the overall service and comes across as confusing.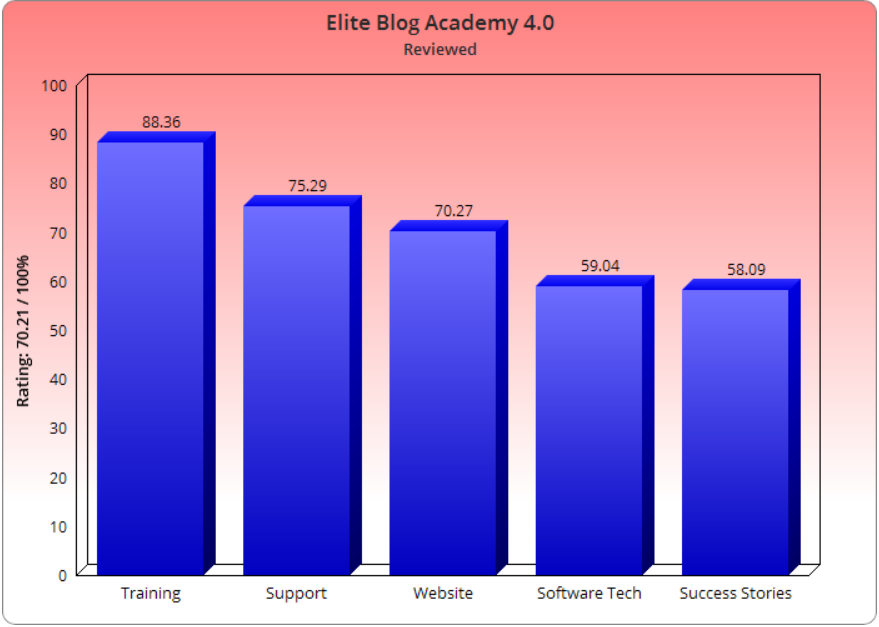 Truth is, you can be at any stage of your business. A brand new founder, or a seasoned business prick and still gain some quality resources and expertise from Elite Blog Academy.
We recommend that you try to learn all there is from the free resources offered at Elite Blog Academy before you take that jump over to costly Activate Business Coaching program.
Obviously not everyone is willing to, or can afford to pay for expensive services. Keep in mind that I would also like to help you with a blogging adventure for a fraction of the price.
Do YOU Seek A Blogging Platform That Has Been Offering Its Services For Over

15

Years? They Are In The

Forefront

Of The Blogging Industry & Many Competitors Are Jealous Of Its Success! I Want To Let YOU

Join There

For FREE!
()

I'll let you read our full-comprehensive review regarding this empowering blogging platform. Are you ready to blog at the next level?
Ruth Soukup's Elite Blog Academy can help you get those desired profits you seek if you're willing to give it your all. If you took anything positive away from this read. Feel free to express your thoughts below and share this via social media to help spread the good word about Elite Blog Academy, Activate Business Coaching and Ruth Soukup.




We all deserve a fairy blog mother in our lives…
Comments
---