Jordan Belfort - The Wolf Of Wall Street
$0 - $3,999
Training -

86.4%

Support -

67.29%

Website -

72.17%

Software Tech -

57.91%

Success Stories -

68.26%
Brief Summary:
Controversial figure Jordan Belfort, better known as 'The Wolf Of Wall Street' a man who you can find him recording podcast sessions at his Wolf's Den. Belfort has a website that teaches you how to become a true master of sales using persuasive techniques.
---
BEST PROGRAM ALTERNATIVE ~ Venture Into The Wonderful World Of Affiliate Commissions…
---
Few figures in the world of finance can claim the same influence as Jordan Belfort with the impactful reputation of Wall Street as a greedy, heartless place.
In the year 1999, Belfort pleaded guilty to numerous crimes related to manipulating the stock market and executing a long-term scam involving penny stocks.
Following his conviction and time in prison, Belfort wrote two memoirs: the first, The Wolf of Wall Street, was popularized in a 2013 film adaptation directed by Martin Scorsese and starring actor Leonardo DiCaprio.
In 2017, Belfort published another memoir, a self-help book called Way of the Wolf.
Belfort has been criticized for profiting from his history of stealing money from innocent people, while his victims have received nothing.
After several scandals and a stint in prison for financial fraud, Belfort reinvented himself as a motivational speaker.
And one of his main arguments is the distinction between greed, ambition and passion on Wall Street.
---
TABLE OF CONTENTS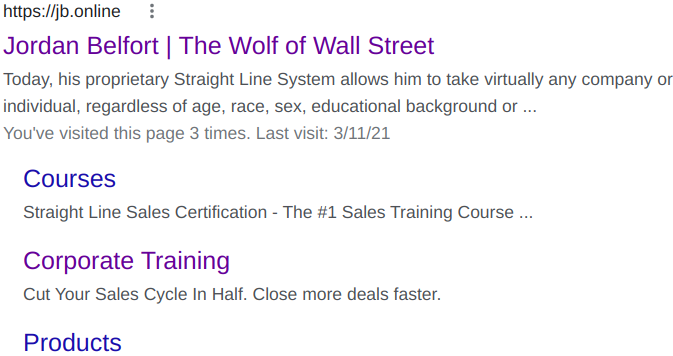 Jump to…
# Jordan Belfort Review
# About Jordan Belfort
# The Real Jordan Belfort
# Who is it for
# Jordan Belfort Course/Cost
# Is Jordan Belfort a Scam
# Pro's VS Con's
# Comments
---
Internet Marketing Education, Tools, Networking & Support!
Do you Hunger for the Truth About How People are Really Becoming Successful Online...
---
Jordan Belfort – The Wolf Of Wall Street Review
---
*Parent Company: Global Motivation, Inc


*Brand: Jordan Belfort
*Alternate Known Names: The Wolf Of Wall Street
*Domain Name: https://jb.online
*Domain Age: 21st/MAR/2007
*Hosting Registrar: GoDaddy.com, LLC
*Launched: JAN 2007
*Domain Authority: 52/100
*Linking Root Domains: 1.3k
*Ranking Keywords: 427
*Spam Score: 1%
*Website Asset Value: $42,011
*Address/Headquarters: 292 S La Cienaga Boulevard, Beverly Hills, California 90211 United States
*Founder: Jordan Belfort
*Contact Methods:
email: support@jordanbelfort.com
email: info@jordanbelfort.com
phone: 1-424-230-3248
phone: 310-736-2296
*Trading Hours: MON – FRI | 9am – 5pm PT
*Social Media Presence:
Facebook | Jordan Belfort – 968k followers
Twitter | @wolfofwallst – 641.5k followers
Instagram | wolfofwallst – 1.9m followers
YouTube | The Wolf of Wall Street – 530k subscribers
LinkedIn | Jordan Belfort – 500+ connections
*Resources Offered:
---
---
---
Corporate training consultations
---
Recruitment – join his sales force
---
---
---
---
*Community Size: 150,000+
*Payment/Payout Currency: United States Dollar (USD)
*Cost/Prices: Ranges from $0 – $3,999
*Affiliate Program: Uncertain
*Up-Sells: Belfort being a sales guru you'd expect nothing less
*Training: 86.40%
*Support: 67.29%
*Website: 72.17%
*Software Tech: 57.91%
*Success Stories: 68.26%
*Verdict: Jordan Belfort is a master in persuasive sales so on that note, take note.





What is Jordan Belfort – The Wolf Of Wall Street All About
---
Although there are many skills that we must master throughout life to be successful, I believe that persuasion is one of the most important.
Many think it only applies to sales, but it doesn't matter what you do, be it in business or personal life.
If you can't get people to be on your side, you won't be able to get that far in life on your own.
Assuming you've actually seen the movie or read the book The Wolf of Wall Street, you will know Jordan Belfort because both the book and the movie are based on the story of his life.
At the time, he was making $1 million a week.
Even the laziest of his sales staff made more than $250,000 a year.
It was 1989 on the year that I was born.
Now the actual Wolf of Wall Street is back doing what he does best, which is teaching and training salespeople how to close more sales more often.

Since then, Jordan has trained more than 15,000 salespeople from 6 continents, including small business owners, private Internet entrepreneurs as well as Fortune 500 companies.
What makes Jordan super, very efficient at sales training is that he deeply understands human nature.
He is capable of transforming hundreds of small businesses.
Theories, techniques, and strategies in a unique and cohesive selling system called The Straight Line Persuasion that any salesperson could learn and master for 30 days.
Simply put, the Straight Line Persuasion course is Jordan Belfort's masterclass on how to sell at the highest level.
He starts off with a pretty bold statement, telling us that once you've finished studying his material, you will be able to shut down whoever is lockable!





The Real Jordan Belfort
---
Most of you have probably seen or at least heard of the movie The Wolf of Wall Street starring Leonardo DiCaprio, right?
And many of you know that this movie is based on the true story of the American brokerage firm Stratton Oakmont and its founder, Jordan Belfort.
Jordan Belfort (born in the year 1962) grew up in Queens, New York, and showed a great understanding of the business world from a tender young age.
Based on his memoir The Wolf of Wall Street, Belfort worked together with a friend to sell Italian desserts with ice water from inexpensive Styrofoam coolers on a beach close to his childhood home.
In the months of summer between high school and college, Belfort, together with his partner, made a whopping $20,000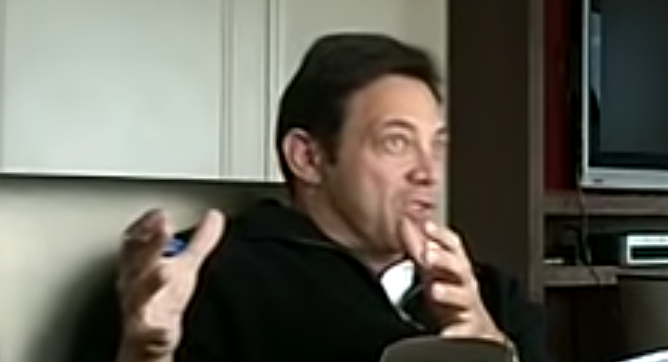 Belfort studied biology at American University with the intention of enrolling in dental school, using the money he had saved from his previous venture.
But, when the dean of the University of Maryland School of Dentistry warned students on the first day that dentistry was not a path to financial success, Belfort withdrew.
One of Belfort's first ventures after his brief stint at dental school was as a door-to-door salesman on Long Island.
He said the company was successful and was able to grow the business to the point of having a team of several workers capable of moving more than two tons of product (in this case, meat and fish) each week.
At the age of 25, the business went bankrupt, therefore Jordan went bankrupt.
It was then that he really became entwined in the stockbroker scene, a position that he accepted with the help of a family friend.
As you know from the movie, Jordan was arrested for violating title laws and spent 2 years in prison.
While I am in no way endorsing what Jordan did while running the brokerage business, I really admire how his life changed, and he managed to get out of this whole situation.
While in prison, Jordan wrote the book The Wolf of Wall Street, which was soon followed by a blockbuster movie.
Jordan Belfort has also become a motivational speaker and sales coach and what he teaches is the so-called straight line persuasion system, a system he was teaching his guys at the brokerage firm that made them all millionaires.
Jordan has been so successful in training others that he decided to put it to good use.
Jordan Belfort admits that the straight-line persuasion system is so powerful that it can easily be used to manipulate people into making decisions that are not in their best interest.
And this is where things actually went really sideways for him in the past.
He had powerful tools but low standards, he got greedy, and things got out of control.
The rest we know from the movie.
That's why he recreated his lifestyle and now displays so much empathy and ethical behaviors.
As the famous saying from the Spiderman movie goes… "With great power comes great responsibility," and Jordan Belfort urges everyone to use the power of the straight-line persuasion system ethically and to high standards.





Who Is Jordan Belfort Online For
---
This course is for people who think about doing sales but are too intimidated.
After all, it is for the salespeople, Willy Loman and Andy Bernard of the world of sales.
If you expect advanced strategies, forget it.
The course really motivates people and puts them in a sales mindset.
While this is valuable to a select few, many will find it disappointing, especially as Jordan has set such high expectations for this course.
The system also teaches people how to control sales, capture instant attention, design effective presentations, create customers for life, master the tone, the art of prospecting, vision and inside sales strategies, language models for concluding a sale, and much more.





Jordan Belfort Course/Cost
---
In total, he is viewing 10 modules that make up more than 8 hours of content.
The content is recorded from a training seminar, where Jordan was delivering his training to a live audience.
The course shows good production value at the beginning.
Jordan Belfort introduces you to the course with professional experience, a fairly high-quality camera, and fairly decent audio.
However, once he's finished giving his introduction, the rest of the course is just different clips from a sales seminar that he conducted.
Straight Line Persuasion Fast Track costs $199. The course comes with:
Straight Line Persuasion System Fast Track Course
A 3-page document to pinpoint your business weaknesses
A worksheet to follow along the course
An infographic
The Straight Line Persuasion E-Book
The program offers training for successful sales.
Jordan Belfort now passes on his knowledge, which he used in the 1990s. The online package has the following sections:
Module 1: The Basic Tenets of Straight Line Persuasion
During this module, Jordan teaches you how to develop a relationship with your client by playing like an expert, also by "actively listening," that is, making certain noises while listening like "mhhmm" "ahhh" "yup" "I got you."
Furthermore, he can also ask some smart questions to discover his weaknesses and desires.
This gives the possibility of being heard and understood.
Always remember to keep them in the straight line that brings the prospect closer to the sale.
If you feel the conversation slipping onto Pluto, get it back on the line without being intrusive or breaking up.
Module 2: The Art and Science of Prospecting
This section focuses on the art of rating buyers from non-buyers.
But Jordan's persuasion method doesn't try to get non-buyers to buy.
It's about quickly identifying non-buyers and removing them from potential customers.
This type of sales training is practical and helpful.
Improve your efficiency and increase your power with every sale.
This way, you can earn more in less time.
Module 3: Mastering Art of Tonality
During this lesson, Jordan shows you how to subconsciously impress someone that you are an expert and empathetic by changing the tone of your voice to make potential clients feel that you can solve their problems.
It's about knowingly using different tones to speak to your potential customer like a friend does, rather than being harassed by another deadpan salesperson.
Once you have perfectly mastered these skills, you can allow someone to overcome your limiting beliefs and buy something if it will really help you in any way.
Module 4: Being a leader and visionary
The crux of this particular lesson is that people accept a vision instead of their goals.
Many people don't have a vision for the future, so always look for someone with a compelling vision.
This explains why the whole world was sold to Steve Jobs because he has the purpose of impacting the world.
People usually want to do business with different individuals who are up to the big things, especially when selling higher-ticketed items.
Module 5: Inner Game of Sales
Jordan has a special gift in the way he speaks and the tonality he uses on a subconscious level?
This allows you to sell at the highest level and convinces you that you are capable of extraordinary things as a normal person.
The way he projects his words and the tonality really gets a grip of you at heart and inspires you to become someone really great if you just work hard on your sales skills.
Module 6: The 5 key elements of the straight-line system
1. The art of sifting:
At the information gathering stage, don't go directly to the sales pitch, but find out the possible reasons why the potential customer might refuse to buy your merchandise.
2. The action threshold:
This refers to the threshold at which the potential customer will claim the offer.
Everyone has a certain threshold before making a purchase decision.
The goal of SLP is to use the language model and tonality to help your potential customer overcome their limiting beliefs and choose to buy now.
3. Tipping the scales:
True SLP skill starts with examining all possible negative outcomes and then addressing each of these concerns.
Potential customers are weighing the risk and reward of the decision during their sales pitch.
So, in reality, you are arguing that the profits from the product or service are working; they far outweigh the potential risk that the product or service will not work.
4. The sales funnel:
As for the sales funnel, find out your goals and how many phone calls you need to make each day to hit your target commission at your average close rate.
5. Three things in 4 seconds:
You want to make sure you start the conversation with a firm tone that makes your prospects think you are sharp, empathetic, and knowledgeable.
Module 7: The Art and Science of Qualifying
This section is about the ability to identify motivated buyers from non-buyers.
You can begin with questions to find out what problems they are trying to solve and dig deeper into their feelings.
That said, you should keep asking questions in an emphatic and curious way like you would a friend so that the tone doesn't sound threatening.
Module 8: Presentation
Jordan covers the principles of SLP in a more corporate setting, where you are giving a presentation.
These types of setups could take a much longer sales cycle, such as a large new equipment purchase for a factory.
Therefore, it will require substantial education from the buyer and many explanations about the benefits that your products can bring them.
Module 9: The Power of Language
In this section, Jordan teaches you some of his favorite words that allow you to persuade someone on a subconscious level.
Sometimes just adding words like "virtually" in a sentence can make a difference in how the potential customer feels about your sales pitch.
Module 10: Becoming a Person of Influence
You may have the underlying feeling that you will always be financially capable when you know how to close.
Because money will always flow to you.
However, I doubt that you can really sell your vision to other people or start a new business after completing the course.
In fact, people don't even bother talking to you when you're a regular salesperson.
It sounds nice to be an influencer, but it usually takes years of hard work before you are considered an expert in a particular field.





Is Jordan Belfort a Scam
---
Straight-line persuasion is not a scam.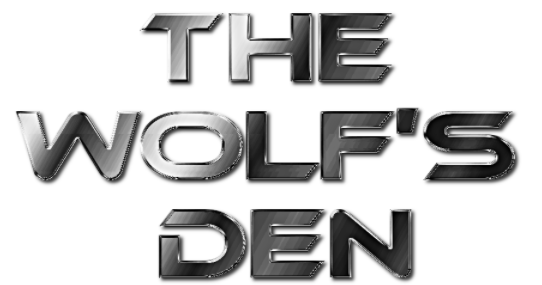 While the Straight Line Persuasion course may not be to everyone's liking, I can tell you with absolute certainty that if you study and apply the knowledge that Jordan posts in this course, your persuasion and influence skills will literally skyrocket.
The persuasive perspective of the straight line takes the form of an objective program.
The problem I have is the fact that Jordan Belfort has been involved in scams before.
Furthermore, he was charged separately even after his prison sentence.
This leaves me wondering if it is wise to follow a man who has not changed his ways so easily.
On the other hand, since he eventually changed the way he was and came to educate us on how to use these skills in a legitimate way, the scam shouldn't be too close to you.





Final Word
---
Pro's:
Real-Life Engagement: Jordan is an amazing salesman to watch. He can read all about sales, but watching him sell his system, ugly as it may be, is something he can't get out of any book or course. Jordan shows the appearance of an experienced salesperson.
Great Motivation: If Jordan achieves anything with this course, he should be the motivating factor. You can't help but feel excited and a little anxious to get into the sales department listening to him speak. With all his talk about "mindset" and "visualization," he can get your head on the right mind.
It offers a complete and affordable package. The Straight Line persuasion program provides users with audio recordings of Jordan Belfort, a workbook, and lessons on DVD. You as well have the option of communicating with him in person in a planned one-year tutoring program in the course. The system is suitable for people who want to solve their sales problems. Taking advantage of the inspiration offered by a man who raced against time to earn enough money to pay the people he had let down. The materials of it are easy to use and do not require special techniques.
It can be used by anyone, anytime, anywhere.
Con's:
Low Production Quality: This course is like a DVD of a live magic show in Las Vegas. It's just a recording of Jordan at a live seminar. The only time he talks to you is at the presentation. All e-books and spreadsheets can be removed, leaving very little value in this course.
False claims: Jordan claims to be able to teach you to change your mind and even takes twenty minutes to warn you of your new powers. However, the most he talks about in terms of sales are the generic and widely known facts. The course is crowded and little is published.
Unnecessary information: Jordan delves into this tangent of "mindset" that starts to sound religious at some points. About three-quarters of this entire course focuses solely on the "mindset" and visualizing your wealth. It's something you would hear from anyone trying to sell you a course. He never teaches actual sales information, even if it is clear that he is capable of doing so.
Overpriced – Better to hire a life coach for $15 an hour. The $199 price is absurd for such a small amount of information. Neither of these adds sales strategies that you would expect from such an experienced salesperson.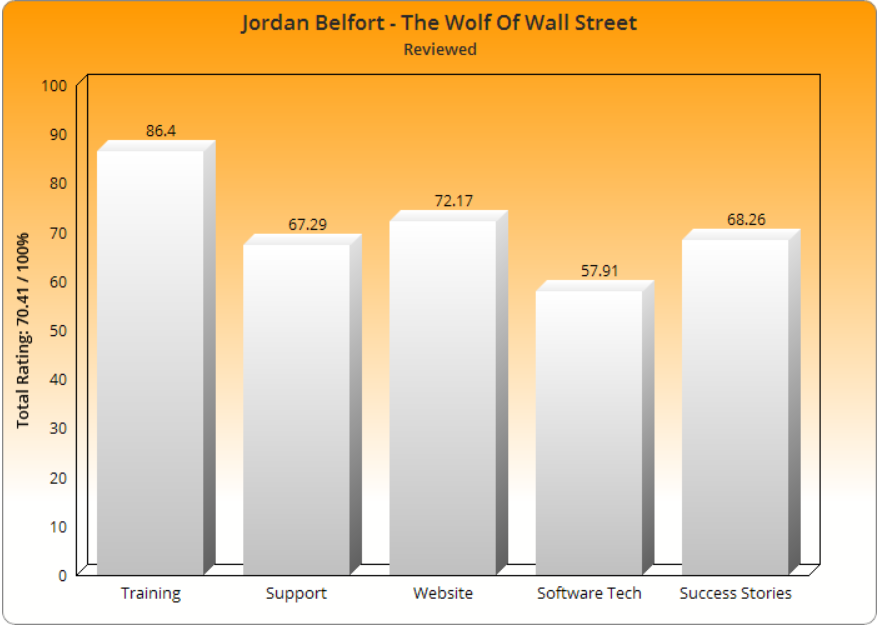 Jordan Belfort is truly the Wolf of Wall Street.
His aggressive sales model has delivered extraordinary benefits.
Trying to bring together many more sales experts is a great exercise that should be commended.
All is well, and you learn well about a killer technique like the straight line persuasion method, but nothing you learn will matter if you don't use it in the real world.
It's Not Always About Sales Mastery To Make It In The World Today. There Are

Other Platforms

That Can Get You There, Just Need Somebody Reliable To Point YOU In The Right Direction.
()

It's hard to believe but you can actually get mentored for free with a user-friendly platform interface.
If you've tried any Jordan Belfort product or services don't forget to rate it but pressing a star. Comment and/or share this to get the word out. Have a wolf of a day!




Jordan Belfort from his wolf den is still hungry like the wolf…
Comments
---