The KingHuman Elite:
$14.99 - $550.00
Training -

44.43%

Support -

51.01%

Website -

53.26%

Software Tech -

36.39%

Success Stories -

44.78%
Brief Summary:
The KingHuman Elite is a pay to use membership website which will unlock David Goodman's recommendations, forum and private groups upon subscribing. You would only join if you were a fan of KingHuman's work. Since there are a ton of free websites that affiliate marketer's recommend product's/services designed to make money on demand. Which are free from charge.
---
WHY NOT TRY SOMETHING THAT'S FREE ~ Read How You Can Create a Website that Could Emulate The KingHuman Elite & Have Your Own Paying Students…
---

Let me take a wild stab at Kinghuman's shades here. You have ended up at the Kinghuman Elite website and now you're contemplating whether to register up to become a loyal Kinghuman Elite member for only $14.99/month.
Which is quite cheap, compared to the majority of sites charging for membership nowadays. Maybe the price is so low, because the resources offered are not quite up to scratch.
Seeing all those testimonials, clicking on that scripted interactive live chat plugin, does give his website's – web squeeze page a legitimate look and feel to it.
So what are your reasons for joining? Does Kinghuman appear trustworthy to you? Maybe you might want to meet Kinghuman one-on-one and tell him to shoot his next video without wearing his trademark sun glasses on set.
Have you heard the rumour of why he wears his shades 24/7? Apparently, Kinghuman (David Goodman) has a bionic eye that's had a microchip implanted in it which is capable of signalling his technologically advanced alien armada nested on the moon?
Because after all, he is the income producing machine sent back in time to help idiot monkeys who are ruled by money carrying car keys!
---
Table of Contents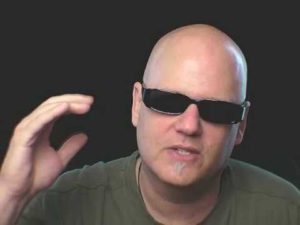 Jump to…
# The KingHuman Elite Review
# About KingHuman
# Is The KingHuman Elite Legit
# The KingHuman Elite Money Pages
# Help & Support Offered
# Pro's VS Con's
# Comments
---
Internet Marketing Education, Tools, Networking & Support!
Do you Hunger for the Truth About How People are Really Becoming Successful Online...
---




The KingHuman Elite Review
---

*Parent Company: KingHuman Inc
*Company/Branding: The KingHuman Elite
*Domain Names:
The KingHuman Elite – https://thekinghumanblog.wildapricot.org
KingHuman – http://www.kinghuman.com
KingHuman in Vegas – https://kinghumaninvegas.com
KingHuman Verified – https://kinghumanverified.com
*Domain Ages:
The KingHuman Elite (16/JUL/2013)
KingHuman (07/APR/2007)
KingHuman in Vegas (03/FEB/2020)
KingHuman Verified (20/JUL/2017)
*Domain Authority: Does not qualify
*Linking Root Domains: Does not qualify
*Ranking Keywords: Does not qualify
*Spam Score: Does not qualify
*Website Asset Value:
TheKingHumanElite.com – Does not qualify
KingHuman.com – $2,714.00
*Domain Registrar: NameCheap, Inc.
*Year Launched:
TheKingHumanElite – 2013
KingHuman – 2007
*Address/Headquarters: King Human PO Box 736 Aptos, California 95003
*Founder: David Goodman
*Contacts:
email: Kinghumanblog@aol.com
Messenger:

m.me/127976441542

3642
*Social Media Presence:
YouTube: KingHuman – 133,000+ subscribers
Facebook Group: TheKingHumanElite.com Private VIP Group – 943+ members
Facebook Page:  Kinghuman – 895+ likes, 958+ follows
Facebook Page: KingHuman Fans @kinghumanvideo – 295+ likes, 307+ follows
Facebook Profile: David Goodman – 1,810+ friends
Twitter: @kinghuman – 597 followers
Instagram: therealkinghuman – 488+ followers
*Services Offered:
Product/Service Recommendations
---
---
---
---
---
*Community Size: 10,000+
*Payment Currency: United States Dollar (USD)
*Membership Costs (USD):
Elite

= $14.99

Yearly

= $162.00

Lifetime

= $550.00
*Affiliate/Referral Program: Nope
*Up-sells: No
*Cross-Sells: Yes
*Training: 44.43%
*Support: 51.01%
*Website: 53.26%
*Software Tech: 36.39%
*Success Stories: 44.78%
*Verdict: David Goodman is primarily an affiliate marketer that recommends products and services to his students at The KingHuman Elite. What David offers is no hidden secret. You can do your own research and find opportunities online without paying for membership there.





About KingHuman
---
Do you like to watch and observe David Goodman ranting about his eccentric ideals on camera? He covers a range of topics designed to make you 'money on demand.' As he likes to put it.
Also I'd wager. At first, you were probably sceptical about King Human's mad man antics. But now you've been convinced of his legitimacy with his awesome video content and authoritative presence displayed within his YouTube videos.
In which there're over 1000 videos published via his YouTube channel, so check them out and subscribe to show your support!
If you're here and reading this, I guess you want some expert-like insights into The KingHuman Elite website before making that initial upfront payment to gain admittance. Does that sound about right?
First of all, I like Kinghuman. If you so happen to be reading this. Don't take it personal guy, I mean no disrespect. I have a lot of praise for the hard work you've put into making your YouTube video's entertaining. They're quite engaging.
It wouldn't have been a brisk walk through the park to get where you're today without putting a few band aids on your nipples. I bet you would have experienced plenty of major/minor set backs throughout your online journey toward success.
I don't know everything KingHuman does on/offline to make a living. But the only proof, or source of income that is visible is derived through his websites and YouTube channel.
Does KingHuman earn online revenue with advertisements through Google Ad Sense? I'd say so. King Human definitely drives traffic to his website through his video content.
King Human is an out of this world geriatric and appears to know what he's talking about, considering he has that old man wisdom. But clearlt, there is less to Dave then meets the eye.
You need to understand what King Human is all about. And determine for yourself if he is a scam or not. So then, allow me to elaborate why I'd personally steer clear from his cult.
King Human is a marketing genius who produces a lot of hyped content. Although, still very entertaining. Not everything he records for YouTube is to try and sell a product/service to make commissions online.
Overall, King Human tries to build his empire off of the inexperienced/gullible dreamers trying to make revenue happen through the power of the internet.
KingHuman tries to promote his online business affiliations to his followers, typically over within The KingHuman Elite membership website.
If KingHuman told his students the complete truth and showed them how to replicate exactly what he does to earn a living online.
He would essentially be losing business. As he would create competition for himself. KingHuman prefers to mislead and/or allow members of The KingHuman Elite to try something at random that is likely to fail for the majority.
Failing can lead to trying something else recommended, thus earning King David more commissions. Dave would hope that his students would keep purchasing new products to earn him as much commission based revenue as possible.

I know some of you may be wondering who I am, or why I come across as belittling the KingHuman name/brand. You're entitled to your own opinions about me, so roast away in the comments if you want.
I've had insider access and experienced The King Human Elite platform firsthand back in 2014. I'm sure it has improved since then, but looking over the site in 2020, not much has changed.
The KingHuman Elite is nothing special to say the least. There is more time and effort emphasised on the join/sales squeeze page then most of the content found within the website.
You'd think by becoming an elite member you would be offered something like an official 'The KingHuman Elite Training Course' that educates his students how to replicate what David Goodman had done to grow his business.
The only added benefit for purchasing the King Human Elite membership is a single paged tab that unlocks upon payment.
This tab is called the Money Pages/Money Pages Index. This is where King Human reviews and attempts to market products/services to his elite subscribers.
Is this an up-sell. Not exactly. It's kind of a cross-sell I think. If King Human Elite was not a paying membership website, the site would be nothing more than a free blog. The same as any other make-money-online (MMO) blogs found online.
To be quite honest, if I had a website that had been running for a number of years like The KingHuman Elite. Only to offer a little amount of content that's sole purpose is to make affiliate sales online.
I'd be ashamed in myself. I really do feel sorry for anyone that has purchased a lifetime membership because $550.00 is a heck of a lot of credits to spend, not to mention any spending on additional products/services promoted from the website itself.





Is The KingHuman Elite Legit
---
Questioning King Human's legitimacy? That depends on how you look at this particular situation. To an experienced marketers eyes, or someone with a good comprehension of the online marketing industry.
They would see King Human as nothing more then a video/website internet marketer who is after money on demand. And boy, I do give credit to the guy with what he can do from his YouTube channel alone.
King Human's intellect is engaging, humorous and persuasive. As a result he quite possibly gets plenty of sales from this natural ability alone.
King Human isn't conducting anything illegal within his business as far as I can see. But I'm still indecisive if his intentions are true.

The KingHuman Elite Money Pages
---
As touched on briefly. Money Pages is the only feature or benefit you get from becoming a paying elite member. With that said, there is no training course or anything significant that is recommended to follow to become successful online.
Your expected to simply look through the King Human Elite's blog for products/services that's been published by himself during the past number of years. Pick, try, succeed and run with it, or likely fail!
I don't know how this approach really benefits anyone but himself. So, to recap.
First you have to pay for a membership to access his blog.
Then pay some more once you've read, clicked affiliate links and purchased something found within the Money Pages (probably hasn't really tested or used these personally to grow his own internet business).
Then he takes most of his commissions to Las Vegas, renting out a fancy hotel suite.
Followed by blowing his doe on gambling activities such as Baccarat and sipping expensive margaritas by the pool getting pampered for the next couple of days.
Help & Support Offered
---
Do you want help? Go find somewhere else! King Human operates by himself. If you have a question or qualm. It could take up to a solid week before getting a reply. Even then, you may be discarded out of his email box because he claims he gets 300 – 500 emails per day.
With, or without elite membership you can always email King Human directly at: Kinghumanblog@aol.com
Other avenues to take:
The Forum
The Forum has been active for a couple of years now. When I say active, I mean inactive. When I visited the Forum during my search, there was next to no real activity. No discussions occurring, or barely even anything published during my short stay.
I'd say not much has changed over the years.
Direct URL address to join The KingHumans Elite Forum – https://kinghuman.discussioncommunity.com

Face Book Group
King Human created a Face Book group during 2017 called – TheKingHumanElite.com Private VIP Group.
This group is currently open. There is currently 942 members and 23 new members have joined it in the last 30 days.





Final Word
---
Pro's
Entertainment through his YouTube channels video recordings.
When not promoting products/services. Dave Goodman offers good advice.
Plenty of years of experience.
Private Facebook group.
Forum.
Con's
Recommendations offered in The Kinghuman Elite website are not all quality sources.
Lacks fast communication with it's help and support.
It's a membership website when it could easily be free to use.
Website offers low/average quality content.
Poorly designed website that has no real credibility.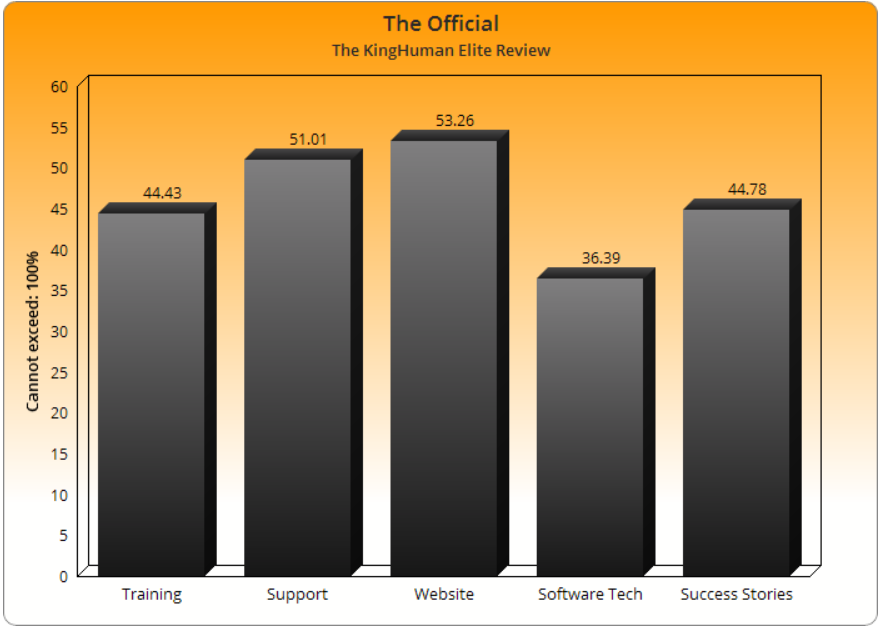 First, let me just say. Without King Human's YouTube channel, his online success would be much limited. This prediction is based from his overall website performance through data analysed.
Have you seen how many views Dave's YouTube channel has had since 2007? The KingHuman YouTube channel has had 28,512,794+ views since it's inception.
You do the maths idiot monkey. 28 million views at $1.00 per 1000 impressions. Then imagine all those ads that were clicked which can pay a few dollars per click. There would be a few hundred thousand ad clicks done to say the least.
That's a lot of money on demand and at the same time Mr. Goodman would have marketed many products and services that earned him affiliate commissions that're still paying him to this day.
All this income whilst linking out and pushing leads over to Dave's membership website. Earning extra for membership sign-ups. It makes you wonder why you wouldn't just copy what Dave Goodman is doing and replicate his methods to earn income online.
Use Mr Goodman as an example and outperform his business.
It's safe to say that The King Human Elite is not the best route to go down if you are searching for a quality opportunity to scale an online business, or building a long-term asset.
KingHuman is a financially successful affiliate marketer who markets company products and services via his YouTube channel and website platforms.
King Human conducts his advertising efforts by inserting affiliate ID's (hyperlinks) that are unique to him alone, into his product/service reviews.
If someone clicks on his unique affiliate link and completes a purchase. David will earn a commission generated off the sale.
With King Human's many years of experience as a video marketer. He has accrued a sizeable subscription list of within his YouTube channel alone.
Without David Goodman's silver tongue and gift of the gab. The King Human websites would likely be dead with maybe, some trickle traffic.
Financially, that would be spell detrimental for King Human.
If you look up to King Human and follow his methodology/ideals of earning revenue online. I want to attempt to guide you to a more reliable method. I'd like to let you read what a resourceful opportunity should look like.
Why Not Replicate What KingHuman is Doing & Out Earn Dave Goodman! If KingHuman Will Not Teach YOU.
I Will Link YOU

to the Best Website to Learn How to Out Rank David Goodman's Website With Your Own & Create a Quality YouTube Channel
()

Does this not give you a clear indication of the kinds of benefits offered from within it. By simply comparing the pairs. Skim read the article linked to it below to find out the benefits
Any fan hate, please let us read in the comments section below. If you have a genuine interest, question or would just like to ask something that might benefit your current circumstance. I will happily assist you in any which way I can. Be social and don't forget to share.




Are you one of his idiot monkeys…
Comments
---