To those who are wondering is Project Payday a scam or legit. I can provide a detailed overview of the good, the bad and the plain old ugly aspects of being a Project Payday panellist.
There is a common misconception out there. Project Payday actually goes by the branded name of Project Payday Research.
Project Payday was once a home based business marketing website. According to Better Business Bureau (BBB.org), the original company failed to respond to a lodged complaint. That resulted in receiving the BBB rating of (B-).
Notice how this YouTube video is misleading! Project Payday claimed to have an A+ accreditation from the BBB. And the reviewing flop, tries his best to promote the original Project Payday website.
By clicking on his video link within YouTube. It doesn't even take you to Project Payday website. Anyways, moving on. Project Payday either ceased operation, or decided to reshape the platform.
Now by entering and searching for Projectpayday.com within the URL address bar. The URL will automatically transfer over to https://www.projectpaydayresearch.com.
Before, you even consider joining the Project Payday Research company. You might want to first determine whether Project Payday Research contains the type of contents that cater to you unique goals, ambitions or financial desires online.

---
Table of Contents
Jump to…
# Project Payday Research Review
# Project Payday Websites Purpose
# Eligibility Requirements
# Project Payday Cash & Rewards
# Panellists Mutual Obligation
# Help & Support
# The Good, The Bad & The Ugly
---
Affiliate Marketing Education, Tools, Community & Support!
Do you Hunger for the Truth & Knowledge About How People are Really Becoming Successful Online...
---
So, read this unique version about Project Payday Research. That way, you can fully know for certain if your still interested in, or save yourself the time and hassle of setting up an account, only to then cancel out from it.
By the end of this review, you will be fully caught up with the Project Payday Research platform, knowing what it's all about! So without further ado, I give to you.
Project Payday Research: Review
---

*Brand: Project Payday Research
*URL: https://www.projectpaydayresearch.com
*Founder: Undisclosed
*Active Since: May 15, 2009 – current
*Prices: $0.00 (Free service)
*Training: 08.74%
*Support: 47.27%
*Website Builder: 00.00%
*WordPress Hosting: 00.00%
*Software Tools: 11.17%
*Success Stories: 13.09%
*Up-sells: No
*Scam VS Legit Verdict: Legit, nor a scam (if you don't mind extensive surveys for minimal compensation)
Project Payday Websites Purpose
---
Online/offline business's are always seeking feedback and advice about how to improve upon it's inventory line of product and/or services.
The Project Payday Research website acts as a neutral based, interactive service provider. So basically, Project Payday Research is the middle man which connects all the dots.
By that I mean, handing out various surveys/questionnaires, compiled by third party companies, to similar matching Project Payday Research account profiles (Registered members).
These companies need to collect opinions, reviews and experiences for a range of reasons. They can spend upward of a million dollars every year to access this insightful data. To name a few purposes of survey gathering:
Further, improve upon product and services.
Understand their target demographics better. I.e. Age, sexual orientation, country of residency etc.
To better shape advertising/marketing campaigns.
Eligibility Requirements
---
Need to be 13+ years of age or older.
Fill in the initial registration form to its entirety.
Complete a couple of profile related question sheets to try and match you with specific surveys.
Prove you are no robot. Go into your email account and open the electronic message received from Project Payday to activate/verify your account.
Log into Project Payday Research account anytime to begin using it's services.
Project Payday Cash & Rewards
---
There are various ways to earn chump change by using Project Payday Research:
By taking online surveys/questionnaires.
Attending local focus groups.
Joining online communities.
Trying brand name products or services.
Participating in clinical trials.
Entering into daily, weekly or monthly sweepstake's.
And occasionally something new might pop up!

It's specified and clearly evident within a container box next to the registration homepage, that you will not become a millionaire using the Project Payday Research website.
However, it does state that it's quite possible to earn cash and rewards of up to a few hundred dollars each week by first qualifying, than completing surveys, along with winning daily, weekly and monthly sweepstake's competitions.
On completion of a survey. Third party companies will either automatically transfer your reward into your account.
Otherwise, there will be instructions for Project Payday Research moderators to initiate the reward transfer into your dashboard rewards account manually.
If, you complete a survey and are not redirected back to Project Payday Research site. Don't panic. You will still be credited that reward. Just give it time.
Don't think, expect or plan to quit your day job to use the Project Payday Research site solely as a main stream of income. You would be foolish!
Panellists Mutual Obligation
---
The hierarchy of Project Payday Research expects all of its members to fill out each questionnaire initiated in a truthful, honest manner.
There are parameters put in place, designed to detect whether a panellist is regularly cheating the system. For example, if a member received a multiple choice survey containing 100 questions.
This figure may quite possibly make the panellist think twice about marking off each question truthfully, in attempt to cut time for the reward.
By rushing through and clicking these 100 questions true or false, yes or no, then submitting the results in less than 5 minutes so to speak.
Software measures may detect the unusually quick time. Flagging the survey for suspicious activity and alerting moderators to conduct further checks of verification.
Something similar, like this example just now could lead to the termination of your account, so be careful.
Even if, you abide by the Project Payday Research protocols and answer surveys honestly, accurate and correct to the best of your knowledge. There is still the possibility that your survey may be cancelled prior to completely finishing it.
Don't panic! This is normal and can happen to anyone. There are benchmarks, or cut off points within certain questions that automatically opt you out.
Usually if, your knowledge or experience does not match certain criteria for that survey.
It doesn't mean you are wrong with your answers submitted. But note that your reward may be revoked, or reduced depending where you are cut off during the survey.
If you fail to make it pass the first question. You may forfeit all rewards for that survey. But, by making it half way throughout, you might receive half the reward total.
Also, you can create you own polls and gather data from other Project Payday Researchers. Vice versa.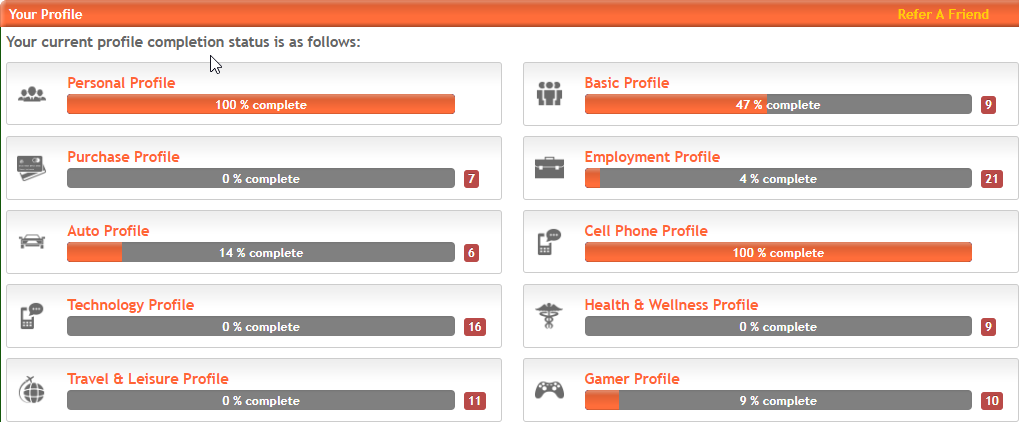 Help & Support
---
Considering the sheer simplicity of features, functionality at the Project Payday Research website.
The only method of contact available can be achieved by submitting a support item (email messaging).
Majority of any questions regarding Project Payday Research, should already be covered within the Frequently Asked Questions (FAQ's). So, you will likely not need to directly message the support team.
You can access FAQ's inside the Knowledge Base page. The Knowledge Base outlines key topics. These categories include:
Amazon
Upon reaching $10.00 in rewards. You can redeem Amazon coupons in increments of $10.00 to spend over at the Amazon.com website.
Dining Dough
Dining Dough offers gift certificates for there list of restaurant affiliations. Only available for US citizens though. Trade any reward credits to redeem meal vouchers.
Facebook
By linking up your Facebook and Project Payday Research accounts. Your Facebook profile can receive incoming survey notifications whilst logged into Facebook.
Log in/Sign up
If you account is marked as fraudulent, you can dispute this claim be submitting a ticket if you believe there has been a mistake made.
Member Cancellation
Cancel membership at anytime. It can take up to 24 hours to process the cancellation.
Payoneer
Apply for a payoneer prepaid MasterCard and you shall receive a physical plastic card within a few weeks. Deposit rewards in multiples of $10.00, directly into you Payoneer Card account.
You can use Payoneer to transfer you credits directly into you local bank account and spent it on whatever you please.
Rewards
Project Payday Research is an international used platform. Certain countries are limited to how they can spend it's rewards. Though fortunately, no matter what country you reside in.
You can indefinitely retrieve a Payoneer Prepaid MasterCard and deposit funds directly into you nominal bank account.
Surveys
Remember to fill in you profile details accurately, that way you receive surveys related to you biographical info and experiences.
Even the most detailed profile description will not guarantee that you'll qualify for every single survey on offer at Project Payday Research.
New surveys are added daily to the Project Payday Research company.
Final Word
---
The Good
You can register and access the Project Payday platform for free. No purchasing will ever be necessary to utilize it's contents.
Refer 10 friends to Project Payday Research and receive rewards at a rate of $0.50 per referral.
Most surveys pay out an average of $2.00 by reaching the end.
Receive notifications of new surveys via email or, whilst logged into your Facebook account.
The Bad
There is no officially recurring referral/affiliate program incentive offered. Even though, you are capable of referring up to 10 friends by inserting there email addresses into the allocated email table.
Your rewards will expire after 365 days (1 year) if not claimed.
The Ugly
Project Payday Research is rather limited in terms of navigation and resources available.
Any rewards earned will sit in a pending stasis for 2 to 6 weeks after completing a survey. You are usually required to wait until a company survey campaign has finished before getting access to your rewards.
Project Payday isn't designed to make a lifestyle changing income. If, you want to earn some petty cash and find enjoyment out of answering questions for it. Then you will have an awesome time here.
There is really only a few ways to make a lifestyle changing income stream online. To cut a long story short. Read how you can turn a passion or interest into a long-term, thriving business.

Read more about what it takes to become an affiliate marketer using your very own website.
If you have any further questions regarding the Project Payday Research company. Ask away below until you minds content.
Have you previously used Project Payday Research in the past? I'd love to hear you views, or any insights you have about your experiences with this company!
Enjoy the rest of you day…




Quick Recap of Project Payday Research
$0.00 (FREE)
Training

Support

Software Tools

Success Stories