Officeless Agency:
$9.94 + upsells
Training -

71.87%

Support -

57.94%

Website -

78.95%

Software Tech -

39.93%

Success Stories -

36.87%
Brief Summary:
Does Officeless Agency Masterclass provide the best training possible to help build a successful online advertising agency? Your goal will be to try and acquire retainable hot leads. So that you maintain a healthy income stream. Chance and Abdul will teach you exactly what they do to grow there own agencies.
---
BUILDING AN AGENCY NOT FOR YOU ~ We Have The Right Alternative To This Advertising Agency Stuff…
---
Officeless Agency is a newly found video training course program that aims at revealing unconventional shortcuts to starting a real new business.
The video helps you build a proven business model based on your niche.
It also enables you to produce consistent and predictable income simply by sitting at home.
All you need to do while using this program is, generate "ready to buy" leads.
They provide online advertisements that are easy to set up and require surprisingly little time to administer.
This video training program helps you generate consistent and predictable income.
The strategies and tactics included in the training course are boasted to being completely based on proven science.
Basically, this online training program is designed to provide a new and effective way to build a successful business in a short period of time.
---
TABLE OF CONTENTS

Jump to

…
# Officeless Agency Review
# About Officeless Agency
# About Abdul & Chance
# Who Is Officeless Agency For
# Officeless Agency Masterclass
# Is Officeless Agency a Scam
# Pro's VS Con's
# Comments
---
Internet Marketing Education, Tools, Networking & Support!
Do you Hunger for the Truth About How People are Really Becoming Successful Online...
---
Officeless Agency Review
---
*Parent Company: The Modern Millionaires


*Subsidiary: Officeless Agency
*Alternate Known Names: Office Less Agency
*Domain Name: https://www.officelessagency.com
*Domain Age: 08th/APR/2020
*Hosting Registrar: NAMECHEAP INC
*Launch Year: 2020
*Website Asset Value: $71,522
*Address/Headquarters: Modern Millionaires – 311 N 23rd Street, Boise, Idaho, United States 83702
*Co-founders: Chance Welton & Abdul Samad
*Contact Methods:
email: support@themodernmillionaires.com
email: abdul@lions.marketing
*Social Media Presence:
YouTube | Chance & Abdul – 12.4K subscribers
*Resources Offered:
---
---
---
---
---
Profitable niche selection
---
---
Community mastermind group
---
*Community Size: 2,500+
*Payment/Payout Currency: United States Dollar (USD)
*Cost/Price Tag: $9.94
*Affiliate Program: No
*Up-Sells: $5,000.00 – $7,860.00
*Training: 71.87%
*Support: 57.94%
*Website: 78.95%
*Software Tech: 39.93%
*Success Stories: 36.87%
*Verdict: Legit resource, but only a small portion of students will benefit in some way





What is Officeless Agency All About
---
As you can imagine, the course is not free and therefore, some questions are likely to arise about it, such as:
Is it really legit?
Is it really worth taking the time?
Or is Officeless Agency a scam that will ultimately only make you spend money and get nothing of value in return?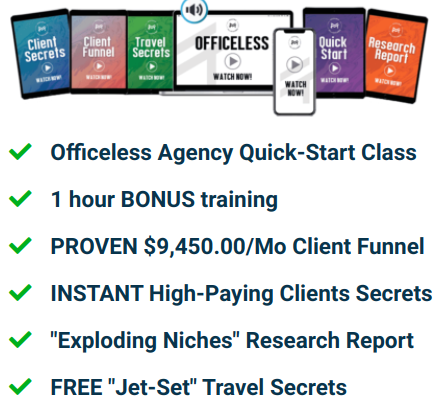 Fortunately, this is the right place to find the answers to all these inquisitions.
Officeless Agency Masterclass, also known as Millionaire Middleman, is an online program that makes you become a successful businessman.
After attending their training program, you will realize how easy running a business can be.
This 30-day course takes you through the quick start program for the officeless agency.
The 2-hour video training course will give you knowledge from A to Z on how to start a business.
Along with this, they also provide a "recession killer" bonus.
This 1-hour private training video shows you how to crush your niche during a recession with an officeless agency.
At the core of what they teach you, is to identify people who are already spending a lot on online advertising but are not doing it as effectively as possible, thus losing profits or paying far more for ads than should be.
You initiate communication with those potential customers and show them where they are wrong and offer them a trial, of course, for a fee.
If you end up doing a better job and they benefit from it in some way, which is usually through an improvement in sales or a reduction in their costs or better yet, both, which can often be the case, the bottom line, it will be you winning over a regular customer!





About Abdul Samad & Chance Welton
---
Officeless Agency or Millionaire Middleman is the name of a course put together by two guys named Abdul & Chance and it essentially promises to provide what they call "freedom-seeking entrepreneurs" with everything they need to create highly profitable online businesses.
Abdul Samad is an international best-selling author, speaker, and multiple seven-figure business owners.
He has been mentioned in publications like Forbes & Entrepreneur.
His IT mindset, marketing, sales, and business systems are known as the secret ingredient behind thousands of successful digital marketing professionals, vendors, software vendors, and entrepreneurs.
Abdul's unique coaching style comes from the first-hand experience of building multiple 7-figure businesses with no money, no contacts.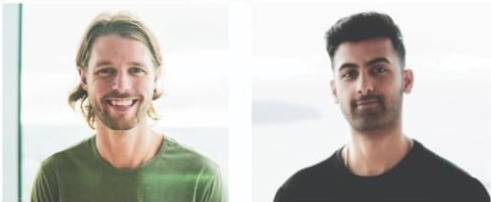 Chance Welton is a self-taught entrepreneur, owner, and CEO of Beachwood Marketing, a 7-figure online marketing platform that has grown from scratch in 3 years.
He is also a co-founder of the "Officeless Agency."
He has been written in publications like Forbes and Entrepreneur for his innovative mindset, determination, and ability to build everything from scratch.
By staying focused, putting the important pieces first, and always waking up before sunrise.
Chance and Abdul, founders of Officeless Agency, are highly respected in the digital marketing arena and many of their students and colleagues have the technical skills, knowledge, and teaching skills that are demonstrated in their video training and coaching program sessions and YouTube channel.
Abdul allegedly makes $2 million a year as an online advertising broker, while his friend Chance makes around $800,000 doing the exact same thing.





Who is Officeless Agency For
---
There is no immediate formula for success; however, you can accelerate your business growth quickly and efficiently with these tips from Chance & Abdul.
According to findings carried out by the Bureau of Labor Statistics, about 20 percent of upcoming businesses crumble in the first year, and even more than half do not make it to the fifth year.
Most of these entrepreneurs have the drive and passion to build that empire, but what happens in the future?
A bad marketing strategy, an ineffective business model, lack of capital, and more.
Any successful entrepreneur today will tell you that starting a business is not always easy.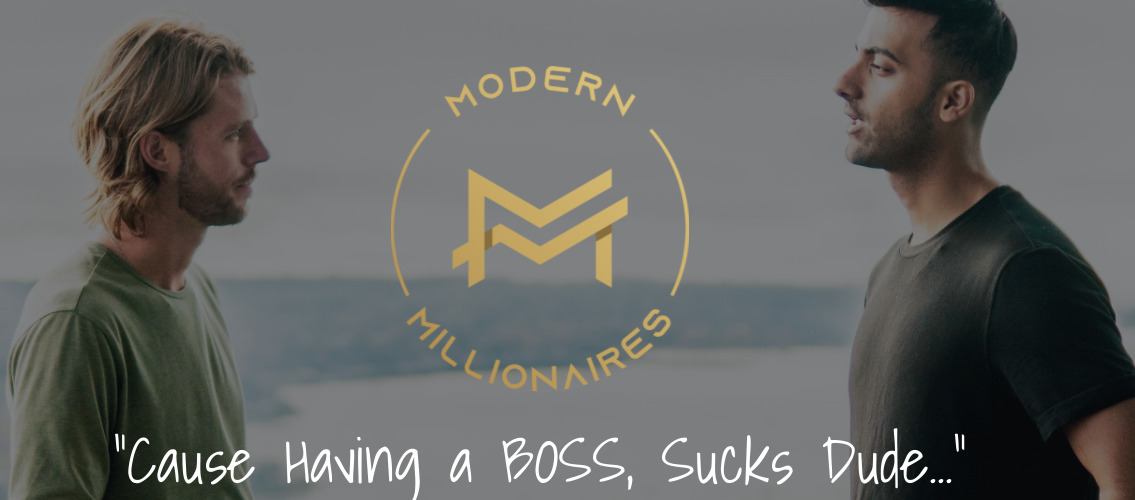 Whether it's making key financial decisions, choosing a business structure, or creating effective marketing initiatives, starting a business can certainly be difficult.
Rather than guessing and diving into whatever comes your way, Officeless Agency offers a step-by-step guide to get started.
Assuming you are one of those who are willing to make a profit through an online business, you should try the officeless agency masterclass training program.
The video of the training program will be very useful to clarify all your doubts related to the creation of a company.
The program will give you easy and amazing ideas that you can use in your leisure time.
Strictly follow the instructions provided through the training program and if you have any concerns or need clarification, utilize the customer care support provided by the team.
Officeless Agency Masterclass Training Course
---
Basically, Officeless Agency is an online video training course meant to teach you how to set up and run your own online PPC marketing agency for local businesses.
That is, you only have to pay $9.94 to access the training program.
Digital access will be provided immediately and you will be able to start viewing the training program in the next 2 minutes.
Assuming you are a beginner you may think that this is very cheap, how is it possible?
So let me explain, this is their upsell product, the course price ranges from $5000 to $7860.
There are four modules inside modern millionaires, each one organized with videos and sections.
There are a total of 6 sections within the course.
Let's talk about each module and see what they will teach you.
In this first module, they will teach you the basic concepts of this business model.
What is this about?
Why you should consider starting this business.
They called this module "foundation," as in this module you will learn pretty basic things like creating a website for clients, buying domains, how to create a website from scratch, niche selection, and all the necessary legal documents to start an online advertising agency!
In addition to this, you will be guided on how to professionally start your advertising agency.
This module teaches you the techniques you can use to get clients.
This module uses many methods to reach entrepreneurs, such as cold email, cold calling, and professional networking.
In this module, you will also learn how to conclude agreements and sign contracts with entrepreneurs.
This module also includes which payment processor to use.
The third module is based on three sub-modules.
They all consist of how to generate traffic to your clients' websites or something else using different platforms.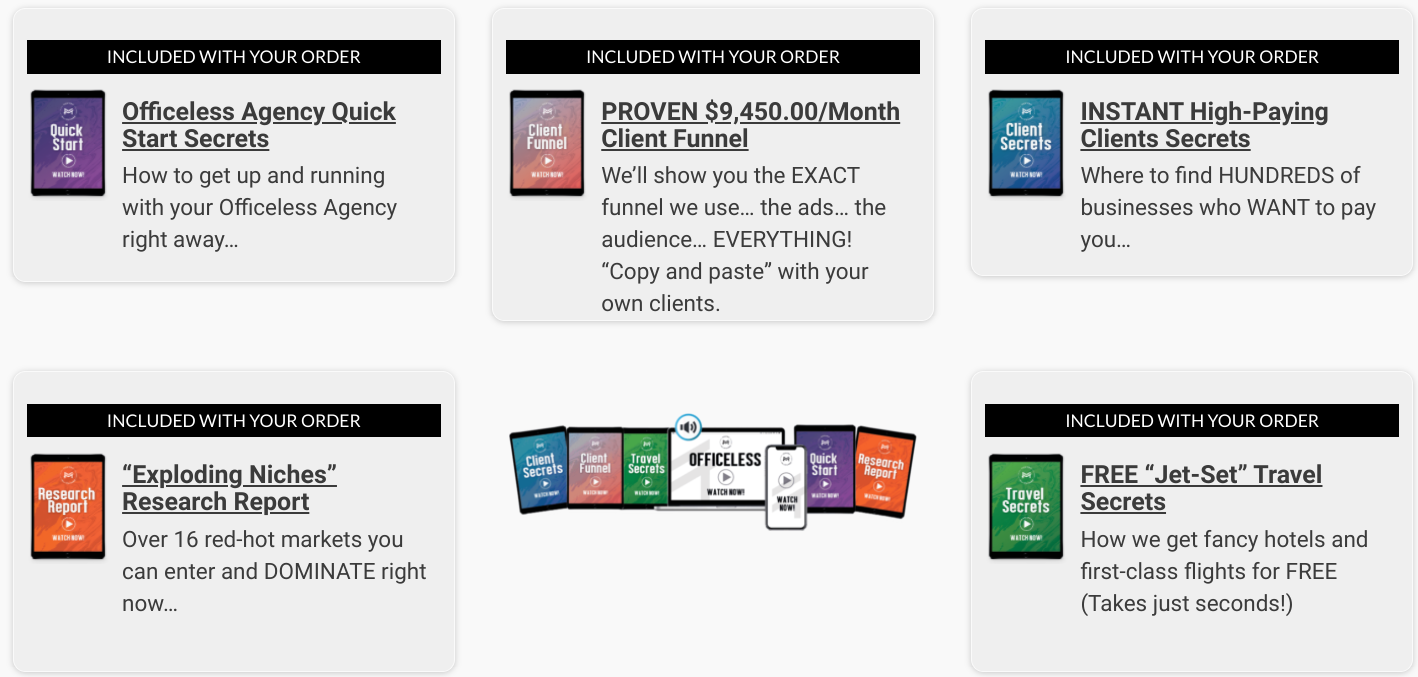 MODULES A:
During this module, you will acquire knowledge on how to generate traffic using Google Ads and earn money for your customer.
It as well includes how to set up campaigns on Google and start with a low budget and then scale it.
MODULE B:
You will be taught how to run Facebook Ads as well as make money for you and your customer.
Configuration, campaign execution, and scalability are also included.
MODULE C:
Traffic generation is fine, but if you don't convert those leads, it's a complete waste of money.
This module teaches you how to generate sales and convert leads effectively.
One thing I liked about this firm is that they also mentioned closing leads on calls.
Take your business to the skies and build a team that can work for you 24 hours a day, 7 days a week.
They recommend hiring freelancers from Fiverr and Upwork.
You can make money, but the cost of this course is very expensive.





Is the Officeless Agency a Scam
---
Officeless Agency is not a scam.
It is a legitimate course and it is a course that could really help you find substantial success as an ad agency owner.
Further proof of its legitimacy is its association with The HOTH, which is a great SEO organization as well as one of the largest in the industry.
Some of the largest US companies are clients of The HOTH.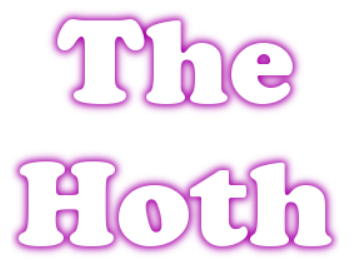 Officeless Agency offers a very good business model and the opportunity to create your own online advertising agency.
Running direct ads is not as easy as it sounds or makes it sound as there are many technicalities involved.
The training program that the Officeless Agency Masterclass leads to is a high-quality step by step training and is legit.
It is not perfect as there are some flaws, but it is good, and it is legitimate.
It is a totally legitimate and quality training.
It would be much better to find and receive training from a certified Google partner and getting AdWords certified.





Final Word
---
Pro's:
This program will be easy to learn and anyone can use it.
The program is a proven way to start a business based on your niche, and there are many masterclass client reviews of officeless agencies from those who have already made millions of dollars using the same technology that this program will discuss.
The strategies and methods revealed throughout the program are unique and easy to follow.
Limited technical skills:
You can do this with limited technical skills and experience.
Do not require any employee to perform any work. You only need a laptop, so its maintenance is simple and low.
It is a genuine business model.
They are well rated by the BBB.
Con's:
Finding clients is difficult, no matter how good of a training you get on finding them.
Their course is not certified by AdWords.
There is a lack of local SEO training to help you run a full agency for local clients.
Taking the time to acquire knowledge on the system and getting good isn't easy either.
You are also potentially spending a lot of money on training and then using the training to run your ads and get customers. This in itself, can add up with no real guarantee that it will work.
Winning a client is great, but keeping them means getting results, and if you can't keep them, you can forget about that big paycheck.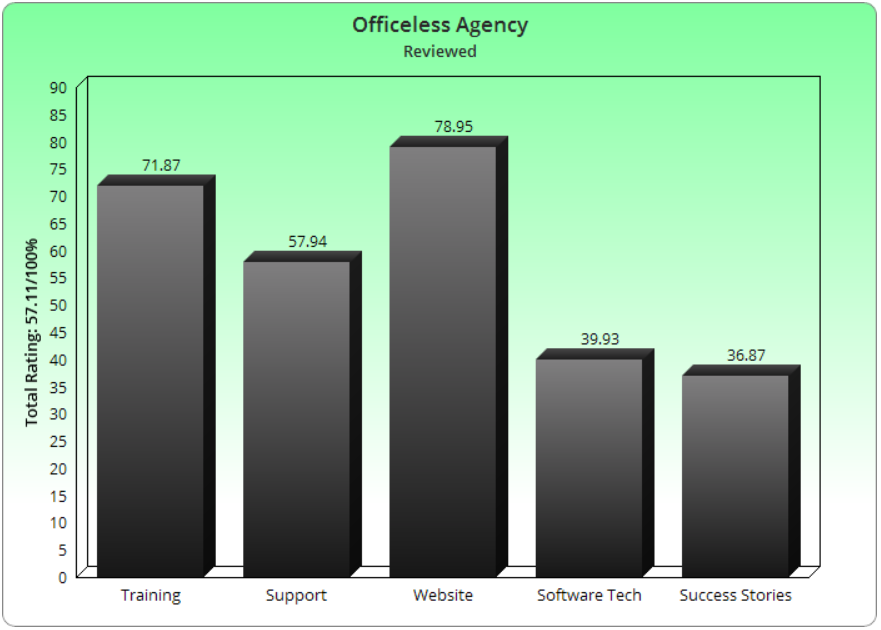 Officeless Agency Masterclass is a proven business model that helps you find a way to make money online.
You can run your business in a few hours a week from anywhere in the world.
If Officeless Agency is not for you they offer a refund. 30-day money back guarantee.
If you claimed for a refund, I'd suggest a top alternative from e-agencies.
Are YOU Tired Of

All These Web Advertisements

& Make-Money-Online Offers That Claim To Make YOU A Lot Of Revenue? Let's Get Real. The Real Secret Is To Have A Proven Formula For Success. Here's Our Top Recommendation To A Sophisticated Entrepreneur Platform That's Newbie Friendly.
()

Read all there is to know about this all in one business system. Can you believe they offer free membership that unlocks a plethora of resources.
Whatever you decide to do, my only hope is that my Officeless Agency review here has given you a proper overview of how the program actually works and what you will actually get out of it. Feel free to drop a like, comment or share this to your peers.




Is creating a digital marketing agency a good method…
Comments
---