Have you ventured here to see if you can dethrone the "queen of internet marketing." So who is Rosalind Gardner? What products/platforms has she built over the years?
Rosalind had her big financial break back in 2003, the days of time consuming HTML coding tasks, FTP and ASCII.
Today you'll get a general background check up on Rosalind Gardner and the website, but try not to alert the royals of her queen status.
---
Table of Contents

Jump to…
# Rosalind Gardner Review
# About Rosalind Gardner
# Rosalind Gardner Products
# Is Rosalind Gardner a Scam
# Rosalind Gardner Affiliate Program
# Pro's VS Con's
---
Internet Marketing Education, Tools, Networking & Support!
Do you Hunger for the Truth About How People are Really Becoming Successful Online...
---
How much is Rosalindgardner.com worth 
= $9,295.00
Estimated visitors it gets every day
– 2,044
Rosalind Gardner Review
---
*Brand: Rosalind Gardner


*Website URL: https://rosalindgardner.com
*Year Launched: 2003
*Domain Age: 19th/JUN/2002
*Address/HQ: 264 Sundial Road, Oliver, British Columbia of Canada
*Contacts: Contact page – integrated messaging
*Social Media Stats:
Facebook – Personal
Twitter – 16.2K followers
Pinterest – 1,200 followers
LinkedIn – 500+ connections
YouTube – 1.9K subscribers
*Other Company URL's:
https://superaffiliatehandbook.com
https://rosalindgardner.me
https://101date.com
https://windingway.com
http://affiliatebloggerpro.com
http://vaseuxlake.com
*Training: 54.39%
*Support: 49.03%
*Website: 44.37%
*Software Tools: 17.38%
*Success Stories: 49.03%
*Education: Political Science, Environmental Studies – University of Waterloo, Canada
*Pricing:
Main website = $0.00 (Free)
Super Affiliate Handbook = $27.00 (USD)
Affiliate Blogger PRO = $27.00 / month
One-on-one consultations (USD) = $50.00 (15 min), $98.50 (30 min), $197.00 (1 hr)
Recommends products/services = $? (varies)
*Up-sells: Product/services recommendations
*Verdict: Valid source of info
About Rosalind Gardner
---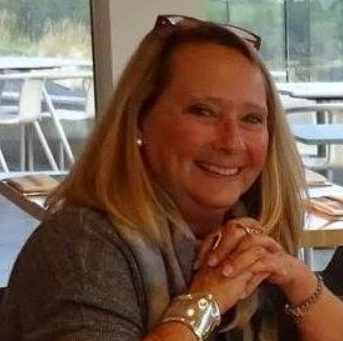 Rosalind Gardner resides in Oliver, Canada and started her journey with internet business way back in 2002
Back during these times, the web was drastically different. The way to construct websites and perform online operations were much harder, yet somewhat simpler at the same time.
She worked stressful hours as an air traffic controller. Because of this Rosalind knew that she needed a much deserved break from the unpredictable hours and confines of her employment.
Whilst browsing online one day, Rosalind had seen a 'make income online' advertisement and was instantly fixated at the concept and possibility. Rosalind got started right away, learning the way of an internet marketer.
Her first online venture was a dating website called Sage-Hearts (now 101 date). After 2 years, Rosalind quit her career and focused on making a huge living online. Makes sense considering she was earning over $10,000.00 each month.
Her success caught much attention and led to many radio talk shows and podcast interviews. During her rise to affiliate stardom.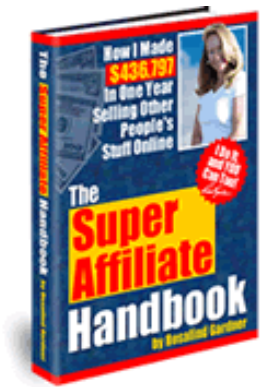 Ros launched her first major product – The Super Affiliate Handbook (ClickBank product).
Remember, this product was released way back in 2003 originally and still remains on ClickBank's marketplace today. Rosalind makes claims she updates the contents of this e-book when necessary so it could be useful for today's e-marketing environment.
With her electronic business (e-business) success. Rosalind Gardner was featured within many books/magazines.
We know that Rosalind expertise lies with internet marketing. But over the years she has experienced financial success in other make money online (MMO) topics such as:
Blog training; merchant/managerial coaching; product/software development; publishing ebook's; online auctioning and drop shipping inventory.
Nowadays Rosalind gets the most satisfaction by helping others start/continue building out e-businesses online.
Rosalind helps her users by

:
1-on-1 coaching.
Newsletter updates via email.
Downloadable/purchasable e-books.
Blogging content on the website.
Rosalind Gardner Products
---
The Super Affiliate Handbook: How I Made $436,797 in One Year Selling Other People's Stuff Online
About (paraphrased): Do you want to educate yourself on how to become a successful internet marketer? It will take considerable work on your behalf to become successful. This product is not one of those scummy get-rich-quick schemes. This is a step-by-step guide to create a business in the affiliate marketing industry. Criteria includes: Website creation, market assessment, avoiding low quality products, commission rate negotiations etc. This read consists of over 200+ pages and will guide you to become an affiliate marketing guru.
——————————————————————————————————————————————
Rosalind Gardner's Academy (Affiliate Blogger PRO)

About:
Launched in 2010
10 modules training program
225+ tutorials
190+ video lessons
Quizzes
Own personal profile
Website feedback
Personal support
Technical support
Is Rosalind Gardner a Scam
---
Anyone with some basic understanding can come to conclusion that Rosalind Gardner is not a scammer. Rosalind writes content in a
concise, straight forward and honest manner.
She is upfront with her success story and has a working contact page to make connections with her.
Affiliate marketers are considered to be scammers if they publish misleading content, redirect you to completely different product/service, or trick you into buying phoney material by making unrealistic claims about it.
Rosalind Gardner does not fall into the Scam category. Frankly, she doesn't need to scam anyone, because she has already achieved considerable financial success over the years as a professional affiliate entrepreneur.
Rosalind Gardner's blog offers helpful contents as you would expect in around the internet business realm. Rosalind has an email subscription list where she notifies her audience with her latest posts, relevant marketing tips and software recommendations.





Rosalind Gardner Affiliate Program
---
Rosalind Gardner has 2 affiliate programs on offer. Due to maintenance issues, The Rosalind Gardner Academy – membership program has been closed down for new members until it's re-opening on June 2019. It's also referred to by the name 'Affiliate Blogger Pro.'
Access these affiliate programs by creating a ClickBank account. Search ClickBank's marketplace for Rosalind Gardner products. You can start promoting her products/services by your own initiative.
#

Super Affiliate Handbook – Affiliate Program

Pays a 50% commission.
You earn $11.95 after ClickBank fees.
Promotional materials included: Affiliate Link Generator; Author Images; Banners & Badges; Book Images; Mini Reviews; Promotional Videos; Sample Reviews; Text Links; Testimonials.
#

Rosalind Gardner's Academy
(Affiliate Blogger Pro)
Monthly commissions.
Basic affiliate links.
Email copies.
Banners.
Final Word
---
Pro's
Rosalind has over 2 decades of affiliate marketing experience, she knows how to build an online business from scratch.
Cheap book/program on offer.
Ability to personally engage with Rosalind.
An easy to follow style of writing within it's page contents.
Teaches newbies how to build an affiliate marketing e-business in any micro niche.
Con's
The Super Affiliate Handbook would possibly lose some of it's validity as methods evolve a lot over the years.
Some pages and/or websites do not have Secure Sockets Layer (SSL) technology.
Internet marketing (IM) has evolved dramatically since 2002. Rosalind probably isn't raking in as much dough like she did.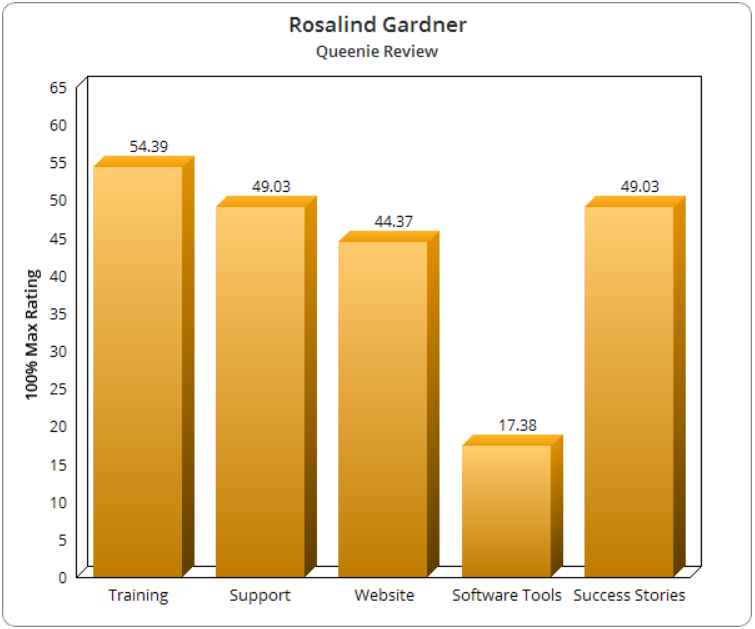 You now know what Rosalind Gardner does for a living. You are well aware of her products and services mentioned throughout this review.
You could definitely benefit in some way by absorbing Rosalind's extensive knowledge about internet marketing, building profitable e-businesses etc.
You Could Also Stay up to Date by
Joining Rosalind's Email List

. Do you Know That There's Better Affiliate Marketing/E-Business Building Platforms Online? You Just Need to

Know Where to Look

!
<>

To get a rough idea about this micro niche building platform. Uncover more info in much detail inside the review. Novice friendly training inside! Take a sneak peek.
Reminiscing about Rosalind Gardner's former days of glory as a top affiliate earner? Have you personally had any dealings with Rosalind's products/services over the years? We would love to hear about your experiences and unique view on them. Don't forget to share so Rosalind continues reaching out to the inexperienced entrepreneurs.




Ros is considered the queen of affiliate marketing…
Quick Recap of Rosalind Gardner
USD $27.00 - $197.00
Training

Support

Website

Software Tools

Success Stories