Before we begin and to avoid any confusion. I want to explain that this article has nothing to do with the obsolete version of Royaltie Gem, or the Royaltie Gem affiliate program.
Royaltie Gem was a marketing software application (app) developed by Royaltie and was one of a kind during It's time. It's no longer available to download.
Royaltie Gem was used to deliver advertisements/promotional notifications about your business, or whatever the intent was to neighbouring smart phones, tablets and laptop devices that were hovering in proximity through Bluetooth.
Glad to have clarified this up for you! This read refers to the internationally used, all-in-one marketing corporation – Royaltie Marketing Technologies which is now powered by It's own unique Artificial Intelligence (AI) engine.
Since you're here and probably wondering what Royaltie is all about. Let me save you the time and hassle by telling you that, if you have a small business in your area without an online presence yet.
Then Royaltie is a route that you can go down to help set up your online presence by creating a website for business related purposes.
Along with automating marketing campaigns on different mediums, Ads creation to drive paid traffic and hopefully maintain as many warm leads as possible.
Of course this will all come at a cost and is paid by a recurring monthly fee. Expect to pay more for other tools and additional Adspace while Royaltie grows.
---
Table of Contents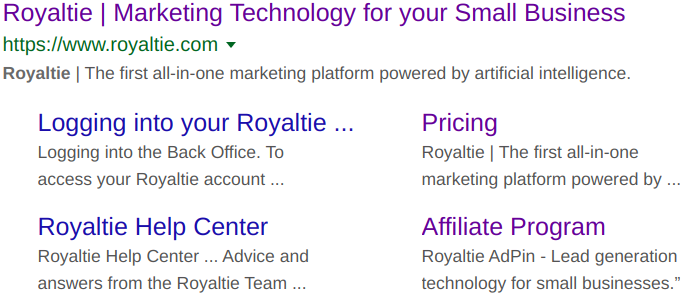 Jump to…
# Royaltie Review
# About Justin Belobaba
# How Does Royaltie Work
# Royaltie Training
# Royaltie Pricing
# Royaltie Compensation Plan
# Is Royaltie a Scam
# Pro's VS Con's
---
Internet Marketing Education, Tools, Networking & Support!
Do you Hunger for the Truth About How People are Really Becoming Successful Online...
---
The latest release at Royaltie was It's sophisticated AI integration. The company is only a few years old at this stage.
And I'm certain the platform will also assist for new and well-established internet based businesses, particularly with marketing campaigns in one respect or another.
By partaking in the Royaltie business venture at hand. There's also the opportunity of developing a down line of members, which is widely considered as a Multi-Level-Marketing (MLM) or the Network Marketing business model.
ESTIMATED

Value of Royaltie.com

= $35,122
The strange thing is though. There's also an affiliate program incentive in place which somehow correlates with the MLM element, the affiliate opportunity somehow intertwines together.
As if trying to cover the notion of an MLM since search results claim Royaltie to be an MLM website.
What I do know is that as we get rolling throughout this article we'll know exactly what Royaltie is about by the end of it. Thus confirming It's true intentions!
Royaltie.com

Accumulates Approximately

– 7,314 visits / day
So let's find out if the product and services offered at Royaltie are worthy of these upfront costs required to access the Back-office area, and other facets of this professional looking marketing platform.
Enough small talk. Let's dive in this headfirst.
Royaltie Review
---
*Brands: Royaltie | Royaltie Corporation | Royaltie Marketing Technologies


*Domain Names:
https://www.royaltie.com
https://app.uplinenetworks.com
https://royaltietraining.now.site
*Hosting Provider: GoDaddy.com, LLC
*Domain Ages: 25th/MAY/2011
*Founder / Director: Justin Belobaba
*Marketing VP: Cheryl Coco
*Year Launched: 2017
*Opportunity Type: Affiliate, build an online business version of your independent businesses
*Address/HQ: 121 Bloor Street E, Toronto Ontario M4W 1A9, Canada
*Corporate Office Hours:
Mon | 7am – 7:30pm
Tues | 7am – 7:30pm
Wed | 7am – 7:30pm
Thur | 7am – 7:30pm
Fri    | 9am – 5pm
Sat    | 9am – 5pm
Sun  | 9am – 5pm
*Contacts:
email

– support@royaltie.com

email

– cheryl@royaltie.com

phone

– (585) 449-2144

phone

– (856) 625-2019
*Social Media Presence:
YouTube | Official Royaltie – 4.16k+ subscribers
Linkedin | Royaltie – 504+ Followers
Facebook | @royaltiegem – 11,382+ follows, 9,762+ page likes
Vimeo | Royaltie (Pro) – 687+ followers
*Cost / Prices: ($) USD
Membership ranges from – $57.00 / month | $87.00 / month | $327.00 / month
Buy more advertisement room – 10,000 ads = $50.00 | 25,000 ads = $112.50 | 50,000 ads = $200.00
*Affiliate Program: Present & active, I emailed them, need to be a paying member before accessing it
*Training: 65.15%
*Support: 66.08%
*Website: 72.71%
*Software Tech: 93.90%
*Success Stories: 49.22%
*Up-sells: Purchase more Ads for your business
*Verdict: Impressive platform and beneficial for local business





About Justin Belobaba
---
Justin BeloBaba's Career Achievements & Education Record

:
Founder and Managing Director of Royaltie Corp.
The Founder and Chief Executive Officer (CEO) of Upline.
CEO at Clinio Health.
President and CEO at Healthscreen Solutions Inc.
CEO of Medical Telecom Corp.
Bachelor's Degree in Economics 'Magna Cum Laude' (With high distinctions) between 1999 – 2003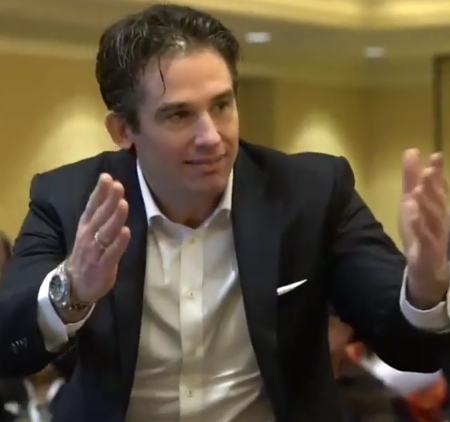 Through Justin's power point presentations and video chats. You can definitely tell that Justin Belobaba is passionate about his company Royaltie.
Mr. Belobaba is great with his customers explaining his marketing software. And overall, he seems like a very likeable character in general, even someone to look up to as a mentor.
At this years Las Vegas conference Justin Belobaba showcased his passion and diligence about Royaltie's new AI engine, along with other innovative technologies in the works. Drawing a respectable sized crowd to the event.
How Does Royaltie Work
---
Royaltie is a paid membership website that allows you three days to try things out before you buy a membership level.
Unfortunately, you're required to provide your credit card details, or PayPal credentials to gain access, so your free-time here will be limited to test the marketing software and automated website builder.
You must email the support line to cancel your payment method or you will be charged after 3 days of use no questions asked. I cannot say how fast Royaltie's support line will confirm that your payment details have been removed from their database.
Since no refunds are provided, this three day window feels a little dicey to test things out personally because I'm not exactly rolling in the Benjamin's okay.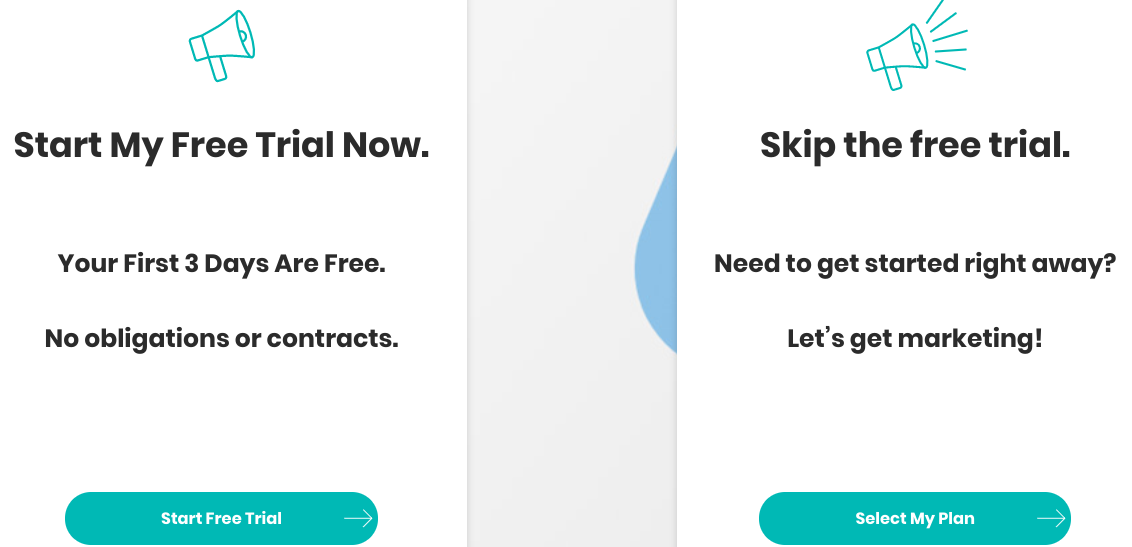 To Get Started With Royaltie:
Click on 'Start for free' in the homepage of Royaltie.
Explain to Royaltie's AI some details about your offline business. E.g. The name, category, subcategory, describe it, select your favourite font type and choose a colour for your online branding. And if you were referred by an affiliate to Royaltie, you will see your up lines name slotted below the page. If there is a name present, that person will earn commissions off of your sales etc, which makes you become apart of their down line. Just keep that in mind okay.
By continuing, Royaltie AI will now build your website and blog for your online version of your business.
It automatically populates search keywords.
Designs your email newsletter as a basic template for future email marketing tasks.
Grants you access to your new website and all the accessories like analytical software that tracks important metric data about your online version of your business.
Prepares your Social Media Marketing (SMM) interface.
Once that's all done, you'll decide whether to select the 3-day free trial, or start paying that very day! Which leads to creating your account for your

members only

accessibility point.
Now that your AI marketing campaign will be ready to begin. You can get straight to posting your first suggested social marketing post via: Facebook; Twitter or LinkedIn. You should have already set up these social media accounts prior to joining Royaltie for this to work.
If you managed to publish the post to social media, you will be ran through a few questions to see if you would like to 1. Add the social media post to your websites blog. 2. See if you like to email the content to your email followers etc.
This is just scratching the surface of features in your back-office area of Royaltie's members only dashboard. Here's the various tabs you can click and use in the dashboard sector of your account.
Analytics – Tracks the statistics and all movements with the online version of your business.
Online Ads – Select pre-mades and allows you to create your own online advertisements within the software's capacity.
Landing Pages – Look at your main pages etc. It comes with one already built for you.
Email Campaigns – View and edit the pre-existing template or any future ones you create.
Social Marketing – This takes you back to the process I outlined in the getting started No. 9 and 10.
Dashboard – All contents of your dashboard and extras.
Contacts – Once you collect warm leads, they're stored here, or any contacts you input. Known as Customer Relations Management (CRM).
Chat – Pretty self-explanatory.
Content – Create content about your business for your blog roll.
My Royalties – Would refer to the compensation scheme, your down line, up line etc.
Training – All the training you'll need to run your back-office area of your business.
So that's a solid overview of your very own online suite. You also get access to the Royaltie's Facebook group. And other benefits are included.
Royaltie Training
---
You can access your training within the dashboard back office area of your Royaltie account. Or head over to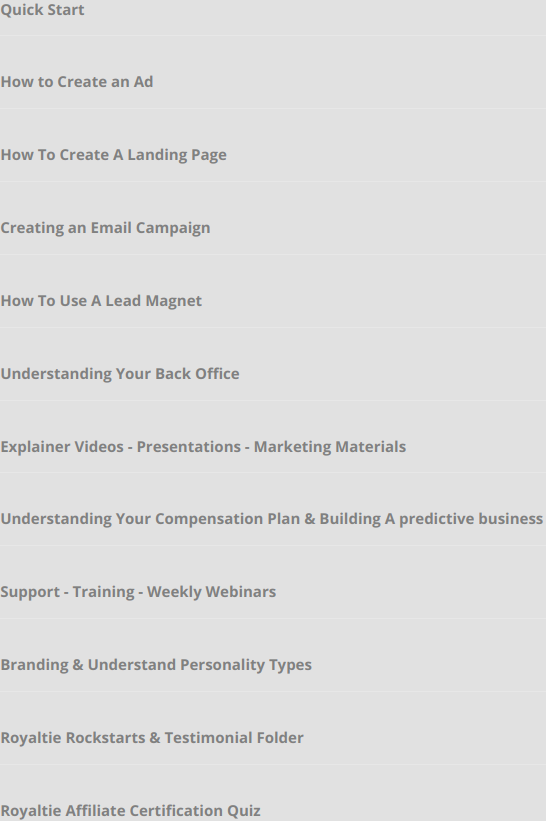 https://royaltietraining.now.site
A lot of the tutorials are video based, which I find makes tasks a lot easier to perform. Without revealing too much info. I'll provide a taste of what the video webinars have to offer students:
LESSON 1. 'How To Create An Ad' | 2 min 16 sec.
LESSON 2. 'How To Create A Landing Page' | 6 min 31 sec.
LESSON 3. 'How To Use Email Marketing' | 2 min 28 sec.
LESSON 4. 'Contacts Section Explained' | 1 min 51 sec.
LESSON 5. 'The First All In One Marketing Platform Powered By AI' | 4 min 13 sec.
LESSON 6. 'How To Activate AI On An Existing Landing Page' | 2 min 57 sec.
LESSON 7. 'How To Create An AI Activated Landing Page' | 1 min 05 sec.
These are a portion of the videos listed. As the platform evolves, so will the training and everything else within it. Sorry, that's what's available for you today, but majority of functions within your back office can be automated by the AI feature anyways.
P.S. You can find these lessons within the Royaltie YouTube and Vimeo channels.
If you want a more interactive visual experience. On Tuesdays and Thursdays. You'll catch founder – Justin Belobaba and VP of marketing – Cheryl Coco in a live stream episode at the Royaltie Facebook group.
They even respond to incoming questions. Responding to messages in relation to the topic being discussed for the day.
Royaltie Pricing
---
If you didn't already know, you can access the prices for each membership level in the 'pricing' tab at Royaltie. But here it is, if you can't wait.
(1)
STARTER MEMBER
$57.00 / month, plus $30 activation fee
Perks include:
1 AI marketing campaign.
3 websites.
2,500 marketing emails.
Unlimited Social Media Marketing (SMM).
Search Engine Optimization (SEO).
2,500 worth of free online ads per month.

(2)
ENTREPRENEUR MEMBER
$87 / month
Perks included:
3 AI marketing campaigns.
Unlimited websites.
10,000 marketing emails.
Unlimited Social Media Marketing.
Search Engine Optimisation.
File sharing & analytics.
5,000 worth of online ads / month.

(3)
SMALL BUSINESS MEMBER
$327.00 / month
Perks of package:
10 AI marketing campaigns.
Unlimited Websites.
Unlimited marketing emails.
Unlimited social media marketing.
Search Engine Optimisation.
File sharing & analytics.
25,000 online ads per month.

Royaltie Compensation Plan
---
When you enrol into the affiliate program. You are provided a Personal Affiliate Link (PAL). This affiliate link is what's used to promote Royaltie's product's and services.
You cannot directly recruit a down line without your referral purchasing a membership level for this marketing platform, because that would make Royaltie like a fraudulent pyramid scheme, as this would be seen as selling thin air, pipes and dreams.
The Federal Trade Commission (FTC) would sniff this out and likely shut the Royaltie Corporation down once it really takes off on a global scale.
The Royaltie's compensation plan for affiliates comes across as rather confusing and I cannot explain it that well. But here's an image if you can make sense out of that confusion.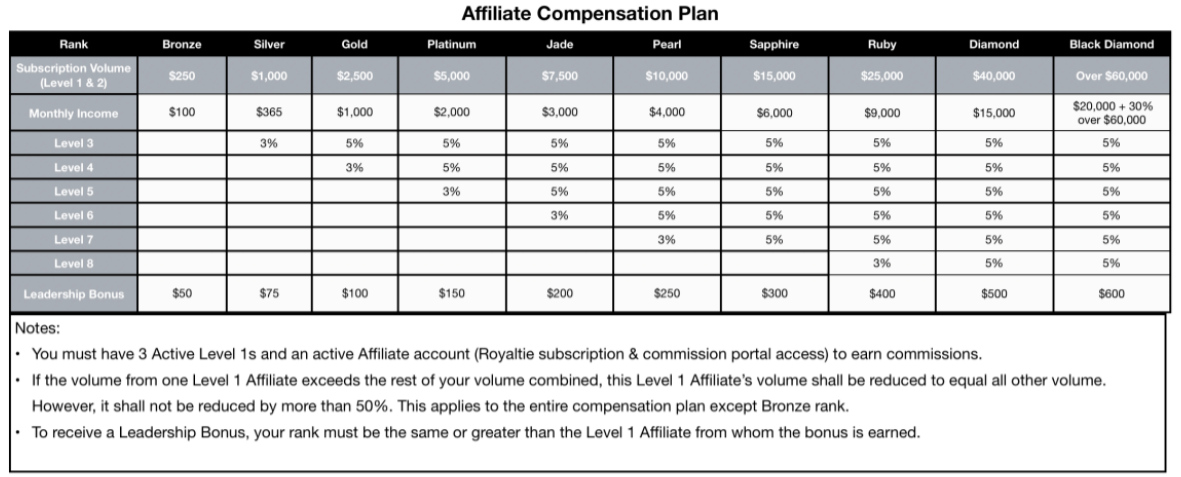 I believe this is what makes Royaltie look like a MLM pyramid model. Anyone that has insider info about the MLM concept and affiliation criteria.
Please drop a message in the comments below the article so we can update the post.





Is Royaltie a Scam
---
I can confirm that Royaltie is not a scam. It's 100% legitimate. Royaltie is simply a highly advanced marketing platform that's powered by Its artificial intelligence engine.
I expect this software will ever evolve over-time, so expect updates with It's software technology. I think there is a misconception out there that Royaltie is just a Multi-Level-Marketing (MLM) pyramid scheme.

I think the confusion is that this affiliate agreement is more advanced then your typical affiliate program. So It looks rather appealing to join, but you need to be a paying member of the Royaltie service before getting accepted.
There is so much information to find regarding the corporation, along with the hierarchy. They're not hiding faces. I think over the next couple of years Royaltie will take off in a big way and I'm spewing that there's no free to join affiliate program.
Final Word
---
Pro's
3-day trial run.
Can be advantageous if you lack knowledge or technical skills with website development and online marketing.
There is an annual convention in Las Vegas, Nevada.
The AI is pretty innovative. It's apparently a first of It's kind. It automates most of the work for you. Giving you more time to run your offline independent business.
Was approved by Android and IOS to display Royaltie within the app store. So you can access Royaltie dashboard via desktop, laptop or even smartphone.
There is no lock-in contract, cancel at anytime.
If your company is a non-for profit business you get a 15% discount on costs. Just send proof of this to support.
There's a social link to an online shopping portal where die hard fans can purchase Royaltie T-shirts for $20.00 – $30.00
Con's
Beware, Royaltie does not offer refunds of any kind.
You need to be a paying member to participate in the affiliate program.
Lacks in proper content creation for your blog posts.
Probably uses sub-domains versus a paid for domain, not 100% sure though.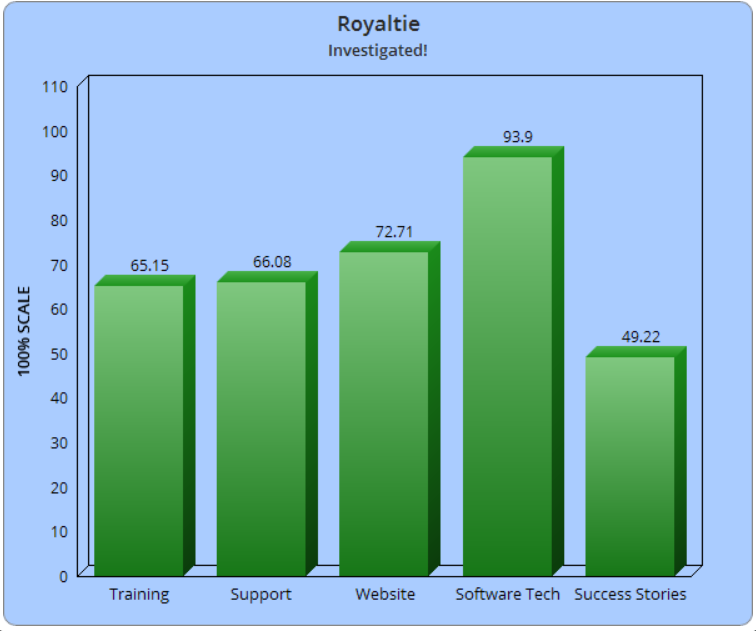 To sum things up. Royaltie takes a lot of the guess work out of running an online version of your business. It truly can simplify many processes that can become very time-consuming. I know from experience.
Social-Media-Marketing (SMM) is becoming more and more required nowadays and Royaltie is very good at getting the reach across to your target audience and prospects.
One major thing I feel that should be more prevalent with Royaltie's overall marketing strategies would be explaining how, and the importance of creating keyword rich, Search Engine Optimised (SEO), helpful and engaging content for the audience.
Because proper SEO blogs can bring in a ton of free traffic to a website over-time if done the correct way. Other than that. I'm left feeling quite impressed with everything I am seeing with this corporation for now.
And It's definitely one of the better all-in-one marketing platforms I've ever come across.
Does the Idea of Getting a Truck Load of $0.00 – (FREE) Organic Traffic to Your Business Seem Appealing to you?
I Personally Use This Method

To Attract Visitors to my Website Daily! Only Difference is, my Online Business is an Affiliate Marketing Related Business. Your Company Will Likely be an Offline Business Just Starting Out Online. Either way, to Learn How to Get Free Traffic, Simply Click Through The 'Sign Up & Get Started' Icon…
()

If you haven't a business yet, and are looking for an inexpensive way to learn how to earn income online. Then I have crafted a page that goes into detail about what I do online with the benefits of being an affiliate marketer. It's far less complicated than running an offline business, far less work to be done in my opinion. Oh yeah, It's free to get involved in.
Did you find our Royaltie article insightful? Feel free to tell us about your experience, or personal exposure with the Royaltie brand. Good experiences or bad, we'd love to get some truth and honesty about your time using Royaltie. Any question or comment will be appreciated. Don't forget to be social and share!




Not royalty, It's Royaltie, your marketing, done…
Quick Recap of Royaltie
$57.00 - $327.00 / month
Training

Support

Website

Software Tech

Success Stories