Did you know that Wealth Dragons is a company that was established in the United Kingdom of Great Britain?
The website provides mentoring in many fields of study and offers product in the form of e-courses/e-resources. Plus they hold live events/seminars that go for 3-days long.
The Wealth Dragons website has been operating efficiently since 2016 and is growing students and mentors at an unprecedented rate. It's simple to navigate the site itself and is packed full with beneficial knowledge.
You can download the companies application for personal use via mainstream app stores on mobile or tablet. You'll get access to both free and paid courses among other useful features.
Wealth Dragons Group PLC is the parent company of Wealth Dragons and you can gather some Intel coming up in the review section shortly.
---
Table of Contents
Jump to…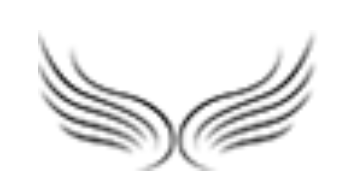 # Wealth Dragons Review
# How Does Wealth Dragons Work
# CEO/John Lee
# COO/Vincent Wong
# Wealth Dragons Refund
# Wealth Dragons Affiliate Program
# Pro's VS Con's
# Comments
---
Internet Marketing Education, Tools, Networking & Support!
Do you Hunger for the Truth About How People are Really Becoming Successful Online...
---




Wealth Dragons Review
---
*Parent Company: Wealth Dragons Group PLC


*Alternate Business Names:
Wealth Dragons
Wealth Dragons Media Limited
Wealth Dragons Events
Wealth Dragons Affiliate
*Domain Names:
https://wealthdragonsgroupplc.com
https://wealthdragons.com
https://experts.wealthdragons.com
https://wealthdragonsevents.com
*Domain Age: 04/JUN/2009
*Hosting Registrar: 123-Reg Limited
*Site Launched: 2016
*Address/Headquarters: Carina House West, Linford Wood Business Park, Sunrise Parkway, Linford Wood, Milton Keynes, Buckinghamshire, MK14 6LS, United Kingdom
*Corporate Business Hours:
Monday / Friday | 9am – 5pm
Saturday | Closed
Sunday | Closed
*Co-Founders: John Lee & Vincent Wong
*Chief Executive Officer (CEO): John Lee
*Chief Operations Officer (COO): Vincent Wong
*Mentors/Specialisations: There are 100's of mentors. We'll add just a few in here to give a rough idea.
Nathalie Eleni – Beauty and live digital coaching
Tofi Nails – Beauty and live digital coaching
Aria Crescendo – Fitness and wellness, fitness and live digital coaching
Adiato Balde – Natural beauty, cosmetics, skincare, beauty, hair and beauty and wellness
Roger Snipes – Fitness and Wellness, fitness and live digital coaching
Andy Winson – Lifestyle and live digital coaching
Jeffrey Gross – Money and live digital coaching
John Lee – Entrepreneurship, sales and negotiation, marketing, social media marketing, digital marketing and live digital coaching.
Vincent Wong – Entrepreneurship, sales and negotiation, business management, communication skills, implementation, productivity, property, sales skills, negotiation skills, property business, live digital coaching
Marina De Hann – Entrepreneurship, business management, mind and spirit, mindset, work life balance, self mastery and live digital coaching.
Sam Prigmore – Mind and spirit, self development, goal setting and mindset.
*Contact Methods:
email | info@wealthdragons.co.uk
email | jlee@wealthdragons.co.uk
email | enquiries@wealthdragons.co.uk
email | investors@wealthdragons.co.uk
email | bookings@wealthdragons.co.uk
email | dianesaint@wealthdragons.co.uk
email | tuko@wealthdragonsonline.co.uk
phone | +44 1908 698887
phone | +44 (0) 1908 032432
messenger | m.me/johnleepublic
messenger | m.me/vincentwongwealthdragons
Internal messaging | https://wealthdragons.com/contact-us
*Social Media Presence:
John Lee
Facebook | @johnleepublic – 2.2 million followers
LinkedIn | John Lee – 500 connections
YouTube | John Lee – 56.2k subscribers
Instagram | John_Lee_Official – 1.3 million followers
Vincent Wong
Facebook | @vincentwongwealthdragons – 1,180,363 follows
LinkedIn | Vincent Wong – 500 connections
YouTube | Vincent Wong – 256 subscribers
Instagram | Vincentwong_official – 21.9k followers
*Services/Categories Offered:
---
Entrepreneurship – Marketing, Sales and Negation, Business Management, Social Media Marketing, Product Launch, Branding, Copywriting, Time Management, Recruitment, Corporate Strategies, Technology, Startup Ideas, Presenting and Public Speaking, Digital Marketing, International Business Management, Communication Skills, Pricing, List Building and Funneling, Distribution Channels, Implementation, Book Writing and Publishing, Customer Relations, Productivity, Content Marketing, Product Design, Public Relations, Property, Sales Skills, Negotiation Skills, Building a Sales Team, Delivery of Presentation, Filling Rooms, Designing a Presentation, Finding Your Topics, Affiliate Marketing, Career Development, Online Business Models and Property Business.
---
Money – Taxation, Forex, Trading and Investment Businesses, Crypto Currency, Stocks and Shares, Personal Finance, Business Investing and Passive Income Models.
---
Fitness and Wellness – Food and Nutrition and Fitness.
---
Mind and Spirit – Self Development, Love, Goal Setting, Mindset, Work Life Balance, Spirituality, Self Mastery and Relationships.
---
---
---
---
---
---
*Community Size: Classified
*Payment/Payout Currency: United States Dollar (USD)
*Membership Costs:
Guerrilla Marketing Bootcamp (Out of commission)
Social Media Bootcamp (In the works)

Deal Maker Intensive

= £4,997.00 (3 day property investment conference)

Become a Mentor

= $99.00 / month (Choose your topic, create your course & connect with students)


*Affiliate Program: Promote the 'Become a Mentor', 'Deal Maker Intensive' for commissions.
*Compensation Plan: Up to 30% commissions
*Up-sells: Depends on the product/service being purchased
*Training: 91.03%
*Support: 62.73%
*Website: 69.01%
*Software Tech: 45.38%
*Success Stories: 72.60%
*Verdict: Quite a versatile platform covering a wide range of topics. Worth the time checking out as it may benefit your situation





How Does Wealth Dragons Work
---
To fully understand if Wealth Dragons lawfully operate. It helps by creating a free account, to then read the terms of service, privacy policy and faq's. Then see if Wealth Dragons are displayed on the scam list or not.
In a nutshell, Wealth Dragons are an online resource centre that allows anyone with a specific set of skills, or extensive knowledge and experience within a niche (particular market) to educate others via the Wealth Dragons website.
In doing so, you shall be paid in full, whatever amount you charge to your students, for each product you list within Wealth Dragons website, as long as they make a purchase.
What this means to you. You can create e-resources (programs) to then list on the Wealth Dragons market place. Kind of similar to how ClickBank allows it's vendors to do.
You could offer mentoring as an added perk for your students. If you decide to become a mentor, there are courses and video tutorials which explain users on how to start your own online business from home while following the Wealth Dragons Way.
Since this is all done online, it's far easier to manage than a traditional business found offline.

You can incorporate both textual and video based contents for helping your target audience as a mentor.
Just know that by becoming a registered mentor at Wealth Dragons. You will have to rent your spot. Costing a monthly fee of $99.00
If you're passionate about helping people in your field of expertise. Then Wealth Dragons could offer great branding and exposure for your business, YOU as an individual, your products and services online.
If you would rather just join and get help from other mentors that're already listed inside the Wealth Dragons website. You can, as there are many experts. Your mentor can offer ongoing support if requested.
One thing I'll note that makes Wealth Dragons stand out from a lot of other competitive services out there. They have quite an extensive range of resources to select from, particularly in entrepreneurship, money, mind and spiritual categories.
Wealth Dragons co-founders plan to turn this business into a billion dollar company some day! The leadership contained is quite ambitious.





Wealth Dragons CEO – John Lee
---
John Lee came from humble beginnings. He's ethnicity is Chinese, having parents who ran a fast food restaurant out of Northern England, United Kingdom of Great Britain.
John Lee is a Gemini and can speak fluently in 4 different languages. Such as: English; Cantonese; Hakka and Mandarin.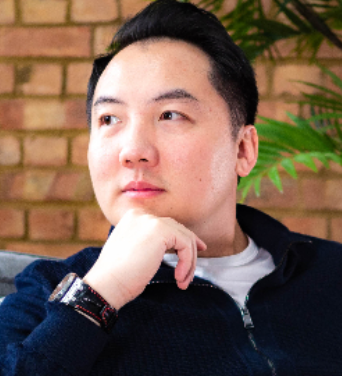 From the age of 11 John was helping out by running the take-away shop down town. Being a dish pig and incorporating other duties.
Due to John's work ethic from a young age, he had grown into a hardened and smart working human being.
John's love for animations growing up had inspired him to study an Honours Degree in Animation at Lincoln University which he completed.
But, 5 years into his animation career. Enough was enough. John Lee was done grinding the days away for an average animator's salary. Suddenly, John decided to focus his time and energy on becoming a successful property investor.
Once he reached his late 20s, 27 to be precise. John had a very respectable investment property portfolio. Achieving a goal of becoming a self-made millionaire before the age of 30.
John Lee is known for being a self professed, social-media-marketing (SMM) guru. But beyond that, he's the co-founder and current CEO at Wealth Dragons.
John Lee has envisioned and helped create a very diversified e-learning portal. Which contains all kinds of content related to entrepreneurship, but not limited to.
Mr. Lee now has his eyes set on a worldwide audience. And now for a little background into J. Lee's past.
He's the author of his best-selling book – The Wealth Dragon Way. He's helped enhance the financial status of many readers of his book. Also, from the resources offered over at the Wealth Dragons website.
He's easily helped tens of thousands of business owners situated across the planet and in doing so has amassed a staggering social media presence, having millions of subscribers across various social media platforms combined.
You will catch John Lee speaking at live events/conferences discussing topics related to entrepreneurship, business growth and development, digital marketing and of course, property investment.
With John Lee's natural talent, knowledge/skill set, and confidence with public speaking. He has shared the stage with some notable public figures in business and related affairs.
Such as: former president Bill Clinton; Business magnates Alan Sugar and sir Richard Branson.
John Lee has been featured in company magazines, websites, seen and heard on news channels.
Such as: Global Women Magazine; The Wall Street Journal; The BBC; Edge; Fortune Magazine; Channel News Asia; Huffington Post and the Sunday Times.
John lives and stands by this one motto: "Do what others don't and have a tomorrow that others won't."





Wealth Dragons COO – Vincent Wong
---
Vincent Wong 1-ups John Lee. Also carrying a Chinese lineage. He can speak in 5 various languages: English; Chinese; Danish; French and German.
Before becoming a fully fledged entrepreneur, Vincent Wong studied at London's school of pharmacy back in the early 90's. Graduating with a Bachelor's degree in Pharmacy.
Vincent's next course of study was an MBA in Business Administration at Cass Business School that's located in London.
Mr. Wong co-founded and is the current chairman of the ever expanding online education and self-empowerment platform that we know today as Wealth Dragons.
V. Wong has had great success with property investing during his time living within the UK. He even wrote one of his best-selling books – Property Entrepreneur which has received positive reviews.
Since Vincent Wong is a master with property investments. He created a 3-day live event called: Deal Maker Intensive (Learn to Invest in Property the New Way).
Vincent is quite knowledgeable. Having skills for days, covering many disciplinary traits in business.
He transfers these skills as e-resources inside Wealth Dragons, or explains them out on stage during every Wealth Dragons Events held throughout the year.
Vincent Wong is best known for pioneering financial strategies within the UK. And speaks regularly on stage around the world discussing his experience of business over the past 20 odd years.
A quote that Vincent believes in: "You can structure win-win deals in property by helping people and making a fortune for yourself."





Wealth Dragons Refund
---
This is important to know cause if you decide to purchase any resources offered at the Wealth Dragons database.
By making a purchase for a course/event. You will be tied into a contract that's legally binding and effective immediately.
Basically, if you decide to back out and leave the e-course, or event once a purchase, or initial payment has been made out to Wealth Dragons. You have to pay up for the entire course, month, or event. Whether you want to or not.
There are no grace periods, or refunds of any kind. So be absolutely certain and confident prior to making your final decision.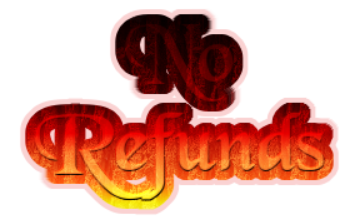 ---
Note: You can cancel your spot as a mentor and not have to continue making monthly payments. Make sure you cancel membership before your monthly recurring payment is due.
---
Wealth Dragons Affiliate Program
---
Wealth Dragons breathes a fiery red affiliate incentive. Offering up to 30% commission rates. And the products/services you will be promoting are the Wealth Dragons mentoring package, Deal Maker Intensive, Membby or Social Media Bootcamp.
You would normally have to inquire first to become an affiliate for the company. Instead, I have generated this direct link here to save any hassles. And get you started right away. Stamping out all the boring prerequisites.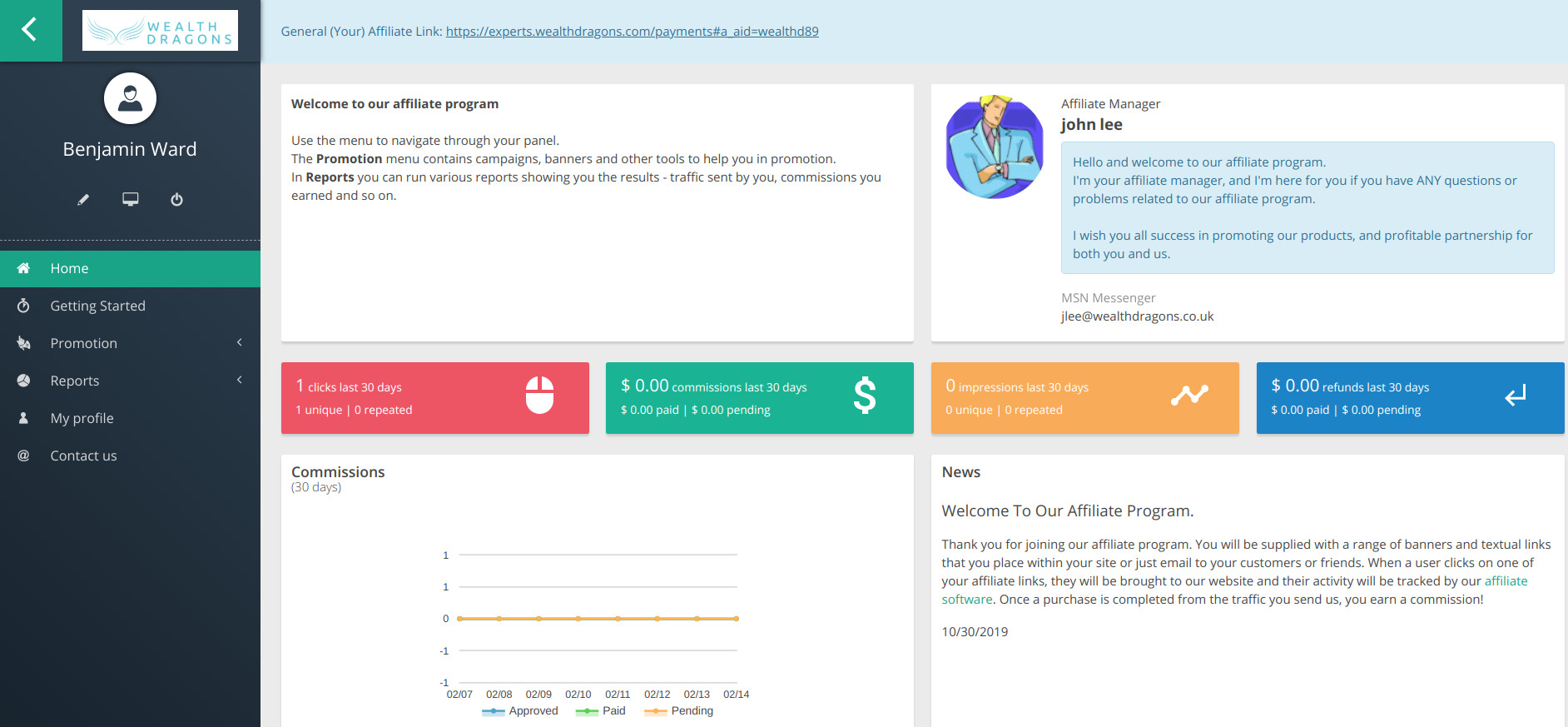 John Lee is the affiliate manager and in charge of the whole affiliate's operation. The interface looks technical, but is user-friendly with understandable terminology.
You can access information by watching the affiliate panel tutorial video. Sign-up sub-affiliates. Access banners and affiliate links. View your tracking and analytical data anytime, anywhere.
Very basic affiliate support and training is offered there. So if you have no practice or experience as an affiliate marketer. I recommend you get your affiliate marketing training and additional services for free at Wealthy Affiliate.





Final Word
---
Pro's
As an affiliate for Wealth Dragons you have a long cookie duration of 6 months or more and pays up to 30% commissions.
Has an abundance of categories to select from. All the way from live digital coaching to live digital events.
You can register and become a member for free.
There are hundreds of mentors available spanning across many industries and fields.
Quizzes are utilised during courses to make sure you are retaining the information for what is paid for.
There is adequate support from Wealth Dragons team, along with mentor help.
Con's
Refunds are not existent. No trial periods for products, courses or events.
You will not actually receive a verified certifications or degree. This is not university or college.
Unless money isn't an issue for you. The 3-day event will cost £4,997.00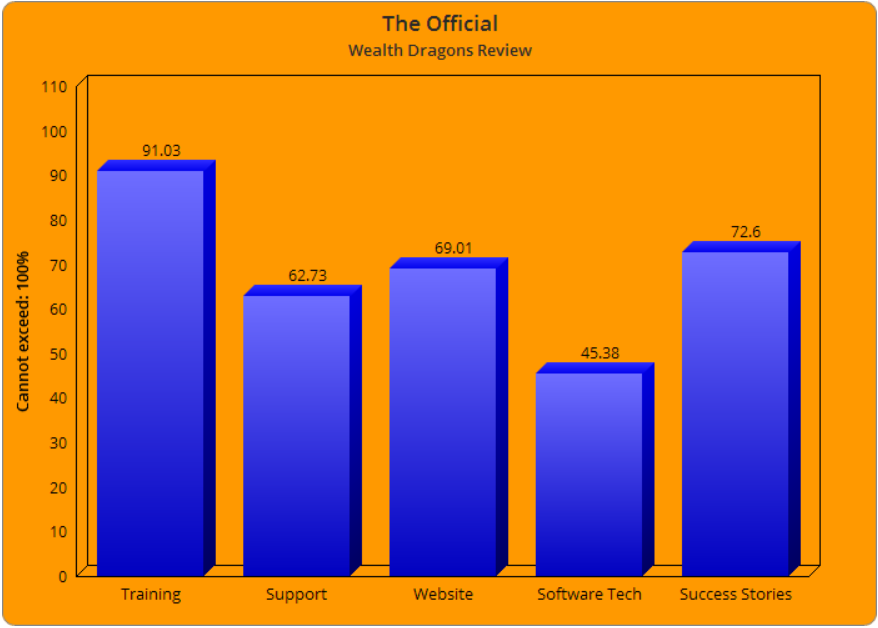 To be fair. I wouldn't become a mentor at Wealth Dragons unless I knew I was like a grand master at my area of expertise. Hopefully mentors signing up do not have any delusions of grandeur.
You don't necessarily have to be degree qualified to become an educator at Wealth Dragons. Of course this would make you appear as a more trustworthy and respected mentor.
Personally, If I were to become an online teacher at Wealth Dragons. I would need to be truly passionate, confident and have at least a solid 5 years of practical and theoretical experience in my niche.
Whether you take this advice on board. That's entirely up to you. There are many quality resources offered via Wealth Dragons and you could without a doubt become an expert within your niche topic when following the Wealth Dragon Way.
I Quickly Want to Know if You've Ever Thought About
Creating a Website

? Maybe you Have & Had No Idea About What to do With One. If You Want to Receive Experience on How to Build a Successful Website & Turn it Into a Traffic Producing Business. Which Translates to Earning Income. I'd Recommend you

Checkout Our Guide

!
()
If you'd prefer to skip the page and head directly to the source. 'Take a Peek' to get you rolling. Creating an online presence to earn additional income is considered a common these days.

Hopefully you have gathered enough information today regarding the Wealth Dragons program. It's a very catchy brand, offering a ton of quality resources of information. If you have any further questions or thoughts, you can always jot them down in the comments section below. We will aim to respond to all quality questions so get a discussion flowing here. Be supportive and share this content on your favourite social media site. Cheers!




Are you flying high like the Wealthiest Dragon…
Comments
---
Recap of Wealth Dragons:
Join = $0.00 | Be a Mentor = $99.00/month
Training

Support

Website

Software Tech

Success Stories