Grant Cardone University specialises in mainly sales training. Like all renown platforms suggest, Grant Cardone claims this is the most extensive and best quality sales training available on the world wide web.
When Grant says extensive he means it! Over 1,500 video courses, that's quite extensive, but not limited to only video training. He's put in a lot of hard work into his training courses.
But does this training come cheap? Not likely! You'll need to continue reading to see the price ranges for the many courses sold at Cardone University.
---
Table of Contents

Jump to…
# Cardone University Review
# About Grant Cardone University
# Is Cardone University a Scam
# Cardone University Courses
# Cardone University Affiliate
# Pro's VS Con's
---
Internet Marketing Education, Tools, Networking & Support!
Do you Hunger for the Truth About How People are Really Becoming Successful Online...
---
Looking at broad scheme of things. Grant Cardone, the courses, his business partners at Cardone University would be banking in big dollar payments every day.
Website is worth around
= $21,712
One thing to take into consideration, this place is truly thriving with students. There's a widget counter that records how many courses have been sold since it's inception. Right now the figures are at – 45094912 (courses started).
Brings in a large quantity of traffic
– 4,621 visitors / day
Below is a detailed overlook of Grant Cardone and his thriving online business venture. Get some background details going forward.
Cardone University Review
---
*Brand: Grant Cardone Sales Training University


*Parent Company: Cardone Capital
*Website URL: https://cardoneuniversity.com
*Store URL: https://store.grantcardone.com
*Founder: Grant Cardone
*Date of Birth: 21st/MAR/1958
*Net Worth: $300+ million
*Year Founded: 2010
*Domain Age: 6th/OCT/2010
*Address/HQ: 18909 NE 29th Avenue, Aventura, Florida 33180
*Contact Modes:
Inbuilt messaging box
Email: Contact@grantcardone.com | info@grantcardone.com
Business office: 1-310-777-0255
Fax: 310-777-0256
*Social Media Reach:
Facebook – 6,040,732 page followers.
Twitter – 380K followers.
Linkedin – 323,573 followers.
YouTube – 1,024,433 subscribers.
*Training: 81.52%
*Support: 56.38%
*Website: 41.95%
*Software Tools: 18.09%
*Success Stories: 48.41%
*Average of all Costs: $35,000.00
*Up-sells: I hope not, already too many costs involved
*Verdict: Crazily expensive
About Grant Cardone University
---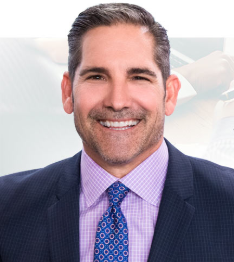 5 core principles that somes up Grant Cardone: Entrepreneurship; Sales; Finances; Motivation and Inspiration; Real Estate Investing.
Grant Cardone Sales Training University specialises in 3 main sales categories:
Sales Training.
Salesperson Skill Assessments.
Sales Opportunities Assessments.
With all the various expenses at this platform, there is also the option of joining the Cardone University program for free.
There is an entire course with 14 lessons free of charge.
Another huge advantage over here. There's the option for downloading 5 of Grant Cardone's eBooks for completely free. They are labelled under:
Tired Of Missing Sales.
10 Biggest Follow-Up Mistakes.
10 Mistakes That Kill Your Deals.
How To Fill A Pipeline With Cold Prospecting.
20 Rules Of Closing A Deal.
Grant Cardone is heavily invested into Scientology.





Is Cardone University a Scam
---
I feel the need to quickly point out that if you want to remain a lifetime member at Cardone University, this membership level will set you back $24.997.00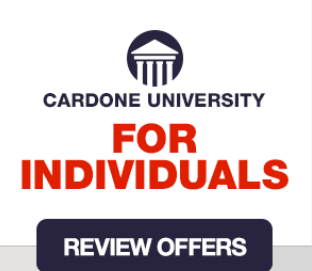 Talk about price overkill. It's quite clear that Grant Cardone and business partners are all about the Benjamin's.
This is one of the most expensive training platforms we have ever come across. It's quite unsettling. Something doesn't feel kosher about this place.
It's hard to label Cardone University as a scam. It isn't a network marketing/MLM pyramid scheme. It's just a super expensive way to get educated at sales mastery.
Honestly, if you're keen on the idea of investing into the many Cardone University training programs. I hope you have some wealth backing you up.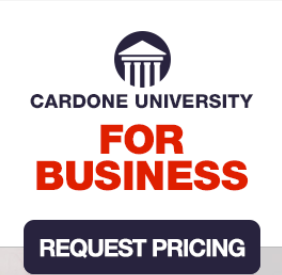 If you are struggling financially, maybe consider looking into some competing companies within the sales industry.
There's gotta be similar, yet cheaper alternatives available online.
Here's a tip… If you create a free account. Look at the titles/headings of each course in Cardone University.
Copy these and apply the keywords in Google's search engine for textual info.
Alternatively, type them out at YouTube for recorded versions that should provide comprehensive advice, you'd be surprised what kinda info you could match up for free.
Cardone University Courses
---
I guess we'll narrow the courses/membership levels to the specifics.
While logged into the training centre

:
FREE CONTENT – (14)

100 Ways to Stay Motivated.
Selling Basics.
The Sales Process.
Theory of Closing.
Top Traits of Great Sales People.
Understanding the Buyer.
Closing Strategies.
Follow-Up.
Handling Objections.
Incoming Calls.
Internet Lead Response.
Master the Cold Call.
Personal Finances.
Prospecting Strategies.
CARDONE CERTIFICATIONS – (5)
Business Builder Certification = $997.00 $9,329.00
7-Figure Sales Principles Certification = $997.00 $8,549.00
Phone Sales Mastery Certification = $997.00 $10,470.00
Advanced Sales Negotiation Certification = $997.00 $10,154.00
10X Financial Freedom Certification = $997.00 $10,069.00
Totalling
= $4,985.00
CARDONE UNIVERSITY – (17)
~These top 3 selections are the premium packages that gives basically everything for a set price depending on your choice.
Cardone University for Individuals – All Courses = $4,997.00 $10,000.00
Grant Cardone Sales Training University + Expert Programs = $12,995.00 $40,785.00
Grant Cardone Sales Training University – Lifetime Access = $24,997.00
~If you prefer to buy individual courses.
Sales Fundamentals = $197.00 $695.00
Understanding Buyer Psychology = $197.00 $695.00
The Perfect Sales System = $247.00 $995.00
Mastering the Close = $297.00 $1,095.00
Advanced Closing & Negotiating Strategies = $297.00 $1,095.00
Incoming Call Mastery = $197.00 $695.00
Professional Prospecting Strategies = $197.00 $695.00
Advanced Follow-Up Strategies = $297.00 $1,095.00
Mastering the Cold Call = $197.00 $695.00
100 Ways to Stay Motivated = $97.00 (cheapest course) $297.00
64 Top Traits of Great Entrepreneurs = $197.00 $795.00
Internet Lead Response Strategies = $197.00 $495.00
Personal Finance & Wealth Creation = $97.00 $695.00
Handling Objections = $247.00 $995.00
Totalling
= $2,958.00
INDUSTRY EXPERTS – Cardone Training Technologies, INC – (8)
Dave Anderson Leadership Academy = $997.00
Personality Assessment Academy by Dr. Tony Alexander = $997.00
The Hiring Academy by David Jensen = $997.00
Product Sales Mastery by Victor Antonio = $997.00
Social Selling Mastery by Jamie Shanks = $997.00
Daymond on Demand by Daymond John = $997.00
Monster Producer Academy by Coach Michael Burt = $997.00
Star Power by Hank Norman = $1,495.00
Totalling
= $8,474.00
And that's a wrap. Happily spending your life savings…
Cardone University Affiliate Program
---
As you may have guessed already, there's an affiliate partnership offered within Grant Cardone's University sales platform. This affiliate opportunity is free from any costs unlike the training programs.
In a nutshell, if you can generate traffic to Cardone University, which ends up converting into a prospective buyer of any course or package deal. You will essentially be rewarded financial compensation for your marketing efforts.
The commission rates range between 5% – 20% for any successful sale transactions made.
Must earn at least a minimum of $100.00 before any withdrawals can take place.
Payouts are processed on the 15th of each fiscal month i.e.

January

15th, then

April

15th, then

July

15th, finally

October

15th.
Take advantage of Cardone's banners, links, QR codes or traffic and sales stats within the affiliate's account dashboard.

Final Word
---
Pro's
Professional sales training from well experienced partners.
Grant's been in business for well over 3 decades now.
Each individualised training course is compact full of sales related education.
Professional site layout with the ease of navigation.
Has a large following and user base internally/externally (social media).
Quality affiliate partnership on offer.
Con's
There's too many training courses to choose from and they don't come cheap.
A lifetime membership costs a staggering 25K large.
Overrated in my opinion.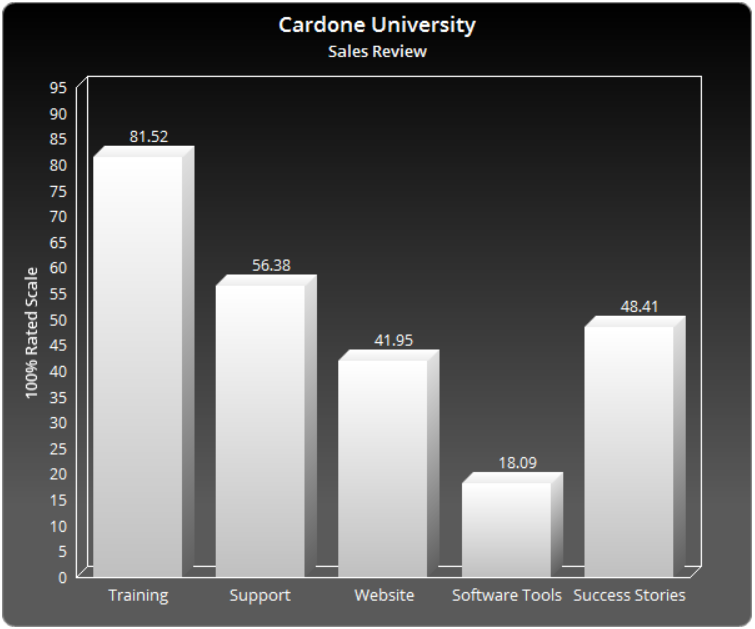 If you need some encouragement take a look at the website testimonials page. Grant Cardone and the University is well-established.
Makes a lot of sense, but doesn't come cheap. There are 5 free e-Books and some free training available once become registered. Oh yeah, all most forgot. Grant Cardone's online store is where his latest merchandise/uni is displayed.
Make sure you know what you are getting into before you make any purchases. Just use some common sense.
Just don't go and buy any course/merchandise for the hell of it. Especially if it has little benefit for the direction of your career path. Though there's a lot of support backing this company. It isn't a new startup trying to convince the industry that it contains valuable contents.
Do I recommend this platform? Only for wealthy white collar individuals that already have a sales career with plenty of experience within the industry. It could really boost your CV and long-term financial success.
Did you Know you Can Build Your Own Website Around the Sales Field, but it's not Just Limited to Sales! Maybe you Have a Passion/Interest.
Are you Knowledgeable in Any Aspect of Sales

? There is Potential For a

Self Owned and Operated Online Business

, With Time & Effort, Maybe you Could Out Do Grant Cardone's Platform. Isn't it Crazy How Things Have Evolved So Fast Online.
()

Get educated by the best within the website development space. Here's all the details necessary for making an educated decision.
How did you first hear about Grant Cardone or his university enterprise? Have you purchased from the extensive range of programs for sale? All comments and replies are below us. Share the love, appreciate it.




Grant Cardone, one of the first real sales guru's…
Quick Recap of Cardone University
$0.00 (FREE) - $24,997.00
Training

Support

Website

Software Tools

Success Stories