Advanced Dropshipping Academy:
$497 - $12,000
Training -

84.39%

Support -

65.01%

Website -

68.3%

Software Tech -

55.27%

Success Stories -

49.32%
Brief Summary:
Chris Wane has polished off his Advanced Dropshipping Academy Course now that it's at version 3.0. Dropshipping is just a cool name for eCommerce. Same thing as internet business. Undertaking ADA you will be in a solid position to earn sales with your own eCom business. Results will vary and not everyone will succeed with it.
---
BEST ECOMMERCE ALTERNATIVE ~ You Guessed Correct Its Affiliate Marketing…
---
Advanced Dropshipping Academy (ADA) 3.0 is a phenomenal business model because you don't need to invest in initial inventory, you don't need a physical store, all you need is a digital space to push customers to, so you can benefit from the products they buy.
Chris Wane launched his dropshipping course, which has received regular updates.
He is a great promoter on social networks like Instagram; he sells many dreams like escaping from the 9 to 5 and living a life in freedom. But is it all exaggeration?
---
TABLE OF CONTENTS

Jump to

…
# Advanced Dropshipping Academy 3.0 Review
# About Advanced Dropshipping Academy
# About Chris Wane
# Who is it for
# Course Details & Costs
# Is Advanced Dropshipping Academy 3.0 Legit
# Pro's VS Con's
# Comments
---
Internet Marketing Education, Tools, Networking & Support!
Do you Hunger for the Truth About How People are Really Becoming Successful Online...
---
Advanced Dropshipping Academy Review
---
*Brand: Advanced Dropshipping Academy


*Alternate Known Names: ADA
*Domain Name: https://www.advanceddropshipping.com
*Domain Age: 9th/APR/2019
*Hosting Registrar: GoDaddy.com, LLC
*Launch Year: 2019
*Domain Authority: 17/100
*Linking Root Domains: 47+
*Ranking Keywords: 2+
*Spam Score: 42%
*Website Asset Value: $14,761
*Address/Headquarters: 86-90 Paul Street, London, EC2A 4NE, United Kingdom
*Founder: Chris Wane
*Contact Methods:
email: chris@advanceddropshipping.com
email: accounts@advanceddropshipping.com
*Social Media Presence:
YouTube | Chris Wane – 18k subscribers
Instagram | thewane – 12.6k followers
Facebook | Chris Wane – Advanced Dropshipping Academy – 177 likes, 182 follows
*Resources Offered:
---
Lifetime access to course (84 lessons) upon payment
---
Access to the most recent updated version at all times
---
---
Private group access for all paying students
---
---
*Community Size: 1,000+
*Cost/Price Tag:
ADA
1 x payment of $497
2 x payments of $249
7 x payments of $97
ADA Elites
*Affiliate Program: Yes, learn about it in module 14
*Up-Sells: No
*Training: 84.39%
*Support: 65.01%
*Website: 68.30%
*Software Tech: 55.27%
*Success Stories: 49.32%
*Verdict: Very thorough and in-depth eCommerce course that has the makings of a best-seller





What is Advanced Dropshipping Academy 3.0 About
---
Unlike his competitor eCom Warrior Academy (Mathew Lepre). The course is usually hosted on the Thinkific platform, which is a bit unusual given that most course creators choose to use either Clickfunnels, Kajabi, or Teachables.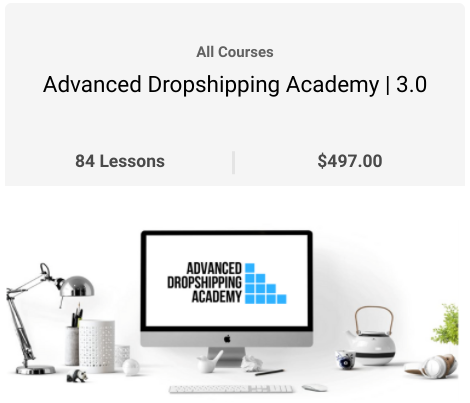 The course is promoted, sold, and accessible through Chris Wanes' personal website and is not hosted on any of the big-name platforms such as Zaxaa or Teachables, which are widely recognized for their intuitive interfaces and high-quality video streaming.
Advanced Dropshipping course includes 84 video lessons. Few of them are super long, while others are only a few minutes.
The course is priced at $497 in which it's mission is to teach you, if you are new to dropshipping or have started but have not yet achieved success, the steps to building a store, researching products, and setting up your first marketing campaign.
The video and audio quality is excellent, as you would expect from a YouTuber, Mr. Wane knows what he is doing and you can expect high quality here.





About Chris Wane
---
Chris Wane is an online entrepreneur, young English YouTuber, as well as digital marketer.
To you he will be your consultant.
He has had a YouTube account since 2007, but it seems like he's just started uploading videos.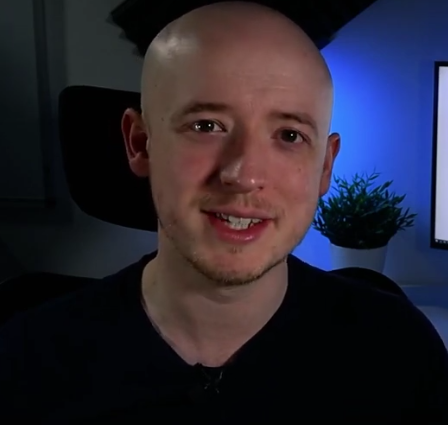 He currently has over 18,000 subscribers, and each video seems to get quite a few views.
On average, he uploads one or two videos a week with topics like "How to manage cash flow" and "How to check $1,000 / day budgets.
"There are also a lot of clickbait videos, such as claiming to earn $25,000 from a carousel ad or "How this 20-year-old made $200,000 in 16 days."
Outside the borders of YouTube, there is relatively little to find on Chris online.
We know from the videos and YouTube videos of him that he allegedly was brought to Berlin by Oberlo in order to have an interview about his recent success and also to talk about some general strategies.
The videos show Chris talking to the camera, rather than the over-the-shoulder videos that we have become a custom on other YouTube talking about dropshipping.
It's clear that Chris Wane really knows what he's talking about when it comes to Shopify dropshipping.





Who Is Advanced Dropshipping Academy 3.0 For
---
Basically, it is a business model where you ship products directly from the supplier to your customers all around the world without touching the product.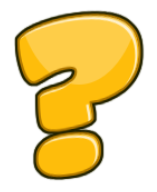 With one click, you can add highly profitable products to your online store and only pay when someone pays you first!
All you do is pocket the profits and scale with Facebook Ads!
This is for all drop shipping enthusiasts and anyone looking to gain the skills to be successful in e-commerce.
No prior e-commerce experience is required, and no prior technical experience is required.
All you need is the willingness to learn and become a part of the dropshipping community.
Who is this course for:
Anyone willing to learn how to make money online.
Anyone who wants to learn how to sell more products online.
Anyone who wants to learn to work alone.
Anyone who wants to learn Shopify Dropshipping.
Anyone who wants to learn how to dropship on eBay.
Anyone who wants to learn how to earn money selling products on Shopify.
Anyone who wants to learn how to dropship on Amazon.
Anyone who wants to learn Poshmark Dropshipping.
Program / Details of the Training Course / Costs
---
The content is divided into 14 modules: the first is just a simple introduction to the course, while the last is an offer to promote the course in the future as an affiliate (where you will get a commission for any sale through the link).
The course is available as a one-time package of $497 or two payments of $249.
The payment plan has two payments over two months, so those without cash can take advantage of the two smaller payments.
However, you can only access 50% of the course content until the second payment is made.
Now let us take a deeper examination of the individual modules and lessons that make up the course:
Module 1: Introduction
As is usual in these courses, the first videos are taken from an introduction to the course.
Chris shows you a video in which he claims to be making $500,000 at his store but shows no evidence that he is actually making that much.
Remember, if it's not obvious, income at the end of the day means very little.
Those screenshots of the Shopify dashboard don't actually take into account the cost of goods sold (i.e., product costs) or any of the variable costs like shipping, refunds, fraud, time, and of course, taxes.
A $500,000 store may struggle to make $50,000 a year; just remember that.
The last video in this module examines whether you need to start a general, niche, or product store.
Of course, both have advantages and disadvantages, but Chris goes through it in detail to help you make the best decision.
Module 2: Finding a Winning Product
The second module is intended to teach us how to find winning (profitable) products.
Interestingly, little is said about a video that shows you how to research a niche that is just as essential, assuming not more so, than the products he decides to sell.
The videos cover some of the things to look for in a winning product: reliable supplier, high recharge potential, faster and more effective shipping options, etc.
Then learn a couple of free as well as paid methods for searching for products using platforms like Facebook and Instagram.
Payment methods involve the use of online software, which may incur additional costs and expenses.
Free methods, including browsing on AliExpress, can give you a good overview of the winning products.
No need to spend on what can be used later for the advertising budget.
Module 3: Building your store
The next module takes a look at building your store, allowing you to sell your products, collect payments, add upsells, and hopefully bank.
The videos in this module are pretty straightforward, over-the-shoulder style videos where you will follow as Chris builds a store from scratch.
He will learn how to customize your store, add the best-recommended apps, as well as make the process fast and nice.
Assuming you've been watching free YouTube videos, you'll probably have crossed this section already.
Chris advises to use Shopify and using an automation plugin called Oberlo that allows you to fulfill orders from Aliexpress in the same kind of way the AliDropship plugin would work.
He will also learn how to install a custom theme; there are many different premium themes which can help you with conversion rate optimization.
Chris recommends checking out Shoptimized (it's a great topic).
He will also learn how to install the best Shopify apps by registering and linking your own domain name (i.e., yourstore.com).
You will also learn how to configure G Suite so that you can have your own personal email address.
There are as well videos on how to install Google Analytics and add customer service.
Module 4: Facebook Ads
The marketing method of preference with this course is Facebook Ads; there doesn't seem to be any Instagram training, sales funnels, email marketing, and SEO like in other courses.
Instead, with the focus on Facebook, these are the videos you access:
Facebook Ads Account Creation.
How to install the Facebook pixel.
The different objectives of Facebook and the types of campaign structure.
Learn how to use the Audience Insights research tool.
What are satellite pages?
How to create video ads.
A Facebook advertising strategy.
Targeting techniques: interests and case study.
Moderation of the publication on the page.
Module 5: Order Fulfillment
Module 5 gives you three lessons on how to fulfill orders once you start receiving them from your customers.
Get started by learning about Oberlo, an application that can help automate this process.
From there, you will learn to do the same through Dsers, which is equivalent.
Finally, there is a lesson on techniques for tracking your orders once your supplier has placed them for your customer.
Module 6: Retargeting Customer
One of the more efficient methods to get more sales is to redirect visitors who have visited; maybe they have been added to the cart but have not completed the purchase.
Retargeting ads, while expensive, can be a very useful addition to your marketing campaign.
First, Chris looks at retargeting emails and messengers that require the use of apps in his Shopify store.
Then there is SMS retargeting which can be good but also expensive, especially if you are sending international SMS.
It can also be considered intrusive and may not suit your work style.
However, it is a technique that Chris talks about and shows you how to use it.
The next step is dynamic retargeting on Facebook ads and also how to create a custom audience.
Finally, there is a specific product retargeting case study that is included in Advanced Dropshipping Academy.

Module 7: Scale a winning product
Once you've found a winning product, it's time to scale and get more conversions as you know it's an in-demand product.
The first lesson advises on the ways to test a winning product to stop unnecessary ad spend.
Then you are taught how to narrow your audience, create lookalike audiences (similar types of customers related to your previous audience), use horizontal and vertical scaling methods.
Finally, there are videos on how to increase the average value of your customers' orders and how to use Facebook's manual and automatic bidding functionality to get more conversions with less ad spend.
Module 8: Outsourcing and Automation
Just a video here on how to outsource customer support and the order fulfillment process.
While the concept of outsourcing customer service is a good one, consider that they will need frequent training and contact to make sure their customers are getting the right information at the right point in time.
Personally, I would not want to farm out the compliance process because if they make any mistakes, you are personally responsible.
Instead, I recommend that you outsource other areas of your eCom store, such as marketing methods.
Module 9: Branding and Growth
Form 9 seems short—just two videos on your entire growth strategy.
The first video provides an overview of how Print on Demand can be used to sell t-shirts, coffee mugs, etc.
And other brand products.
Obviously, it is a potential source of income, but depending on the niche you enter, it may not be viable or useful.
The final video is about private labeling and how you can get your products branded.
Module 10 + 11: Selling your store + Conclusion
Like most courses, Advanced Dropshipping Academy consists of a video on using the Shopify Exchange to sell your store.
However, you need to make sure you have 6-12 months of sales as a lot of people can see straight through series of dropshipping stores and they have little value with no winning ads and a good solid pixel.
Module 11
Includes a wrap-up video, not much to say here.
Module 12 + 13: Bonus
The last 2 modules include bonuses and future content that is coming soon.
I will not post future content as it may have changed by the time you get to read this review.
Some of the topics include points such as Google Ads, Google Shopping, SEO, Returns, etc.
The bonuses currently include four documents with:
The best Shopify apps to use.
Links for registration / topics.
Customer service templates.
Shopify page content.
Balance point calculator.
Future topics to be covered on the roadmap are:
Finding Instagram influencers.
Calculation of Instagram interaction score.
Google Ads / Google Shopping.
SEO optimization.
Compliance agents.
Returns management.
Module 14: Affiliate Registration
The last module is an invitation to promote the course to a commission.
It sounds great, but unless you have a platform or audience to promote the course, you will need to find an audience to promote it.
This is affiliate marketing and an independent business model unto itself.





Is Advanced Dropshipping Academy 3.0 Legit
---
Yes, Advanced Dropshipping Academy 3.0 is not a scam; it is a legitimate dropshipping course created by a fairly experienced drop shipper in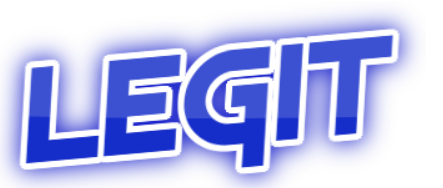 Chris Wane.
While the course is well done, some training parts are missing, or to a point, such as the fairly simple Facebook ad training and lack of influencer marketing (which is a minor issue) but, at $497, I really can't say ADA is a bad way if you really want to learn dropshipping.
Nowadays, even when the biggest entrepreneur and course marketer on YouTube seems to be very on the edge of the "fake gurus," it is actually more difficult to trust other online entrepreneurs; however, from what I have collected about Chris, he doesn't seem to be another one of these bad apples, and at least in my opinion I'd say it's pretty legit.





Final Word
---
Pro's:
Suitable for beginners.
Innovative, effective methods and strategies.
Multiple versions to choose from.
Con's:
The special offer is valid in a short period of time.
All purchases are non-refundable unless you can meet a strict criterion you can find in the terms & conditions.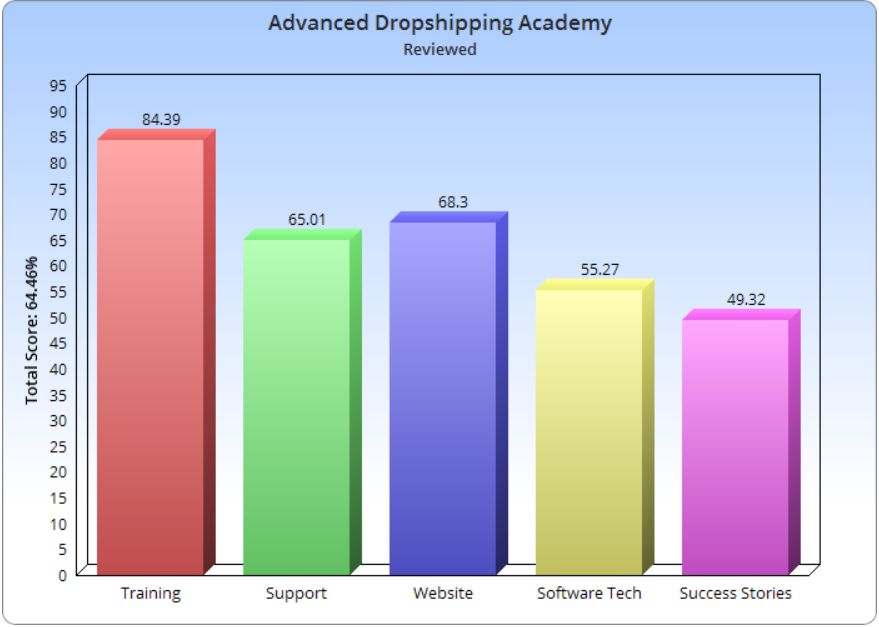 Advanced Dropshipping is a fairly comprehensive course that is a good introduction to dropshipping and e-commerce; overall, it is a good course.
If I had more training in Instagram, SEO, Google Shopping Ads, and more, it would be an exceptional course.
Focusing only on Facebook ads is a mistake.
Chris seems like a really genuine guy and I'm sure you'll learn a lot from him; if you really want to buy the brand from him, then great.
You will understand the basic concepts of this model to earn money without having to spend too much if you decide on this course.
If you are not fully satisfied with what you have read thus far then check this out!
If YOU Seek A

Cost Efficient Program

In The Affiliate Marketing World. It Will Give You 7-Days Free Of Premium Features Access. Make Sure You Check It Out Below. It Is My Favourite Site That Shows YOU How To Earn Commissions Online 24/7/365.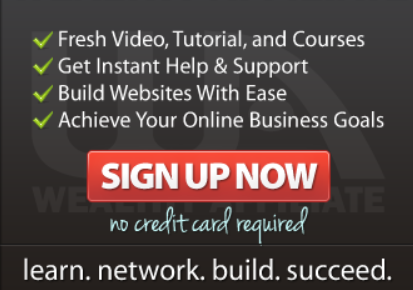 Take a look at some of my personal results with payment proof for better clarity.
We hope that you are well-equipped for what lies ahead, if you do decide to venture into Chris Wane's – Advanced Dropshipping Academy 3.0 course. There are plenty of lessons to absorb. If you liked this read you can show the love by sharing on your social media channel. Albeit, shoot a comment below.
Quite a reasonable fee for a solid dropship eCom course…
Comments
---