Crowd1:
€99.00 - €2,499.00
Training -

54.74%

Support -

46.85%

Website -

71.63%

Software Tech -

84.29%

Success Stories -

35.17%
Brief Summary:
Piskopianos Stelios has created the Crowd1 networking movement along with AffiliGO and Miggster sites which intertwine with each other in some way or another. Crowd1 is basically an MLM system that sells digital educational packages when purchases are made for membership. Would not recommend investing into Crowd1.
---
OUR SOLUTION ~ Get started with a trusted source right away for €0.00
---

Today we are going to take a look into the Crowd1 cyber movement that has taken off at an unprecedented rate. It's a very unusual system and quite unique in it's own right.
The website itself reminds me off one of those off-shore gaming (gambling) sites. The appearance, feel and layout reminds me when I sussed a few out.
CrowdOne is a Multi-Level-Marketing (MLM) company with a primary focus on building a down line of members which will open up binary bonuses that become apart of both legs of your down line.
There are no physical products for sale, only digital products which are education packs. These are available once you've become a paying subscriber.
Which raises an alarm, since MLM companies priority is to sell physical products before the recruitment of a down line should be considered.
With that said, Let's see what we can dig up about the one of a kind – Crowd1 network for building a mobile networking business.
---
Table of Contents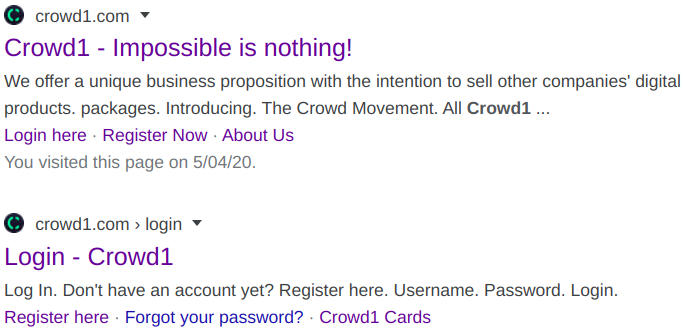 Jump to…
# Crowd1 Review
# How to Join Crowd1
# Crowd1 Packages
# Crowd1 Compensation Plan
# Is Crowd1 a Scam
# Pro's VS Con's
# Comments
---
Internet Marketing Education, Tools, Networking & Support!
Do you Hunger for the Truth About How People are Really Becoming Successful Online...
---
Crowd1 Review
---
*Parent Company: Impact Crowd Technology

*Company/Brand: Crowd1 Network Limited
*Alternate Business Names:
*Affiliated Partners:
*Domain Name: https://crowd1.com
*Registered Date: 15/NOV/2007
*Website Asset Value: $2,452,000 (Largely based on traffic intake)
*Hosting Registrar: EuroDNS S.A.
*Launched: 2016
*Address/Headquarters: Calle Velazquez 86, Portal A, 1 Derecha 28006, Madrid, Spain
*Tax ID Number: B88429436
*Founder: Piskopianos Stelios
*Contacts:
Email: emails@emails.crowd1.com
*Services Offered:
---
Direct Selling (software)
---
Multi-Level-Marketing (recruiting a down line)
---
Affiliate Marketing (promote gambling software)
---
Gambling (many will waste money)
---
Investing (membership levels that unlock better rewards)
---
*Community Size: 2,500,000+
*Payment Currency: Euro (€)
*Membership Costs:
White = €99.00
Black = €299.00
Gold = €799.00
Titanium = €2,499.00
*Affiliate/Referral Program: Yes (AffiliGO)
*Up-sells:
Standard | Crowd1card = €25.00
Gold | Crowd1card = €99.00
Titanium | Crowd1card = €199.00
*Training: 54.74%
*Support: 46.85%
*Website: 71.63%
*Software Tech: 84.29%
*Success Stories: 35.17%
*Verdict: With it's confusing rewards and compensation plan, many members will not get a return on investment or have what it takes to build a profitable networking business.
How to Join Crowd1
---
Joining Crowd1 can be done through the website address – https://crowd1.com/signup
Typically, you would need to be invited by a sponsors link. I simply guessed a random name I.e. Jack. That particular sponsors username is validated, if you have no referral, I suggest to support whoever 'Jack' is.

Once you fill in your details, you'll receive an email to confirm your registration. Such questions are:
Username
Sponsor
First name
Last name
Address
Postal code
City
Country
Email
Password
They recommend downloading the mobile application at either Google Play Store and/or the Apple App Store.
Before you can access any significant contents from within the Crowd1 app. You must pay a pretty penny. There are 4 levelled packages which we'll go into detail later.
As a starter member, you get to see the core functionality and the layout of the Crowd1 application.
Starter members are limited in what they can access online. But, should get a rough idea about what they can unlock once becoming a paid member.
By clicking on icons and subheadings with a starter account, you will always see a blank page stating – 'This page is not available to free members.'
So investing is the only option to test whether the platform has what it takes to build you an independent networking/affiliate business for yourself.





Crowd1 Packages
---

White package

= €99.00
Education package value = €99.00
Owner rights worth = €100.00
Streamline up to level 4
Matching bonuses up to level 1
Black package

= €299.00
Education package value = €299.00
Owner rights worth = €300.00
Streamline up to level 8
Matching bonuses up to level 3

Gold package

= €799.00
Education package value = €799.00
Owner rights worth = €1000.00
Streamline up to level 12
Matching bonuses up to level 4
Titanium package

= €2,499.00
Education package value = €2,499.00
Owner rights worth = €3000.00
Streamline up to level 15
Matching bonuses up to level 5
Upon purchasing any of these packages you will get access to the corresponding education courses provided at MyGritHub. So if you decide to buy the Gold package, you will unlock the Gold courses delivered at MyGritHub.
Crowd1 Compensation Plan
---
Network Levels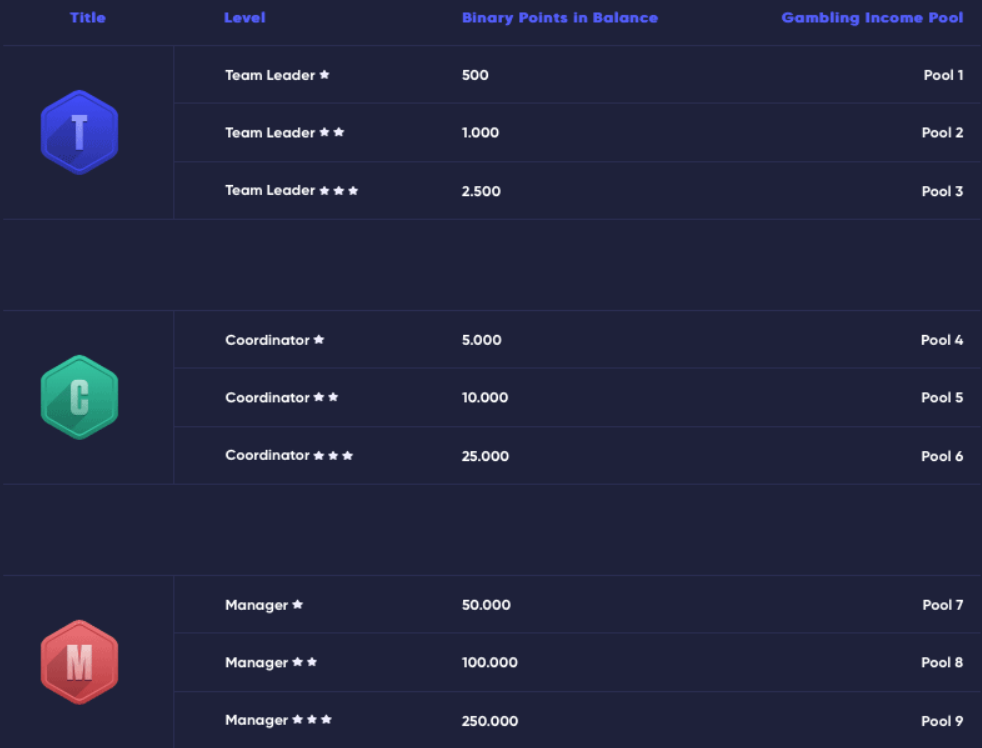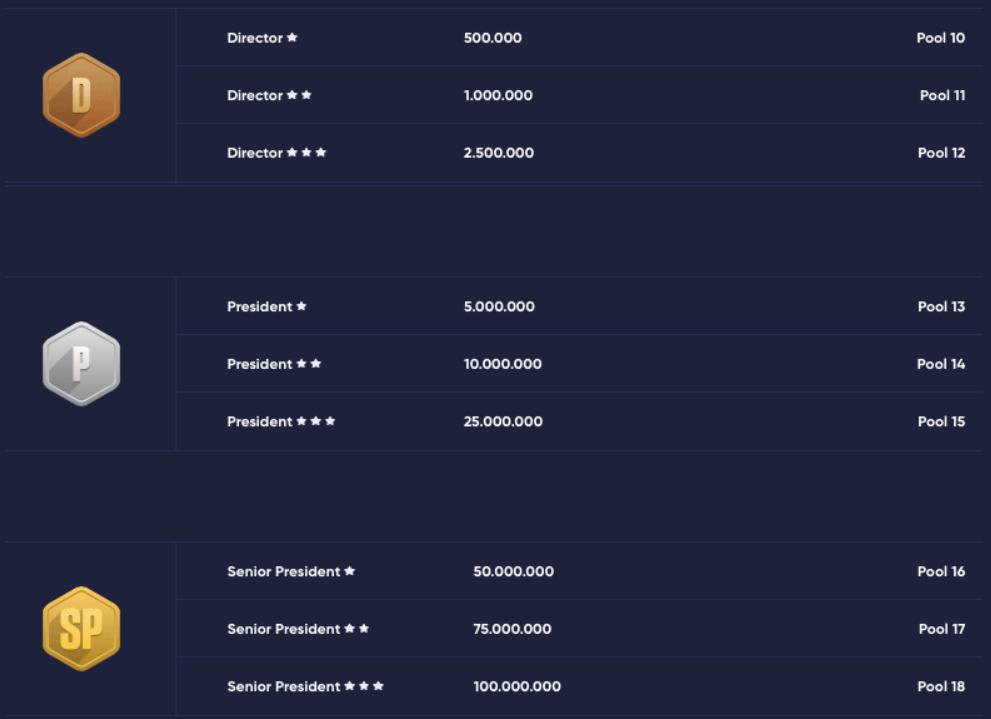 Is Crowd1 a Scam
---
It's no hidden secret that many MLM's or network marketing companies have received a bad rapport over the years. Crowd1 is no exception. I believe it will tank in the long-run.
On the surface, Crowd1 looks like the real deal. But in time, the wheels will slowly start to fall off, one-by-one and come crashing to the side walk. Resulting in many people losing their investment.
Crowd1 reminds me of the Empower Network scheme. Only, Crowd1 has a different setup and focus. It employs similar strategies that of Empower Network and we all know how that company ended up.
Crowd1 is an elaborate scheme that has an emphasis on the gambling industry. So I do not recommend getting involved with it. It clearly states in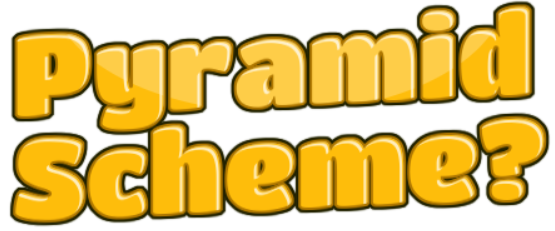 the 'terms of service' that financial loss is a possibility and making money with their system has no guarantees.
Like all MLM's, in this instance (the pioneers) who joined Crowd 1 prior to the official launch period, are the ones who will make majority of the earnings. Many people will invest and make nothing at all, or earn very little income.
There are many intricate loopholes that come with the 4 membership tier levels that distract users from the underlying reality of this platform.
And the fact that gambling is associated for affiliates at AffilGO and even participating in gambling activities just lowers the authenticity of the Crowd1 system.
The interesting thing is that if you're not allowed to advertise the Crowd1 business model. You can find this in the 'terms of service'. How are you meant to recruit a down line, or promote software for Crowd1 and affiliated partners?
Unless you already have a thriving online business with a sizeable email list, or healthy website receiving a vast amount of traffic every day, it would be rather difficult to succeed promoting Crowd1 in my opinion.
The costs for each membership level alone, without having any prior knowing of what you'll get for your transaction will simply turn hundreds of people away before 1 person will take the risk and invest into this opportunity.
You'd only hope that the person you invite actually uses your sponsorship name, so you get some sort of credit, down line, or any form of income for you marketing efforts for Crowd1. I would never invest into the Crowd1 movement, period!
Your risk of investingis left entirely up to you. The decision is yours, you've been warned here first to avoid it!
Final Word
---
Pro's
Upon making a purchase of a Crowd1 package. You have a 14-day cooling-off period where you can claim a refund.
Professional and aesthetic looking website and the mobile application is better.
Events are held a few times a year.
If you are one of the first sign ups, you have a far better chance of making a successful business out of this scheme.
Owner rights will increase in value over-time.
Can buy and withdraw through Bitcoin and Ethereum.
Con's
If you purchase of a membership package and begin to use any of the contents which will unlock. Your option for a refund is squashed. So try before you buy is out of the question.
If you want to become an affiliate, you have to be referred by another affiliate. Instead, just guess a random name and you might line up an affiliate if you were not referred.
Crowd1 prohibits it's users to advertise the service in any way which makes no sense at all.
You have to make an upfront investment before knowing what education and accessories will unlock. It could just be basic stuff offered.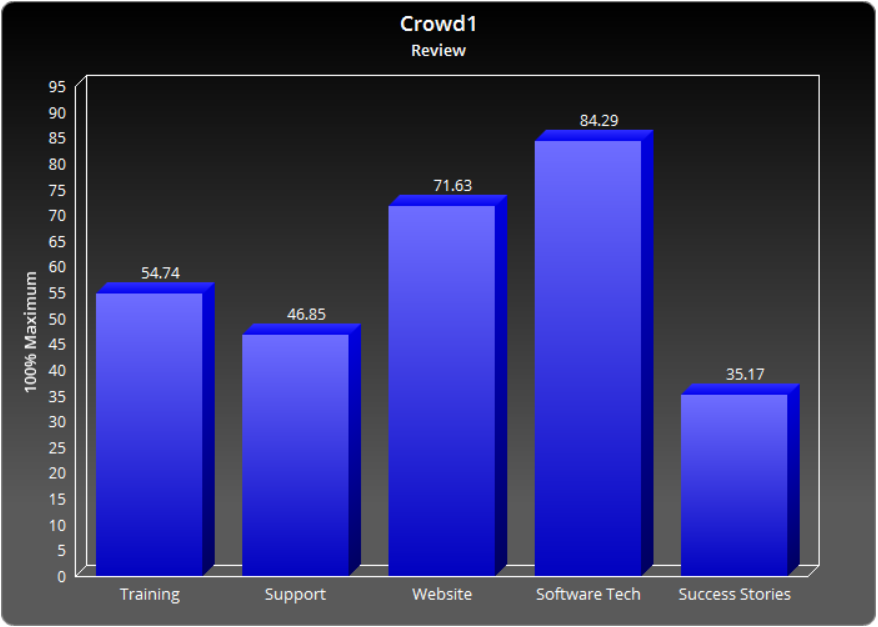 Are you going to become apart of this, quote, Crowd1 economy revolution? If so you will be doing it at your own risk. I would not advise it. This place will be put on the unethical list.
MLM's or network marketing companies in general, require more work and effort to turn over a profit than, say, an affiliate marketing business for instance. Which leads to.
If YOU Seek a More
Robust & Educational Service

In Opposed To Crowd1's Application. We Have a Much Simpler Business Model Than Crowd1's MLM. It Will Demonstrate How To Become Successful Online. Will Be a Considerably Cheaper Alternative To Crowd1. And You'll Have Complete Ownership of The Asset YOU Develop. Learn More By Clicking Through The Secretive Image Below
()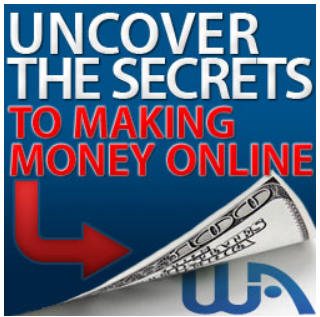 For those of you who require insights before visiting, we will transfer you over to a review about the service in question. There you can find out all you will need to know about the recommended service for building a legitimate business online.

Since there isn't much detail given as a free Crowd1 member. There is only so much content we can provide here. Quick question. Have you had inside access to the Crowd1 and earned revenue? Would you like to inform us with what you think about the program? Share this article to keep the online community informed of unusual schemes like this one.
Is Crowd1 all about Crowd Marketing or bitcoin mining…
Comments
---