Legendary Marketer:
Typically $30/month but there are higher ticket products
Training -

84.21%

Support -

69.05%

Website -

74.29%

Software Tech -

70.01%

Success Stories -

67.46%
Summarized:
Legendary Marketer David Sharpe has been in the internet marketing industry for over a decade now. Created more than 3 multimillion dollar companies. By joining you'll get to duplicate Dave Sharpe's methods to internet success. Sharpe is very consciencious of your skill level and will treat you as a valuable member of the company.
---
JOIN LEGENDARY MARKETER ~ Access The Platform Today For Only $1 Through This Link…
---
Legendary Marketer is referred to as an online marketing education platform with an emphasis on affiliate marketing.
In this Legendary Marketer review, I'll let you know if their products and affiliate program are legitimate or just part of an MLM scheme.
Legendary Marketer is referred to as an affiliate marketing training platform invented by David Sharpe.
The main aim of this platform is to help newbies to immerse themselves in the world of affiliate marketing through a variety of courses/services.
But is Legendary Marketer a scam or actually legit?
---
TABLE OF CONTENTS

Jump to…
# Legendary Marketer Review
# How Does Legendary Marketer Work
# Legendary Marketer David Sharpe
# Who is it for
# Legendary Marketer Course
# Is Legendary Marketer a Scam
# Pro's VS Con's
# Comments
---
Internet Marketing Education, Tools, Networking & Support!
Do you Hunger for the Truth About How People are Really Becoming Successful Online...
---
Legendary Marketer Review
---
*Parent Company: Legendary Marketer, Inc

*Brand: Legendary Marketer
*Alternate Known Names: Duplicate Dave
*Domain Name: https://legendarymarketer.com
*Domain Age: 09th/MAR/2016
*Hosting Registrar: GoDaddy.com, LLC
*Launched: 2016
*Domain Authority: 32/100
*Linking Root Domains: 923
*Ranking Keywords: 204
*Spam Score: 0%
*Website Asset Value: $2,034,400
*Address/Headquarters: 360 Central Avenue, Suite 800, St. Petersburg, Florida 33701
*Founder: David Sharpe
*Contact Methods:
email: contact page within
email: support@legendarymarketer.com
phone: (727) 498-5138
*Resources Offered:
---
---
9 different programs to choose from
---
Professional video tutorials
---
---
---
---
---
*Community Size: 500,000+
*Payment/Payout Currency: United States Dollar (USD)
*Costs/Price Tags:
The 15-Day Online Business Builder Challenge = $7
Legendary Marketers Club = $30/month
Legendary Traffic University = $1,497
Affiliate Marketing Business Blueprint = $2,500
Digital Products Business Blueprint = $2,500
Coaching and Consulting Business Blueprint = $2,500
Events and Masterminds Business Blueprint = $2,500
Legendary Marketer Mastermind = $5,000
Private Client Coaching Program With David Sharpe = $30,000
*Compensation Plan: 10-60%
*Affiliate Program: Yes, if you are a marketing guru you may earn big commissions
*Up-Sells: Yes, but they aren't shoved down your throat
*Training: 84.21%
*Support: 69.05%
*Website: 74.29%
*Software Tech: 70.01%
*Success Stories: 67.46%
*Verdict: Glorified affiliate system that's full of bells and whistles tooting on that hype train





How Does Legendary Marketer Work
---
Legendary Marketer is referred to as an online marketing education platform with a large number of digital products for consumers.
The affiliate program is also one of the main goals of your Legendary Marketer business.
David Sharpe is the founder of course.
Once upon a time, Legendary Marketer was actually called Duplicate Dave, but he has since renamed it to Legendary Marketer and added way more content.
Either way, David Sharpe is a successful internet marketer and entrepreneur, unlike the guy who founded the Power Lead System.
Legendary Marketer is actually a series of in-depth training and tutoring material on how to build a successful online business.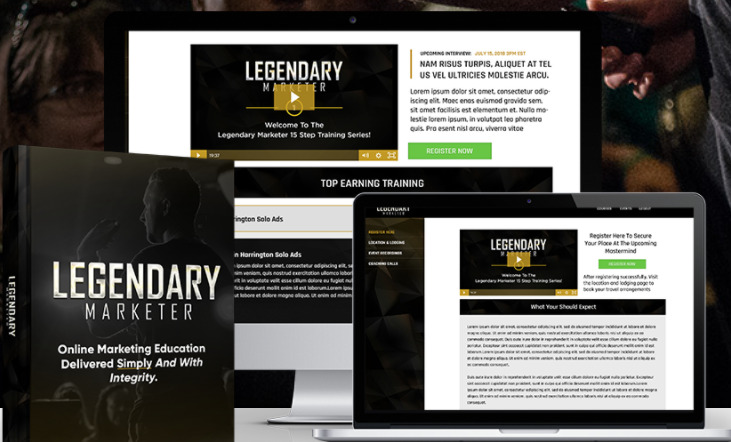 It focuses on affiliate marketing a lot.
This particular training comes in the form of written video content, articles, online events, as well as in-person events.
It also covers various aspects of the online business space, such as affiliate marketing, coaching, consulting, and even selling your own digital products.

At first glance, Legendary Marketer may seem like another affiliate MLM scheme.
Trying to get you to take courses in online business and affiliate marketing, then sell them to others for commission sales.
Legendary Marketer has been so successful online because, being a high-cost program and all.
It offers high commissions for its products or generally suggests that high-priced products are the best way to create a highly profitable and sustainable online businesses that way your not just treating your business as a hobby or side hustle.
Legendary Marketer is a comprehensive set of courses, primarily covering what David Sharpe calls the top 4 high-cost online business models:
Affiliate marketing.
Digital products.
Coaching and consulting.
Events and minds.
Legendary Marketer Founder David Sharpe
---
David Sharpe is a household name in the industry.
You may know him from the Empower Network, a company that crashed and burned after having great success.
Its downfall is predominately due to co-founder David Wood's illicit drug habits.
It was an MLM scheme that failed in the year 2017.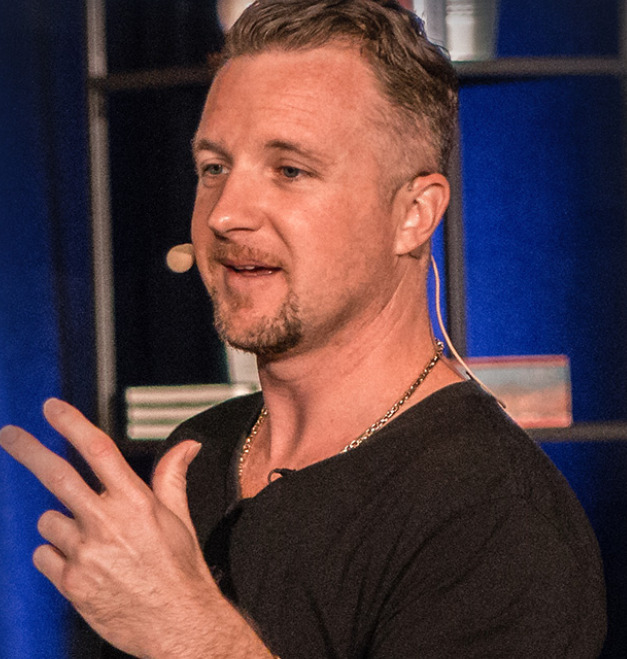 David Sharpe managed to dodge the bullet and get out in due time, and today he is the owner as well as creator of Legendary Marketer a.k.a Duplicate Dave.
He is a guy who has a decade of experience with online marketing and helps others start their own online business.
David has founded a series of multi-million dollar companies and has made millions in recent years.
Today, he focuses on allowing people to follow his path.
He has founded three large companies from scratch, has trained more than 500,000 students worldwide through his courses.
He also appeared on Entrepreneur.com and was cited by Forbes as one of the greatest minds in this industry.
He co-founded the most popular digital marketing multi-level marketing (MLM) company, Empower Network, in 2011.
Although the Empower Network has become very famous for all the wrong reasons, the whole concept was to make money by promoting the Empower Network itself.
This is why the Empower Network became infamous and ultimately failed and was sued for millions.
When David decided to leave the Empower Network company in 2014 to start his own company under the name Duplicate Dave.
It was the best decision he could have made for a variety of reasons, but we will save that for another time.





Who is Legendary Marketer For
---
Legendary Marketer training is intended primarily for beginners and intermediate marketers looking to start and grow their own online business.
Legendary is about teaching you the fundamentals you need to be successful with ANY online business.
Technically speaking, Legendary Marketer is for anyone interested in making money online.
It can be for:
Sellers of digital products.
Coach and consultants.
Experts in events.
Legendary Marketer Course
---
Initially, you should take your first steps and join David's 15-Day Online Business Builder Challenge that's $7
It entails:
Day 1: The #1 Secret To Starting & Scaling A High-Ticket Business.
Day 2: The "Core 4" High-Ticket Business Models Online.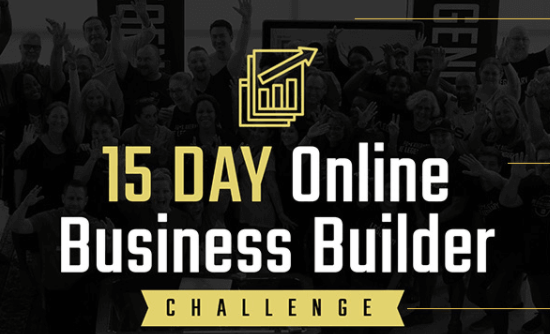 Day 3: Watch Me Build A Business In Under 30 Minutes.
Day 4: How To Master The Inner-Game of Wealth.
Day 5: The Big Day – Developing Your Business Plan!
Day 6: You Got Questions, and I Got Answers!
Day 7: When Should I Quit My Job To Build My Business Full-Time?
Day 8: What Are High-Income Skills and Why Do You Need Them?
Day 9: High-Income Skill #1 – Lead Generation.
Day 10: High-Income Skill #2 – Copywriting.


Day 11: High-Income Skill #3 – Sales and Presenting.
Day 12: What, When and Where To Outsource.
Day 13: Using "OPM" To Build Your Business.
Day 14: 4 Ways To Avoid "Wantrepreneur Syndrome."
Day 15: Your First Sale and the Journey Of Your Success.
Now I will outline costs of The Legendary Marketers product line.
The Traffic Rolodex package costs a one-time fee of $247.
All other entry-level products have a one-time cost of $2,500 each.
The Legendary Builders Masterclass is $2,500, and the Legendary Leaders Masterclass is $5,000. DFY Brand Builder costs a total of $10,000, while its Mindset package costs $15,000.
Legendary Marketer Mastermind is at the cost of $8,000, and Legendary Entrepreneur Mastermind costs $12,000.
Both are exclusive to the world of mind, as you do not need to renew your membership every year.
1) Legendary Marketer Club ($30/month)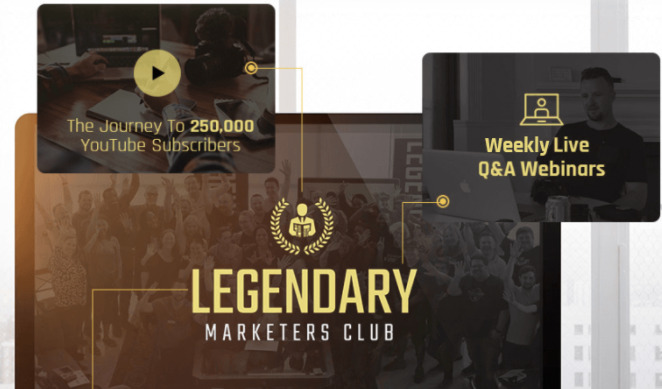 This is your first product and includes introductory material on marketing basics.
They offer you this for $30 a month.
After paying for this, you will be granted access to the member's area, where you must first speak to your mentor on the phone to unlock your 15-step training streak.
It's more of a motivational series where Dave will

show about himself and his success stories.
After seeing this, you can also access various courses at:
Facebook Ads.
Lead generation and monitoring.
YouTube advertising.
Facebook fan page formula.
Instagram Marketing.
This subscription plan will also provide you with some resources in the form of:
Private Business Success Coaching.
Landing pages.
Advertising banners.
Video ads.
45-day email follow-up series.
Support, live chat, and Facebook group.
2) Rolodex traffic ($247 one-time fee)
Paying a subscription fee of $30 a month wasn't enough to guide you through all the YouTube, Facebook, Instagram, and Google strategies in the last section.
That's why you were introduced to Traffic Rolodex for a one-time investment of $247.
Therefore, this product will help you in advertising on sites such as YouTube, Facebook, and Google.
They have some good experts to walk you through how to be successful with your campaigns.
They will guide you on how to:
Master those platforms.
Create compatible landing pages for each platform.
Generate the most leads.
Although there is good information included in this product, I don't know why it is not included in the "Legendary Marketer Club."
Well, it goes without saying that the sole purpose is to sell that $247 upsell, which I think is unfair to the members.
It also means that people who simply opt for the last option will not know how to serve ads correctly and run the great risk of having their Google and Facebook accounts suspended.
So why don't they charge $30 a month?
This is a really big red flag on this product.
3) Legendary Builders Masterclass ($2,500 one-time fee)
This is its hefty $2,500 retail price, and this section includes more advanced things about digital marketing.
You will get over twelve hours of video content divided into 4 variety of sections:
Attraction code:
This is even more advanced in Facebook ads to get quality traffic, creating a high converting sales funnel and good value ladder.
Provides clear guidance on:
What kind of content should you post frequently?
Where and how do you find a laser-targeted audience?
How to encourage people to buy things easily through Facebook?
Story sales formula:
You've heard that "Facts count and history sells." A story is always behind everything, whether you are using a sales video message or a text message. Stories connect the world's most influential people and use them to leverage their business and increase your sales conversion rate. This course is fashioned for individuals interested in learning how to use Stories to easily sell a product and improve their sales conversion rate.
Tuition teacher:
Learn to master the art of listing and building relationships with your prospects, this course helps you do that.
You will learn and fully master the art of following your leads, which will help you turn your leads into customers.
They will also provide you with ready-to-use templates, which you can use for future follow-ups.
Profitable presentation:
Assuming you want to become a good presenter where people listen to you and can easily communicate your ideas, sales pitches, and other information, this course is built for you. You will connect with highly trained coaches who will guide you through the process and ensure that you become a profitable presenter.
4) Affiliate Marketing Business Project ($2,500 One Time Fee)
This part is about making money from affiliate marketing.
In affiliate marketing, you are just promoting other people's products.
You do not really need to create your own products.
Just use platforms like Clickbank, Amazon, Shareasale, and many more and promote the products registered with them.
It is a beginner-friendly system and my favorite too.
But, the whole point of this module is to promote legendary marketing among people, which is not fair to me.
5) Digital Products Business Project ($2,500 one-time)
This section was created for people who want to create their own digital products (e-books, video, and audio).
Everyone knows that digital products are rather easier to create and also offer greater income potential than physical products.
You can give big discounts on events and earn even more.
6) Coaching and Consulting Business Plan (one-time fee of $2,500)
This is a project to start your online advisory and consulting business.
You will learn how to properly identify your niche, deliver your product or service, and scale your business to the highest level.
Sure not everyone can do it.
Hence, this product is for individuals who are at an advanced professional level, and most of the people reading this are probably not interested in it.
7) Masterminds and Event Business Plan ($2,500 one-time fee)
Assuming you plan to host an event in an interesting place around the world, that class will lecture you on how to do it right.
You will learn everything like:
Hire people for the event.
Select a place.
Bringing experts to events.
Again, this is for the more advanced folks who already have a six-figure business and have a good fan following.
8) Legendary Leaders Masterclass ($5,000 one-time fee)
Assuming you want to scale your business to 6-figure or even 7-figure income, Legendary Leader Masterclass claims to have a course that can achieve it.
Here's how they could make a difference:
Build your brand online and become a leader.
Perfect for building your brand.
Exclusive training from industry leaders sharing their strategies on how to grow your business.
9) Legendary Vendor Minds ($8,000 one-time fee)
From this product, you will participate in live events where you can interact with the best experts in the world.
These experts will share with you:
Traffic strategies, lead generation, and conversion.
Mind in person.
A lifetime subscription to mastermind events (for future events, you just need to deposit the small fee).
Although you will interact with various experts and see how they are implementing the strategies, I think $8k is too much for that.
10) Mind of the Legendary Entrepreneur ($12,000 one-time fee)
This is also a 3-day live event in the United States that covers topics such as health, wealth, growth, and personal development.
Therefore, there is more focus on being a true entrepreneur:
Mind in person.
Tips on health, wealth, growth, and performance strategies to create and protect your wealth and become the best version of yourself.
A lifetime subscription to the 3-day mastermind event ((for future events, you just need to deposit the small fee).
Again, $12,000 for a three-day event? It's too much!
11) Legendary Life Experience ($30,000 one-time fee)
This is the most advanced package available and only for those who are committed to excellence.
You will get:
An exclusive mentoring event outside the country.
Have the ability to network with the best online marketers in the world.
Eligible for one year of coaching with David Sharpe.
Four exclusive VIP days after all the legendary minds and events.
Is David Sharpe – Legendary Marketer a Scam
---
No it is hardly a scam guys.
People may be concerned that this is an online MLM scheme.
It is not for a few reasons.
First, the products themselves are quite useful (although many are somewhat expensive).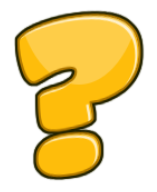 Second, the affiliate program possesses a free option assuming you don't want to pay.
By choosing the Pro option with the affiliate program will cost $29.95/month but in doing so you're entitled to higher commission payouts of up to 60%.
Also, you cannot create an affiliate referral downline which eliminates those multi-levels.
The wonderful thing about all the courses is that many are really cheap and even for free.
Moreover, if you decide to go to the upsell line within the Legendary Marketer member area, you will eventually come to a course that's worth taking action with.
Finally, their site is very open and honest about the products they offer and their affiliate program.
Final Word
---
Pro's:
Great onboarding with the 15-day challenge.
Amazing affiliate backend.
Passively earn ClickFunnels commissions as you promote Legendary Marketer.
Get help and support from your personal business adviser.
Playing weekly webinars at the Marketer's Club.
Legendary products are constantly updated.
Comprehensive paid traffic strategies within Traffic Rolodex.
No affiliate poaching. Once you've brought someone inside, they will be your referral for life.
Very responsive customer support.
Con's:
There is no sure guarantee of being accepted into the affiliate program.
You can only get audios and transcripts for some of the lessons.
No attention to SEO strategies so you will be mostly banking on paid advertising strategies.
You must pay monthly to earn the highest affiliate commissions.
High ticket live events are very expensive.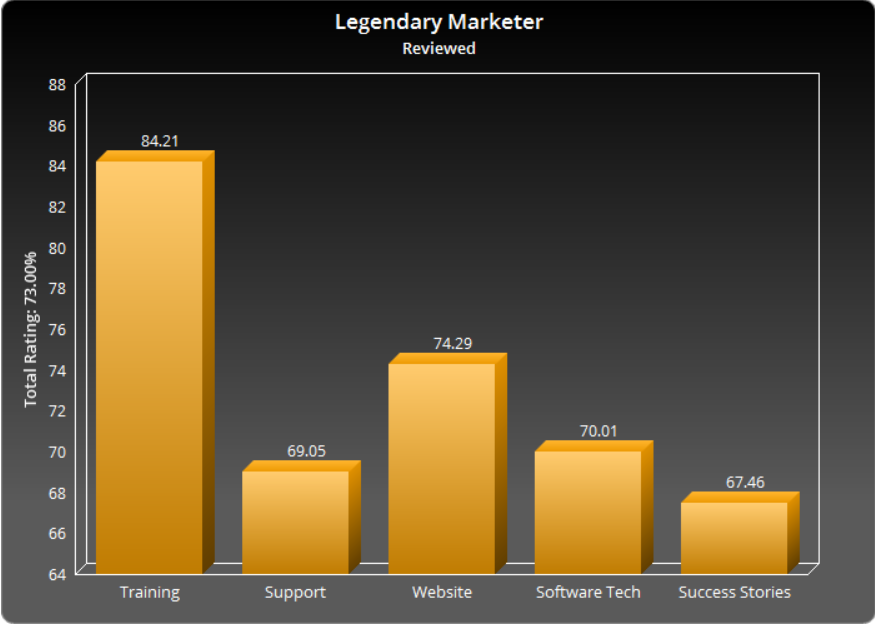 Legendary Marketer is a legitimate David Sharpe product.
The platform just gives you the training and support you need to build your business empire.
The training revolves around a typical business model, affiliate marketing.
Assuming you are looking for passive income, Legendary Marketer is worth checking out.
Like many affiliate programs, the Legendary Marketers affiliate program is designed to create a steady stream of income over time.
You will work early and then continue to earn from that initial effort.
If you brought into David Sharpe's Legendary Marketer platform prior to reading this article, you probably fell for all that marketing jargon and persuasive language frequently used.
There is potential with Legendary Marketer, but most of these costs are unreasonable.
If YOU Can Read

Between The Lines

. I Want To Steer Your Attention Away From That Astronomical Investment Cost At Legendary Marketer. There Is An Affordable, Direct Competitor Called Wealthy Affiliate That's Known As The G.O.A.T Within The Affiliate Marketing, Platforms, Community & Technology Industry. So This Banner Below Will Show YOU That Safe Haven.
()

Would you like me to help you on your journey to online profits using the affiliate marketing business model as your staple.
Its no secret that Legendary Marketer has a lot of high ticket products/services. With that said, if you liked what you read. Be a sport and share this to your friends on any social channel you use. Express a thought below in the comments.




1 step, 2 step, 3 steps marketer, daylight come David, and me wanna go home…
Comments
---