ZonBase:
$47 - $97 /month with other payment options
Training -

80.1%

Support -

75.28%

Website -

74.29%

Software Tech -

89%

Success Stories -

69.17%
Summarized:
If you want to have the upperhand with product research, analytics and winning campaigns to name a few features. ZonBase is a fully decked out software tool that will benefit a new or existing Amazon FBA business and improve revenue potential.
---
ACCESS THE OFFICIAL ZONBASE APP ~ Skip The Queue And Test Out Your ZonBase Tool Today For Free…
---
ZonBase makes it simple to launch your items, learn what's actually selling, and obtain sales analytics at anytime.
You'll be better off if you have a thorough set of tools to get you started on the right route as soon as possible.
ZonBase offers solutions to help you increase sales, earn more revenue, and scale your business without ever altering your codebase.
ZonBase is referred to as an all-in-one platform for Amazon sellers looking to find their winning products online.
To that end, ZonBase provides tools such as Keyword Finder, Hidden Niches, Revenue Estimator, Brand Rank Tracking, Keyword Analysis, Reverse ASIN, Listing Optimization, and many more cool features.
The built-in Search API allows you to find Amazon's new goods quickly and easily.
All-in-one platforms such as ZonBase eliminates the need to manage dozens of distinct platforms and thousands of services all over the web.
---
TABLE OF CONTENTS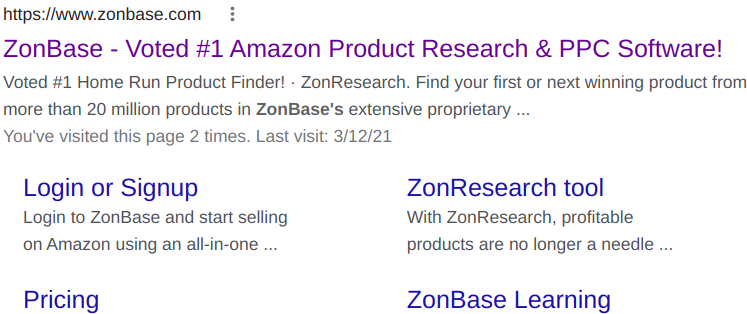 Jump to…
# ZonBase Review
# About ZonBase
# Who is Kevin David
# Who is ZonBase for
# ZonBase Products
# Pricing Plan
# Is ZonBase a Scam
# Pro's VS Con's
# Comments
---
Internet Marketing Education, Tools, Networking & Support!
Do you Hunger for the Truth About How People are Really Becoming Successful Online...
---
ZonBase Review
---
*Parent Company: Digital Ninjaz, LLC


*Brand: ZonBase
*Alternate Known Names: Zon Base
*Domain Name: https://www.zonbase.com
*Domain Registered: 07th/JAN/2019
*Hosting Registrar: NAMECHEAP, INC
*Launch Date: 2019
*Domain Authority: 23/100
*Linking Root Domains: 440
*Ranking Keywords: 386
*Spam Score: 1%
*Website Asset Value: $78,686
*Address/Headquarters: 30 N Gould, Ste R, Sheridan, Wyoming, 82801, United States
*Co-Founders: Kevin David & Lewis Civin
*Contact Methods:
email: support@zonbase.com
email: info@zonbase.com
*Resources Offered:
---
---
---
---
---
---
---
---
*Community Size: 100,000
*Payment/Payout Currency: United States Dollar (USD)
*Membership Cost: $47 – $97 /month or save $10 /month by going yearly
*Affiliate Program: Yes
*Up-Sells: There are multiple selling points depending on your business needs
*Training: 80.10%
*Support: 75.28%
*Website: 74.29%
*Software Tech: 89.00%
*Success Stories: 69.17%
*Verdict: A revolutionary tool for Amazon FBA partners
About ZonBase
---
ZonBase is an all-in-one platform that assists Amazon sellers in growing their businesses by increasing Amazon earnings by focusing on the best and most relevant keywords.
ZonBase has a keyword research tool that produces precise and relevant results.
This is the tool that will really assist you in locating a profitable niche.
And, despite Amazon's massive database of millions of products, you can do it quickly.
ZonBase is also known as a SAAS (Software as a Service) platform that allows you to sell more of your products on Amazon.com and do so more successfully than ever before.
It allows you to save a lot more time on keyword research, appropriate item listings, and discovering "golden nugget" products, among other services.
It successfully accomplishes this by providing you with a wide selection of super-powerful devices that enable you to achieve services like:
Plan your estimated monthly search quantities for various products.
Show you the necessary keywords your competitors are ranking for, as well as the actual rankings for those keywords on Amazon.com's first page.
Calculate the estimated number of sales for a certain product.
Items with a high search volume but minimal vendor competition should be prioritized.
Create listings that are keyword-optimized based on your competition.

By using the ZonBase Chrome Extension, you will be able to double-check all the specifics of your study.
Average revenue, average unit price, average units sold, and total revenue are examples of such metrics.
This is the tool to use if you've been wondering how to spy on your competitors.
It is because it provides extensive information about the volume of sales from each ASIN number and allows you to track the rank of every single keyword you use when selling your products.
This strategy is useful for making comparisons and making better strategic decisions about what to add or delete from your listings.
And it is faster than any other approach.
ZonBase is an all-in-one platform that assists Amazon sellers in growing their businesses by increasing Amazon earnings by focusing on the best and most relevant keywords.
It is a keyword research tool that produces precise and relevant results.





Who is Kevin David
---
Kevin David is a business coach that specializes in eCommerce.
His key credo is "liberating entrepreneurs from the corporate grind," which is a fairly normal selling point in this area.
Kevin David began his career selling baseball cards in high school.
However, the most significant portion of his entrepreneurial career began when he began developing gaming apps and blogs.
How did he actually make income off of them?
Simply by using Amazon Associates and Google AdSense of course.
This is a regular occurrence among online entrepreneurs.
Many of them began by monetizing their sites and developing their SEO abilities.
Kevin David is unquestionably one of these people.
He worked in an accounting firm after graduating.
He later moved on to Facebook, where he worked as a privacy consultant.
The employment was a huge improvement, but he continued to pursue his side hustles.
Then he discovered Fulfillment By Amazon (FBA).
He decided to share his skills and knowledge with other entrepreneurs who wanted to turn their side hustles into full-time professions after successfully launching products with Amazon FBA, a program that allows you to ship your products globally via Amazon's fulfillment network.





Who Is ZonBase For
---
ZonBase is a fantastic software application for those of you who are just getting started with Amazon FBA and also selling on Amazon.com in general, but also if you're an experienced vendor, because it has some fantastic done for you deals like the training calls and also the auto-pilot PPC, which can truly assist you in taking your service to the next level.
The software is inexpensive, useful, and simple to use, and it will undoubtedly provide you a higher advantage over the competition as well as help you save a lot of time and money in the long run by telling you services that are worth selling, keyword phrases that are worth going after, and more.





ZonBase Products
---
ZonBase offers a very user-friendly user interface and a well-organized, simple-to-navigate dashboard.
On the left, you'll notice a menu with all the tools.
They are classified into three groups:
PRODUCT INVESTIGATION
1) ZonResearch:
Using some advanced filter settings, you may simply search through all the goods in the Amazon database.
Within the ZonResearch features, there are two sections: product search and keyword search.
You can search within any marketplace (the United States, Canada, and the United Kingdom), and you can filter by price, monthly revenue, sales, and a preset filter.
ZonResearch also removes larger bands, so you'll only be offered products that are selling and for which you can organize the competition.
The keyword section shows you the information that a specific product receives on page one.
You'll know how many reviews you'll need to compete, how many monthly searches you'll get, what the estimated sales volume is, and how many sales you're expected to make per month.
2) ZonBase Chrome Extension:
The most pronounced tool on the platform is the ZonBase chrome extension.
To use it, simply install the extension on your Chrome browser (which takes a few seconds) and apply it to any Amazon product page you like.
When you're on Amazon, the chrome extension picture will turn orange, and by clicking it, you'll be able to see a wealth of product information such as monthly sales, revenue, price, category, title, number of reviews, and the smart score, among other services.
In addition, by clicking on the sales history graph, the tool will display you the top 5 ranking keywords for the specific product you're looking into, using their reverse ASIN interface.
This extension tool is really powerful and provides you with a wealth of relevant information to work with.
3) Hot Products:
This tool searches Amazon for the hottest products and updates them every hour.
You can also filter products by category(s), price, reviews, monthly sales revenue, and monthly revenue, as well as if you want to include branded products and who fulfills the product.
4) The Validator:
Their Amazon experts employ Machine Learning to refine and simplify PPC.
Sales are increasing, but ACOS is decreasing. Before investing, have a team of professionals analyzes the company.
5) Sales Estimator:
This function quickly and conveniently displays the monthly sales of a certain product.
To use it, simply enter the product's URL or ASIN and press the "Next" button.
If you enter the URL (as we generally do), the computer will look for the ASIN.
Once this appears, simply click the "Calculate Sales" button.
In a few seconds, the predicted monthly sales will appear directly above the search bar.
SALES OPTIMIZATION
1) Keywords (Keyword Research):
The keyword research tool is an essential component of the software, allowing you to locate high-demand phrases with less competition.
Choosing the right keywords… is critical and can make or destroy your campaigns.
There's nothing worse than working your tail off… only to discover that the term you're aiming for is a total dud.
You may use this function to enter whatever keywords you want, and you'll obtain the expected monthly searches for that particular term, as well as the number of competing vendors, in what's known as the "keywords score."
The higher the particular score, the better, because it effectively suggests that the ratio of searches to sellers is heavily skewed in favor of the former score.
You'll also see a seasonal chart that shows searches vs. time throughout the year, as well as comparable searches that individuals who searched for that search have also searched for.
You'll also be able to see other related keywords to that specific search.
This is a little different but really helpful because it will help you uncover keywords that you may have overlooked in the past.
This is where the "golden nugget" merchandise can be found.
You'll get the monthly expected searches, the score for these products, and a sense of how relevant it is to the original search you conducted.
2) Reverse ASIN:
This is one of ZonBase's best features because it displays you the terms that your competitors employ.
In this approach, you can discover their top keywords, similar profitable items, and the most popular words you should include in your title or bullets to improve your product listing.
To do so, input your product's URL or ASIN and press the "Search" button.
When you enter a URL, the program determines its ASIN, and when you click the "Analyze" button, you will get a table of the best keywords that can help you rank first, second, third, and so on.
The table also offers information on rivals' rankings, monthly search volume, smart score, and the number of times each word shows on the search keywords that rank.
You may also search and compare up to three goods at the same time.
You can save this table as a CSV file for your convenience.
3) PageOne:
Everyone really wants to be on the top page of search results, whether they are on Google or Amazon.
This tool assists you in getting there by improving your listing, creating your personalized PPC campaign, and providing you with a personal coach to support you on a daily basis.
However, in order to utilize this tool, you must pay an additional cost.
This feature has three pricing options, which are as follows:
Keyword Launch – $397
PPC + Keyword Launch – $497
Enterprise Solution – please contact them for a quote.
4) PPC AutoPilot:
This function gives you more free time to work on other aspects of your business or spend with your family and friends.
By enabling the PPC AutoPilot, you enable the Zonebase Amazon PPC professionals to manage all of your PPC campaigns from start to finish.
You spend less and earn a lot more this way.
However, you must pay to use this option.
You must select one of four pricing plans:
Plan for Experimentation – $497/month.
$697/month for the business plan.
$897/month for the Pro plan.
Enterprise – please contact them for a quote.
These prices are for monthly payments.
There is also the option to pay yearly, which can save you up to $600.
5) ZonTracker (Tracking Database):
Another awesome tool that allows you to examine the ranks of a collection of keywords and observe how they change over time.
You'll need a product ASIN, which may be your own or one of your competitors, as well as a keyword or collection of keywords that you want to track.
The software goes out on a daily basis, tracks the keywords, notes where each term ranks, and then displays the data in a graph.
You can also opt to receive a daily email with the information, and you can change, add, or remove keywords as you deem fit.
A pretty cool thing you can do is utilize ZonTracker in conjunction with Reverse ASIN to uncover competitor product keywords and then track them with ZonTracker.
LISTING OPTIMIZATION
1) Listify:
You can use this tool to construct your own product listing and compare it to your competitors'.
It also allows you to improve your listings by incorporating the most relevant keywords into the titles, bullet points, descriptions, and search phrases.
It also tells you which terms are branded, so you don't use them, or you'll be prohibited by Amazon.
Enter a product's URL or ASIN into the search field and click the "Retrieve Keywords" button to identify the best keywords your competitors are using.
The results are displayed in a few seconds and include the best keywords as well as the product listing with the title, description, all bullet points, and search terms.
Using these keywords and the listing, you can create a listing for your product that outperforms your competitor's.
2) Listing Optimizer:
As the name implies, this tool improves your product listing to increase its visibility, rank, and sales.
To have access to the Listing Optimizer, you must pay an additional price of $397 for one ASIN, $497 for two to five ASIN's, and $647 for more ASIN's and more features.
3) Photo Editor:
This service is essentially what the name implies: photo enhancing for sky-high conversions.
Because of all the items that they have introduced, the ZonBase team understands that photos are incredibly vital for selling products because customers scan listings very quickly and rarely read them.
They do go over the photographs, so you'll have to make yours stand out from the crowd.
To begin using the service, you'll be offered instructions on how to photograph your goods, and you'll also collaborate with the team to make the shot exactly as you like (you'll have as many editions as you want).
The ZonBase team is a master at getting products to the top, getting customers to buy, and knowing just how the picture should look.
The cost of this service starts at $197 for one photo and goes up to $297 for five.





ZonBase Pricing Plan
---
If you're serious about the Amazon FBA business, I'd recommend that you acquire the paid plan after the trial period is over because it won't be of any use if you don't focus on the Amazon FBA company.
This ranges from $47 per month ($37 per month for an annual membership) to $97 per month ($67 for an annual subscription each month).
Purchasing an annual membership will save you up to $360.
ZonBase offers three pricing options:
Standard – $47 per month if paid monthly, $37 per month if paid annually.
Legendary – $97 per month if paid monthly, $67 per month if paid annually.
Enterprise – for those with more than 100 Amazon products; contact per pricing.
Is ZonBase a Scam
---
ZonBase offers an insane number of testimonies.
The software works and is fantastic.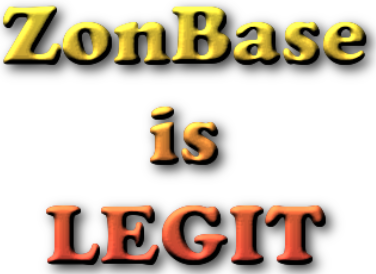 In fact, ZonBase is far more "legit" than the usual piece of software, course, or other program available.
Aside from the standard "Terms of Service," "Privacy Policy," and "Disclaimer" pages, ZonBase also features a comprehensive learning resources page, high-quality video courses, and a live chat.
Many of these "software as a service"-style services lack the backbone that ZonBase does, which is unfortunate given it is meant to be the standard.
However, you might be astonished to learn that there is a slew of "churn and burn" software platforms that are simply abandoned as soon as the software becomes glitchy because there is no one behind the desk to keep services running.
ZonBase, on the other hand, is not in the same ball park with these competitors and are scam free.





Final Word
---
Pro's:
Prices are reasonable, and monthly and yearly plans are available with discounts.
They provide a free trial period.
The plans include access to a learning portal.
Con's:
The trial period is only seven days long.
When you first use the Chrome extension, you must sign in.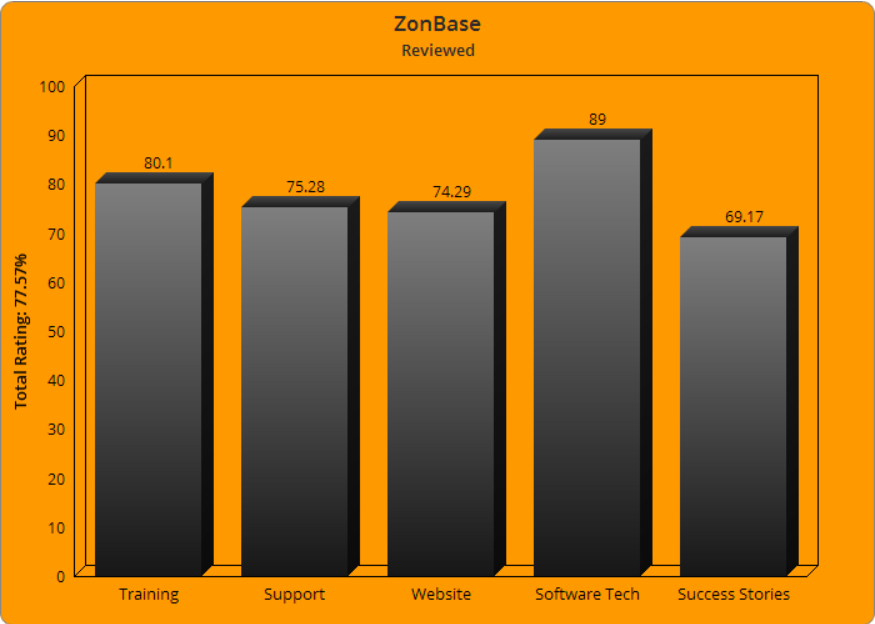 Selling products and services on a competitive eCommerce site like Amazon and flourishing in the face of fierce competition is difficult.
The ZonBase's creators went above and above to create tools that are valuable, simple to use, and can interact and be utilized with one another.
There is no disputing that ZonBase is a good, a sturdy product, and perhaps this ZonBase review has helped to establish that.
Before YOU Go. I Would Like To Recommend An Online

Business Management

Service That Is Widely Considered A Hidden Gem. You Can Literally Run A Fully Functional Internet Based Business From Anywhere In The World
()

I'll drop a link to it's review so you're well aware.
Hopefully our ZonBase article has demonstrated the conveniences that this tool can provide. If you learned a thing or two today. Please share it on your social media channel. Alternatively, drop a thought below as we'd love to hear about it.




They say Amazon FBA is dead, not anymore…
Comments
---