From the pinnacle of the summit. To the great gushing landslide of the once so controversial limited liability company – Empower Network! Is Empower Network a scam or legit you ask?
It's truly mind blowing how Empower Network manipulated and mislead, packing people to the back of the rafters at events. Many fell victim to the network marketing styled, pyramid scheme.
Empower Network was constructed quite like a hybrid version if you will, multi-level-marketing (MLM) business that resembled close to a Ponzi scheme. Over the years, Empower Network received a ton of money from it's investors.
When I say ton of money. I meant, it was a multi-million dollar organisation that only top tier members were truly raking in the big dough.
---
Table of Contents
Jump to…
# Empower Network Details
# Empower Network Products VS Prices
# Empower Network Scam Complaints
# David Wood and the Empower Network
# Pro's VS Con's
---
Internet Marketing Education, Tools, Networking & Support!
Do you Hunger for the Truth About How People are Really Becoming Successful Online...
---
By reading this article to it's entirety – basically a recap of Empower Network's glory days until it drew it's last breath.
According to sources. Empower Network accrued an upward estimate of 60 million dollars during it's reign of supremacy.
People have always stood on both sides of the fence whence it came down to the nitty gritty of Empower Network's business model.
Since, Empower Network's business website, along with it's insanely overpriced and overrated products.
Has shut shop, contacts and alternate vices. Disconnected from the web space and hosting registrar. It's official and safe to say. Empower Network is Bankrupt!
It's not hard to go figure, which side of the fence it's once loyal community of members now stand.
Wait a sec, let me try to guess what you're thinking right now. What Happened to Empower Network, Empower Network Shutdown?
Empower Network Details
---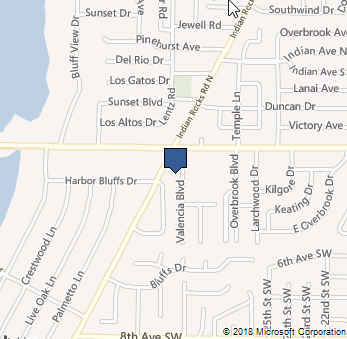 *Brand: Empower Network
*URL: www.empowernetwork.com
*Founder: David Wood
*Active Since: 2011
*Filed Bankruptcy: 2017
*Headquartered: 2840 West Bay Drive, Suite 166, Bellair Bluffs, Florida 33770, United States
*Contact Details: Call +1 641-715-3602 | Email – support@empowernetwork.com
*Training: 23.09%
*Support: 60.15%
*Website Builder: 24.65%
*Hosting Provider: 25.10%
*Software Tools: 33.33%
*Success Stories: 27.34%
*Costs: In excess of $5,000.00
*Upsells: Numerous
*Scam VS Legit Verdict: Disastrous Scam that flopped hard
---
You know, It's a very sad result that has happened to those unfortunate souls whom were associated with Empower Network. Being pressured into spending upwards of $5,000.00
Making minimal, or no return on their investment.
It actually makes me wonder whether I, or anyone for that matter should trust other established, or uprising MLM pyramid schemes online!
It is important to stay informed about opportunities like the former Empower Network's business network. So that you can smell another one coming at you. Don't let another scam entice you in.





Empower Network Products VS Prices?
---

Kalatu Blogging System – $25.00/month, every month.
Viral Blogging Academy – $297.00 one time payment.
The Inner Circle Membership – $100.00/month recurring.
Costa Rica Intensive – $500.00 one off payment.
High Ticket Academy – $497.00 once only.
15K/Month Formula – $1000.00 one time.
Internet Traffic Formula – $997.00 individual sale.
Masters Course – $3500.00 one whopping con job.
Top Producer Formular – $197.00 🙁 enough said.

Empower Network Scam Complaints
---
Do you know that there are companies that investigate for fraudulent business's online? Well there is. And if you did not know as yet. The Better Business Bureau of America received a sizeable complaint list of 30 regarding Empower Network's fraudulent activities.
E.g.
02/07/2018
"I want my money back as this company was a giant pyramid scheme. I would like my money back from the empower network since this company is a giant scam. I no longer have access to my account number, but am happy to provide any identifying information to receive said refund. Thank you."
Here are some more complaints. We'll screenshot a couple to reduce content clutter. Are you interested in reading more into these complaints? Head over to BBB.org and type Empower Network into the search bar provided.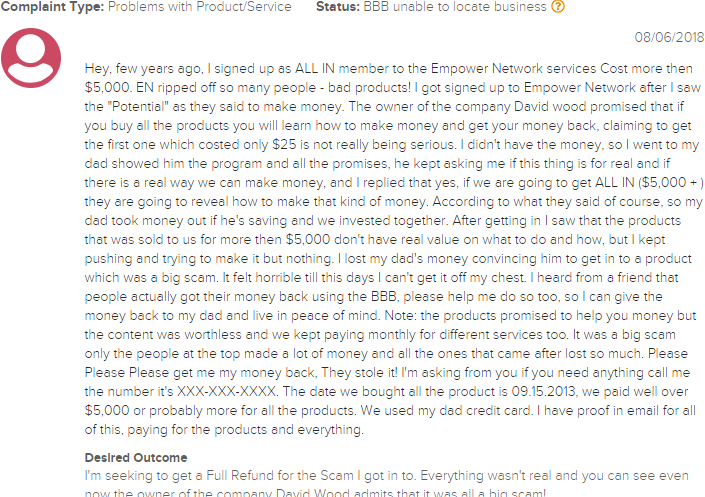 David Wood and the Empower Network Aftermath
---
So then, ever since Empower Network's crash and burn. Our research has led to believe, David Wood seems to be on an up hill battle to reclaim his former glory.
All that fame, respect and power he once possessed is evidently diminished.
David Wood's demeanour of desperation showcased, along with his vicious intent within some of his content inside YouTube's Channel. – 'King David'
Substance abuse and lack of Attention Deficit Disorder (ADD) medication might be causing him to become a little hostile and delusional. Video's uploaded like these could be a contributing factor to David's downfall.
WARNING
David Wood claims he's super intelligent then everyone else! Mental health is a serious issue and is not something that should be poked fun of.
Mr. Woods should have a slice of humble pie. Realise that he cannot easily manipulate or convince investors to follow him after his failure with project – Empower Network.
David Wood has shifted his values at least. Valuing his family first and foremost. Messiah Ben David, King of Israel. Is the name David Wood is trying to brand himself as nowadays.
David Wood has flipped open the book of the holy bible to find his faith and build a religious cult.
David Wood is now working on the website and here is the review: https://theteachingsofkingdavid.com – "The Teachings Of King David…"
Maybe, through divine intervention or something like that. King David has gathered up enough strength to build another MLM hyped business model. It looks that way.
According to David Wood's new website and YouTube uploads. It appears as though he's on a quest, or a biblical crusade of sorts, to rebuild Jerusalem and run for president in 2020.
Taking down Donald Trump, appointing him as vice president. And eradicating the Internal Revenue Service (IRS).

Final Word
---
Pro's
For those who joined Empower Network early, generally made great money.
Opened up the idea to people that money could be made online.
Con's
From the get go. Everything pitched within the video contents administered through Empower Network were completely riddled with hype and misdirection. There was never a straight forward answer before you brought into the business.
There was never really a product offered. Practically buying thin air. You kinda paid more to climb up the financial ladder to get better commission rates and member benefits.
Felt like a cult, smelt like a cult, looked and sounded like a cult.
It's a MLM pyramid scheme which is usually an illegal business practice.
There was very poor financial management. Also, other areas where professionalism and consistency was not met contributed to Empower Network's bankruptcy.
Now that your aware of the relentless aftermath of Empower Network. It must make it one notch harder to trust any business model online. Before you give up on your search for financial freedom.
Wait! Because There Are Proven Business Models That

SUPERSEDES

Empower Network's! Take a Well Orchestrated

Affiliate Marketing

Platform For Instance.

If, David Wood caused you uncontrollable anger, or pain when you lost your investments into Empower Network. Try your best to forgive him. He is only human that made a sinkable mistake. Hopefully David's new project does not replicate that of Empower Network!
Fingers crossed David Wood can over come his inner demons, find peace within himself.
Once upon a time. Empower Network reigned supreme.
But you cannot expect a skyscraper (Empower Network) to stay sturdily standing when important structural materials have been left out during it's core developmental stages.
Were you ever scammed, or fell for the bluff of the once charismatic and endearing man David Wood? Do you feel as though Empower Network should have reimbursed or refunded your investment?
We'd really appreciate you insights into this network marketing scheme! Drop a like, or share this article to spread the word if you enjoyed reading it 🙂




Truly shocking stuff…
Quick Recap of Empower Network
$25.00 - $5,000.00 (PLUS)
Training

Support

Website Builder

Hosting Provider

Software Tools

Success Stories