Is he called Messiah Ben David, king of Israel. Or, just plain old irregular David Wood. Find out if David Wood is trying to make another impact in the world, this time approaching at it from a wider angle. We'll let you be the judge of this scenario!
Did you come here seeking out some proof of David Michael Wood's new project – The Teachings of King David. We will outline the genius behind The Teachings of King David and attempt to determine it's worthiness for you.
---
Table of Contents
Jump to…
# The Teachings of King David Review
# What Happened to Empower Network
# David Wood's New Website Story
# Immortality Science
# Campaigning for presidency at the 2020 election
# The Vision of Messiah King David
# Products for Sale
# Pro's VS Con's
---
Internet Marketing Education, Tools, Networking & Support!
Do you Hunger for the Truth About How People are Really Becoming Successful Online...
---
The Teachings of King David isn't like the majority of websites/brands we generally select to research. But, having recently published an elaborate article about David Wood and his unfortunately collapse with his estranged company, the Empower Network.
It first got us thinking and then curious about what Dave's up to nowadays in real time. And short story, even shorter. We managed to locate David Michael Wood's YouTube channel first off – King David (Trying to brand himself as this name nowadays). From there it led to finding his newest website endeavour – The Teachings of King David.
At first, we were reluctant and unsure if the website had anything to do with the real David Wood and the old school of Empower Network. But with further investigation, We can confirm that The Teachings of King David is 100% David Michael Wood's website. Appearing to be his current pursuit of happiness!

The Teachings of King David Review
---

*Website/Brand: The Teachings of King David
*URL: https://theteachingsofkingdavid.com
*Founder: David Wood (Messiah King David)
*Launched: 16/MAR/2018
*Training: 32.19%
*Support: 31.54%
*Website Builder: 60.83%
*WordPress & Hosting: 11.98%
*Software Tools: 47.79%
*Success Stories: 15.81%
*Costs: $97.00 per month (But expect to pay upwards of $697.00)
*Up-sells: No, but give it time and it will likely have up-sells
*Scam VS Legit Verdict: Not a wise decision

What Happened to Empower Network
---
Way before, The Teachings of King David' had come into fruition. David Wood founded the network marketing company Empower Network.
Empower Network was mismanaged toward the end and defrauded hundreds, if not thousands of susceptible investors/members. In a short period, Empower Network had no choice but to cease all operations and close down from lack of professional management.
You can no longer access the the Empower Network website, so don't even bother trying too.
David Wood was likely under much stress and anxiety. And when he realised the fate of the company. He probably felt the need to subdue certain emotional responses with narcotics and other drugs (admitted in various YouTube or Facebook videos that may not be accessible anymore).
Mr. Wood claimed to have been spiked with amphetamines that were often mixed in with his batch of prescribed medication by the negative influences around him.
Now, addiction alone and particularly with different variants of amphetamines is renowned for causing many side effects to the human brain like psychosis. For example, methamphetamine can:
Be incredibly addictive and becoming if not, the most important aspect of a person's life.
Distort the perception of time, logical reasoning and alter reality.
Lead to hyperactivity, uncontrollable and illogical behaviours.
Paranoia and delusion of grandeur.
Can display chaotic behaviour and physical aggression at the flip of a switch. Showing minimal signs of remorse under the influence.
Inflict verbal/physical intensity with minimal consideration for any mental or physical damages caused to family, friends or the public.
It pollutes the human body and rapidly deteriorates the human condition.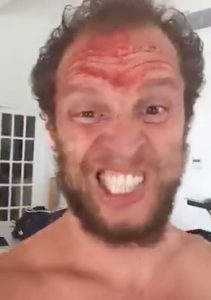 Some of King David's video uploads could suggest how David Michael Wood's character is slowly spiraling out of control. Since that, we do not know David Wood personally. We can only make assumptions based on observations with a few of these published videos.
There are many people that still cannot stand or absolutely hate David Wood for what had happened with the Empower Network business. It's understandable why though. If, David had caused a negative and/or financial burden toward your life.
Try to find it within your heart to either forgive him or sympathise. Understand that addiction can lead most people to make irrational decisions that not everyone can understand why, let alone tolerate.

David Michael Wood's New Website Story
---
David has a strong belief that he can simulate ideals and bring forth the kingdom of Elohim (god) down to the planet earth and make the world a righteous paradise once again.
Unlike how Empower Network did. David Wood claims that his newer website The Teachings of King David is not a network marketing platform.
David Wood comprehends scripture well by the looks of it and stands behind his religious beliefs firmly. Apparently there is Mormon scripture talking of a religious figure named king David in 1000 BC.
David Wood talks about that there is a prophecy where King David will come forth and restore peace and prosperity.
David Wood appears to be convinced that he is the prophet – Messiah BenDavid, King of Israel as suggested in the book of Mormon.

David Michael Wood's Immortality Science
---
David is seeking donations and business partners to fund his future projects and scientific research. He believes he can:
Build a social network bigger and better than Facebook.
Heal certain ailments in everyday people through the power of his father who art in heaven.
Halt the processes of ageing and somehow rejuvenate naturally.
Become an immortal among men.
Live in different times and places throughout the years and alter history all at once.
Create enlightened soldiers of war.
Allow humanity to pursue intergalactic space travel among the stars and solar systems.
David Wood has set up a research fund at 'gofundme'
This fund has been created for superhuman research and was set up in May 2018. Right now it is November and there has not been one single donation made. If that, you believe in David Wood then go help out if you want The goal is set for $100,000

David Wood Campaigning for Presidency at the 2020 Election
---
Some political campaign efforts that King David will try to uphold with the support of the Torah Party:
Unite all political parties if they accept the offer.
Strategically eliminate the Internal Revenue Service (IRS Federal Agency) by 2024.
Complete Donald Trump's mission of making America great again within 4 years. Solve all of America's major crisis's.
Instate the Torah Scroll that will apparently suffice as a replacement or merge with the constitution of the United States of America.
Income taxes will become illegal on a federal level.
Implement a new tax levy of 10% on all purchases made.
This tax will then be compiled and divided into various categories where 10% will go towards feeding the starving children of the world. 10% will restore and rebuild Jerusalem. 5% will build energy weaponry to defend against inter dimensional aliens.
Legalise naturally grown drugs.
Allow men of America have as many wives as they want.
Let people do what ever they want to do.
So what do you think about this list. Is there any bullet pointed lines you agree with?

The Vision of Messiah King David
---
David Michael Wood's vision is not such a bad idea in some areas. But how do we really know if we can trust this man after what had happened with the Empower Network a few years ago. Do you think that David Wood is just in over his head right now.
There is nothing wrong with dreaming big. But you need to know your limitations and be able to weigh the odds of achieving such extraordinary feats.
By following The Teachings of King David he believes that it will help people to:
Build a business.
Live a fulfilling lifestyle.
Gain more financial independence.
Reduce governmental power and possibly the overall authority over this control.
Break away from the financial power of the central banking corporations.
See David as a king/rabbi of Jerusalem that will one day boot out Donald J. Trump in the upcoming 2020 presidential election and become president of the United States of America with support from the Torah party. Appointing Donald Trump as vice president.

David Michael Wood's New Products for Sale
---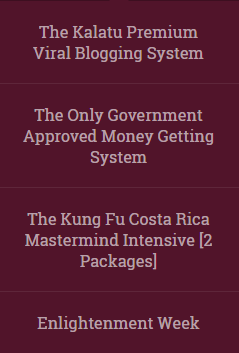 Here is the list of the core products available from i AM Transformation International, S.L.R:
The Kalatu Premium Viral Blogging System ($97.00 donation per month). Uses the WordPress framework but has it's own proprietary emailing system called – Kalatu Cloud.
The Only Government Approved Money Getting System (minimum donation of $0.50).
The Only Government Approved Money Getting System | The Kung Fu Club ELITE ($100.00) Teaches leadership. Kung Fu "the right way". Access to a social network on and offline. Grants the ability to utilise the affiliate compensation plan with a return rate of 100%.
The Costa Rica Mastermind Intensive [2 packages] ($500.00 plus shipping costs) Claims to get you more rich and wealthier for your current or upcoming business venture.
Enlightenment Week package ($9,997 for singles, $19,997 for couples, $299,997 for legendary marketers, $999,997 for celebrities, $99,999,999 for billionaires. $1,000,000,000,000 for central bankers.
Towards the end there it sounds a bit ludicrous, don't you think? Not even sure if that is how you input 1 trillion dollars in numbers!
It appears that some products listed here were sold inside the Empower Network LLC. So, do you think this new business venture 'The Teachings of King David' is simply just a masquerade mask to cover up for the Empower Network?

Scam VS Legit – Final Word
---
Pro's
If you, have faith in this religion David Wood preaches. You might find it appealing more than us.
Expertly written content at most parts of blog posts.
Some hilarious headlines for many of King David's blog posts.
Con's
There is too many things needed to be purchased. Not to mention the Enlightenment Week package is a bit steep.
It seems too early for this website to be trying to sell many expensive products without any real online authority.
Website looks a bit crap and it is quite slow to load pages etc.
There is a lot of hype and areas that seem to push hard for sales to be made. Seems like a desperate individual.
David Wood, who now prefers to be known by the title of – Messiah Ben David, King of Israel. Is under the assumption that he is superior to all intelligent beings (Homo sapiens).
There is no denying that David Wood is an intelligent person. Only problem is that David appears to be rather delusional with a superiority complex to match.
His far-fetched ideals and demand for control, respect and power overshadows his grasp on reality. There is a fine line between logical thought processing in comparison with an individual suffering from mental health issues.
Throw some drugs and negative influences into the mix and it can have disadvantageous effects toward a person's psyche.
It looks as though David Wood is trying to sought out to start his own cult.
There is a vast shift in personality, professionalism and clarity within David Michael Wood's persona. You can witness the changes dramatically from the initial days of recording for Empower Network, to now, the startup of The Teachings of King David.
Do you think that illicit drugs play a pivotal role in the changes of David Michael Wood's physical and mental health?
Or, do you think that Mr. Wood is unique, ambitious and trying to make an impact within this world (hopefully for the better). Even if, it seems highly unlikely and far out of his reach. Especially with the recent history of David's Multi-level-marketing (MLM) business – Empower Network.
There is plenty of evidence available online that highlight the psychological impacts and ramifications to the human brain consuming illicit drugs. Let's hope that David Wood is being honest to us and refraining from using any dangerous drugs.
Before you leave today. If you look to start up, or are interested in building a business as an affiliate product/service promoter. Then here's a quick link to our highly recommended article.
Let us know in the comments section below if you fell victim to the Empower Network scheme back in the day. Do you still believe in David Wood (Messiah BenDavid, King of Israel) and think he can make a positive impact for bettering the existence of humanity. Or, are you led to believe that Dave is just desperate to regain some authoritative influence and/or boost his ego with drugs?
Tread lightly and assert caution…