Fortune Builders:
$200 - $30,000
Training -

90.38%

Support -

82.19%

Website -

64.7%

Technology -

57.85%

Success Stories -

60.96%
Summarized:
Real Estate Investing is a widespread business model that people with enough capital like to invest in. There is a lot of responsibility as a real estate investor so the best thing you could do is partner up or learn from those with years of experience and an established portfolio. Fortune Builders are reputable.
---
DON'T LIKE REAL ESTATE ~ Try Out This Business Model Free Of Charge…
---
The Fortune Builders website looks quite professional, and the top bar indicates the platform's social media presence.
There's also a legitimate phone contact in addition to the support icon that works just fine (a surprisingly rare occurrence when it comes to many platforms for making income online).
As you have probably searched online, there are countless ways to earn additional real estate income, and this is one of them.
Investing in real estate can certainly improve your financial situation.
The main tagline on the home page, "Passive Income Makes a Couple's Retirement Dreams Come True," suggests that Fortune Builders promises to generate good passive income.
Well, does it really make dreams come true, or is it all a scam?
---
TABLE OF CONTENTS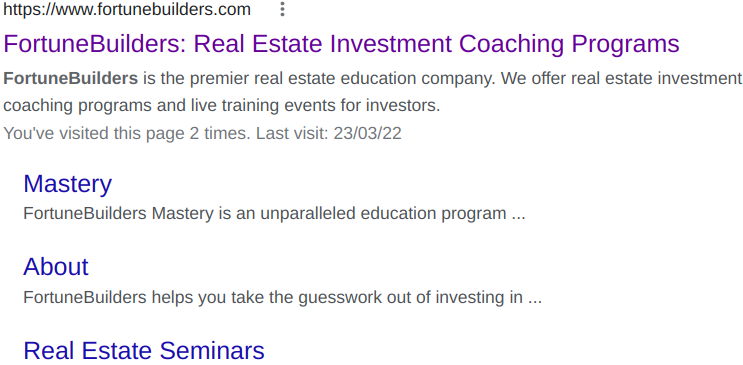 Jump to…
# Fortune Builders Review
# About Fortune Builders
# The Founders
# Who is it for
# Fortune Builders Workshop
# Is Fortune Builders a Scam
# Pro's VS Con's
# Comments
---
Internet Marketing Education, Tools, Networking & Support!
Do you Hunger for the Truth About How People are Really Becoming Successful Online...
---
Fortune Builders Review
---
*Parent Company: FortuneBuilders, Inc


*Brand: Fortune Builders
*Alternate Known Names: Fortune Home Builders
*Domain Name: https://www.fortunebuilders.com
*Domain Age: 21st/MAR/2002
*Hosting Registrar: GoDaddy.com, LLC
*Launched: 2004
*Domain Authority: 55/100
*Linking Root Domains: 15.8k
*Ranking Keywords: 45.4k
*Spam Score: 1%
*Website Asset Value: $580,000
*Address/Headquarters: 3033 Bunker Hill Street, San Diego, California, 92109, United States
*Founders:
Than Merrill
Paul Esajian
Konrad Sopielnikow
*Contact Methods:
Phone: +1 619-881-0575
Phone: 1 800-705-4821
Email: info@fortunebuilders.com
Email: privacy@fortunebuilders.com
*Resources Offered:
---
Real Estate investing information offered
---
---
---
---
*Community Size: 75,000+
*Payment/Payout Currency: United States Dollar (USD)
*Cost/Price Tag: Anywhere from $200 – $30,000
*Affiliate Program: No
*Up-Sells: Not really, optional purchases
*Training: 90.38%
*Support: 82.19%
*Website: 64.70%
*Technology: 57.85%
*Success Stories: 60.96%
*Verdict: High caliber Real Estate Investing program





What is Fortune Builders all About
---
They called themselves "the leading real estate education company in the country."
They're a real estate training and coaching platform that offers a multitude of courses, training, and workshops.
They claim to provide the best and most up-to-date real estate investment training.
It's no secret that Fortune Builders has become a trusted brand when it comes to real estate training investment and education.
Fortune Builder was founded by three real estate investors who run an online training website dealing with real estate investing.
It's true that investing in real estate does come with some risks, and Fortune Builders provides educational materials, training, and tools to empower you to become a more educated real estate investor and develop your knowledge of the real estate market.
The company offers training courses at different levels, so it is useful for anyone interested in investing in real estate, regardless of their skills and level of education, as there is a course for you.

The major idea of the course is to buy houses at a lower price and find the best and fastest way to fix them with a solid return on investment for you.
It's true that the real estate investment market is fraught with risk, but it offers a great opportunity to increase your income when you get it right.
This is where Fortune Builders come in.
You will find several educational aids to develop your knowledge in real estate investments.
Taking into account that the market combines the need for knowledge of real estate law, contracting, risk management, and business management, it is essential to know the sector efficiently.
Fortune Builders has a curriculum that covers a wide range of real estate topics.





The Three Founders
---
There are three founders of Fortune Builders; Than Merrill, CEO of the company; Paul Esajian, CFO of Fortune Builders; and Konrad Sopielnikow, director of operations.
According to the company's timeline, the founders of Fortune Builders started their first residential real estate business under the name CT Homes in 2004.
It was a huge success, and that same year they delivered their first property.
Since then, they have also started their second commercial real estate investment business called Equity Street Capitol.
The three began their journey as a team in 2004 when they founded CT Homes, LLC.
Depending on their company timeline, they were also able to write off their first property in the same year!
The following year, JD entered the scene helping the team complete one hundred real estate transactions in total by the end of 2005.
Than Merill is one of the most accomplished people in the real estate business, he is a sought-after public speaker who began his speaking career in 2006 in front of members of the Real Estate Investment Association (REIA).
He is also an Amazon bestselling author for his books "The Real Estate Wholesaling Bible" and "E-Myth Real Estate Investor", which he co-authored with Michael Gerber.
Paul Esajian has a BA in Economics from the University of California.
He is the CFO of three multi-million dollar companies, namely Fortune Builders, CT Homes, and Grand Coast Capital Group.
Like Merill, he also wrote a book called The Real Estate Rehab Investing Bible published, which was published by Wiley Publishing.
JD Esajian has the title of the current president of CT Homes, LLC and oversees all repairs and rehabilitation of the business.
Unlike Paul and Than, he doesn't have his own book but is regularly involved with Fortune Builders charities.
Konrad Sopielnikow is a graduate of Yale University and is the man behind the technology, innovation, and legal systems for CT Homes and Fortune Builders.
His experience in business systems and technology has enabled him to expand the company's online presence.
In addition to the founders, Fortune Builders also has a full list (over 25!) of experts and coaches with specific skills.
Depending on the event and session topic, course participants may meet them all.





Who is Fortune Builders For
---
If you have already decided to jump on the real estate bandwagon, have a substantial amount of cash, and are also looking for a premium training platform, Fortune Builders is for you.





Courses and Prices
---
Based on my personal research, some students paid $200-$300 for the 3-day seminar.
The Mastery Program costs the highest, which, according to reviewers, ranges from $10,000 to $30,000.
Online courses are also priced on identical lines.
These courses charge students $2k to $5k.
This information is based on reviews from people who claim to have purchased these packs.
3-day Workshop
Depending on the member's location and who is teaching, the 3-Day Workshop varies.
Prices also vary for the same pair of items, and this particular variation is significant.
I found that these seminars are essential for people who already work in this specific industry.
Workshops are held every weekend.
For newbies, these workshops do not guarantee anything as they do not provide anything beyond basic education.
The training has just a few ideas to help established businesses.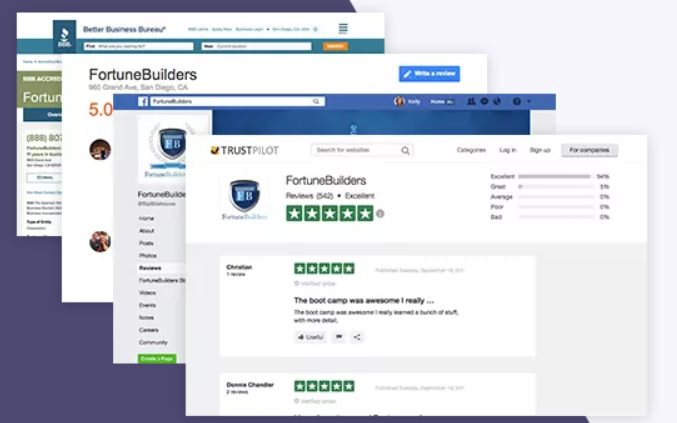 Seminars
They also don't offer the level of education you're probably looking for.
A joint seminar lasts only a few hours and deals with complex topics.
Online Course
You don't have to leave home if you choose an online course.
These classes provide instruction on taxes, wholesale sales, deeds, etc.
Payment varies depending on the level of the program, but there are several lessons here that are much more suitable for beginners/those looking to get started.
Mastery Program
This is what they call the precious stone!
The system provides for individual training.
It can't get much better than that.
This system allows you to start from scratch, helps you establish your business, and guides you through business operations.
The content of the program is tailored to the needs of the student, but as expected, it comes at a fairly high price.





Is Fortune Builders a Scam
---
I must say that Fortune Builders is NOT a scam.
It has its pros and cons; however, they are not scamming people.

The scale on which the company operates convinces me to avoid calling Fortune Builders a scam.
Their course fees are huge, but they also provide top-notch real estate education.
If you have that kind of cash to pay Fortune Builders taxes, I'm sure you'll gain a lot of knowledge and skills by following their courses.
The founders of this platform are well-known and respected, which is not a scam feature.
Scams often have unknown or notorious creators trying to hide their identities.
I've seen a lot of positive reviews about Fortune Builders; In addition, its score on Trustpilot is very high.
They have a huge following on all social media platforms.
All this concretes the fact that they are legitimate.





Final Word
---
Pro's:
One of the most interesting things about Fortune Builders is the versatility of their training courses.
You can find them available in books, individual training, boot camps, seminars, webinars, and online classes.
You will find different levels of training depending on your level of experience in real estate investment.
Con's:
Fortune Builders is a company that provides expensive training materials as well as educational tools and resources.
While there are many interested in joining the program, the costs are enough to stop them in their tracks.
The DVD training, for example, will set you back around $1,197 each, while the training programs will require you to make an expensive investment worth thousands of dollars.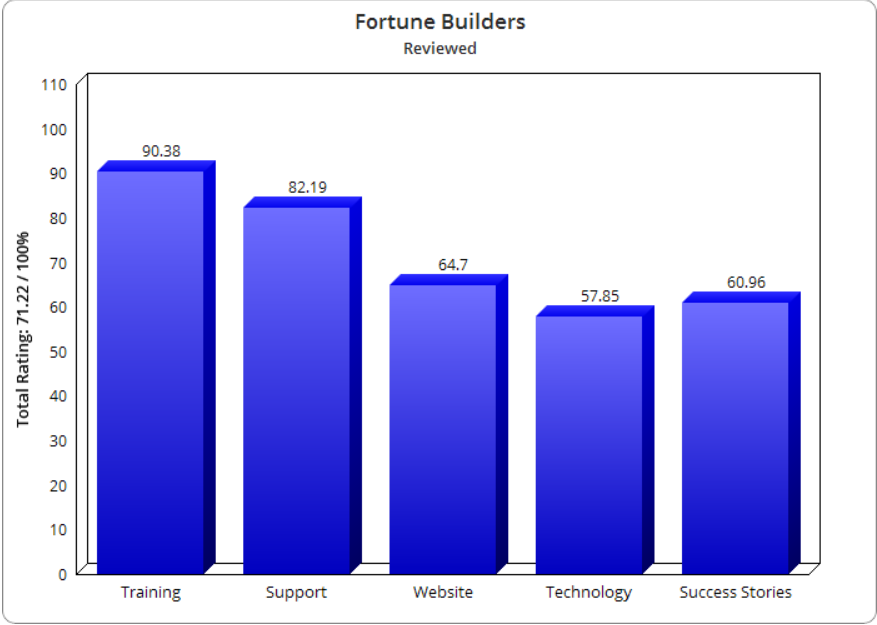 All the training and tools needed to thrive as an affiliate marketer in this online chaos can be found within this platform.
You will have the opportunity to learn all kinds of new skills like; how to create a site, how to create traffic, and most of all, how to monetize it into a successful passive source of income.
Real Estate Investing Is Next Level Investing. Only Get Involved If You Have More Than Enough Capital As There's Risks Involved That Sometimes Cannot Be Anticipated. If You Prefer Learning A More Risk Friendly Business Model Than I'd Recommend Affiliate Business, Here Is Where To Start.
Let me enable you to profits with this review
Real Estate is a multi-billion dollar industry, it can be difficult to get your toes wet but with the right mentors it is more than possible. Feel free to leave a comment below and quickly share this post on your social media to alert whoever.




Amass your small fortune to invest and make a huge fortune…
Comments
---