Lead Conversion Squared (LCS²):
Costs: Approx $4,000.00
Training -

65.5%

Support -

53.48%

Website -

72.07%

Software Tech -

67.4%

Success Stories -

40.13%
Brief Summary:
Devan Michael & Chad Nicely are about to execute the launch of Lead Conversion Squared toward the end of September. Over the course of a few weeks, you can take part in the launch, as either a venture partner, or a participant. Learn more about your business in a box throughout the read.
---
LCS² ISN'T CHEAP ~ Save Your Money & Get Involved With A Free Venture Start-up Here…
---
So, for this post. We are publishing the content prior to the official launch of Lead Conversion Squared (LCS²). That being said, the info we can gather for now might be in short supply.
Once the launch takes place in late September, we will surely come back and fill in the blanks, cross a few (i)'s and dot a few (t)'s. That way you can get a full grasp on what LCS Squared is all about.
I was emailed by their affiliate manager Kristen Hayse to promote the company prior to the upcoming launch.
I made further inquiries out of curiosity. So, I have gained access to the affiliate resources they provide through JVZoo.
The masterminds behind the launch are Daven Michaels and Chad Nicely. Ever heard of them?
They have crafted a brilliant launch calendar that's well planned out and will likely earn them a bucket load of cash. Or won't it?
---
Table of Contents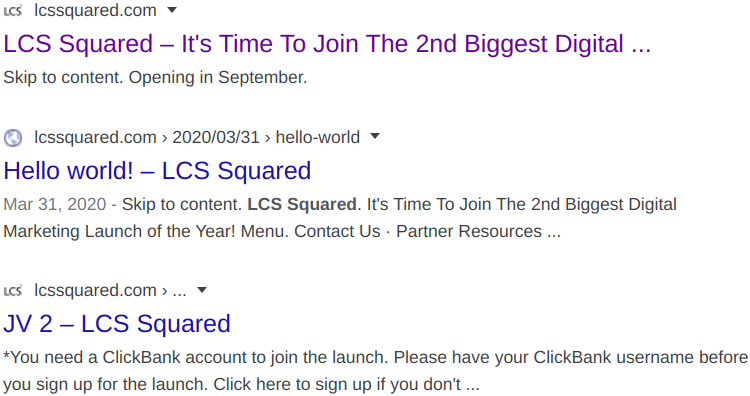 Jump to…
# Lead Conversion Squared Review
# About Lead Conversion Squared
# Lead Conversion Squared Launch Calendar
# Is Lead Conversion Squared a Scam
# Lead Conversion Squared Affiliate Program
# Pro's VS Con's
# Comments
---
Internet Marketing Education, Tools, Networking & Support!
Do you Hunger for the Truth About How People are Really Becoming Successful Online...
---
Lead Conversion Squared Review
---
*Parent Company: DigiByteLabs, LLC
*Brand: Lead Conversion Squared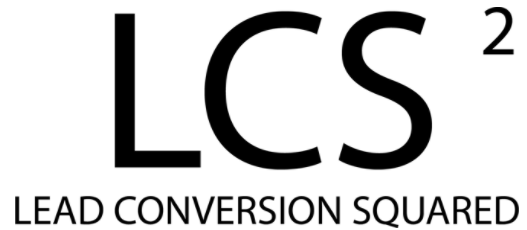 *Alternate Known Names:
*Domain Name: https://lcssquared.com
*Domain Age: 27th/MAR/2020
*Hosting Registrar: HostGator
*Launch Date: 28th/Sept/2020
*Domain Authority: N/A
*Linking Root Domains: N/A
*Ranking Keywords: N/A
*Spam Score: N/A
*Website Asset Value: $20,374
*Address/Headquarters:
770 Lanni Court, Henderson, Nevada 89012, United States
400 S. 4th Street, Suite 500 Las Vegas, Nevada 89101, United States
*Co-founders:
Daven Michaels
Chad Nicely
*Contact Methods:
email: compliance.officer@lcssquared.com
phone: (702) 960-4130
email (affiliates): launchmanager@lcssquared.com
phone (affiliates): (702) 842-9920
*Services Offered:
---
---
---
---
Community forum and/or group chatting
---
---
*Community Size:
Facebook – Private affiliate group – 169+ members
*Payment/Payout Currency: United States Dollar (USD)
*Cost/Prices: What we know is there are three price points
$1,497.00 (License #1)
$2,997.00 (License #2)
$15.00/month (hosting)
Lead generating virtual assistant that bills monthly, the amount unconfirmed yet
*Compensation Plan: Yet to be determined
*Affiliate Program: Through Clickbank, high end 30% – 40% commissions
*Up-sells: A couple of them
*Training: 65.50%
*Support: 53.48%
*Website: 72.07%
*Software Tech: 67.40%
*Success Stories: 40.13%
*Verdict: Unsure about it, may be wise to select a cheaper alternative elsewhere
*Watch/Attend:
About Lead Conversion Squared
---
Like I said, There isn't a great deal of information regarding Lead Conversion Squared as yet, since it's still pending release.
But what we've gathered for now. Is that LCS Squared is basically an online scheme, business in a box.
You start out as a cold lead and get indoctrinated through a registration process.
Attend the 3-day virtual workshop, or masterclass and become a warm lead.
You will either purchase the business package or back out. If you decide to invest, expect to be utilising LCS2 business methodology.
The opportunity involves 3 concepts

:
The product (Buy the reseller rights).
A sales funnel (Are beast for sale conversions).
Daily leads (Your virtual assistant will be on the hunt for you).
These 3 factors alone make up are the nuts and bolts of earning an income online following the Lead Conversion Squared program.
Lead Conversion Squared may be determined as a Multi-Level-Marketing (MLM) program. But until the actual launch date, It's hard to really know what type of business model it uses.
Not all MLM's are bad. They get a bad wrap by a lot of people.
If LCSSquared is an MLM product/service, let's hope it's an ethical one.
Because the last thing you want to experience is getting scammed like infamous David Wood had done to his members of Empower Network. I reckon he got complacent due to his drug addiction.
So, in the mean time. We wait and see how LCS2 unfolds. Give it a few months to judge it.





Lead Conversion Squared Launch Calendar
---
Daven Michael's and Chad Nicely have structured a launch calendar to try to maximise as many leads they can acquire.
Which is an inquisitive thing to do and will increase the overall sale margins for sure, with their various conversion strategies in place.
Here's the calendar and/or timeline details

: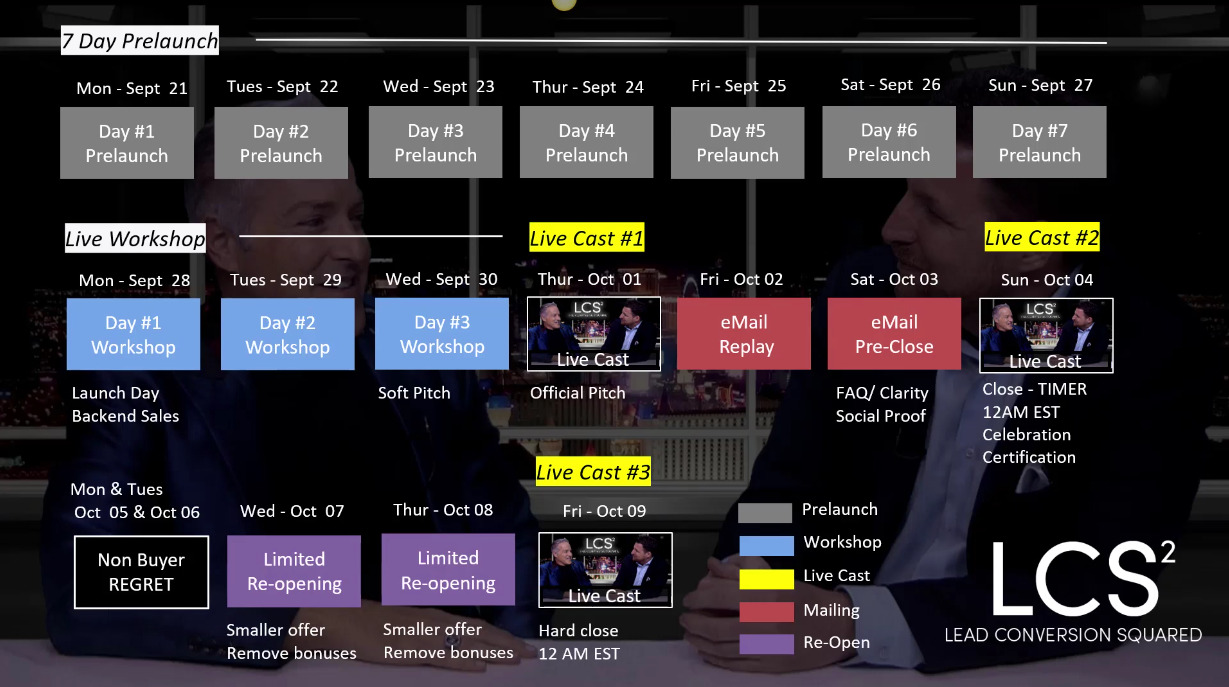 Phase (1)
7-Day Prelaunch

(This is where joint venture partners promote the launch of LCS2).

Mon – Sept 21

Tues – Sept 22

Wed – Sept 23

Thur – Sept 24

Fri – Sept 25

Sat – Sept 26

Sun – Sept 27

 
Phase (2)
3-Day Live Workshop

(couple of hours per day)

Mon – Sept 28
Day #1 Workshop (a walk-through, attendees get hands on experience with the product in real time)
Tues – Sept 29
Wed – Sept 30
Day #3 Workshop (Soft Pitch)
Phase (3)
Live webinar

(closing the deal)

Thur – Oct 01

Fri – Oct 02

Sat – Oct 03

Sun – Oct 04

Mon – Oct 05

Tues – Oct 06

Wed – Oct 07
Day #10 Limited Re-opening
Thur – Oct 08
Day #11 Limited Re-opening
Fri – Oct 09
Is Lead Conversion Squared a Scam
---
There is a lot riding on the line for Daven and Chad with the upcoming launch of Lead Conversion Squared. So, I doubt they will scam people for the sake of money and jeopardise their reputations.
I am certain there will be many people who've invested into LCS2 that leave and renounce it a scam. Because, like all business opportunities. There are no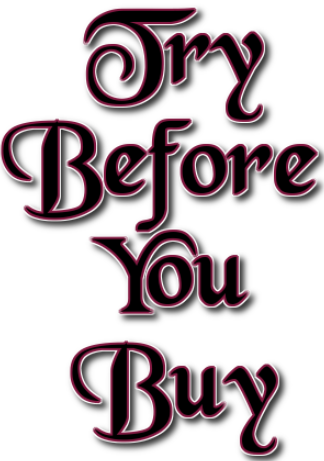 guarantees it's gonna work out for you.
The great thing is that you get to test out the product during the 3-day workshop. So you'll know if it's a promising e-business venture or not.
With those expensive price points. Those that can't understand the program, or simply give up and fail. Will lose a lot of money.
Therefore, be left feeling scammed outta there pockets and shouting out – LCS2 is a scam a top of the grand canyon.
Chad and Daven's main financial goal with the LCS2 launch is to break 3.5 million dollars worth of sales. Which is the current world record at any launch event conducted using Clickbank's platform.
Will they do it and break the Clickbank? Maybe.
Only time will tell. Once the launch takes place we should see plenty of controversy surrounding the Lead Conversion Squared scheme.
For now it's safe to say it's legit, just an expensive opportunity is all.
Perhaps, you want to contribute to making Daven and Chad's financial goal a reality. See how you can help them in the next section.





Lead Conversion Squared Affiliate Program
---
I'll number out the many benefits you get with promoting Lead Conversion Squared product/service:

High Conversions – These conversions are primarily due to their 3-day online workshop. It builds trust and a better relationship with attendees. This 3-day webinar has daily retention and has a 32% conversion rate from prior testing.
High Ticket – There are $1,497 and $2,997 price points. If the conversion rate is as good as they say it is. Imagine the potential for commissions earned.
Recurring Income – Residual income is some of the best kinds of affiliate income you can earn. Continue getting paid commissions, usually per a monthly basis. LCS2 offers a lead generating virtual assistant that get's billed monthly.
60-Day Cookie – A virtual cookie is simply a tracking pixel that gets stored in your visitors internet browser when they click on one of your affiliate links. What this means is, if a visitor clicks your link, sees your promotion and backs out. 45-days later they might decide to go back to the company's website itself and buy into the program. You will still earn commissions for that sale as it sits within the 60-day cookie duration.
Business Opportunity – Lead Conversion Squared is simply a business in a box. Containing a product, sales funnel and daily leads.
Robust Follow-Up – It has a unique multi-channel lead follow up process. Increasing cold/warm leads into sales, thus earning you more commissions.
Final Word
---
Pro's
During the 3-day workshop you get hands on experience with the product and actually work it for yourself.
You have a virtual assistant that chases down leads for your agency.
A potentially lucrative proposition for joint venture partners. Particularly, if they receive lots of website traffic and have a juicy email list to match.
Community and support provided.
Their JVZoo affiliate page has well written emailing script sequences you can incorporate into your email campaign.
Con's
An expensive program to get involved in.
The Lead Conversion Squared system will by advertised, view it via Click Bank.
Has a few price points, so having some venture capital is necessary.
Adding more money to there names is a huge motivational factor for Daven and Chad
Once the launch calendar cycle is complete. You may not be able to invest into LCS2.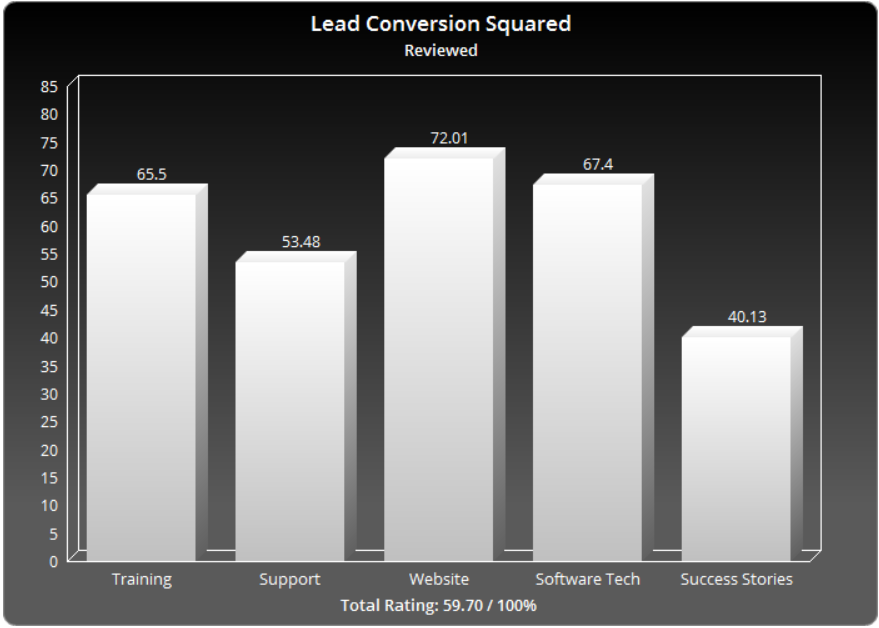 Hopefully you're now informed. You might be curious about the affiliate incentive that LCS2 offers. No doubt it could be lucrative if you have already established an authoritative affiliate e-business.
All you really need is one sale with LCS2 and you'll earn hundreds of dollars worth of commissions.
That's the beauty of affiliate marketing sometimes. Every now and then, you'll come across high ticket affiliate offers during launch.
If your in the right place, at the right time. You can earn yourself a nice chunk of revenue by simply acting as the middle man.
Since Lead Conversion Squared offers an affiliate program. You might want to know more on how to promote the product and earn their high end commissions.
I specialise in affiliate marketing and I use an affiliates platform that covers affiliate marketing and everything else.
Do YOU Want To Learn How To

Promote Lead Conversion Squared

– High Ticket Offers? First You Need To

Learn The Fundamentals

Of

Affiliate Marketing

&

Build Your Very Own Free Website

. We Will Show YOU Where This Is All Made Possible In One Location.
()

Creating an affiliate e-business isn't as complicated as it sounds. The main reason why the affiliate failure rate is so high, comes down to greed. Many people want money fast and lot's of it! First you must get educated with accessible resources. Majority of affiliates don't have the required necessities to master their craft and carve out an affiliate empire.
Do you have any questions, or opinions related to Lead Conversion Squared? Address them in the comments below. A lot of people want to hear your thoughts on this topic. Don't forget to share and spread the word.




Are you going to attend LSC²'s 3-day workshop…
Comments
---