Training -

70.27%

Support -

75.19%

Website -

57.92%

Software Tech -

65.58%

Success Stories -

37.99%
Brief Summary:
Lucas Lee-Tyson of Growth Cave is another online guru claiming that you can earn revenue online by starting a digital marketing business through his program. Now, what Lucas offers is rather decent, so if you know what you are getting into, this could be a good education with actionable material to take advantage of.
---
ON A TIGHT BUDGET ~ There Are Other Business Start-ups That Are Not Expensive At All…
---
Starting a Growth Cave business can be exciting until reality kicks in.
The reality would be so strong that it would spread your attention everywhere.
However, whatever happens, you want to make sales, or nothing moves.
So you need to market your brand.
According to a CB Insights survey, 14% of startups fail because they did not properly market their product or service.
Even worse than poor marketing is that people spend a lot of money trying to sell something that no one needs.
The first step to being successful with ads is determining the demand for the service or product you want to sell.
Growth Cave is a marketing consulting company that offers a 6-module program that helps you be successful in helping local businesses get more leads and get paid directly by those businesses.
In other words, this is a local marketing course.
---
TABLE OF CONTENTS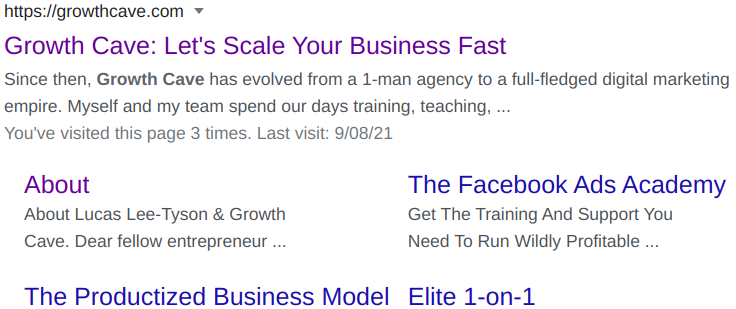 Jump to…
# Growth Cave Review
# About Growth Cave
# About Lucas Lee-Tyson
# Who is it for
# Growth Cave Training
# Is Growth Cave a Scam
# Pro's VS Con's
# Comments
---
Internet Marketing Education, Tools, Networking & Support!
Do you Hunger for the Truth About How People are Really Becoming Successful Online...
---
Growth Cave Review
---
*Parent Company: Growth Cave, LLC


*Brand: Growth Cave
*Domain Name: https://growthcave.com
*Domain Age: 20th/MAY/2018
*Hosting Registrar: NAMECHEAP INC
*Launch Date: June 2018
*Domain Authority: 25/100
*Linking Root Domains: 77
*Ranking Keywords: 2
*Spam Score: 1%
*Website Asset Value: $47,942
*Address/Headquarters: 651 N Broad Street, Suite 205 #634 Middletown, Delaware 19709 United States
*Founder: Lucas Lee-Tyson
*Contact Methods:
email: lucas@growthcave.com
email: clients@growthcave.com
phone: +1-800-291-0782
*Social Media Presence:
---
LinkedIn | Lucas Lee-Tyson – 500+ connections
---
YouTube | Lucas Lee-Tyson – 2.14K subscribers
---
Instagram | lucasleetyson – 1,956 followers
---
Twitter | @lucasleetyson – 460 followers
---
*Resources Offered:
---
---
---
---
---
---
ClientBolt software package
---
---
1-on-1 tutoring via Facebook
---
---
*Community Size: 2,718+
*Payment/Payout Currency: United States Dollar (USD)
*Cost/Price Tag: $1,497
*Affiliate Program: Currently not
*Up-Sells: Paid advertising which is simply investing into your business
*Training: 70.27%
*Support: 75.19%
*Website: 57.92%
*Software Tech: 65.58%
*Success Stories: 37.99%
*Verdict: Lucas Lee-Tyson has what it takes to assist your growth with a SMMA business





What is the Growth Cave
---
Growth Cave assists businesses to grow online by providing one-on-one consulting and an extensive online training center that primarily focuses on paid advertising.
I really like the fact that you just cannot join up by signing up through a membership form like majority of online business ventures.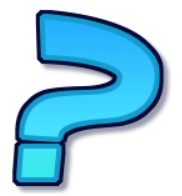 You have to make contact via phone or email first.
Which is commendable and weens out those who aren't serious enough to commit 100%.
The course, which is referred to as Produced Benefits, is divided into six modules that really pick up the basics and guide the student by the hand until they have one or two clients in the first month.
There are templates to use, funnels and landing pages, photos, and copies to get around.
Everything has been done in such a way that if you are just starting out or new enough for the whole experience, you won't be overwhelmed.
According to Lucas, Productized Profits "is a tried and tested 6-week implementation program that teaches you how to start a hugely profitable 6-figure product business and land your first customer in 30 days."
One of the first things about the course is the choice of the niche: Lucas says they "have students from dozens of different niches and industries."
From gyms to landscaping, from real estate to equine dentistry, we have people in everything you can imagine.
This program is designed as a framework applicable to any industry/niche, so whatever niche you are in, the program will work for you.





Who is Lucas Lee-Tyson
---
Many employees who work from 9 to 5 every day would dream of breaking free and building something for themselves that gives them true freedom.
Someone who is no stranger to this reality is Lucas Lee-Tyson, owner and CEO of Growth Cave.
Launched in June 2018, Growth Cave helps businesses grow online by providing individual consultations and an extensive online training center to educate entrepreneurs on how to create, manage, and scale effective Facebook ad campaigns.
Like most people, Lucas was stuck in the 9 to the 5-day cyclical job as a marketing intern.
During a company meeting, he learned that the company was being paid $20,000 a month to run an advertising campaign.
$240,000 per year to run various social media platforms and ad campaigns.
Lucas realized that these inherently simple processes performed by a dozen people could be done at a much lower price if he did everything independently.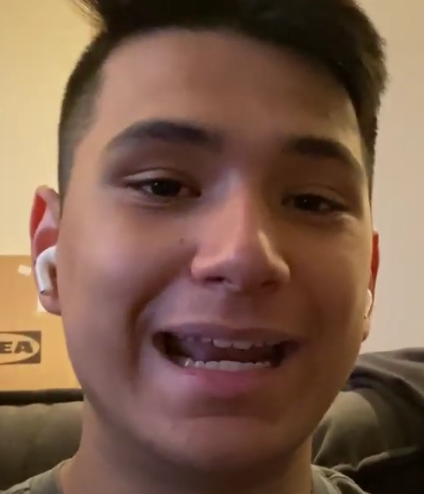 And eventually, he left the company and decided to pursue the idea on his own.
At the time, he only had $10, a significant amount of credit card debt and college loans.
And his debt tax liability put a heavy toll on his mental well-being, so his idea had to pay off in a big way.
After studying Business Analytics and Entrepreneurship at Bobson College in Boston, Lucas attempted to venture into different business models to somehow free himself from his full-time job.
Nothing he had tried seemed to have worked.
He has created and developed numerous online side projects, including an affiliate blog that generated over $85,000 in revenue for the Amazon affiliate program, attempted to rank videos on YouTube, and as well ventured into a lead generation that closed after two months due to failure to close a sale.
Lucas has also worked and deliberated with numerous multi-million dollar companies, primarily in the e-commerce and technology sectors.
Lucas pushed the idea forward and began promoting himself as a pay-per-click (PPC) specialist on Upwork.
After winning client after client, Lucas Lee-Tyson finally quit his internship six weeks later and devoted himself entirely to his digital marketing business.
By learning the right skills and applying them to his recently discovered "Agency" business model, Lucas began to grow his business and hired new team members.
As his team worked their way through the evolution of his agency, he began training, teaching, and mentoring other entrepreneurs with their digital advertising strategies and structures, sharing what they earned with more than $7.6 million in advertising spend to Your clients.
Now, Growth Cave is focusing on its mission to help other entrepreneurs reach the $1 million revenue milestone by the end of 2021 by providing them with workable and achievable step-by-step frameworks to help them reach extreme heights.
Lucas Lee-Tyson zodiac sign is Leo.





Who is Growth Cave for
---
Lucas realized that his journey to financial independence could be taught and replicated to the average person who finds himself in a situation similar to the one Lucas started.
In turn, he developed the Master Course Productized Profits to solidify his vision.
His target audience or "average person" has been divided into four types of people:
"Trapped Employees": 9 to 5 working people who are tired of their monotonous work.
"Kindaprenuer": People who like the idea of entrepreneurship and self-employment but have not found a way to participate.
"Troubled Agency Owner" :People who already have a social media marketing agency (SMMA) but are not getting the results they hoped for.
"Conscious students": People who do not believe that a traditional college education is right for them or who cannot afford the costs associated with it.





Growth Cave Training Course & Pricing
---
Lucas Lee Tyson.
Price: $1,497
Three payment options, each for almost $600 available.
For starters
You will be provided with the ClientBolt software package to find potential clients in his niche.
You are taught how to find leads manually with cold emails, Linked In, and Facebook.
You will have access to the Productized Business Mastermind community through a private Facebook group.
Lucas offers one-on-one tutoring through Facebook and biweekly question-and-answer calls to assist you during your stay.
MODULE 1: FOUNDATIONS AND FOUNDATIONS
In the first module of the Productized Profits course, as in many other courses, Lucas addresses the mental aspect of entrepreneurship.
Usually, he finds these shapes to be smooth and filler-like, but Lucas actually makes some important points on this module.
In a lesson called Uniform of Failure, Lucas talks about why people in his course fail, and I think the advice he gives applies to all the courses he reviews here:
His students don't join the Facebook group for live information and Q&A.
No halfway attempt – sign up for the course!
Follow the process without skipping a lesson in order.
Commit and be proud of the work you do.
Don't think of the course as a "get-rich-quick" plan.
Don't fall in love with that "shiny object syndrome"!
Check with Lucas and others in the course before you.
Let go of the ego at the entrance, be humble and learn.
I think this is a really solid thought, no matter if you are on its course or another.
MODULE 2: CREATE YOUR OWN NICHE
Now that Lucas has outlined the mindset of a successful student.
We can return to what we all expected if we start running.
This has been my favorite module, as the idea of tackling an otherwise common marketing problem is done in a very interesting way.
The main point Lucas takes home is the idea of a high-priced offer.
Lucas specifies the concerns that audiences have when looking at online marketing.
He goes through people's preconceived notions about online ads, lead generation, digital marketing, and most of these services tend straight into people's spam folders.
Instead, Lucas discovered that during the construction of his business, it is necessary to imagine his services like those of a large commercial marketing agency.
And instead of selling a service, he is selling a product to people in a hyper specific niche.
Since people want a proven system with certain results, to drive this point home, Lucas talks about the 1-1-1 Principle, a system that describes how to talk to the client to help them get results.
Part of this principle also teaches and highlights the student the importance of choosing a profitable niche.
It examines all the characteristics of a strong niche and the importance of building a good foundation to insert yourself in the best possible position for success.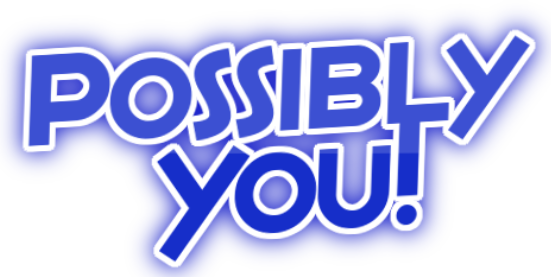 MODULE 3: AUTOMATED CUSTOMER ATTRACTION MACHINE
This module explains how to configure automated systems to obtain contacts from your clients.
The interesting thing about this section is that it discards the usual Clickfunnels landing page that is often used to guide your customers to leave their data in favor of a simpler and more direct approach.
Lucas' methods to get to the strategy call with the client are:
Cold email.
Contacting through a LinkedIn message.
Contacting through organic Facebook.
The idea is to use the templates provided by Lucas, which have proven to work for him and his first students, and play a numbers game so that by sending hundreds of emails, Facebook messages, and LinkedIn contacts, you have enough potential prospects to get a client a week.
By working 30 minutes or so a day, working on your three inboxes, you should be able to cut customers by doing 6/9 meetings a week, then cut down on the most qualified leads, and then find your only customer one week.
All you actually need is a calendar to schedule your calls, which takes you to an app where your prospect will answer a few questions, so they start the call with minimal knowledge of your business and needs.
The system seems to really work for a lot of Lucas's students, and the fact that it has recently started means that he can really keep track of each student, suggesting how to answer questions and what kind of ads to use.
MODULE 4: SALES SCIENCE AND CUSTOMER CONVERSION:
This portion of the course is generally the one that people despise.
But this is because they fear the idea of launching sales, especially for people who have never made any sales in the past.
But Lucas does a good job of addressing this mindset.
Calling it 2 Call Closure, he found that most people enjoy taking time to think and reflect on investment, and having two calls with a client establishes a better working relationship.
Also, he locks the potential customer into a time frame to think about the deal, which greatly helps call effectiveness.
The effectiveness of this strategy is enhanced by sample strategy calls with models to review and learn from.
Models and samples that Lucas personally used to establish his online business.
He outlines the techniques and strategies that should be used and that have the best chance of success.
One of the essential lessons you can get to understand from this module is that "the customer actually needs you more than you need them."
The group also practices with each other regularly so that you can feel confident with the script and speech.
Overall this module may be the most comprehensive and informative, but if you review it and take notes, you are progressing toward the entrepreneurial mindset and career that Lucas often talks about.
MODULE 5: DELIVERING THE AUTOPILOT SERVICE
For anyone with basic marketing skills, this module shouldn't be a big deal.
This was a module that I did not expect to be included in the course at all.
But looking back, I'm really glad I did.
Review the tools and software you use for customer retention, management, and expansion.
He also passes through the process of onboarding a client once the sale is made, which was very helpful.
It stresses the importance of developing a relationship with the client and monitoring it to ensure a positive mutual relationship is maintained.
The rest of the module is more or less practical and shows you how to use Zapier and Loom to automate some of these processes.
It also examines how you handle lead forms with Google Sheets SMS and your business manager.
MODULE 6: SYSTEMS AND SCALABILITY
By now, your marketing business should be over $10,000 a month, so you may be tempted to scale to a full-fledged six-figure business.
This is where Lucas's lesson on the fundamentals of scaling comes in, thankfully!
According to Lucas, it's a good time to cut things down and delegate parts of his business once he realizes that profits are not his main concern but time.
You should try to have more time for yourself to expand your growth trajectory.
Lucas wants you to identify the keys to the automation, which you can then use to his advantage:
Find out what is consuming 80% of your time: the sales process, the advertising process, etc., hire someone to do it for you.
Zapier and Process. St (once you start hiring) is key to automating your business, saving you a dozen hours a month.
Mindset is the most important key to remembering what to do and what employees and software can do for you.
Then Lucas goes on to talk about the importance of having a team:
It's the most important way to downsize a business, but it's also one of the hardest parts of downsizing a business.
Having a team can help you automate many processes and save you time.
Lucas has a database of contractors who have already worked for him and are willing to work for his company as well, with all the technical knowledge they already have!
You shouldn't feel guilty about hiring someone to do the things that take the longest;
The more you get stuck in the details, the longer your business will be stagnant.
Mindset is key in Lucas's system, and growth mindset is key both in the first few sales you make and in expanding your business to seven figures.
The first step if you feel like you are working too many hours and not earning enough is to raise your standards and truly believe that a different life is possible.





Is Growth Cave a Scam
---
This is what you need to know.
First of all, this is a high-cost item, or in other words, it's expensive.
That is why it is possible to find biased and one-sided reviews indicating how good this training program is without giving you any REAL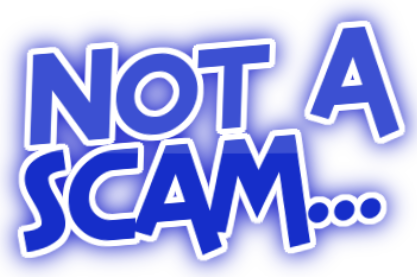 VALUE that you can use in your purchase decision or not.
Lucas Lee Tyson is an entrepreneur who has already built his successful online business and is now teaching others how to do it.
His specialties are growth marketing and paid to advertise.
Anyone interested in the industry can learn something from him.
The Growth Cave is NOT a scam, and anyone who is willing to compromise has a REAL chance of being successful.
This is because the business model taught in it works.
It is definitely not a cheap course, so if you are interested in participating, you should know what it is really about.
Growth Cave focuses on helping others build a profitable digital marketing agency. It's also known to be called a Social Media Marketing Agency (SMMA).





Final Word
---
Pro's:
Lucas Lee Tyson is upfront with Growth Cave.
Local marketing is indeed a legitimate business if you have good experience.
The course is truly fool-proof – even if you have never done digital marketing before, you literally have role models telling you what to say at every stage of the process.
The Facebook group is still small and has that real family feeling, where everyone cheers for each other. It's great and inspiring to see so much enthusiasm, and Lucas plays a huge role in it.
Through the forms, the biweekly Q&A, the email question service, you really feel that your problems matter and that you are part of something larger than a marketing group.
Con's:
It is very expensive.
Cold emails and LinkedIn messages in 2020 seem a bit outdated. There must be more effective methods.
No matter how much it's up to you, you'll have to pick up that phone and close the deal, and not everyone is cut out for that.
Facebook ads and their unpredictability are now well-known, and putting so many eggs in one basket seems pretty risky to me.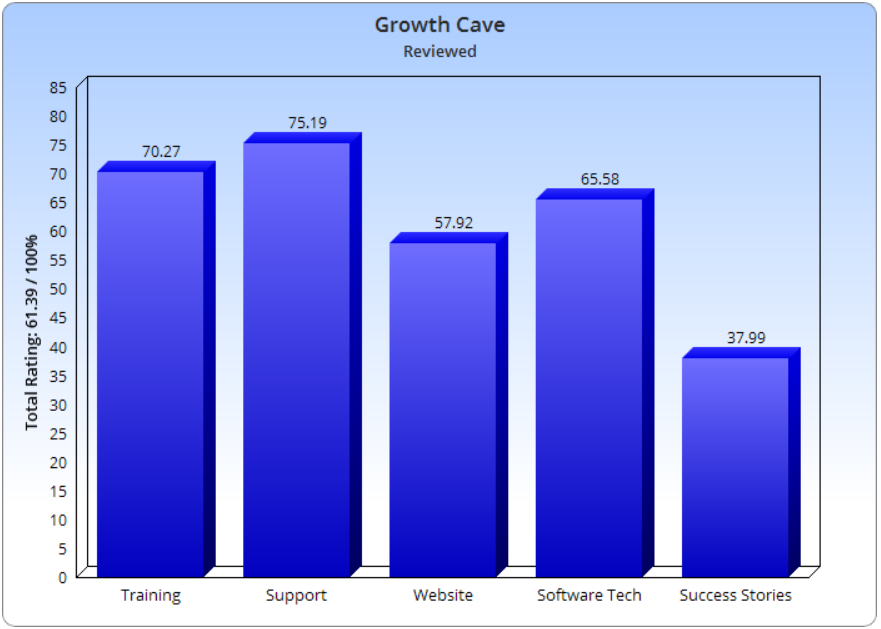 The course is severely practical, and everything is done in an easy and understandable layout.
Templates, scripts, and other tools are very helpful in setting the framework for your newly created business.
And as a result, this course is in no way a waste of money or a scam.
You Know

What Else Isn't A Scam

. Affiliate Marketing From Your Very Own Website (Online Business). Let Me Show You Where The No #1 Entrepreneurial Community Is Located That Is Churning Out Successful Digital Entrepreneurs Daily!
()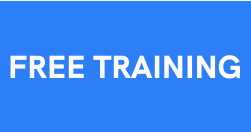 I encourage that you exercise skepticism when dealing with online guru's. So here's what I can do for you. Check out this information post explaining the vast benefits within this astounding platform.
Don't forget to submit a thought below if you want. Sharing this post socially will be greatly appreciated also. Good luck if you decide to work alongside Lucas Lee-Tyson's Growth Cave program.




It's all about you business growth and development…
Comments
---