Monat Global:
$23 - $99 per item
Training -

80.13%

Support -

85.09%

Website -

56.74%

Technology -

87.47%

Success Stories -

67.95%
Summarized:
So who are Monat Global Corp? Put simply, They're a revolutionary cosmetics company that aid in a number of anti-aging and helpful products. At MONAT you have the power to become a direct seller and promote Monat goods to whoever you like to turn a profit.
---
DID YOU KNOW ~ Affiliate Marketing Can Turn You A Quick Buck & Here's How…
---
MONAT GLOBAL provides exceptional, natural based products, a fun and rewarding business opportunity, and a culture of family, service, and gratitude to people all over the world.
MONAT has experienced significant growth in the last year as a result of its commitment to providing high-quality, natural merchandise and fostering a culture of diversity and excellence.
The Miami-based global brand characterized its success to its effective products, VIP (loyal) customers, and the dedication and entrepreneurial mindset of its hundreds of thousands of passionate independent Market Partners in the United States, Canada, the United Kingdom, Ireland, and Poland.
Is this, however, a trustworthy brand or a Multi-Level-Marketing (MLM) scheme?
Continue reading to find out.
---
TABLE OF CONTENTS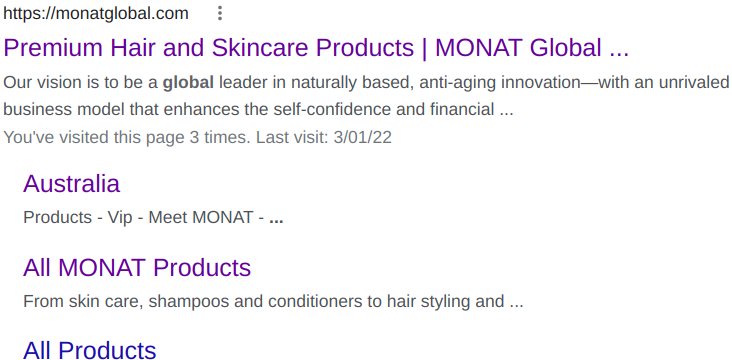 Jump to…
# Monat Global Review
# About Monat Global
# Luis and Rayner Urdaneta
# Who is it for
# Monat Global Products
# Is Monat Global a Scam
# Pro's VS Con's
# Comments
---
Internet Marketing Education, Tools, Networking & Support!
Do you Hunger for the Truth About How People are Really Becoming Successful Online...
---
---
Monat Global Review
---
*Parent Company: Alcora Corporation


*Brand: MONAT GLOBAL
*Alternate Known Names: MONAT
*Domain Name: https://monatglobal.com
*Domain Age: 22nd/MAY2014
*Hosting Registrar: NAMECHEAP INC
*Launched: 2014
*Domain Authority: 54/100
*Linking Root Domains: 5.1k
*Ranking Keywords: 2.3k
*Spam Score: 2%
*Website Asset Value: $67,727
*Address/Headquarters: MONAT Global Corp: 3470 NW 82nd Avenue, Suite 910 Miami, Florida 33122, United States
*Co-founders: Luis (Father) and Rayner (Son) Urdaneta
*Contact Methods:
email: customercareusa@monatglobal.com
email: productquestions@monatglobal.com
email: monatsupport@monatglobal.com
phone: +1 (888) 867-9987
fax: (305) 967-7438
*Social Media Presence: Quite a large social media following
*Resources Offered:
---
Become a market partner and sell MONAT products
---
VIP program/points system
---
Hair, skin, wellness products
---
---
---
*Community Size: 500,000+
*Payment/Payout Currency: United States Dollar (USD)
*Cost/Price Tag: Approx $23 – $99 range
*Affiliate Program: No
*Up-Sells: No
*Training: 80.13%
*Support: 85.09%
*Website: 56.74%
*Technology: 87.47%
*Success Stories: 67.95%
*Verdict: High quality products with a mediocre business partnership deal





What is Monat Global all About
---
MONAT Global offers natural age prevention hair and skin products that combine the best of nature with cutting-edge science.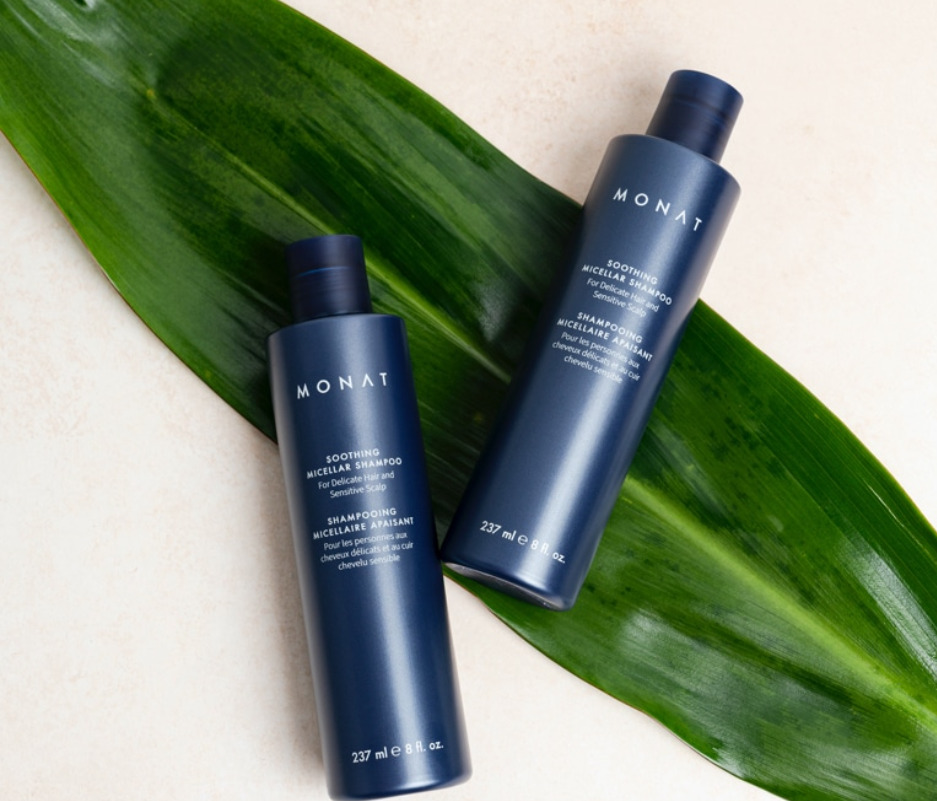 The business plan remains the luxury, high-performance hair, skin, and soon to be wellness brand based in Milton Keynes, England.
MONAT Global is a wholly-owned subsidiary of Alcora Corporation, which also owns Project Beauty, an online beauty retailer, and B&R Products, Inc., research, development, and manufacturing laboratory subsidiary.
All three companies have their headquarters in or near Miami, Florida.
MONAT was founded in the year 2014 and entered the multibillion-dollar hair care market, and they offer game-changing opportunities through a novel Social Marketing approach to Direct Sales.
The company entered the skincare market in 2019.
The company has a distinct and exciting business model, as well as one of the most generous compensation plans in the United States, Canada, the United Kingdom, Ireland, Poland, Spain, and Lithuania.





Luis and Rayner Urdaneta
---
Luis Urdaneta and Rayner Urdaneta founded MONAT Global in October 2004.
Luis Urdaneta, a first-generation direct-sales entrepreneur, recognized the potential of social marketing when he was only 15 years old.
That's when he started his first direct-sales company, which eventually led to MONAT.
Luis is now proud to see his son Rayner lead MONAT and reap the benefits of his years of frontline direct-sales experience.
He is deeply committed to educating and inspiring the next generation of entrepreneurs and visionaries, sharing his own rich experiences and passing down the wisdom that making others' live better is truly life's best work.
MONAT, like the Urdaneta family, is proof of the human spirit's ability to rise to any occasion and overcome life's challenges, thanks to Luis.
Urdaneta had huge dreams of his own since he was a child.
He grew up being in a middle-class family in Venezuela, where he learned the value of hard work, determination, and confidence.
He decided to immigrate to America in the early 2000s in search of better opportunities.
Urdaneta faced numerous challenges, the majority of which were financial in nature.
Urdaneta made the decision to co-found his own cosmetic brand after being inspired by his mother, who was a professional hairdresser.
Monat was born in Doral, Florida, in 2004 with the assistance of Luis Urdaneta.
This online brand now operates on a global scale, as their products are sold in a variety of countries.
Rayner Urdaneta, CEO and Co-Founder of MONAT, a global healthy-ageing hair care, skincare, and wellness innovator, has been named one of the Twelve Good Men by Ronald McDonald House Charities (RMHC) in South Florida for the year 2021.
People with a history of outstanding community involvement, civic service, as well as support for one or more of South Florida's top charity organizations are eligible for this award.





Who is Monat For
---
Monat appears to resonate with the older, upper-middle-class generation, owing to its marketing and price.
The brand doesn't do that much to appeal to a younger audience, as evidenced by their website design and product packaging.
This company caters to people who can afford to spend $40 to $100 on hair and skincare products.
It's also worth noting that Monat can appeal to both men and women, as the majority of their products are designed to work with all hair and skin types.





Monat Global Products
---
Monat is a cosmetics company that creates and sells hair care and skincare products.
Monat's products are all free of parabens, sulfates, and animal-derived ingredients.
Monat's most well-known products include shampoos, conditioners, and hair masks.
On average, the Monat kit costs slightly more than $1 per day. A one-time fee of $19.99 applies.
Monat VIP membership, like Amazon Prime membership, entitles you to free shipping (on orders over $84) as well as monthly promotions and flash sales.
Here are some more commonly brought products from Monat Globals Shop:
1) Revive Shampoo:
This is the volume shampoo, and it is the most versatile line.
Assuming you're not sure where to begin, this is the place to start.
There is a detox period when you first start using Monat.
It will be excruciatingly painful to wash your hair.
It's just terrible.
Then you put the conditioner in, and something magical happens.
When you get out of the shower and try to brush your teeth – nightmare, do not relent.
You will be convinced that this is the most horrible hair experience you have ever had.
Until it has dried, don't stop until it's dry because you won't believe your eyes or your hair once it's dry.
Your hair will be light and shiny, and it will appear as if you have a million products in it- even if you don't.
2) Renew Shampoo:
After clarifying your hair with the volume line, your second wash should be with a moisturizing shampoo.
Renew does exactly that.
Including this in my routine improved the health of my hair.
3) IRT Conditioner:
As previously stated, your hair will be quite knotty at the start.
This conditioner makes it so much easier to manage.
You only need a small amount, and you'll be able to comb through like a pro.
It also significantly thickens your hair!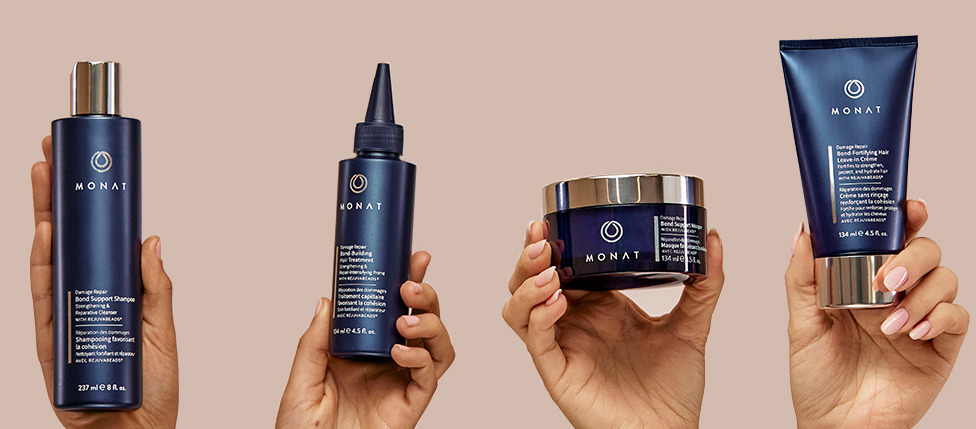 4) Rejuvenique Oil:
Most "repairing" hair care products contain silicones, which mask damage while doing nothing to repair it.
This oil is unique.
It's exactly the kind of product a lot of people have been looking for, for years.
It is an expensive purchase, but once you use it, you will never want to be without it again.
Also, the bottle is so large that it will easily last a year.
I only use ONE DROP PER DAY.
Your hair has NEVER felt better than it does after this treatment.
5) Blow Dry Cream:
This is the only styling product you'll ever need.
This is because Monat removes buildup from the hair, making heat protection more important than ever.
This does the trick, and you only need a pea-sized amount of it.
One bottle will last you for more than six months.
To be honest, this is all you require.





Is Monat Global a Scam
---
Monat is not a scam. MONAT Global is a multinational distributor of premium anti-ageing hair care products, was named to Women's Wear Daily's (WWD) Top 100 Beauty Companies list in 2018.
MONAT's exciting trajectory is due to the company's effective products, loyal customers, and independent sales force is known as Market Partners, which has jumped 13 spots from last year's list to come in at number 65.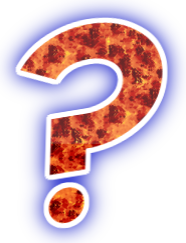 MONAT is listed under its parent company, Alcora.
WWD, a popular beauty and fashion magazine known as "the Bible of fashion," published a list of the world's largest beauty companies based on sales for the 2018 calendar year.
Their Top 100 Beauty Companies list includes the "who's who" of the beauty industry.
Monat products are much likely safe for the large majority of users.
There may be horror stories and negative reviews online, but there are also many satisfied customers who return to the business time and time again.
However, it appears that the company is in desperate need of a marketing and reputation makeover.





Final Word
---
Pro's:
Monat's products are all jam-packed with powerful ingredients that thicken your hair. The thickening spray is their best-known product for thickening hair.
Monat products are of high quality and contain a variety of deliciously nutritious ingredients that nourish your hair from the inside out.
All of their formulations are non-toxic, cruelty-free, and vegan friendly.
International shipping is available.
It comes with a 30-day money-back guarantee.
Con's:
IT IS A PROCESS: These are not products that will transform your hair overnight. In fact, you might initially despise your hair.
Monat is a science, and you must discover what works best for your hair in the same way that you would for your skin. It's trial and error, and I can understand why people wouldn't want to embark on such a journey.
More expensive than other retailers.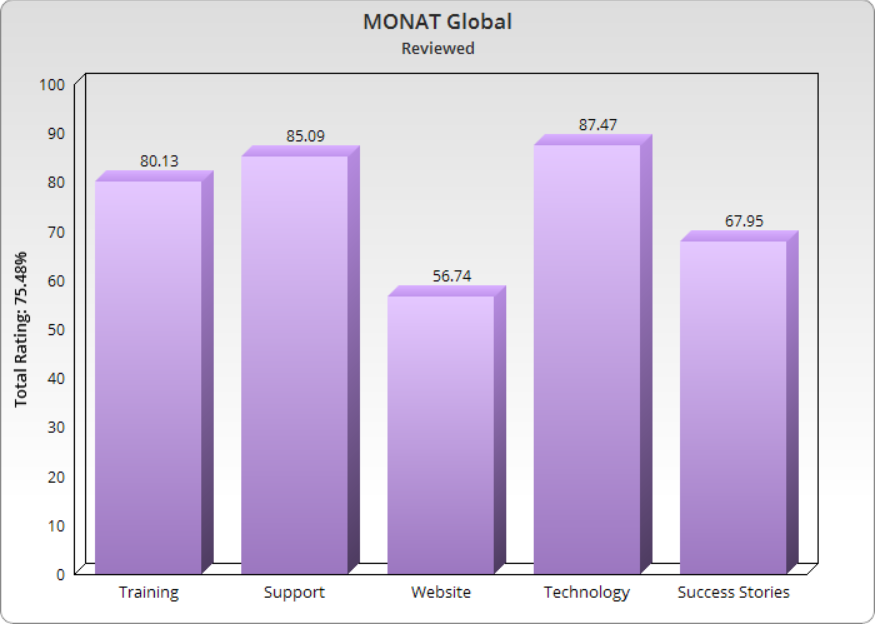 Monat offers a wide range of hair care products designed to improve your shower routine.
Customers can browse a selection of shampoos, conditioners, creams, and lifters made with high-quality organic ingredients.
An addition, Monat Global are a direct sales, multi-level-marketing company.
They are a legit MLM because they sell real beneficial products as the main point of sales.
Halt! Learn How To Build An Internet Business For

FREE

. You Could Even Promote

MONAT

Global Products As Your New Business Venture.
()


Want to know more about how to build a successful online business?
That about wraps it up folks. Hopefully we have shared some insight in to the MONAT Global brand and if you want to embark on that journey than good luck. Feel free to drop a comment and if you want, be social and share this article.




Forever young, let's turn back the aging clock…
Comments
---