Like many others who are wondering is Sam Ovens Consulting a scam, or legit. Let me give you the rundown about this expensive product/service offered from within.
Did you first hear about Sam Ovens promoting his Consulting business through YouTube ads? I know I sure did.
Now, it seems like on a daily basis a variety of Sam Ovens Consulting advertisements continue to rinse and repeat over and over again trying to convert me. This has been on going for the past few weeks.
Sam Ovens is a native from the island country of New Zealand. If, you're familiar with a New Zealand accent, you would easily pick Sam's nationality right away.
---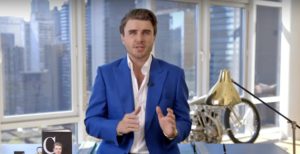 Table of Contents
Jump to…
# Sam Ovens Consulting: Review
# How did Sam Ovens Consulting come About
# What is Sam Ovens Consulting Program About
# Consulting Help & Support
# Pro's VS Con's
---
Internet Marketing Education, Tools, Networking & Support!
Do you Hunger for the Truth About How People are Really Becoming Successful Online...
---
While you're here today, you might as well make the most of it. Take the time to read right throughout this Sam Ovens Consulting Accelerator review.
You will gain valuable insight into the consulting product/service inventory.
You will be well-equipped with both the pro's and con's of Sam's Consultation business.
This way, you'll know exactly what you're getting yourself into before committing to paying for both shipping, then a whopping high end price tag.
Sam Ovens Consulting: Review
---

*Brand: Consulting.com
*URL: https://www.consulting.com
*Founder: Sam Ovens
*Active Since: 2012 (it was called Sam Ovens Consulting initially)
*Headquarters: Manhattan, New York & Dublin, Ireland
*Training: 81.75%
*Support: 71.90%
*Website Builder: 00.00%
*WordPress Hosting: 00.00%
*Software Tools: 38.06%
*Success Stories: 92.22%
*Price Tag: The Accelerator package is $1,997.00 (Original value is $6,000.00 on a day to day basis)
*Up-sells: No
*Scam VS Legit Verdict: Legitimate (expensive, ideal for white collar mature minded individuals, but not limited to)
How did Sam Ovens Consulting come About
---
Sam has taken his entrepreneurial experiences of both failure and success to harness his Consulting.com firm (website).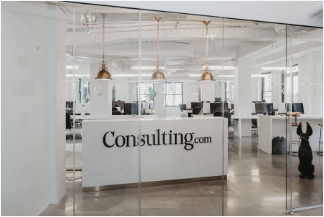 Before Sam's rise into fame. He failed with two business projects, that were just generally too broad in nature. Sending Sam into debt of $30 000
To make ends meet and before starting his third business venture. Sam built out, then flipped websites on the side for a decent profit.
Sam's third attempt and efforts were put into a company going by the name of SnapInspect. SnapInspect is a property inspection APP for Property Management Businesses.
Which long story short, leads us to the fourth venture and launch of Consulting.com.
What is Sam Ovens Consulting Program About
---
In a nutshell, Sam has put all of his life's knowledge, experience with passion into the creation of his Consulting.com company website. And of course, the main product for sale (The Consulting Accelerator).
Mr. Ovens – "My name is Sam Ovens and I help people start and grow seven figure coaching and consulting business's." 
Consulting.com, is Sam's most successful business venture to date and will likely remain his primary focus during his life span.
The Sam Ovens Consulting Accelerator is the primary product that you will pay for if you go through with it. From a generalised point of view.
The Consulting Accelerator is a formula that's been uniquely crafted to mould the mindset for success. It teaches you how to carefully pick, then start your own consulting business in a niche (passion or interest) of your expertise.
By registering to the Consulting.com website. You will have to add your credit card details to remain on file. You will, or can ask in the live chat plugin during your initial investigation, to take a 7-day free trial of the Consulting Accelerator package.
The amount of traffic landing over at Consulting.com is currently at an astronomical figure. According to 'Web of Worth' It receives an average of  2 MILLION visitors per month! No doubt YouTube Ads are playing an integral role here. 
With your card on record, you will be issued a digital version of the main product. This should give you adequate time to skim throughout and see if the Consulting Accelerator training can benefit you before committing to purchasing a hard copy.
If you take the trial, make sure you manually remove your credit card details before the seventh day ends. Otherwise, you will be deducted $1997.00
Apparently, once a purchase is made you cannot receive a refund. It would be extremely difficult to get a reimbursement!
If having trouble removing your credit card details. Access, the Live Chat on the website to get assistance with terminating your ties with the Consulting.com business.
If you decide to invest into the Consulting Accelerator package. You will either receive a physical product of the Consulting Accelerator within 4 business days. Or, it will be shipped out within 4 business days.
Now that I think of it, since it's shipped out. It could take a number of weeks depending how far you are located away from either Dublin or Manhattan. Hence, why you have an instant digital copy for keeps.
Consulting Help & Support
---
Help and support is offered inside the Consulting.com website and alternate vices. There are a couple of methods of touching base with Consulting experts. These include:
Live Chat – Usable before signing up to Consulting.com. (Ask any of your fears or doubts about Sam Ovens consulting prodigy).
Facebook Group – Consulting Community Trade Mark (10,000+ members, anyone can join).
Question and Answer (Q & A) calls are conducted by Sam twice per week.
For general inquiries, email to Support@consulting.com (You can request for postal address's if applicable).
Help Center.
Help Center Contents
The Consulting Accelerator 2.0 topics:
DIRECT OUTREACH – Need help to land leads without paying for advertising? The common failures, fixes and advice (6 articles).
FACEBOOK ADS -Seeking help with Facebook adverts? (10 articles).
FAQ – Do you have a question? Find questions and answers on a variety of topics. (3 articles).
NICHE SELECTION – Acquire help to select a niche? (8 articles).
SALES – Seek help with your sales? (12 articles).
SERVICE DELIVERY – Get advice on delivering your product/service to your audience (4 articles).
WEBSITES & FUNNELS – Tailoring a website and sales funnel pages (10 articles).
USING THE PROGRAM – Help about using the program (5 articles).
LEARNING MORE – Further knowledge regarding Consulting.com (3 articles).
Up-level Consulting:
PROGRAM – product details (6 articles).
Final Word
---
Pro's
It's evident that Sam Oven's is not trying to hype or mislead you. Sam provides relevant, accurate facts about his opportunity. If, it wasn't such a costly endeavour, I too would definitely try and jump on board the consulting movement.
Sam has helped numerous people achieve success throughout his movement. Consulting.com Success Metrics: 24 millionaires have been made, 464 six figured earners have accrued. 3,669 jobs have been chucked in.
Nothing is hidden or visibly misleading. This could be a potential avenue for the right type of person. But an expensive educational investment.
Great video content presented on the Sam Ovens and Consulting.com YouTube channels. Great content and insights into a variety of business related aspects and ways of thinking.
Help and Support offered is quite plausible, but not perfect.
By accessing the Consulting.com blog roll, it contains relevant information into entrepreneurship etc.
Con's
No refund will be issued once the initial purchase has been finalised.
You have to insert and keep your credit details on file in order to take the free 7-day trial.
Regardless of whether the Consulting Accelerator investment is, or isn't a worthwhile one. It will not work for everybody, which will result in $1,997.00 financial loss. But, considering it to be a total loss can depend on how you're looking at the situation. As, you will likely take on valuable knowledge from the Consulting Accelerator 2.0 regardless. This new found knowledge could be incorporated into any future pursuits that you may start.
Sam Ovens has generated a lot of traction to his Consulting.com business through YouTube advertisements alone. By now, I think it's safe to say Sam literally would have invested millions of dollars into YouTube advertising campaigns.
I think, that if you are considering to join the Consulting.com revolution. First ask yourself this.
How old am I. Am I old enough mentally to handle this type of responsibility?
Where am I situated in life. Am I comfortable and confident?
Do I possess a typical skill set and drive to become a professional consultant.
Do I have job security and solace in the real world.
Do I have the time to dedicate efforts each week into scaling a consulting business from scratch.
Can I afford the potential financial loss if I give up, or dislike the Consulting Accelerator.

Just a few numbers you should possibly consider beforehand because, like any business venture online. There will be considerate sacrifice on your behalf to make it succeed.
And just like Mr. Ovens experienced himself. Chances are, there will potentially be considerate failure before success is even attainable.
On that note, if you want an inexpensive way of creating a business in any direction you desire, as you would do like at Sam Ovens Consultant.
It will immensely save wallet expenses with less time-consuming tasks. Read about our most talked about platform.
If you want to go straight to the marvellous training
centre

and save the hassle of reading a 4000 word article then get in before spots are filled up.

 

Before we part ways today. Do you have a question about Sam Oven's Consulting Accelerator program? We would offer you some valuable insight.
Have you tried Mr. Ovens product/service before? Let us know of your experiences with it. Both positive and negative will be helpful for anyone interested about this topic.




Always, stay safe…
Quick Recap of Consulting
$1,997.00
Training

Support

Software Tools

Success Stories