StormGain:
Minimum Deposit = $50
Training -

73.2%

Support -

69.05%

Website -

75.68%

Software Tech -

68.32%

Success Stories -

47.79%
Summarized:
Within the almost underground world of crypto, consumers are finding it safer to invest there savings into crypto rather than its regulated counterpart fiat money. StormGain is a massive Crypto community of fiends chasing and mining those wins.
---
HERE'S REALLY HOW TO EARN ONLINE ~ In Layman's Terms Simply Build An Internet Business…
---
Cryptocurrency trading is referred to as an emerging domain in the world of finance and companies like StormGain are influential.
There are multiple trading platforms and services that help people profit from their cryptocurrency wealth.
Among all these services, StormGain is a leading platform for cryptocurrency trading.
StormGain is referred to as a cryptocurrency exchange and leveraged trading broker with an integrated multi-currency wallet.
The all-in-one platform offers some special features, including the Cloud Miner tool, the loyalty program, and the hassle-free login process.
Read this review to find out if StormGain is a legit and safe platform or it's just a scam.
---
TABLE OF CONTENTS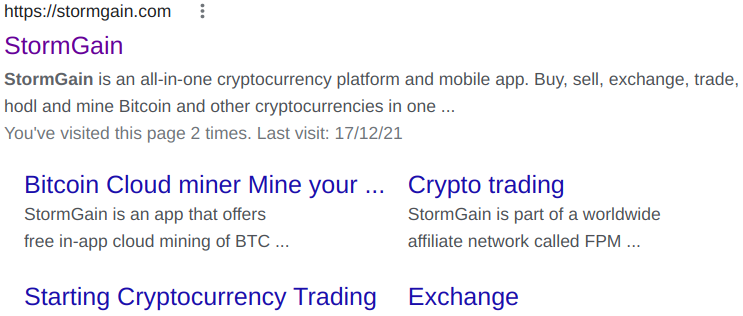 Jump to…
# StormGain Review
# What is StormGain
# Who is StormGain Crypto for
# How to Use StormGain
# Is StormGain a Scam
# Pro's VS Con's
# Comments
---
Internet Marketing Education, Tools, Networking & Support!
Do you Hunger for the Truth About How People are Really Becoming Successful Online...
---
StormGain Review
---
*Parent Company: STORMGAIN, LLC


*Brand: StormGain
*Alternate Known Names: Storm Gain
*Domain Name: https://stormgain.com
*Domain Authority: 39/100
*Linking Root Domains: 6.6k
*Ranking Keywords: 2.3k
*Spam Score: 1%
*Website Asset Value: $81,250,000
*Address/Headquarters: Hinds Building, Kingstown, St. Vincent and the Grenadines Company No. 312 LLC 2020
*Co-Founder/CEO: Alex Althausen
*Contact Methods:
email: partnership@stormgain.com
email: careers@stormgain.com
phone: 1-844-584-7390
*Resources Offered:
---
---
---
---
---
---
---
---
Bitcoin Faucet & Cloud Mining
---
*Community Size: 5,000,000+
*Cost/Price Tag: $50 minimum deposit
*Affiliate/Referral Program: Yes indeed
*Up-Sells: No
*Training: 73.20%
*Support: 69.05%
*Website: 75.68%
*Software Tech: 68.32%
*Success Stories: 47.79%
*Verdict: Very recognizable brand within the crypto industry therefore has merit to begin trading crypto online





What is StormGain
---
StormGain is factually a cryptocurrency exchange.
It is often used as a leveraged trading broker by common investors and users around the world.
It also has a unique integrated wallet with support for multiple currencies.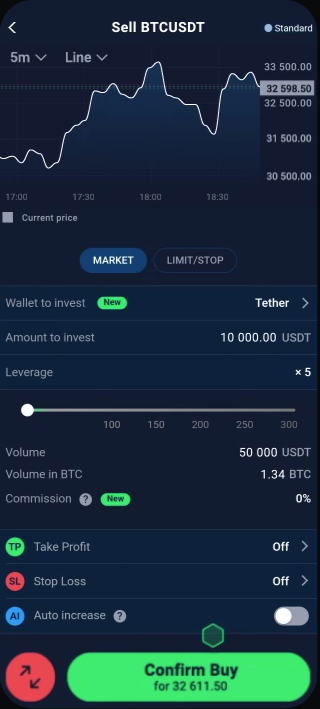 Being an all-in-one platform, StormGain offers a vast range of benefits to any cryptocurrency trader.
Among its many unique features are the unique Cloud Miner tool and the lucrative Loyalty Program.
The platform offers a variety of order types and provides a variety of trading tools to assist both novice and more experienced traders.
While most cryptocurrency trading platforms have strict and sometimes restrictive KYC requirements, StormGain provides an easy account opening process to allow traders to take advantage of the substantial leverage multiples on offer.
As of 2021, StormGain users can trade over twenty cryptocurrency futures and smart contracts.
These include popular cryptocurrency pairs such as Neo – Tether (USDT) and DASH – Bitcoin (BTC).
Like Coinbase and other platforms, users get the minimum deposit benefit at StormGain.
Hence, this means that they can buy and hold specific coins at low prices as well as earn higher profits over time.
Investors and traders trade the cryptocurrency market through cryptocurrency futures contracts.
The key characteristic of the StormGain platform, which can be described as an all-in-one business solution, include:
Traditional and advanced trading features, including trading signals.
An easy-to-use interface.
Their customer service is 24 hours a day, 7 days a week.
Interest on deposits.
0% swap for daily transactions.
Loyalty program.
A demo account funded by 50,000 USDT.
StormGain sets itself apart from its main competitors not only by the considerable multiples it offers but also by the interest paid and the competitive commissions and fees.





Who is StormGain Mining For
---
StormGain is an online cryptocurrency trading platform fashioned for everybody interested in crypto trading.
The platform offers a practical solution for those looking to profit from gains or losses in the cryptocurrency market and from long-term investments in crypto assets.
Being a 24/7 platform, StormGain is always accessible to execute trades. Experienced traders can use mobile and desktop devices to start investing in digital assets.
Unlike other traditional financial instruments, this platform is capable of handling large volumes, even on weekends.





How to Use StormGain
---
The training programs on this website are fairly straightforward.
It is easy to learn and operate, even for beginners.
The platform offers extensive resources to educate users on the latest and proven methods of making good profits from trading.
StormGain allows commissions on cryptocurrency trading with a profitable multiplier.
Users can experience leveraged trades up to 200 times their investment.
The higher the investment, the better the commissions and the higher the leverage.
Compared to most of the competitors, StormGain offers attractive commissions and high leverage for beginners.
It is available to everyone.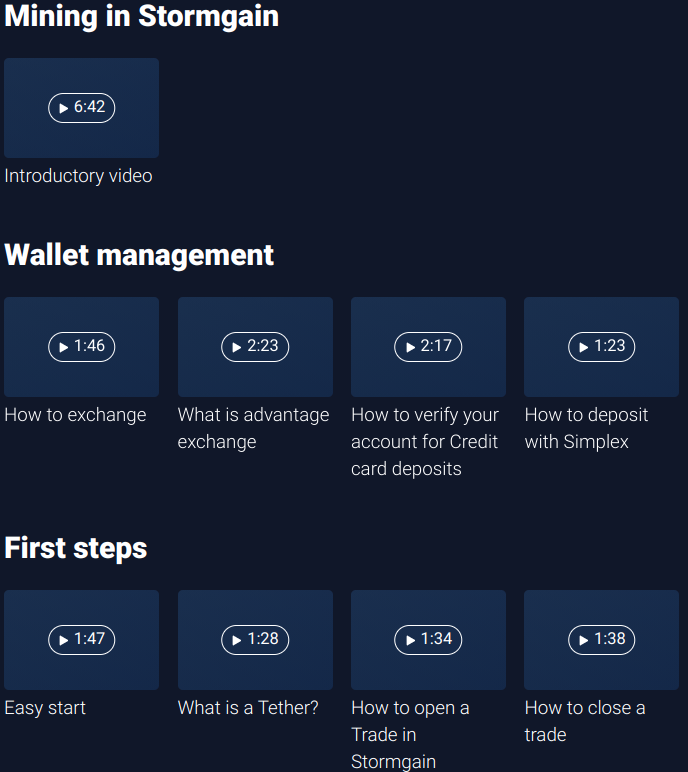 You should also be aware that this high leverage also leads to multiple losses.
There are no fees associated with transferring cryptocurrencies to the StormGain platform.
When sending cryptocurrencies to another platform or hardware wallet, a 0.1 percent withdrawal fee applies.
Maximum and minimum limits apply based on the crypto asset (see website).
The withdrawal fee is not normal as most exchanges only charge the standard mining fee for the blockchain network.
The pricing options are also quite competitive.
Trade rates are displayed transparently on the website.
For cryptocurrency trading, the platform charges commissions and does not support spreads.
On average, each user has to pay commissions for USDT and BTC trading pairs in the range of 0.19% and 0.20%.
This rate varies in currency exchange services, where it ranges from 0.095% to 0.25%.
StormGain Loyalty is designed for skilled investors and large traders.
It has a total of 5 levels; each level offers a multitude of benefits.
The investor or trader can reach these levels if he is successful in trading on the platform.
The status of these levels depends on a unique combination of trading volume and account balance size.
Loyalty levels are reviewed as follows:
Standard – It is designed for an account balance below 499 Tether (USDT) and zero trading volume.
Gold: It is designed for more than 499 USDT in trading accounts and more than 150,000 USDT in trading volume.
Platinum – This is for users with an account balance greater than USDT 1,499 and a trading volume greater than USDT 750,000.
Diamond – This has account balance limits of USDT 4,999 or more, with a trading volume exceeding USDT 2.25 million.
VIP – This level is for account balance over USDT 49,999, with a trading volume of USDT 7.5 million or more.
Not only are the rates attractive, but so are the pricing options.
StormGain displays trading fees transparently on its website.
The platform charges fees for trading cryptocurrencies and does not support spreads.
While it may seem tempting, beginners should be aware that excessive leverage can lead to as many losses as you win.
But if you want to trade big for little money then StormGain might be for you.





Is StormGain a Scam
---
No, it isn't a registered scam. Do note that StormGain is not currently regulated, although it works legitimately.
As an Official Partner of Newcastle United FC, StormGain has a solid reputation and has been featured in numerous publications in online media.
Therefore, it should be safe to trade through this broker.
StormGain is a very popular cryptocurrency exchange in the UK, with over 120,000 users in over 100 countries.
Traders and investors around the world use it as a leveraged trading broker.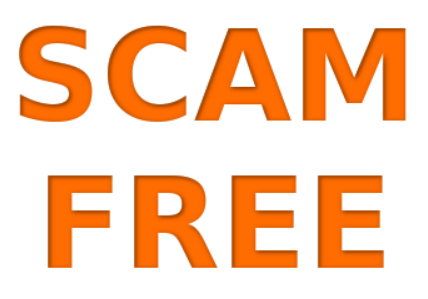 StormGain as well offers a hassle-free registration and login process.
From this review, we have shown what this platform offers and promises, as well as dictating if this broker does what it says and if it is legitimate crypto service or not.
When it comes to privacy, the StormGain mobile app and website are protected and offer transparent in-app BTC mining and investment features.
Ensures that user information is legitimate and secure on all endpoints.
StormGain also maintains its status as a member of the Financial Commission Blockchain Association by providing its users with complete privacy and reliable leverage operations.
StormGain offers investors and traders a platform with a strong focus on privacy and security.
The platform's security features are strong.
Two-factor authentication (2FA) by phone number, OTP (SMS) process, and Google Authenticator protect your personal information and transactional info.
StormGain also ensures that the majority of your holdings are kept in cold wallets, which are secure offline archives for all digital assets.
StormGain offers a number of tips that clients should follow to keep their crypto assets safe, such as using a strong password, opening a second email account, and enabling two-factor authentication.





Final Word
---
Pro's:
It has a user-friendly interface designed to be suitable for beginners.
It works as an all-in-one web platform for mobile and desktop devices.
Process withdrawals instantly.
StormGain offers tiered deposit bonuses.
It works great as a cryptocurrency mining tool.
The trading fees of the platform are significantly low compared to others.
Con's:
It has limited research and tools for seasoned traders and professional investors.
The platform is not regulated in most countries.
There are no automated bots available.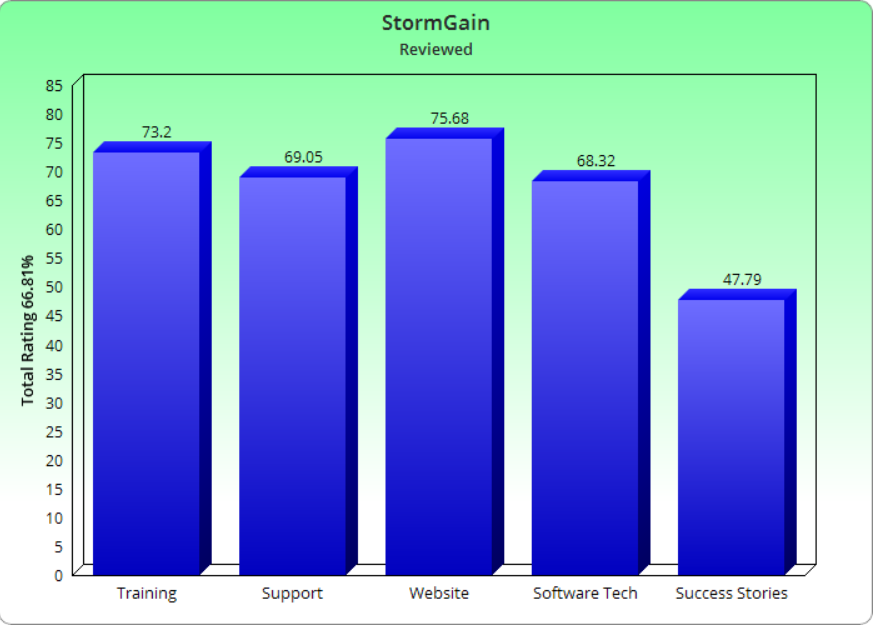 Conclusively, StormGain offers an easy-to-use platform packed with great features for users who like to trade with high leverage.
It also has a unique user interface and business graphics that make the platform stand out from many competitors.
StormGain offers the Cloud Miner feature, which experienced traders may find beneficial.
StormGain offers a competitive all-in-one service that provides cryptocurrency trading, margin trading, and multi-currency wallets on one secure platform.
Traders of all skill levels can also take advantage of the unique Cloud Miner feature and high multiplier tier.
Overall though, StormGain is a solid cryptocurrency trading broker.
StormGain has a competitive trading rate and also provides a good trading margin and multi-currency support.
Although, some customers report that there is not enough clarity on security measures such as cold wallet storage.
Also, the broker is not regulated yet, so if that puts you off as a trader, StormGain is not necessarily for you.
Based on our reviews, the StormGain platform is best designed for beginners.
Help beginners trade cryptocurrencies with ease.
It has the Cloud Miner function, which is useful for professional investors.
As mentioned in this review, StormGain has the most competitive trading rates.
It has good margin trading skills, along with multi-currency support.
In this StormGain exchange review, we aim to provide you with accurate and up-to-date information.
You can refer to the StormGain website for more detailed and up-to-date information.
If Trading Crypto Is Not Your Cup Of Tea. There Are Always Other Ways To Invest. One Of My

Favorite Business Models

Is Affiliate/Referral Marketing. Does This Sound Interesting? I Will Show YOU My Favourite All-In-One Platform That Will Help YOU Succeed.
()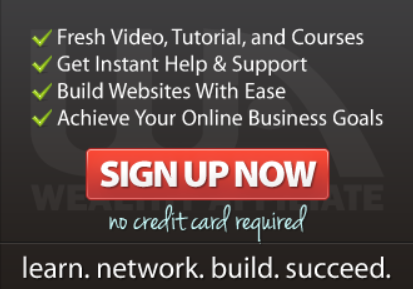 We have another review of one of StormGain's competitors who are called Binance
Let us end this read by showing you the comments. If it's empty, by all means get the conversation started. If you enjoyed this post, heck, share it via your socials, perhaps a friend or colleague might be interested too.




If you cannot monitor your Storm gains then you might get flooded out of your wallet…
Comments
---