Zero Up Lab:
$1,497.00 + Advertising Costs
Training -

46.37%

Support -

52.35%

Website -

61.02%

Software Tech -

78.16%

Success Stories -

38.09%
Brief Summary:
Zero Up Lab was created to allow keen students to develop an e-Commerce store online. Zero Up simplifies many tedious processes we face creating our virtual stores. This service isn't for the faint heart, as it comes with a rather expensive price tag. In a nutshell, Zero Up will build you a e-commerce store, sales funnel and sales page using powerful automation. Plus extra features ya'll!
---
SAVE YOUR MONEY ~ Do You Prefer To Start A Low Costing Online Business With Free Access…
---

Zero Up Lab's automation software, takes the guess work out of a lot of the tedious processes when it comes to building an e-commerce store designed to make you sales online.
Zero Up is simply some technological software that benefits your new and/or already established e-commerce business. Building a business through Zero Up is done through simple drag and drop features and simple click this, click that setups.
Fred Lam has put his heart and soul into the development of Zero Up Lab and will charge you handsomely to use his products and services.
Let's determine whether Fred Lam's – Zero Up Lab's lemon juice is worth the squeeze.
---
Table of Contents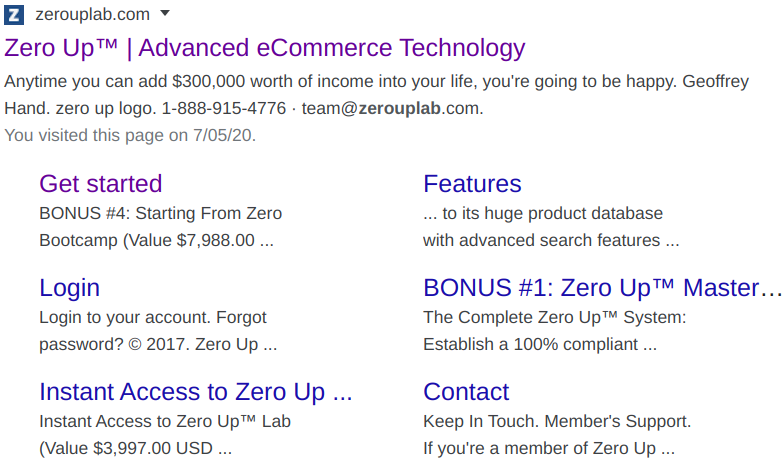 Jump to…
# Zero Up Lab Review
# What is Zero Up Lab
# Who is Fred Lam
# Is Zero Up Lab a Scam
# Pro's VS Con's
# Comments
---
Internet Marketing Education, Tools, Networking & Support!
Do you Hunger for the Truth About How People are Really Becoming Successful Online...
---
Zero Up Lab Review
---
*Parent Company: IPro Academy


*Brand: Zero Up Lab
*Alternate Known Names: Zero Up
*Domain Name: https://zerouplab.com
*Domain Age: 16th/MAY/2016
*Hosting Registrar: GoDaddy.com, LLC
*Launched: 2017
*Domain Authority: 28
*Linking Root Domains: 221
*Ranking Keywords: 147
*Spam Score: 6%
*Website Asset Value: $43,325
*Address/Headquarters: 12410 Milestone Center Drive, Suite 600. Germantown, Maryland 20876, United States
*Office Hours: Monday / Friday ~ 10A.M. | 6P.M. PST
*Founder: Fred Lam
*Contact Methods:
phone: 1-888-915-4776
email: team@zerouplab.com
*Services Offered:
---
---
---
---
---
---
---
---
*Community Size: 40,000+
*Payment/Payout Currency: United States Dollar (USD)
*Cost: $1,497.00
*Compensation Plan: 50% commissions for any sales
*Affiliate/Referral Program: Yes, Through JVZoo
*Up-Sells: No
*Training: 46.37%
*Support: 52.35%
*Website: 61.02%
*Software Tech: 78.16%
*Success Stories: 38.09%
*Verdict: Costly predicament, not gonna meet everyone's online business standards





What is Zero Up Lab
---
The Zero Up Lab platform is an all-in-one e-commerce platform that's designed to take a new, or established online business on a progressive trajectory by using it's automation software.
Zero Up claims to be able to get the newbiest of newbies, started with an e-commerce online business venture.
A lot of the processes involved will it's software is simplified and narrowed down to drag and drop options, also, automation will streamline and take the hassle out of a lot of the work for you.
In order to earn revenue, you need some kind of sales funnel, which Zero Up gladly provides among their office suite.
Additionally, if you purchase the Zero Up technology, which comes at an eye gauging $1,497.00
Not only will you gain instant access to the Zero Up Lab. Those who take the plunge and buy the expensive service, they'll unlock a few added bonuses such as:
The Zero Up Masters Program.
The Zero Up Product Vault.
The Traffic Genius: Blueprint To Attracting Buyers.
Starting From Zero Bootcamp.
The Concierge Program: Personal Coaching.
The Zero Up Network For Platinum Members.

Fred Lam values this entire package at $30,958.00 which could honestly make your heart skip a beat.
But Mr. Lam drops his ridiculous price tag to a semi reasonable price of $1,497.00
Fred Lam uses the drastic shift with price difference to squeeze as many sales out as possible. You could create a half assed product yourself and throw in all the bells and whistles.
Then, boast out large numbers like Fred does, only to drop the final price to $99.00 for your own product.
It's just a sale generation strategy to squeeze as much juice out as possible. And that juice is customers money.
Are you guaranteed to create a multi-million dollar business using Zero Up as Fred Lam did? The answer would be highly unlikely. Those using Zero Up to build a multi-million dollar e-commerce business would sit down to less than 1% of it's members.
But there is money to be made with e-Commerce websites. You can profit with this system. But it will take far longer than you'd expect for the average Joe.
Especially if you consider the initial cost of $1,497.00 then tack on advertising costs or additional tools and services that you may need as you grow.
It could take a while to see yourself profiting. But, everyone is unique and each person will experience different levels of success online. That's just the way it goes.





Who is Fred Lam
---
Fred Lam is from Canada and was working since 13 years of age as a dish pig. He became the youngest marketing manager of BMW Group Canada later on in life.
Nowadays, Mr. Lam is the owner of several multi-million dollar businesses. Fred Lam is known for wanting to help people build an e-commerce businesses online.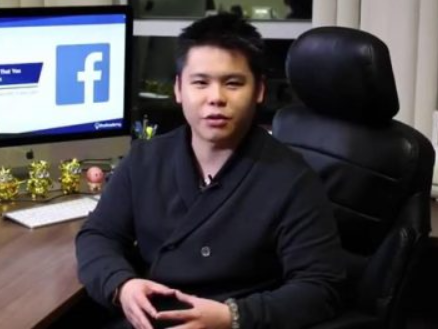 Zero Up Lab is a subsidiary company of IPro Academy. Fred Lam is recognised as being a:
Digital marketer.
Visionary.
Business mentor.
Content creator.
Goal setter.
Media buyer.
Motivational speaker.
Author.
Fred Lam claims to have earned over $40,000,00.00 dollars in revenue during his time as an entrepreneur.
Is Zero Up Lab a Scam
---
One thing that I always consider a red flag with opportunities such as this is when the company in question piles out a bucket load of screenshots of payment proof details and testimonials on it's website, or sales squeeze page.
A lot of companies use this strategy to butter up their audience and to try to prove they are indeed legitimate. A lot of the time, these are ridiculous claims, or self created testimonials, or paid for fakes.
Those results saying somebody made $80,000.00 in a month is not at all typical. In fact, it can be a struggle just to get your first sale and that commission could vary depending on your chosen niche and the products associated with that niche.

I personally would not use Zero Up Lab to build a home based business. Simply because the platform is over priced. So be cautious if you buy into the program because there will still be a lot to learn then earn to cover initial costs.
Some trial and error is normal before things begin to flow for you. I would value the Zero Up Lab package at $199.00. I believe that would be a fair price since many people won't earn there money back using Zero Up Lab.
Be absolutely sure you want in. There are no refunds given as of 2016. For a lot of people $1,500.00 is a lot of money to invest when there are no guarantees of profiting in e-business.





Final Word
---
Pro's
There is no need for downloads or annoying installations.
10 made for you site themes and 180+ already build for you online stores.
Integrated with e-commerce giants AliExpress and Shopify.
Drag and drop simplicity to set up your sales funnels and landing pages.
Their software integrates well with a heap of email software services.
Con's
Zero Up do not tell you about the failure rate of it's members.
Very expensive service to get involved with.
Only works with e-commerce businesses, not affiliate marketing businesses etc.
It's been almost 2 years since an article has been published on their blog, which isn't a good sign.
No trial and/or grace period. You have to risk it to take the biscuit.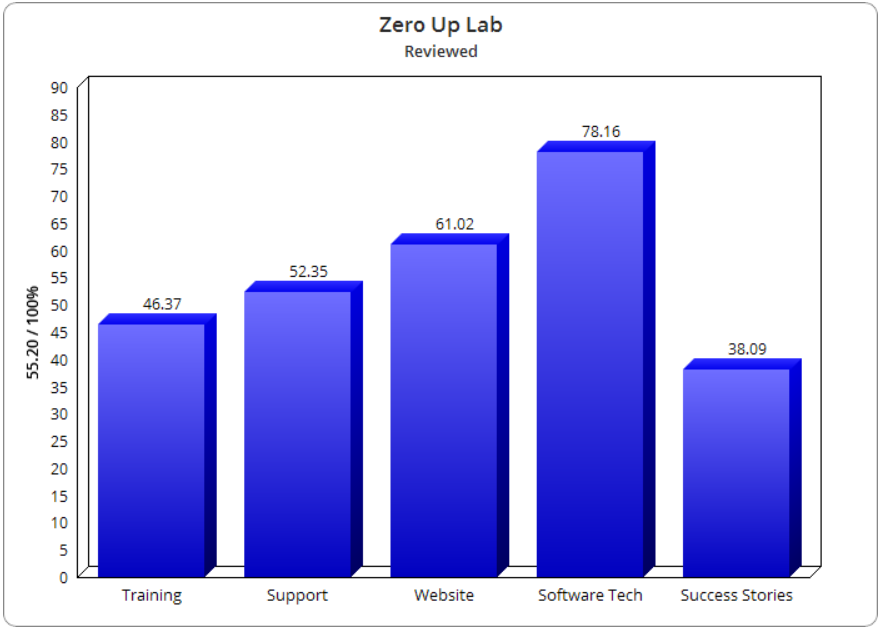 I guess that says it all. I would personally not get involved with such an expensive service. A lot of the time, services that are simplified with drag and drop and automate majority of tasks are not the best to use.
You are not challenged and don't learn a great deal if everything is simple to do. If you do not have a advertising budget you will not make any income by the way.
Just because you set up a perfect looking e-commerce store, does not automatically translate to customers flooding in at your virtual doors.
Zero Up Lab miss one crucial component, which is SEO through blogging for earning organic traffic. So, without a budget to pay for customers, you will spend $1,497.00 to just sit there looking pretty with no traction from your target audience.
Would YOU Prefer to

Start From The Ground Up

&

Learn SEO

Among Other Important Steps Required To

Build A Stable & Reliable Online Business

That Thrives For Years To Come?

Don't Open You Wallet

 Because You Don't Have To Pay Anything To

Learn The Fundamentals Of Securing an e-Business

Online.

Check this article as it will go over everything about the service in question. If you are strapped for cash then this read is worth looking at, as it could change your outlook on building an online business forever.
()

What are your thoughts about Zero Up? Did you end up buying this expensive software or are you still in contemplation phase. We would like to hear you views on Zero Up Lab. Be social and share this post and remember not to buy the first thing that pops up online geared toward earning you revenue online.




Bottoms up or go all in with Zero Up, Lab…
Comments
---