Consumer Opinion Institute:
$0.00 (FREE)
Training -

25.37%

Support -

47.91%

Website -

45.08%

Software Tech -

20.04%

Success Stories -

86.23%
Brief Summary:
Damn! Consumer Opinion Institute removed their registration button. If you are fortunate enough to have joined Consumer Opinion Institute prior to shutting their virtual doors. Good for you. If you were prepared to sign up to Consumer Opinion Institute today. It's not possible! So here's what we can do for you.
---
THESE GUYS DOORS ARE OPEN ~ See How YOU Can Benefit With Affiliate Marketing From Your Own Website…
---

In order to join Consumer Opinion Institute you will first need to register if they are still open to newcomers, then fill out an initial sign up survey regarding your lifestyle and household occupants.
This is a requirement so that Consumer Opinion Institute can send the most appropriate surveys due to your living arrangements and lifestyle.
Normally surveys will take around 10-20 minutes to complete, but are not limited to that time frame.
The Consumer Opinion Institute website has been active for over a decade now. They are not very popular, compared to survey providers like Opinion World or Clear Voice Surveys for instance.
Consumer Opinion Institute looks more traditional. You can see it's age shining through with it's old website theme still being used.
Want to learn more about Consumer Opinion Institute? Are you able to still join? Keep on reading you survey enthusiast you!
---
Table of Contents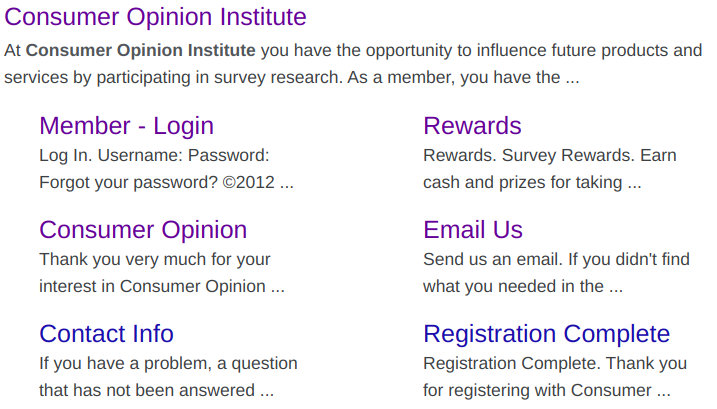 Jump to…
# Consumer Opinion Institute Review
# Consumer Opinion Institute Join Section
# Is Consumer Opinion Institute a Scam
# Pro's VS Con's
# Comments
---
Internet Marketing Education, Tools, Networking & Support!
Do you Hunger for the Truth About How People are Really Becoming Successful Online...
---
Consumer Opinion Institute Review
---
*Parent Company: TNS Global – Market Research Company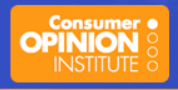 *Brand: Consumer Opinion Institute
*Alternate Known Names:
Consumer Institute Opinion
COI Panel
*Domain Name: https://www.consumeropinioninstitute.com
*Domain Age: 22nd/APR/2009
*Hosting Registrar: CSC Corporate Domains, Inc.
*Launch Date: 2009
*Domain Authority: 19/100
*Linking Root Domains: 82
*Ranking Keywords: 14
*Spam Score: 31%
*Website Asset Value: $1,211.00
*Address/Headquarters: One SeaGate, Suite 1450, Toledo, Ohio, United States 43604
*Contact Methods:
phone: (877) 362-3912
email: kathy@consumeropinioninstitute.com
*Services Offered:
---
Surveys delivered by post
---
Surveys delivered by email
---
---
Currently closed to new registrants
---
*Community Size: 10,000+
*Payment/Payout Currency: United States Dollar (USD)
*Costs: $0.00 (Free)
*Earnings Potential: $1.00 – $5.00 per survey
*Affiliate/Referral Program: Nope
*Up-sells: No
*Training: 25.37%
*Support: 47.91%
*Website: 45.08%
*Software Tech: 20.04%
*Success Stories: 86.23%
*Verdict: Legitimate survey provider for American residents





Consumer Opinion Institute Join
---
If you are here reading this portion of the post. you are probably wondering how to join the Consumer Opinion Institute survey opportunity. If you look within the website itself.
You'll notice there is a login option, but no registration selection positioned near by.

So basically, Consumer Opinion Institute have removed the sign up feature, because they are not currently recruiting new Consumer Opinion Institute members. It's as simple as that!
They are either at full capacity right now, or are not very successful with their services offered. Will there be a date when Consumer Opinion Institute reopens their doors?
That remains to be seen. Your guess is as good as mine. This closure explains why the website is not as active with traffic visitors anymore. It's probably even a waste of time writing this.
What makes Consumer Opinion Institute different from a lot of the other survey distributors is that they focus more on postal surveys versus digital ones found online.
They even send you out your $5.00 bill in advanced with the survey attached via postal mail. Which is a nice, but an unusual way of doing business. I wonder how many people feel obligated to actually complete the survey sent in the mail.
Would you simply take the money and run? Or do the right thing and fill out the survey sent to you, then return it using your pre-paid postage envelope provided with your honest opinions stated.





Is Consumer Opinion Institute a Scam
---
Of course Consumer Opinion Institute isn't a scam. It would be ludicrous to think that. This player has been on the survey scene for over a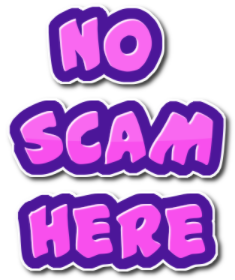 decade now which is why they still offer postal surveys.
There are know fees attached, cancel at anytime. You are not bombarded with survey after survey. Speaking on behalf of the current participants of the company.
And you will get paid if you're a participating member. It's a shame no one can join up right now. But, keep checking every now and again, as there is always the possibility that they'll resurface their registration button at some point.
Consumer Opinion Institute is legit and that's all there is to it.





Final Word
---
Pro's
Earn cash and prizes by taking surveys.
Get to state your opinion and experiences with product/services you survey.
Better a companies product line and services with your answers.
It's easy to cancel and takes 24 – 48 hours to remove yourself by hitting the unsubscribe button.
No annual membership fees or any costs for that matter.
Con's
You need to be at least 18 years or older to participate.
The business is not BBB accredited.
Can take over 24 hours to get a support response ticket handled.
Never email directly through your email service like Gmail. Use the message box system integrated within the site.
Most surveys are delivered by postal mail which means you'll have to return them by sending with post mail.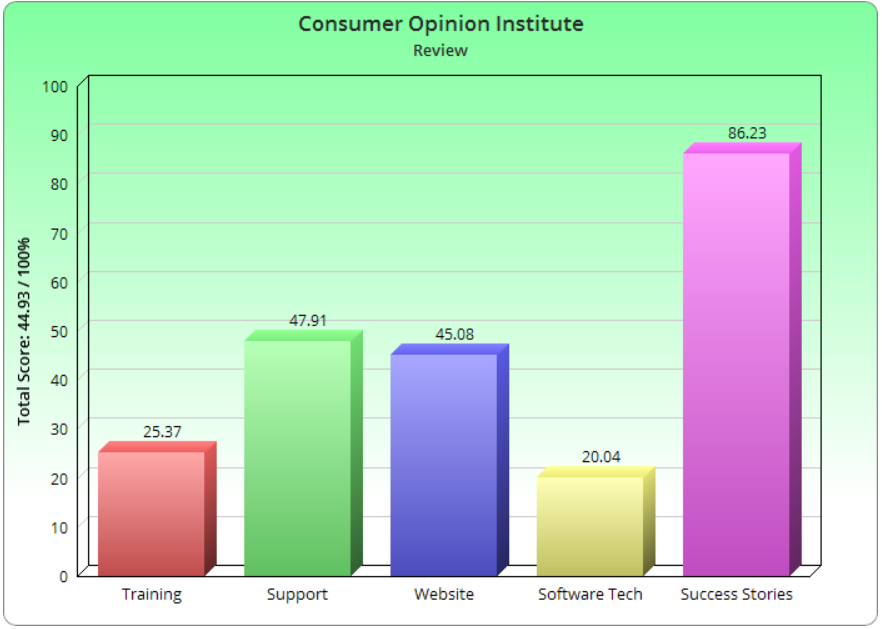 Only expect to receive 3 surveys per month. Whether this is a good or bad factor, is entirely up to your circumstances. Since you probably take surveys from other companies. This should be seen as a good thing.
If you were to rely solely with Consumer Opinion Institute to earn income online. You will only earn enough to buy a large pizza each month.
Again, it's because you are limited to a couple surveys per month. To take a turn for the better. I want you to stop pretending that survey taking is a viable way to earn reliable revenue online.
It truly isn't in your best interest to survey all the time, as it is very time-consuming, repetitive and low paying at the best of times.
Do YOU Possess The Mindset To Be Apart Of A Worldwide Affiliate Marketing Community That's Had Over 2 Million Registrants Join It. The Website Is
Proven To Be Newbie Friendly

, That Can Get You Trained Up To Build A Website Then Promote Products/Services As An Affiliate Marketer. With Multiple Income Opportunities Present From Your Very Own Online Asset You'll Master!
(––)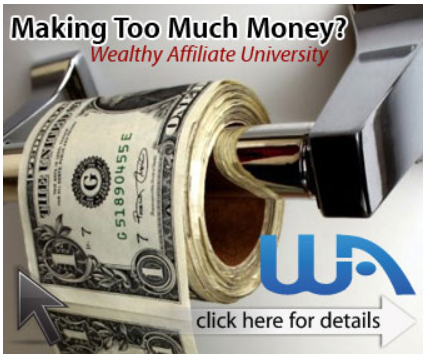 I can let you decide by offering an article covering everything relevant about the opportunity. If you can spare a minute or more, you'll see why everyone is amped to join the amazing platform for all opportunists combine.
If this read was helpful and you're annoyed you cannot sign up with Consumer Opinion Institute at this present time. Appreciate it if you share via social media to spread the news. Any questions, statements you would like to make. Take advantage of the comment sector below. Get the discussion flowing. Adios amigo.




Are 3 questionnaires per month really gonna solve your current financial predicament, think about it…

Comments
---