Paid To Read Email:
$0.00 (FREE)
Training -

50.38%

Support -

57.29%

Website -

47.37%

Software Tech -

26.24%

Success Stories -

75.55%
Brief Summary:
Whoever created Paid To Read Email back in the day has experienced decent success with the website under review. Breaking it down, earn yourself 2¢ per email, around 75¢ per survey and $7.50 for high paying offers. This is a Get-Paid-To (GPT) site that has stood the test of time. Easily recieve 2-3 emails per day.
---
IF YOU SEEK HIGHER EARNINGS POTENTIAL ~ Read Where I Earn Commissions Almost Daily & You Can Too…
---
When did you last receive a $0.02 message from Paid To Read Email and fill out the attached survey for $0.50 – $1?
Furthermore, how many emails do you typically read per day?
For some people, the answer is a dozen.
For others, it could be a hundred or more.
Well, did you realize that there are a couple of legitimate sites that will pay you to read their emails?
If you're the type of person who spends a lot of time in your inbox, these types of sites can be a decent way to earn extra money sent right to your PayPal account.
How hard is it really, to click open an email. It literally takes 1 second to hover over an email and pop it open.
---
TABLE OF CONTENTS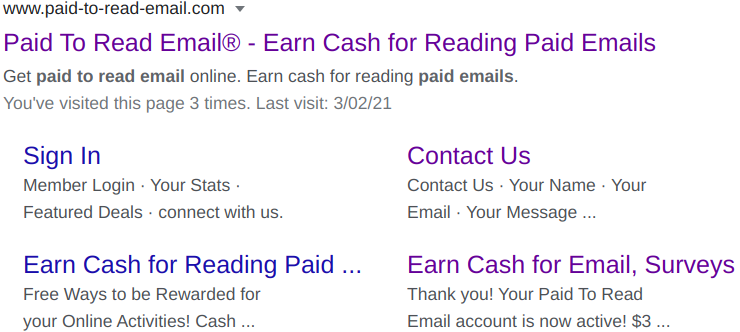 Jump to…
# Paid To Read Email Review
# About Paid To Read Email
# How To Make Money By Reading Emails
# Program/Training/Costs
# Is Paid To Read Email Legit
# Pro's VS Con's
# Comments
---
Internet Marketing Education, Tools, Networking & Support!
Do you Hunger for the Truth About How People are Really Becoming Successful Online...
---
Paid To Read Email Review
---
*Company Brand: Paid To Read Email


*Alternate Known Names: Paid To Read Emails
*Domain Name: https://www.paid-to-read-email.com
*Domain Age: 23rd/FEB/2005
*Hosting Registrar: GoDaddy.com, LLC
*Year Launched: 2005
*Domain Authority: 29/100
*Linking Root Domains: 651
*Ranking Keywords: 25
*Spam Score: 5%
*Website Asset Value: $2,399,200
*Address/Headquarters: Kvieciu g. 4 – 23, Vilnius – 08438, Lithuania
*Founder: Unknown
*Contact Methods: Internal website email messaging system
*Social Media Presence:
Facebook – @paidtoreademails | 10,703+ likes, 11,003+ follows
Twitter – @paidemail | 597+ follows
*Resources Offered:
---
---
---
---
---
Referral/ invite friends incentive.
---
---
---
*Community Size: 25,000+
*Payment/Payout Currency: United States Dollar (USD)
*Cost/Price Tag: $0 (Free service)
*Compensation Plan: Earn cash and points. 100 points = $1
*Affiliate Program: Earn 15% worth of their earnings for a lifetime with each stranger/friend you invite
*Up-Sells: No
*Training: 50.38%
*Support: 57.29%
*Website: 47.37%
*Software Tech: 26.24%
*Success Stories: 75.55%
*Verdict: Legit, but will take quite a while to reach minimum payout threshold





About Paid To Read Email
---
Paid To Read Email is an active online rewards community based out of Lithuania where people can earn money by reading emails, taking surveys, completing offers, inviting friends, and lots more.
You can also choose to gain points that can be redeemed for gift cards; Guaranteed Paid Email (GPE) and more.
Paid To Read Email has been a paid email site since 2005 and immeadiately pays its users simply by reading emails.
Paid to read email is an effective way to supplement your paid survey revenue by opening your inbox.
Payments are processed within 3 business days upon request; however, your first payment is processed on a net basis of 15.
This means that your first payment will be processed 15 days from the end of the month in which you requested the payment.
To do a withdrawal you only need $15 and you can request it directly in your PayPal account.
The registration process is very easy, and you will be rewarded with an instant registration bonus of $3.
Just fill out the short form then confirm your Email address.
Users from all countries are accepted, but native English speakers will have the highest paying survey opportunities.
Kash Kick your survey section to the curb every day for new survey opportunities.
New surveys are available all day and you can earn between $0.50 and $1 per survey.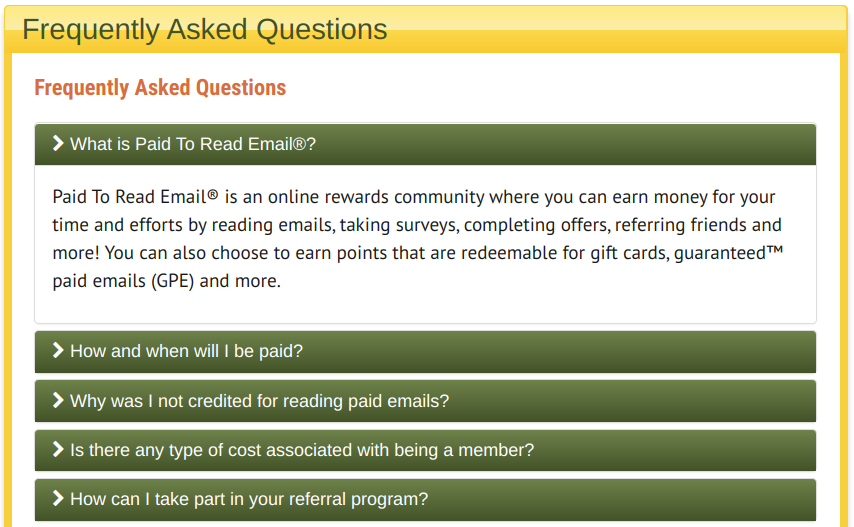 Are you interested in trying a service or product for free?
Stop by and take a look at the 100% FREE offers section for opportunities to earn more.
In paid offers will require you to sign up for a free trial (enter your credit card information) or make a purchase.
These offers pay more, typically $2 to $10.
Earn points that can be redeemed for gift cards; Guaranteed Paid Emails (GPE) and more.
They have partnered with many companies, so you can earn lots of points and exchange them for great rewards.
When you receive Paid Email from Paid To Read Email, click to confirm reading each Email and earn money on your Paid To Read Email account. It adds up quickly!
Paid to Read Email.com may be a decent secondary site to join.
But the downside is that it has a fairly high payment threshold and the rewards are quite low compared to many other sites.
Paid to read emails promises to pay you, well, just by reading emails.
Sounds too good to be true, right?
I will recommend it even though it sounds too good to be true, but don't do it because I hate to tell you.
You only get around three emails a day (at best) from the company that pays to read the emails. Do your math.
You will only earn $0.42 per week reading emails. Unless you complete surveys and continue to get paid to join alternate services.





How To Make Money By Reading Emails
---
This site is open to anyone with an internet connection.
You can become a member regardless of where you live.
And becoming a member is really very easy.
Paid Email is available worldwide, and anyone can take part.
Anyone over the age of thirteen can take part the site, but to withdraw their earnings in PayPal, they must be 18 years old.
PayPal has an age limit of 18 years; those under 18 cannot have a PayPal account.
Again, you will receive that registration bonus of $3 after completing the registration process.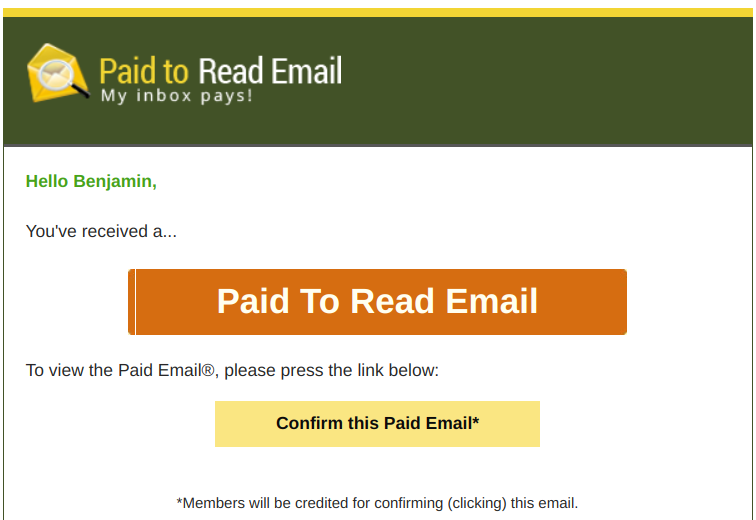 All you have to do is fill out the registration form and confirm your registration now.
After doing that, you can go log into the site and start earning.
Which is pretty good considering they have a slightly higher threshold.
This will make it easier for you to make your first payment.
However, please note that paid to read Email may close your account if there has been no activity on your account for three consecutive months.
If this happens, you will lose all your winnings.





Program/Training Course Details/Costs
---
You can join paid to read Email to receive daily emails in your inbox. You get paid to read these emails.
You can as well earn more trickle income by inviting your friends and taking daily surveys. Other ways you can earn money from this site are:
1) Paid emails:
As the name suggests, you can earn money from reading emails. But it is not as simple as you might think.
There are a few things to keep in mind when making cash from reading emails.
The site sends two types of emails: paid emails and paid survey reminders.
The paid emails are obviously about what you can earn, while the others are just a reminder that you have surveys available to answer where you can earn additional rewards.
Now let me tell you how your paid emails work. When you become a member of the site, you will automatically receive $2 in Guaranteed Paid Email (GPE).
This will be equivalent to 100 GPE for an email fee of $0.50.
Why is it so important? Well, because you can only earn from paid emails as long as your GPE is greater than zero.
So if you keep reading paid emails, your GPE will naturally decrease.
When it reaches zero, you won't earn anything. You will need to reset your GPE.
You can do this by doing other earning opportunities offered by the site or by earning points and redeeming them for GPE.
Winning with paid emails, in my opinion, is actually a balancing act.
Since you can adjust the rate you earn for each paid email you read, you can speed up or slow down the decline of your Guaranteed Paid Email.
The trick is to find the right rate so that you can regularly earn from paid emails.
And to do that, you need to consider how to increase your GPE.
2) Paid surveys:
Surveys are the other option to earn money from paid Email.
As you can see, there are many options to choose from in the survey ranging from $0.50 to $1.00.
Paid Email offers surveys from some reputable survey routers, such as Dynata Surveys, Your Surveys, SaySo Surveys, InstaGC and My Thoughts Counts.
So there are quite a few surveys to choose from.
My Thought Counts is up for great prizes like 42 ″ HDTV's etc.
So answering a survey requires a couple of processes.
The first is the qualification process. You will need to answer some filter questions.
If they think you qualify for the survey, you can proceed to the next step, which is taking the actual survey.
In short, once you have passed the qualification/selection process, you will now need to answer the actual survey.
Once you have finished completing the actual survey, you have completed it and are now eligible to receive the promised reward.
If you are not eligible for the survey, the response process ends, and you simply move on to the next offer in the survey.
In some cases, the sites will give you a small fee for the time you wasted answering the preliminary questions.
But usually, in my experience, you won't get any.
In the case of this site, no compensation is offered if you are not eligible.
3) Earn points:
Earning points is not really an opportunity to earn per se, but it is important that we analyze it and consider it as an opportunity to win because, as mentioned above, you will need it to increase your GPE and earn more from emails to payment.
You can earn points by completing all the offers presented in that section of the board.
When you go to the Points section of your website, you will see all the available offers that you can carry out to earn points.
Usually, the offers you need to fill out will be mostly surveys.
you will still complete the surveys to earn points.
4) Referral program:
You can also invite people to join the platform for additional rewardia (rewards).
Invite people to join the site using your banner or invitation link.
When they sign up successfully via your link or banner, they will become your referral.
You will then receive 15% of your referral earnings for completing offers, participating in surveys, and shopping online like Rebate Key facilitates.
Not a bad deal, in my opinion. 15% is not revolutionary, but it is a pretty decent rate.
If you manage to get a lot of referrals, you can earn a significant amount.
Of course, you need to make sure that the people you refer are genuinely interested in making money from this site.
Otherwise, it would be useless because, in order to earn from them, they must be active on the site.
Hence, keep this in mind when deciding whether or not to invite others.





Is Paid To Read Email Legit
---
Paid to Read Email.com is a legit GPT site that will pay you for reading emails and responding mostly to surveys.
It has a couple of good features to offer, but it also has a few drawbacks that you should be aware of.
It has very limited earning potential.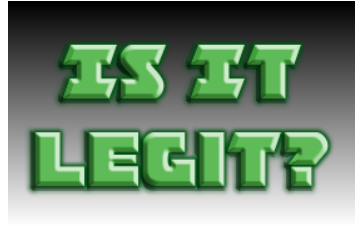 GPT's sites and surveys aren't meant to make you a lot of money, but they should at least pay you a good amount of money.
I wouldn't recommend Paid To Read Email, just because you'll find much better opportunities to earn a decent income online.
The time you spend (or lose?) In the survey can be used in a much better way.
One would've hoped you could achieve, at the very least, $200 per week (or, in the worst case, $200 per month).
It is not the case. It would take 119 months. Yes, it would take a little over nine years to make $200 provided that you only open emails and do nothing else.
The company that pays for email reading may have a threshold of $15 that they must meet before they get paid in the first place.
Here's a problem for you: If you make $1.68 in cash a month with Paid to Read Emails, how many months would it take to earn $15? (answer: it would take nine months to earn $15.12).
While it is true that getting paid for reading emails takes 2 seconds, but the payment is too low.





Final Word
---
Pro's:
Offers payment through PayPal.
Available globally, anyone can join.
Sign up bonus.
Many offers and surveys.
Convenient payment solution.
Con's:
Slightly high payment threshold.
Relatively low rewards.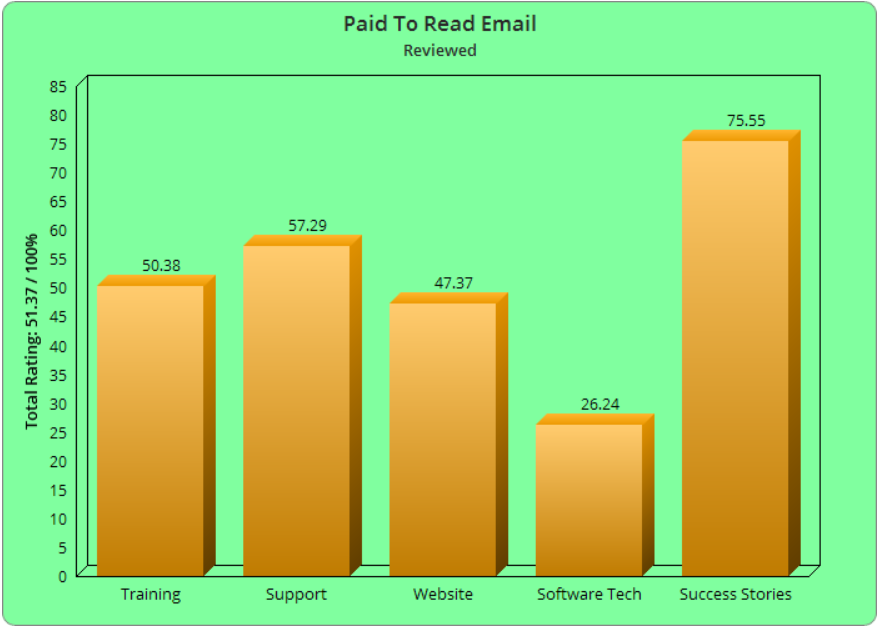 Paid-to-Read-Email.com is not a scam GPT site and will pay you for reading their emails and responding mostly to surveys.
It has a couple of good features to offer, but it also has a few drawbacks that you should be aware of.
Step Away From The Email Reading Crowd &

Build An Online Asset Instead

! I.e. An Internet Based Business (Website). You Would Be Surprised How Easy This Process Can Be With The Right Platform To Learn It From. Here Is Where YOU Need To Be.
()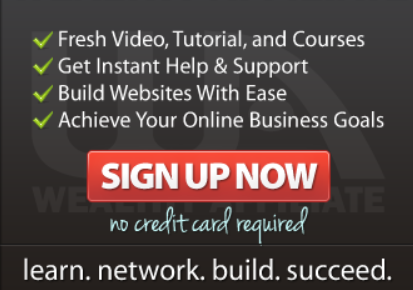 Want to read how/where I currently earn residual income with an affiliate blog I created. You can experience this kind of success if you pay your dues.
I hope the paid for reading email review helped you make an informed decision. Don't forget to leave a comment and/or share this post via social media before you go off clicking open a thousand more emails.




Start earning 2c per email – cha ching…
Comments
---