Are you ready to play trivia for cash and prizes online? How Total Trivia works basically, there are prizes shown in the dashboard area of your device with a timer counting down to zero with every tournament going on.
Whoever can earn the most points via trivia questions, and before the timer runs out, wins the allocated prize or discount for an item.
As you would expect, there are many topics for trivia to select from. So it benefits by picking your trivia topic strengths for the best chance of winning.
Some general knowledge topic picks to include, but are not limited to are: animal images; art; books; celebrities; entertainment; flag images; food; general knowledge; geography; history; logo images; monument images; movies; music; news and science to name a handful of selections.
---
Table of Contents

Jump to…
# Total Trivia Review
# About Total Trivia
# Is Total Trivia a Scam
# Pro's VS Con's
---
Internet Marketing Education, Tools, Networking & Support!
Do you Hunger for the Truth About How People are Really Becoming Successful Online...
---
You cannot earn income directly into your bank account by referring new players to Total Trivia using your friend invite code.
Although, users should expect to receive 1000 tickets/coupons for successfully inviting a new player to the app, which more or less carries the same value as $50.00 if used strategically with your trivia pursuits.
Furthermore, if your referral spends at least $5.00 you can also be given another free 1000 coupons for your promoting efforts.
For the greatest chance of winning the final prize in any given tournament it sure does help by having your trophy level up as high as possible, and using any boosters, multipliers or enhancements when necessary.
With this said, Total Trivia can get pretty competitive. So let's uncover some finer details that you may not have been aware about with the Total Trivia gaming application.
Total Trivia Review
---
*Brand: Total Trivia Inc


*Domain Name: https://www.totaltrivia.com
*Hosting Provider: NameCheap, Inc.
*Domain Age: 22nd/MAR/1999
*Founded: 2016
*App Launched: 20th/FEB/2017
*Founders: Privately held
*Opportunity Type: Retail prizes
*Addresses/HQ:
12805 Highway 55 Suite 205 Minneapolis, MN 55441 United States
5775 Wayzata Boulevard. 700 – 4006 Street. Louis Park, MN 5541
*Contacts:
email

 | support@totaltrivia.com

phone

| +1 855-321-0505
*Social Media Presence:
Linkedin – 110+ followers
Facebook Page – 32,968+ page likes
YouTube – 179+ subscribers
Pinterest – 6+ followers
Instagram – 338 followers
*Costs Involved: Pay via PayPal
20 coupons = $1.00
100 coupons = $5.00
200 coupons = $10.00
500 coupons = $25.00
1000 coupons = $50.00
*Affiliate/Referral Incentive: Rewards are awarded solely at Total Trivia's discretion apparently
*Training: 63.68%
*Support: 49.09%
*Website: 08.17%
*Software Tools: 53.74%
*Success Stories: 66.90%
*Up-sells: Can be enticing to purchase more coupons/vouchers out of desperation
*Final Verdict: Try to win here without spending a dime to not feel raughted out of your pockets





About Total Trivia
---

First off, Total Trivia can only by played by US citizens for now. Register up after downloading the application (app) version of it's software via an iPhone, or android in the respective app store.
Log in once you manage to connect your Facebook account, or doing so by SMS verification. Otherwise, register your email address then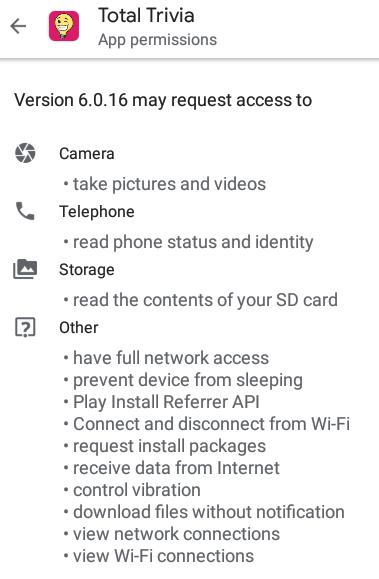 confirm details as prompted.
You can have only one Total Trivia account per person, so make sure you keep a copy of a valid username and password.
As such, Total Trivia will need some basic information from your person to fully allow users to participate in the trivia-based tournaments etc.
All trivia games are sponsored by Total Trivia and it's trusted partners/brands while having has no business agreements made with Apple, Inc. They are separate!
This trivia app has been made with the intention for adult players. Anyone found under the age of 13 years of age will have their accounts terminated upon detection.
If you want to unsubscribe from the Total Trivia newsletter and/or marketing promotions that come along with it. It can be conducted at the bottom of any corresponding emails delivered to your message inbox.
In order to delete your Total Trivia account. Access your profile inside your account page. And if that fails, message the support line prompting your decision for an account deletion.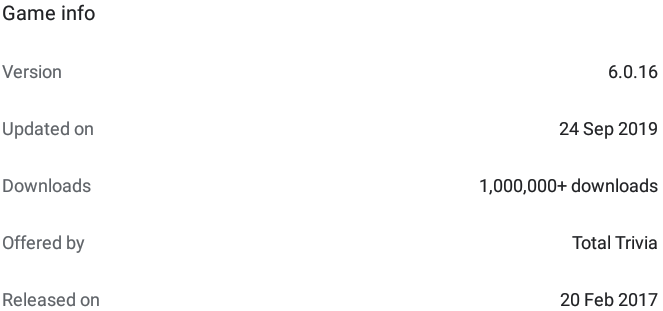 Is Total Trivia a Scam
---
Total Trivia tries it's best to provide accurate answers to trivia related questions. Total Trivia will not be held accountable for any inaccuracies to answers of the questions.
There are many sceptics that say Total Trivia is a strategic scam. Because there seems to be the same similar names, or members always displayed and operating each day, almost 24/7 it would seem. Whether they're Total Trivia bots, or a team of people rotating under one name. We are yet to find out.
Some of the usernames identified as conducting fraudulently are: JohnnyConnect, sgrignoris or paralingerx etc. These users are always seen in many trivia tournaments playing at once quite often.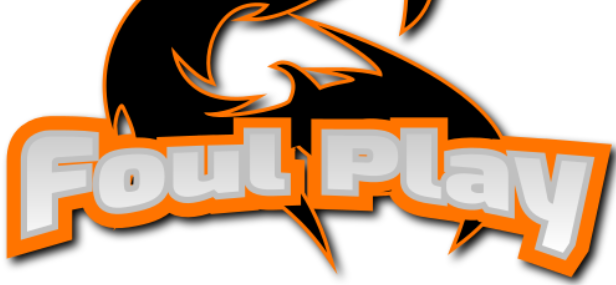 They must have super charged their accounts for easy winning, by paying for additional coupons to score more points in any given tournament.
Which basically will require inexperienced players to be spending real cash for coupons etc, just to stand a chance at winning a trivia tournament.
So if everybody is buying tickets or coupons just to stand a chance of winning. The prize that is on offer becomes very cheap for the owners who ship out the product at Total Trivia. Which would be a major reason why this company is profiting nicely.
And if you watch this YouTube video before you. The lady opens up into more detail surrounding matters of concern. Also, she'll be pointing out that the brands/prizes are not quite what they seem.
People have been shipped out generic quality products by postal mail. As opposed to the actual item advertised in the tournament won. Pretty much misleading it's members into thinking they're receiving top of the line items and/or branded products.




Remember that if you win at a trivia tournament, make sure to confirm this achievement within the specified time limit allocated within. And convert coins for discounts and prizes as soon as you can at the rewards store.
By the way, in-game coins hold no real value (cannot be converted for legitimate currency). Note that, sometimes! Coins can actually redeem a cash prize. So go figure.
Final Word
---
Pro's
There is a high probability that all answers to questions within the trivia rounds are correct and fixed when complaints are made.
Earn extra lives by watching advertisements prior to competing in an official tournament.
Has had over 1 million + downloads since it's inception during 2017.
Many reviews found of people who are satisfied with their prizes and are pleased to be receiving them within good time.
Very simple to understand the process, easy to get started and competing at trivia if you reside in the United States.
Con's
The value of in-game coins or prizes can change at any time. So it's recommended to cash out regularly to avoid being disappointed with this.
There are concerns that bots, or foul play is at hand, enticing players to buy vouchers etc at the last minutes of the tournament.
Users have left many complaints about not receiving items, or specific brands advertised of the item.
It can become rather addictive which leads to spending more and winning less than you spend. So Total Trivia seems like it has an element of gambling at play.
There is no website version of Total Trivia that allows game play. Just a website suggesting to download the app.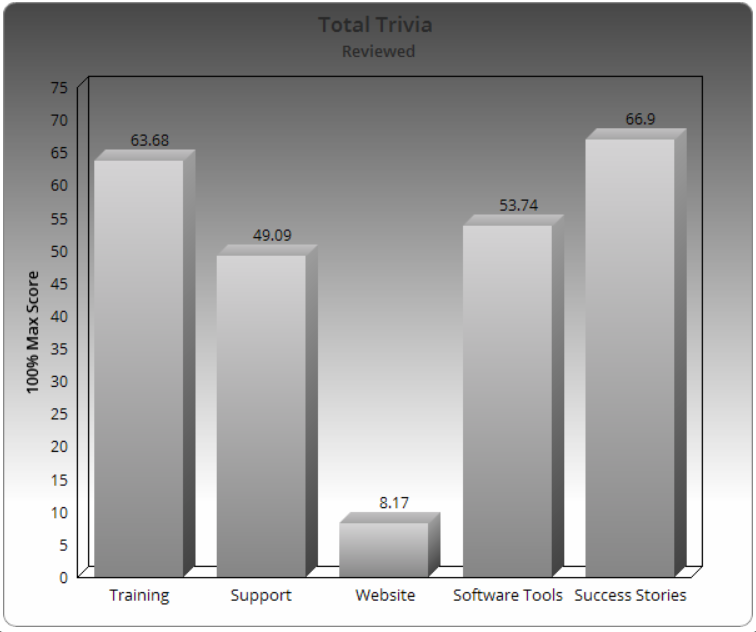 Look, to avoid any confusion, speculations or conspiracies against Total Trivia for being a scam. And to prove that it is a legitimate trivia game comes down to this theory.
Do not make a single purchase of any tickets/coupons etc, which obviously enhances the odds of winning a tournament.
Just play trivia games as you'd normally would until your hearts content. If you cannot win at all, or come close to winning after 100 tournament games. Remembering not to spend a single dime.
Then I'd suggest not to continue playing Total Trivia as it will likely require you to make payments to better the odds of winning that final prized possession you so badly want to win.
I know it isn't fun losing when you've spent money on something. And if you are a trivia night, purest. Value the new knowledge you've gained playing Total Trivia. Don't worry so much about the shiny object at the other end of that trivial rainbow!
Sometimes It's Better to Earn Your Prizes/Rewards in Life. Instead of Looking for
Instant Gratification

by Playing a Repetitive Game at Total Trivia. Build Yourself an Affiliate Website Instead. That Way You Can End up Paying For Desired Items. As you Earn Affiliate Sales Down the Road! The

Long-Term Success

of An Affiliate Website Can Become Very Lucrative, By Simply Following The Training at the Best Platform Found Online. So Get Your Start Today!
||

Creating an affiliate website is not as complicated as it sounds. The affiliate industry is a booming, each and every year. So there is always commissions to be made and quite frequently. A quick page to get you on the right track with personal examples from my own experience can be found through the peek button.

Feel free to express your personal experiences playing Total Trivia in the comments below. Either convince people why Total Trivia is legit, or why you believe it is an elaborate trivia scam. Maybe that is why there is no direct information about the founders. Express yourself.




Do you think Total Trivia is another trivia hoax…
Quick Recap of Total Trivia
$0.00 (FREE) Purchasing is Optional
Training

Support

Website

Software Tools

Success Stories