InstaGC, or Instant Gift Cards are an online reward's website, and also known as a Get Paid To (GPT) site. When you join InstaGC today, just be prepared for a lot of security protocols to get started. They are very precise and careful about who gets to redeem gift cards here.
So what sets InstaGC apart from all the other gift card promotional sites online? Well for one, InstaGC only offers virtual e-gift cards.
Oppose to a physical copy of a voucher sent to your mailing address. If you manage to score one of these electronic gift cards, you will need to answer a prompt-to phone call, or confirm via text code.
Currently, there is options for cashing out points to real income. PayPal seems to be the best withdrawing method right now.
---
Table of Contents

Jump to

…
# Review On InstaGC
# About InstaGC
# How Does InstaGC Work
# Is InstaGC a Scam
# InstaGC Affiliate / Referral Program
# Pro's VS Con's
# Comments
---
Internet Marketing Education, Tools, Networking & Support!
Do you Hunger for the Truth About How People are Really Becoming Successful Online...
---
In order to get point booster codes. You will need to participate in chats, as they are palmed off at random. Alternatively, head over to the InstaGC's Facebook page.
Solid Estimated Worth of

Instagc.com

= $1,885,600
You may have to search within search engines to find blogs and larger websites who are offering point boost codes. If you enter a code and it fails to work.
There's a good chance you have either entered incorrect characters, or the coupon code has expired.
Amount of Traffic

Instagc.com

obtains

– 78,157 / day (Very jealous ) :'O
The contents ahead should give you a comprehensive overview of the InstaGC platform. Explaining the do's and don'ts. Should's and shouldn't.
Review On InstaGC
---
*Brand: InstaGC


*Owned & Operated By: Day Online Solutions LLC
*Domain URL: https://www.instagc.com
*Domain Age: 24th/FEB/2011
*Founded: 2011
*Address/HQ: PO Box 48, Sellersberg, Indiana, United States 47172-0048
*Social Media Presence:
Facebook – 232,868 likes | 225,810 follows
Twitter – 59.5K followers
Reddit – 1.4K member
LinkedIn – 72 followers
YouTube – 130 subscribers
*Contact Details:
email: contact@instagc.com
email: instagc@dayos.net
*Training: 68.07%
*Support: 72.56%
*Website: 59.04%
*Software Tools: 63.21%
*Success Stories: 73.10%
*Costs Involved: $0.00 (Free)
*Up-sells: Invalid
*Verdict: Legit offers but overall it's a concrete GPT platform





About InstaGC
---
You are required to be over the age of 18+ years to sign up to InstaGC. The one and only exception here is that you can join InstaGC at 13+ years old, as long as you can provide parental consent.
Every country and region are allowed to join this company and start earning redeemable points, as long as it has access to PayPal. Unfortunately, the only two countries currently not permitted to register up with InstaGC are China and Vietnam.
Only 1 account per person. Although, multiple occupants of the same household can register one account. If caught having more than 1 account, or infringing by self-referrals, it will terminate all accounts and forfeit points collected.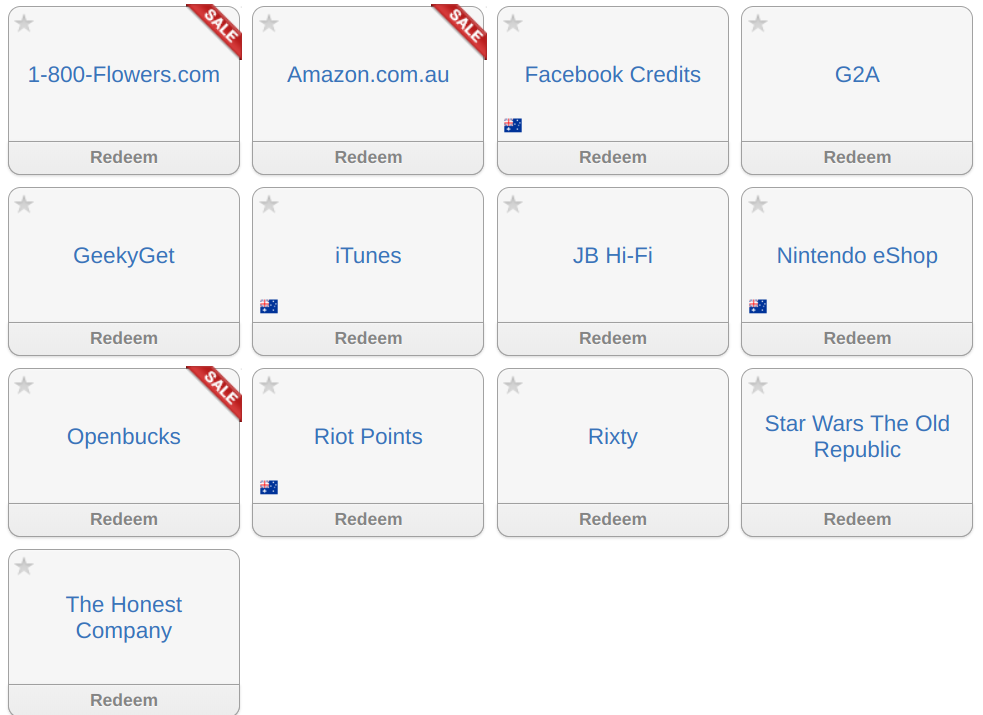 If you have more than 1 person within the family household using the same internet connection. There's a chance you will need to provide certain documentation to prove your identities apart from each other, to prevent fraudulent activities and such.
Honesty is key, make sure you fill out your personal details accurately as demerit points will apply to accounts not following the rules.
It's against company policy to use a virtual private network (VPN) and proxies.
Bullying will not be tolerated. And in order to delete your account, you will need to submit a support ticket. In doing, will hand over all your remaining points and progress to date.
How Does InstaGC Work
---
To put things simple

:
Confirm your registration, depending on your residency, you may need to confirm your PayPal account which is a strong authentication factor put in place to prevent misuse and fraud.
Login and begin tackling the various ways of earning points. I.e. Tasking!
Points will be obtained by completing: surveys; Cost Per Acquisition (CPA) tasks; downloading programs; listening to songs; searching the internet; joining up with trials; cashback shopping; viewing websites; watching videos and of course, referring new members.
Redeem your collected points by using a Pre-Paid Card, PayPal or Bitcoin service. Direct deposit and e-Checks have been disabled for the time being. Electronic gift card types will differ per country and region.
Is InstaGC a Scam
---
InstaGC is far from being a scam. With my experience using the system, seeing how things function inside and what I've read thus far. It's proven legitimate!
I've never seen a better system built for a GPT website. The amount of activities to choose from should keep you interested for quite some time.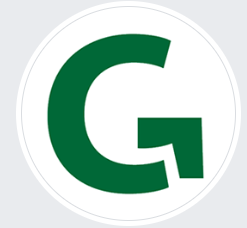 In comparison to a previous scam I have reviewed called Clout Pay (Paid 4 Clout). There is a significant difference between the pair, but offer very similar functions and features.
If you were to compare them both you could tell how legit InstaGC is to it's counterpart.
If you're already talented at internet marketing. You could make a nice side check every once in a while. How? By referring new and hopefully loyal members willing to use InstaGC for many years to come.
Remember, you get a 10% recurring commission for every successful invite you refer to InstaGC. As long as they go about completing certain job offers posted on InstaGC's task wall.
It's not a bad incentive, but invites can be a tough challenge for most of us, especially those without an online presence / platform to promote this business from.
InstaGC Affiliate/Referral Program
---
Earn 10 points every-time you manage to refer a new user to InstaGC. Points are only validated if your referrals reside within these 4 prominent countries: United States; Australia; Canada and the United Kingdom.
These referrals will need to validate their accounts by filling out all the necessary information before you will receive your 10 points bonus.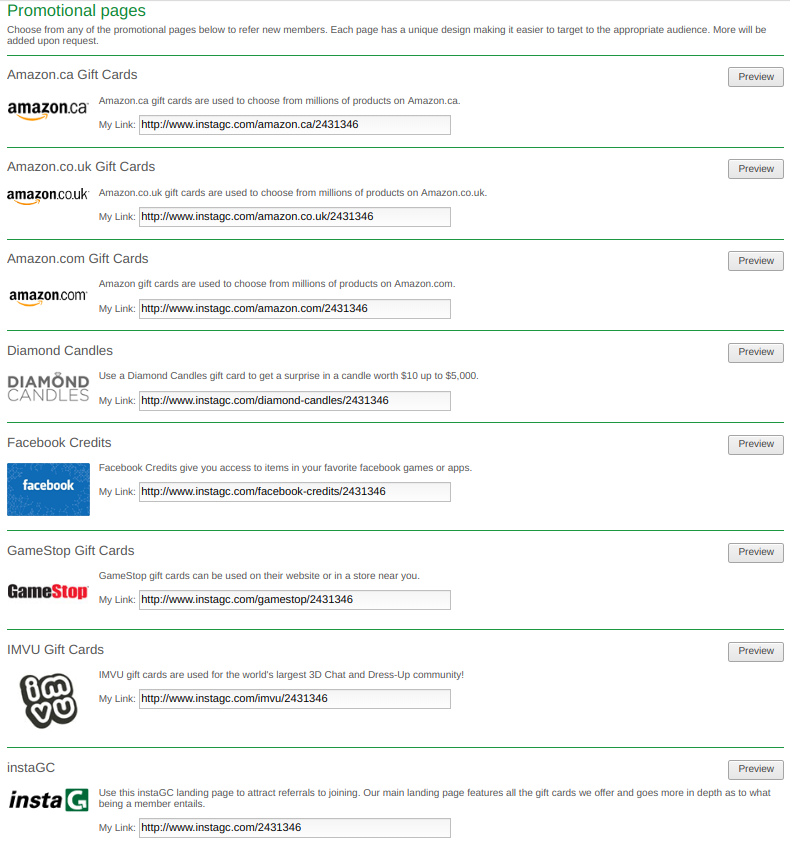 Remember, that 10 points equate to $0.10 or, 10¢. So where not dealing with life changing figures here.
If you manage to invite someone who resides outside of these countries, InstaGC subconsciously thanks you for your service, but no points will be credited for your efforts.
Don't go thinking that you can sign up family members and occupants of the same household either under your affiliate ID.
Matching home addresses and IP addresses are logged into the system. Therefore, you will be cross-checked and disallowed those recurring invites.
If your affiliate referrals have the jack of InstaGC. They ask to cancel their accounts within the first 7 days of registration. You will likely lose your 10 referral points.
Also, if the referral has entered inaccurate / fake information. InstaGC reserves the right to confiscate them points too.
Another benefit with inviting people through your unique affiliate ID's. You will earn 10% recurring point commissions every-time your referrals complete specific tasks. All they gotta do is complete certain activities for you to earn your 10% cut.
But, there is specific InstaGC company tasks and bonuses which are not included with your 10% referral incentive. But that's not a biggie because there are plenty of things that can earn you your 10% bonus.
Do note that you will not be capped for how many referral invites you can make. More invites means more success with InstaGC.
Each week and month, there are contests held to see how many referrals members can invite to this company. Do you have what it takes to become number 1?
Final Word
---
Pro's:
1 point converts to $0.01 or 1¢. Once you have collected 100 points, you have earned your first $1.00
Like and follow InstaGC on Facebook and Twitter to earn additional points and enter giveaways.
By checking some of the tasks already completed by other members in the 'Ticker' section. Will indicate which tasks are definitely paying out. Jump on them A.S.A.P.
Free to join.
It's accredited and verified legitimate on the Better Business Bureau (BBB) website with an (A+) rating.
Con's:
A mobile application (APP) is not available for download in Google Play Store.
In some instances, tasks can expire and you will not get your points even if you complete expired jobs.
Have to hand over too much information about yourself. Let's hope the company keeps personal info secure.
China and Vietnam are excluded from InstaGC.
Upon registration, some countries require your PayPal details to gain entrance.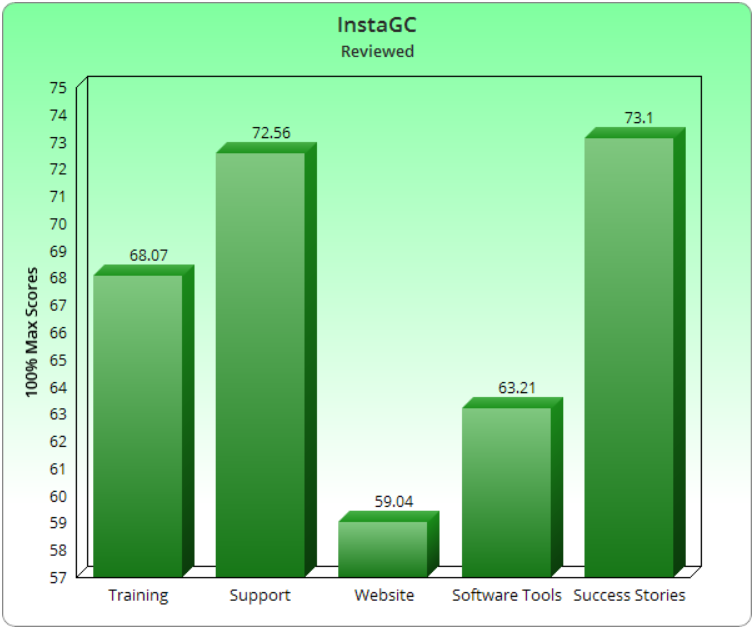 Well that's about all folks. There's enough info to get you peddling with your left foot. InstaGC is safe to use and has been in the game since 2011, which ultimately tells us that it's good to go.
There are a variety of activities to keep you entertained along the way. All in the purpose of earning points that are redeemable for a variety of online gift cards and/or real income withdrawals.
Sure, you're not going to be setting yourself up for a sexy lifestyle and early retirement by relying solely on InstaGC.
You'd be kidding yourself if you thought this were possible. Which begs the question.
Why Settle for Cents When You Can Learn How to Earn Dollars For Your Time. This is Made Possible With a

Step-By-Step

Training Program

That Has Been Operating For

14 Years

. It's Made Many

Millionaires

and Can Literally Have the Right People Earning Without Spending a Cent! How's That For Convenience.
()

Of course this would be hard to believe if your a sceptic. But there really are hidden gems online that offer so much value that would knock you off your recliner. Here's a dedicated page for this noob-friendly platform.
Do you think you could survive on InstaGC alone? Let us know what you think in the comments thread. Do you have any experience using this system? Get a conversation happening to help others decide if InstaGC is the place to be right now. Be social and share if you like InstaGC!




InstaGC, real points, real payouts…
Comments
---
Quick Recap of InstaGC
$0.00 (FREE)
Training

Support

Website

Software Tools

Success Stories