Paid Game Player is a kinda crossbreed style of website. In that I mean It's a funner way of mixing up free downloadable games, and completing online surveys at the same time. You earn points that are transferable into the cash prize draws.
In order to play games inside this platform, you need to register up by providing email/residential details etc.
Before you decide to try out this system, you must agree that you're over the age of 18+. This restriction would be based on the fact that financial gain is at stake here.
Upon registering, you can elect to receive promotional emails from Vindale Research, another way to add up those earning tallies.
---
Table of Contents
Jump to…

# Paid Game Player Review
# About Paid Game Player
# Paid Game Player Games
# Is Paid Game Player a Scam
# Pro's VS Con's
---
Internet Marketing Education, Tools, Networking & Support!
Do you Hunger for the Truth About How People are Really Becoming Successful Online...
---
Paid Game Player is a Limited Liability Company (LLC) and is in need of some much-needed maintenance. At the footer section of it's copyright statement, it displays the years been active between 2006 – 2010.
It's 2019 for crying out loud. The company brand logo (image) displays Paidgameplayer.com. Suggesting that it previously ran under the domain address ending in (.com). Now it ends in (.net).
It does not have Secure Sockets Layers (SSL) encryption technologies which is paramount for websites in modern times. All in all, Paid Game Player needs some tender love and care that would no doubt enhance user retention.
Paid Game Player Review
---
*Brand: Paid Game Player LLC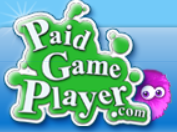 *Website URL: www.paidgameplayer.net
*Founder: Not mentioned
*Founded: 2006
*Domain Age: 22nd/MAY/2006
*Address/HQ: Displays both – 636 Washington Street, Geneva, New York 14456 | 1675 Larimer Street, Suite 640 Denver, Colorado 80202
*Contact Details: Contact by submitting a question within
*Training: 11.31% (N/A)
*Support: 35.09%
*Website: 29.68%
*Software Tools: 42.59%
*Success Stories: 63.28%
*Price Tag: $0.00 (FREE) – $4.99/Mth (PREMIUM)
*Up-sells: No
*Verdict: Needs updating
About Paid Game Player
---
Paid Game Player classifies itself as a premier website for casual/skill gaming. Obviously these are not state-of-the-art and interactive games as you would expect to find running on the PS4/Xbox One consoles.
This website is worth the value of
= $1,832.00
Paid Game Player partners up with world-class online game developers, such as PlayFirst! Ever heard of them? What really sets Paid Game Player apart from any other online gaming website is that you can actually get paid for competing in skill based games such as:
Bejeweled 2.
Family Feud.
Zuma.
If your here to compete for real financial gain. Then you will be redirected over to another website called Winners Circle! Your ID will be listed under the Paid Game Player details (tracking of your identity). In essence, Paid Game Player acts as a gateway site for the Winners Circle gamers platform.
Still receives on average

 
– 344 visits each day
There are more than 25 playable skill games on Paid Game Player that will compensate members with points for their time! The site claims to pay out more than $250,000 in real cash and prizes every single day of the week (hard to believe).
Paid Game Player – Games
---
Downloadable Games:
Diner Dash 2.
Diner Dash Flo on the Go.
Mystery Island.
Chocolatier.
Chocolatier 2.
Diner Dash Home Town Hero.
Doggie Dash.
Dream Chronicles.
Night Shift Code.
Pet Shop Hop.
Pirate Poppers.
SandScript.
TriJinx.
Zenerchi.
Dress Shop Hop.
Solitaire Pop.
Wedding Dash.
Wedding Dash 2.
Dairy Dash.
Dream Chronicles 2.
Sweetopia.
Plantasia.
Poker Pop.
Online Games:

#ACTION/ARCADE
Wonderburg.
Farm Craft 2: Global Vegetable Crisis.
Youda Safari.
Farm Frenzy 3: Russian Roulette.
Drawn: The Painted Tower.
#CARD & BOARD GAMES
Heartwild Solitaire: Book Two.
East Side Story.
Time Stand Still.
Family Feud: Battle of the Sexes.
Solitaire Epic.
#MAHJONG GAMES
Mahjongg Dimensions Deluxe.
Mahjong Epic.
Mahjongg: Ancient Mayas.
Hotel Mahjongg Deluxe.
Mahjongg Investigations: Under Suspicion.
#POKER & CASINO GAMES
Egyptian Dreams 4.
Yahtzee Texas Hold 'Em.
Poker Superstars 3.
NBC Heads-Up Poker.
Tik's Texas Hold 'Em.
#PUZZLE GAMES
Mystery Cruise.
Curse of the Pharaoh: Tears of Sekhmet.
Samantha Swift and the Mystery from Atlantis.
Sarah Maribu and the Lost World.
Gwen the Magic Nanny.
#WORD & TRIVIA GAMES
Bookworm Adventures: Astounding Planet.
Bookworm Adventures: Fractured Fairytales.
Double Play: Family Feud and Family Feud 2.
Word Web Deluxe.
PictoWords.
NOTE: You can either download or purchase these games to play them.





Paid Game Player Scam?
---
You can hardly call playing online games a scam right. Currently, you cannot pay for the premium membership option, usually $4.99 per month. So you're not investing anything here. Just don't buy those games.
If you are seeking to get paid with gaming, by clicking on the main menu link 'Compete for Cash' you will be redirected over to website – World Winner! This is where you can compete for financial gain, but first you need to wager.
Over at the testimonial page, you can read about some positive reviews listed of happy cash winners of Paid Game Player members. Audio video recordings included. Here's a screenshot!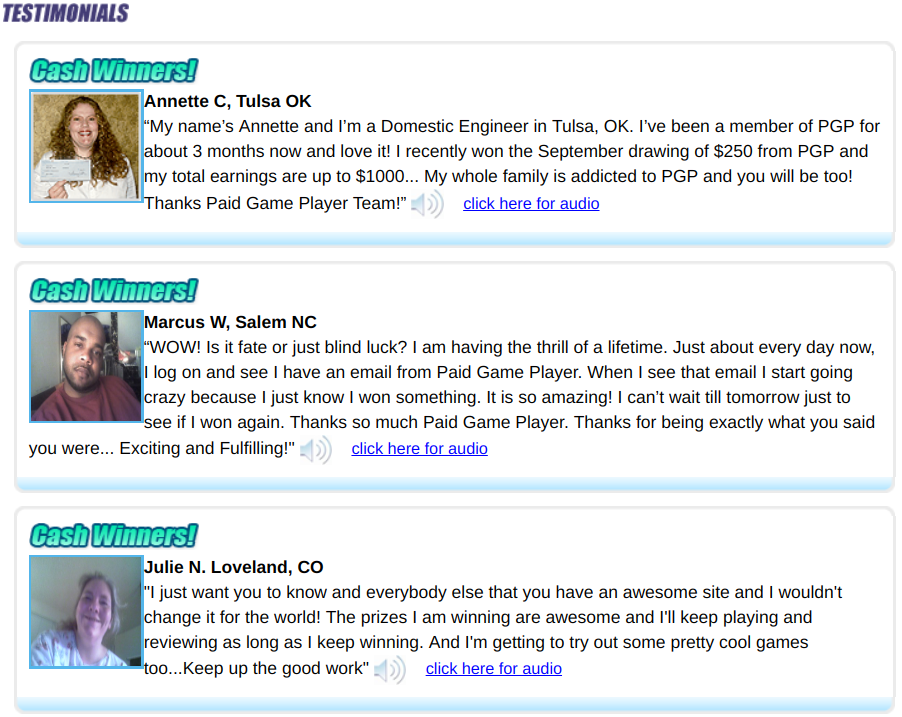 In order to earn points for entering into the daily, weekly and monthly cash draws. Tasks that you can complete are:
Review games.
Play games.
Compete for cash.
Final Word
---
Pro's
Play some cool older online games for a modest reward.
Not required to upgrade to premium to use this website.
Auditory testimonials of gaming members receiving payment.
Daily, weekly and monthly cash giveaways (If they still are running).
Con's
Site needs a general overhaul.
Hard to find the withdrawal section.
Older/basic and not so stimulating games.
Redirects you to another website to compete for cash.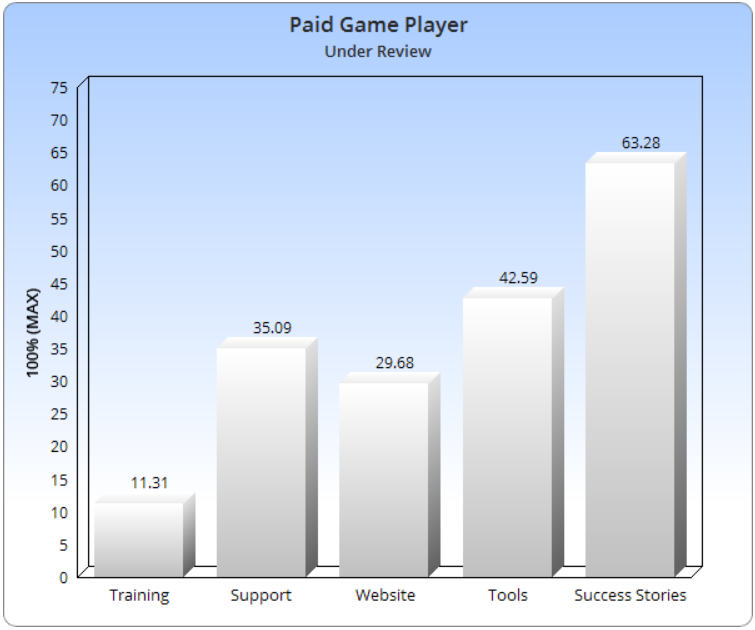 Paid Game Player has stood the test of time. It's has a retro look and feel to it, but is really is in need of some nurturing. I'm sure there are better/reliable ways to earn gaming online. But for now, Paid Game Player is all that we have reviewed to date.
If By Any Chance you Are Searching for

Affiliate Marketing Training

Within a Community of Like-Minded Entrepreneurs. You Can Forget About Making Chump Change on These Older Gaming Sites. Learn How to Build your Very Own

Gaming Blog

 that Can Be Monetised With Ads & Affiliate Links.
GET STARTED TODAY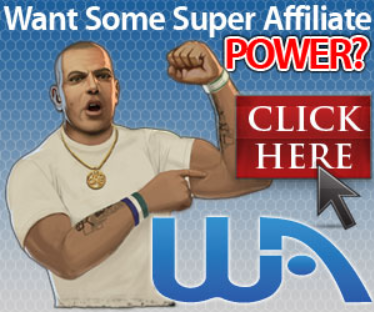 This Platform has been

Running Online

for nearly as Long as Paid Game Player.

Read How You Can Benefit Inside!
Have you tried games on Paid Game Player over the years? What could you include that'll be relevant about the website. Message in the comments below. We would love to get your invaluable insights or feedback! Heck! Be social and share!




Why not become a paid game player…
Quick Recap of Paid Game Player
$0.00 (FREE) - $4.99/Month
Training (N/A)

Support

Website

Software Tools

Success Stories