Project Payday:
$0.00 (FREE)
Training -

21.84%

Support -

53.09%

Website -

55.72%

Software Tech -

30.05%

Success Stories -

33.02%
Brief Summary:
Project Payday had received many complaints. Project Payday Research just lacked in overall value for the panellist. Clear Voice Survey is the parent survey company and is clearly the better survey platform. It has been active since 2006.
---
SAVE SOME TIME ~ By Accessing Our Top Resource For Earning a Living Online…
---
There's a common misconception. The original Project Payday site was not actually working while writing this post. Project Payday had transferred over to the newer brand – Project Payday Research.
Recently, I re-checked to see if Project Payday Research is still an active survey panel.
What I found out is that both Project Payday and Project Payday Research domain names. Plus any search entries in Google will always redirect visitors over to the parent company in charge of the whole survey panellist operation – Clear Voice Surveys.
So if you type: http://projectpayday.com or http://projectpaydayresearch.com into an address bar. You will be transferred over to https://clearvoicesurveys.com instead.
If you considered joining Project Payday, I mean Project Payday Research. Um, I actually meant Clear Voice Surveys.
You might want to first determine whether Clear Voice Surveys offers any sufficient value and decent rewards for your survey efforts.
---
Table of Contents
Jump to

…

# Project Payday Review
# How Did Project Payday Work
# Eligibility Requirements
# Project Payday Cash & Rewards
# Panellists Mutual Obligation
# Help & Support
# Was Project Payday a Scam
# Pro's VS Con's
# Comments
---
Internet Marketing Education, Tools, Networking & Support!
Do you Hunger for the Truth About How People are Really Becoming Successful Online...
---
Project Payday Review
---

*Parent Company: ClearVoice Surveys LLC
*Alternate Business Names:
Project Payday
Project Payday Research
*Domain Names:
http://projectpayday.com
http://projectpaydayresearch.com
https://clearvoicesurveys.com
*Domain Ages:
Project Payday – 26/NOV/2006
Project Payday Research – 15/MAY/2009
Clearvoice Surveys – 09/JUNE/2006
*Domain Authority: No data found
*Linking Root Domains: No data found
*Ranking Keywords: No data found
*Spam Score: No data found
*Hosting Registrar: DYNADOT, LLC.
*Website Asset Value: Does not qualify
*Address/Headquarters: ClearVoiceSurveys.com, LLC – 205 North Detroit Street Suite 600 Denver, Colorado 80206
*Founder: Don Golden (Owns Clear Voice Surveys and brought the Project Payday domain names).
*Contact Methods:
Phone

: (303) 534-3333

Phone

: (303) 895-3623

Email

: customercare@clearvoicesurveysmail.com

Internal Messaging

: https://www.clearvoicesurveys.com/Contact.aspx
*Social Media Presence: None tailored to original company.
*Services Offered:
---
---
---
Try out brand name products
---
---
---
---
---
*Community Size: Does not specify.
*Payment/Payout Currency: United States Dollar (USD).
*Membership Costs: $0.00 (Free service).
*Compensation Plan: Complete surveys to earn reward points that cash in codes for Amazon Gift Cards.
*Affiliate Program: They do not offer a referral/affiliate incentive.
*Up-sells: No
*Training: 21.84%
*Support: 53.09%
*Website: 55.72%
*Software Tech: 30.05%
*Success Stories: 33.02%
*Verdict: Project Payday was fraudulent. Project Payday Research was lacking in functionality and consistency. ClearVoice Surveys is working splendidly. ClearVoice Surveys now owns all the rights for each domain name listed, they both redirect over to ClearVoice Surveys now.





How Did Project Payday Work
---

Online/offline business's are always seeking feedback, or advice on how to improve their range of products.
The Project Payday Research website acts as a neutral based, interactive service provider. So basically, Project Payday Research is the middle man which connects all the dots together.
By that I mean, handing out various surveys/questionnaires compiled by third party companies, to similar matching Project Payday Research account profiles (Registered members).
These companies need to collect opinions, reviews and experiences for a range of reasons. They can spend upward of a million dollars every year to access this insightful data. To name a few purposes for survey gathering:
Further, improve upon product and services.
Understand their target demographics better. I.e. Age, sexual orientation, country of residency etc.
To better shape advertising/marketing campaigns.
Eligibility Requirements
---
Need to be 13+ years of age or older.
Fill out the initial registration form to it's entirety.
Complete a couple of profile questions sheets to try and match you with specific survey topics.
Prove you are no robot. Go into your email account and open the electronic message received from Project Payday to activate/verify your account.
Log into Project Payday Research account anytime to begin using it's services.
Project Payday Cash & Rewards
---
There are various ways to earn some chump change using Project Payday

:
By taking online surveys/questionnaires.
Attending local focus groups.
Joining online communities.
Trying brand name products or services.
Participating in clinical trials.
Entering into daily, weekly or monthly sweepstake's.
And occasionally, something new might pop up!

It's clearly stated within a container box next to the registration homepage, that you will not become a millionaire using the Project Payday website.
However, it does state that it's quite possible to earn cash and rewards of up to a few hundred dollars each week by first qualifying, than completing surveys, along with winning daily, weekly and monthly sweepstake's competitions.
On completion of a survey. Third party companies will either automatically transfer your reward into your account.
Otherwise, there will be instructions for Project Payday Research moderators to initiate the reward transfer into your dashboard rewards account manually.
If, you complete a survey and are not redirected back to Project Payday Research site. Don't panic. You will still be credited that reward. Just give it time.
Don't think, expect, or plan to quit your day job using the Project Payday Research site alone as a main stream of income. You would be foolish relying on this service!





Panellists Mutual Obligation
---
The hierarchy of Project Payday Research expects all of its members to fill out each questionnaire in a truthful, honest manner.
There are parameters put in place, designed to detect whether a panellist is cheating the system. For example, if a member received a multiple choice survey containing 100 questions.
This figure may quite possibly make the panellist think twice about marking off each question truthfully, in attempt to cut time for the reward.
By rushing through and clicking these 100 questions true or false, yes or no, then submitting the results in less than 5 minutes so to speak.
Software measures may detect the unusually quick time. Flagging the survey for suspicious activity and alerting moderators to conduct further checks when verification time is scheduled.
Cheating the system can lead to the termination of your account, so be careful.
Even if you abide by the Project Payday Research protocols and answer surveys honestly, accurate and correct to the best of your knowledge. There is still the possibility that your survey may be cancelled prior to completely finishing it.
Don't stress! This is normal and can happen to anyone. There are benchmarks, or cut off points within certain questions that automatically opt users out.
Usually when your knowledge panel and experience does not match certain criteria for surveys.
It doesn't mean you are wrong with your answers submitted. But note that your reward may be revoked, or reduced depending where you are cut off during the survey.
If you do not make it pass the first question. You may forfeit all rewards for that survey. But, by making it half way throughout, you might receive half the reward total.
Also, you can create you own polls and gather data from other Project Payday Researchers. Vice versa.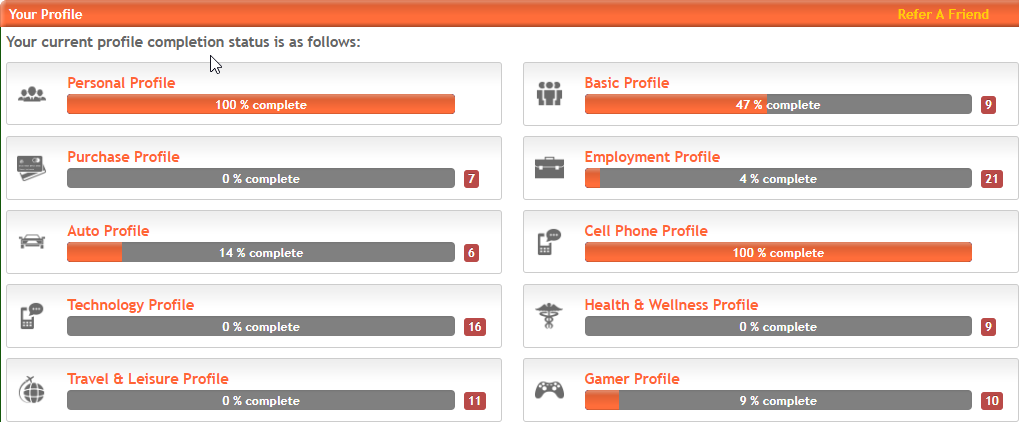 Help & Support
---
Considering the sheer simplicity of features, functionality at the Project Payday Research website.
The only convenient method of contact available can be achieved by submitting a support item (email messaging).
Majority of any questions regarding Project Payday Research should already be covered within the Frequently Asked Questions (FAQ's) section. So, you will likely not need to directly message the support team.
You can access FAQ's inside the Knowledge Panel page. The Knowledge Base outlines key topics. These categories include:
Amazon
Upon reaching $10.00 in rewards. You can redeem Amazon coupons in increments of $10.00 to spend over at the Amazon.com website.
Dining Dough
Dining Dough offers gift certificates for there list of restaurant affiliations. Only available for US citizens though. Trade any reward credits to redeem meal vouchers.
Facebook
By linking up your Facebook and Project Payday Research accounts. Your Facebook profile can receive incoming survey notifications whilst logged into Facebook.
Log in/Sign up
If you account is marked as fraudulent, you can dispute this claim be submitting a ticket if you believe there has been a mistake made.
Member Cancellation
Cancel membership at anytime. It can take up to 24 hours to process the cancellation.
Payoneer
Apply for a payoneer prepaid MasterCard and you shall receive a physical plastic card within a few weeks. Deposit rewards in multiples of $10.00, directly into you Payoneer Card account.
You can use Payoneer to transfer you credits directly into you local bank account and spent it on whatever you see fit.
Rewards
Project Payday Research is an international used platform. Certain countries are limited to how they can spend their rewards. Though fortunately, no matter what country you reside in.
You can retrieve a Payoneer Prepaid MasterCard and deposit funds directly into you nominated bank account.
Surveys
Remember to fill in you profile details accurately, that way you receive surveys related to you biographical info, experience and lifestyle.
Even the most detailed profile description will not guarantee that you'll qualify for every single survey on offer at Project Payday Research.
New surveys are added daily to the Project Payday company.





Was Project Payday a Scam
---
Project Payday was once a home based business service. According to Better Business Bureau (BBB.org), the original company failed to respond to lodged complaints. That resulted in receiving the BBB rating of (B-).
There's enough evidence that suggests Project Payday failed in business. It was relaunched as Project Payday Research. Project Payday Research was reliable to a certain degree.
But until recent, Both of these domains redirect users over to Clear Voice Surveys. All I know is that these changes suggest a poorly kept track record. Clear Voice Surveys only offers Amazon vouchers as the reward for completing surveys etc.
I couldn't label Project Payday as a scam. Just poor quality product and services were offered. Would you trust a company with such a bad record?





Final Word
---
Pro's
You can register and access the Project Payday platform for free. No purchasing will ever be necessary to utilise it's contents.
Refer 10 friends to Project Payday Research and receive rewards at a rate of $0.50 per referral.
Most surveys did pay out an average of $2.00 by reaching the end of the survey.
Receive notifications for new surveys via email and whilst logged into your Facebook account.
Con's
There is no officially recurring referral/affiliate program incentive offered. Even though, you are capable of referring up to 10 friends by inserting there email addresses into the allocated email table.
Your rewards will expire after 365 days (1 year) if not claimed.
Project Payday Research is rather limited in terms of navigation and resources available.
Any rewards earned will sit in a pending state for 2 to 6 weeks after completing each survey. You are usually required to wait until a company survey campaign has finished before getting access to your rewards.
Project Payday isn't designed to make a complete change in one's lifestyle. If you want to earn some petty cash for rewards and find enjoyment out of answering questions for it. Then you may have an awesome time here.
Long it's been since Project Payday has been in operation. Project Payday Research has also ceased operations. Clear Voice Surveys has taken charge of all survey and alternate survey related opportunities tied together.
If you were smart, you wouldn't waste your time with these survey based websites anyways because the payout for time put in is just not worth it in the end.
Do Not Worry Though, Because I Have a Superior Solution That Will
Challenge Your Mind

. But YOU Will Have Built Yourself a Thriving Online Asset Which Will Be  Conditioned In Such a Way To Grow in Value Over the Years to Come
()

Do you prefer to learn how to become a qualified professional in affiliate marketing and online business related affairs? If so, then I have the perfect inexpensive place to get you started with your online endeavours. I personally use this resource to my benefit too.

If you have any further questions regarding the Project Payday, Project Payday Research, or the Clear Voice Survey company. Ask away below til you minds content.
Have you previously used Project Payday in the past? I'd love to hear you views, or any insights you have about your experiences using these 3 survey services! Be a pal and share this post on your social channel.




Project Payday, or Clear Voice Surveys? Well, which one is it…
Comments
---